Food & Drink
April: A Month of Terrible Weather and Excellent Restaurant News
Feat. doughnut vending machines, hype-y corn dogs, and "a special place in Hell waiting just for you."
11:46 AM CDT on April 20, 2022
Welcome back to another monthly installment of the Racket Restaurant Roundup! During this aggressively disgusting, cold, and damp April, at least there's something to celebrate: Lots of new restaurants, many of them long-awaited and highly celebrated, have opened over the last month and change.
We've got a popular pizzeria's first standalone location; we've got a dreamy double cheeseburger in St. Paul; we've got a doughnut vending machine between BlackStack Brewing and Can Can Wonderland. And we've got lots on the horizon! Maybe something here can pull you out of the nasty April funk? (No promises.)
Now Open
Wrecktangle Pizza Lyn-Lake
As of this very day (!) Wrecktangle Pizza's long-awaited third location—the only standalone, non-food-hall Wrecktangle so far—is open at 701 West Lake St. (You may know it as the space formerly known as Prieto, Hasty Tasty, and Falafel King.) We're banking on Wrecktangle outlasting those predecessors, thanks not only to its high-ranking pizza but to the creative new ways they're using the space, including smoking meats for sandwiches and opening an adjacent daytime cafe, Silvers Market and Deli. Check out Racket's sneak peek here. (Update: Looks like a little leak is keeping them from opening as planned. Look for them on 4/21 at 4:21.)
Mario's Pizzeria
More pizza news for ya! Mario's—a new pan pizza place from the folks behind Estelle—is so close to opening in the former Tillie's Farmhouse space on Cleveland Avenue. We're especially excited for the "cheesy garlic bread doughnuts" chef Jason Hansen told us about last month. Though they'd initially planned to open earlier this week, it sounds like they're feuding with the city of St. Paul. Day one appears imminent, though, so I'm including 'em here.
Gus Gus 
St. Paul lost a hell of a burger joint when Stewart's closed late last year, but the pint-sized Cleveland Avenue address is buzzing once again. With Gus Gus, industry vets Anna Morgan and Kevin Manley have said they want to create a space with great food that's cozy and laid back. Correspondingly, they've got snacky treats, poutine, and a gooey double cheeseburger that looks like it rivals their forebears. Mpls. St. Paul Magazine has an early look here. 
CrunCheese
Racket junk food correspondent Jay Boller (this is high praise, to be clear) waited in line for 75 minutes to get his hands on CrunCheese's new deep-fried hot dogs. And he still loved 'em, so you know they've gotta be good. Minnesota's first Korean hot dog joint is delighting diners at Fourth Street & 14th Avenue, all of whom seem happy to wait in long lines for these crunchy, satisfying cornmeal-coated treats. 
The Doughnut Trap
Don't think the debut of a new doughnut vending machine counts as a restaurant opening? Go make your own list! Bradley Taylor's trademark square doughnuts have been a hit for years now. Originally known as Sssdude-Nutz, he's held pop-ups, operated a food truck, and had a brick-and-mortar storefront, for a while. His latest venture? The Doughnut Trap vending machine, located in the hall between St. Paul's Can Can Wonderland and BlackStack Brewing in St. Paul. Opened mid-March; read our chat with Taylor here. 
Asa's
Asa Diebolt's namesake bakery has been quietly serving up some of the best (possibly the best) bagels in the Twin Cities for years, and it's one of the only places around where you can get bialys. As of March 13, Asa's has a space all its own in which to shine. We stopped by the new bakery earlier this year to learn what's in store, and be warned: We heard reports of weekend lines out the door at this already super-popular neighborhood spot. 
The New Uptown Cafe
The Uptown Diner opened a sister restaurant last month: The New Uptown Cafe. Located just a scooch down Hennepin Avenue, the new breakfast and lunch spot (3008 Hennepin Ave., opened March 17) is a lot like the original, with "giant gooey caramel rolls" and "crispy hashbrowns" and coffee. But there's new stuff here too, including Greek salad and homemade soups. Read our coverage here.
Ties Lounge & Rooftop
This sprawling, multi-story Nicollet Mall lounge and rooftop sounds like a lot of fun: "We kind of wanted to bring all the best things about bars, lounges, eateries, and nightlife, and tie it all under one roof," co-owner Gene Sanguma told Racket earlier this year. Ties has a different energy from floor to floor (so you can have whatever experience you're looking for) and food from Joey Meatballs (which everyone should be looking for). Opened March 12; read our chat with Sanguma here. 
Hell's Cafeteria
At Hell's Cafeteria, the motto is "damn good food, pretty dang fast." Opened by the same group of employee-owners who run Hell's Kitchen downstairs, they've got cafeteria classics (square pizza, smashed burgers) alongside clever little dishes reminiscent of their neighbor below (lemon ricotta battered corn dogs, caramel roll French toast sticks, a hot bison commercial). Opened March 28, the new venture is meant to invite in folks grabbing a quick breakfast or lunch in downtown Minneapolis: "There's a special place in Hell waiting just for you," their website promises. 
Heavy Rotation Brewing Co.
Blue Wolf Brewing Co. closed late last year, leaving Brooklyn Park without a brewery. That changed earlier this month with the opening of Heavy Rotation Brewing Co. The new nanobrewery is up and running with a tap list full of juicy IPAs, light-bodied lagers, and even a seltzer.
Gentleman Forager's Shroom Room
Mike Kempenich, a.k.a. "The Gentleman Forager," has spent his career doing all kinds of shroom-related stuff: mushroom cultivation, group classes on wild foods, foraging expeditions. Now, he's combining that wild food flair with a love for music, opening a music venue-slash-restaurant called Gentleman Forager's Shroom Room. Opened March 26; read our chat with Kempenich here.
Capital Corn
"Bomb elotes and crazy snacks" make up the menu at Capital Corn (927 Payne Ave., St. Paul), where you can get, among other things: elote on a stick, elote in a cup, corn with fries, corn with noodles, and corn with bacon. That's a lotta corn.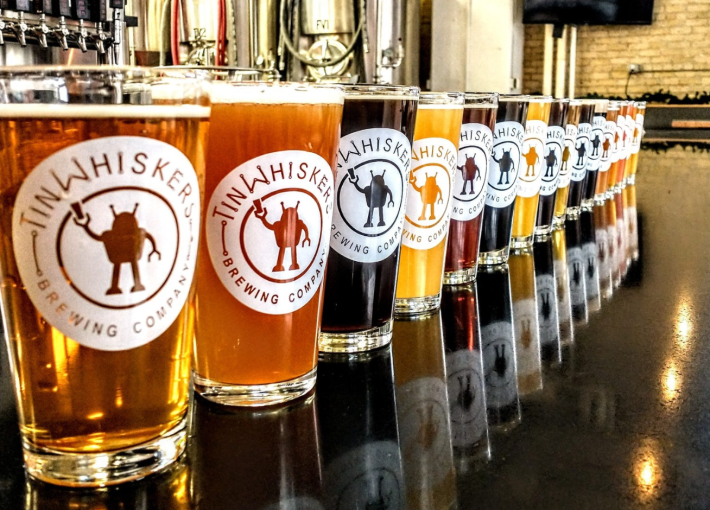 Closed or Closing
Camdi
This one is a big bummer. After more than 35 years in Dinkytown, Camdi Restaurant closed at the end of March. "Dinkytown is not that busy like before," Camdi Phan told the Star Tribune, adding that she was looking forward to retirement: "It will be fun to give life a little change."
Local Roots
Bring Me the News called it one of the Twin Cities' best kept secrets, and I feel inclined to admit: never been! Richfield's Local Roots opened in 2017, serving farm-fresh breakfast, lunch, and dinner. If you're feeling like you missed out, you can still get delivery and catering via localrootsmn.com.
Dumpling
Speaking of well-kept secrets, or maybe just underrated neighborhood gems, Dumpling announced earlier this week that after six years on Minnehaha Avenue, this weekend will be the end of the road. "Since I've become a father I've been forced to do some soul searching, and I've come to the conclusion that the grind of running a restaurant is no longer in personal alignment with how I want to spend my days," he said in an Instagram post. Read our coverage here.
Tin Whiskers
In mid-March, Tin Whiskers Brewing Co. announced that they'd decided to "power down the robot." Bummer! The downtown St. Paul brewery is probably the most successful and well-liked Twin Cities beermaker to close in recent years, prompting craft-beer bubble talk. Luckily, as we reported last month, they're doing a "long Minnesota goodbye," giving you until the end of May to say farewell.
Hot Indian Foods
No more Hot Indian Foods at Midtown Global Market or the Mall of America. After eight years on Lake Street, founder Amol Dixit announced on Facebook that Hot Indian is leaving MGM. They're not exiting the MOA, per se, just retooling their offerings and introducing a new concept: Bussin' Birria Tacos. And HI isn't gone entirely; you can still find 'em at Target Field and the State Fair. 
Sen Yai Sen Lek and Dipped & Debris
You've got a few days left to visit Sen Yai Sen Lek, which is closing April 23 along with the adjacent sandwich shop, Dipped & Debris. Hey, 14 years ain't a bad run! More details on the closure here.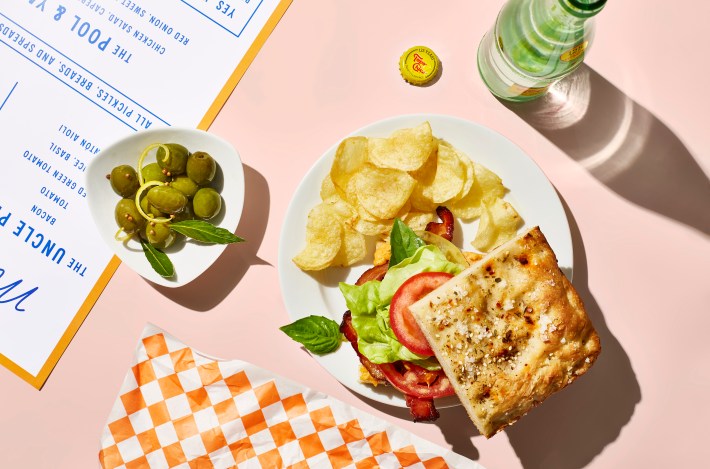 Just Announced & In the Works
Marty's Deli
After operating on a pop-up and takeout basis for the last year or so, Marty's Deli has a brick-and-mortar location in the works. "It's gonna be really small, kind of like a New York City sandwich shop vibe," Martha Polacek told Racket earlier this month. The northeast Minneapolis building was a former tattoo shop, which means a full buildout—don't expect Marty's to open super soon, do expect to see lots of construction updates on Instagram.
Pizza Shark 
Loan sharks? Bad. Pool sharks? Cool. Pizza Sharks? Very cool. Uptown's Pizza Shark is swimming into new waters this spring, with a second location in St. Anthony Main (201 SE Main St.). Expect a bigger menu of pizzas, plus wings, ice cream, beer, and wine. Opening sometime this Spring.
Boludo 2.0
The popular pizza and empanada spot Boludo is moving—but don't worry, they're not going far. As announced in a charming series of social media posts, the original Boludo in south Minneapolis is scooting just across the street, to a bigger address that'll give chef Facundo Defrai seating for 25 and the space to play around in the kitchen and possibly add some new stuff to the menu. They keep teasing the opening, and we'll update as soon as we have an official date. 
Mochi Dough and Bober Tea
Mochi Dough's Japanese doughnuts are already a huge hit in California, as founder Jeremy Moore told Racket in January. He's opening 11 (!) new Mochi Dough locations in CA this year, plus one in Colorado and one here in Dinkytown, where it will share a space with the Singapore-style boba joint Bober Tea. The pair appear very close to opening; they're hiring as of earlier this week. Read more of our chat with Moore here. 
Kalsada
Beginning April 28, Kalsada—from the owners of Cafe Astoria—will open in the former Augustine's space in St. Paul. "Kalsada will serve Cafe Astoria goodies in the morning and become a full-service Filipino restaurant at night," according to their website. Sounds like kind of a perfect combo to us.
Em Que Viet
Northeast's Que Viet, purveyors of massive, wonderful, State Fair-favorite egg rolls, are opening a second location. Em Que Viet—the "em" means little brother or sister in Vietnamese—should open at 1332 Grand Ave. in St. Paul sometime this spring. 
Lutunji's Palate Bakery
You can already find Lutunji Abram's delicious baked goods at several Lunds & Byerly's locations, North Market, and the Minneapolis Farmers Market Annex. But beginning next month, Lutunji's Palate Bakery and Cafe in Elliot Park will be open daily, serving a menu of sandwiches and salads alongside her cobblers and sweet treats. Many are inspired by the business owners who've inspired Abram on her culinary journey, including Sammy McDowell of Sammy's Avenue Eatery. Opens May 1; read our chat with Abram here. 
Clancey's x Grand Cafe
We don't know much about this yet—just that the owners of Clancey's Meat and Fish bought the former Grand Cafe building earlier this year. Axios had the scoop, but there's no word on exactly what's coming to Grand Avenue, or when. (Though in walking and biking past the address, your friends at Racket have noticed some activity over the last month…) 
Lost Fox
Elephants and foxes and horses—oh my! The former Elephant Bar space in Lowertown will soon be reborn as Lost Fox, from Ann Rose (who worked at Dark Horse Bar & Eatery) and Michael Rose (who's worked at Cafetto for about a decade). Like its predecessor, this'll be an all-day cafe that turns into a full-service restaurant around happy hour. The Pioneer Press has the scoop. Opens May-ish.
Eat Street Centro
The Wedge Table space on Nicollet, which has been empty since the summer, will soon house the first in a multi-location expansion for Centro. The northeast taqueria's Eat Street outpost will be bigger than the original and will include a version of their bakery and market, Vivir, an expanded patio, and another yet-to-be-named concept that's still in the works. Coming summer 2022.
Stalk & Spade
After debuting in Wayzata last year, Minnesota-based vegan chain Stalk & Spade is bringing its menu of burgers and chick'n sandwiches to the North Loop this spring. A 50th and France location is also in the works.
The Apostle Supper Club and False Eye Doll
Purpose Driven Restaurants, the group behind Hope Breakfast Bar and the reborn Gnome Craft Pub in St. Paul, is also working on a supper club-slash-tiki bar across from the Xcel. Initially slated to open in October, supply chain issues are proving to be a problem. The Pioneer Press has the latest.
TK Fhima Project
The Fhima family is setting out to launch a multi-story restaurant, event hall, and food justice project in the historic Ribnick Furs building (224 N. First St.), which closed in December after 76 years. We chatted with David Fhima about the ambitious project in January.
Previously in the Racket Restaurant Roundup...
Em Cassel (she/they) is a cyclist, a metalcore apologist, and a co-owner and editor of Racket.
Stay in touch
Sign up for our free newsletter