Similar to Uptown, Dinkytown is an emotionally resonant Minneapolis neighborhood, one that's on a constant cultural death watch among those who used to frequent it. Just look at this weepy ode to the now-razed McDonald's.
But like any major urban area, the U of M-adjacent 'hood is in a constant state of churn, subject to the whims of thirsty developers who algorithmically ogle the vast student populations that reliably move in and out. That doesn't mean cool new Dinkytown spots don't pop up next to the Target, Starbucks, and endless build-up of high-end student housing.
Consider Mochi Dough, Bober Tea, and CrunCheese. The three soon-to-open shops are part of a wave of recent Asian food/drink options entering Dinkytown, joining Pho Mai, Tiger Sugar, Bonchon, Le Pot, Banh Appetit, Hokkaido, Korean Bowl, and Master Noodle.
Here's what to expect.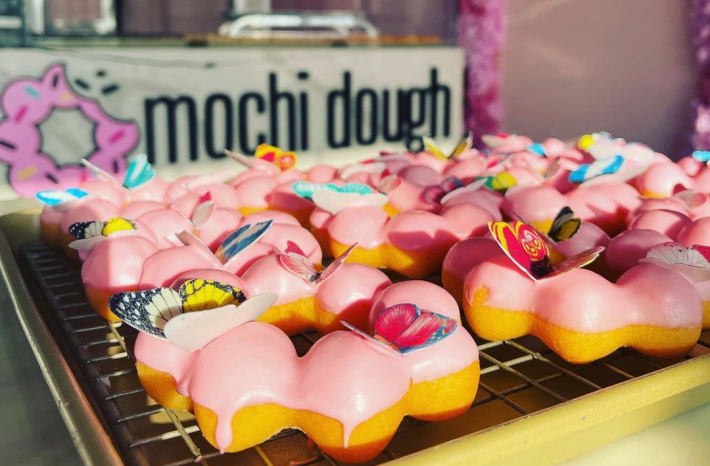 Mochi Dough
To hear company founder Jeremy Moore tell it, Mochi Dough's Japanese-style doughnuts have been all the rage in California for a few years now. The key distinctions between these and American-style doughnuts? Rice flour and the rippable "pon de ring" shape.
"It's gonna give you a crunchy outside," says Moore, who launched Mochi Dough last year with his wife in Sacramento. "And then you'll get that nice, chewy, airy, bouncy inside."
The doughnuts come six to a box for $15 (two bucks less for plain), and the flavors—Poppin' Champagne, Malasada, Froot Loops, and Black Sesame, to name a few—will rotate ever two weeks.
Local franchisee Michael Bui will helm the operation opening mid-March at 405 14th Ave. SE. Bui and his family already run newish Vietnamese joint Pho Mai down the block in Dinkytown, as well as MT Noodles in Brooklyn Park.
The Mochi Dough concept is spreading fast. Moore is launching 11 new stores in California this year, plus the Minneapolis location and one in Colorado.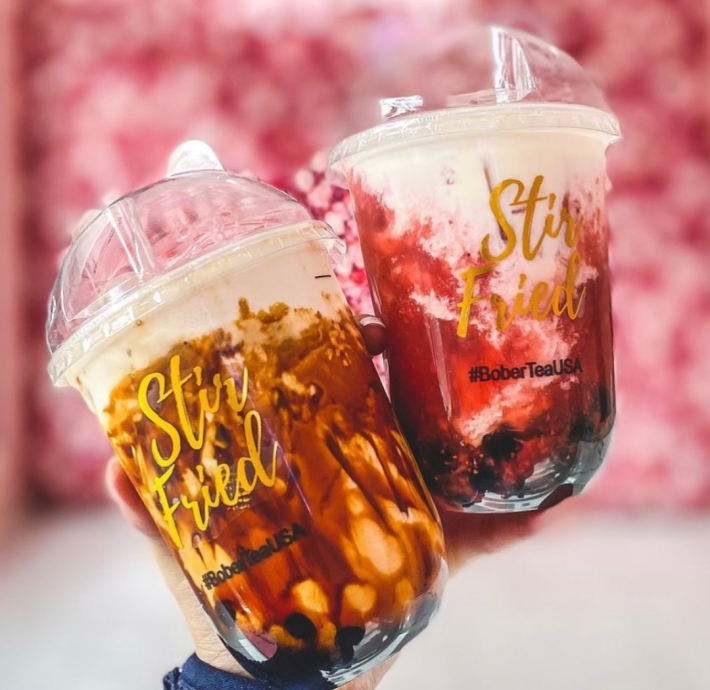 Bober Tea
Bober Tea will have its own exterior/interior signage, but the bubble tea shop will be operated by Bui in tandem with Mochi Dough. The two separate companies share an exclusive licensing agreement, Moore explains, so wherever you see a Mochi Dough it'll be comingling with a Bober Tea.
So, what the hell is Bober Tea?
"It originated over in Singapore, and the unique thing about them is their signature drink: stir-fry boba," Moore says. "You've probably had good boba, bad boba, some of it tastes old, some of it tastes hard. With this one, it's stir-fried in front of the customer with Taiwanese brown sugar and topped off with house-made cheese cream."
There you have it.
The expansive menu—Mung Bean Pandan Latte, Chizu Strawberry Green Tea, Signature Milk Tea, Brown Sugar Cookies & Cream, KungFu Black Tea, plus a whole lot more—is priced at about $4-$6 per drink.
CrunCheese
We weren't able to connect with the team behind CrunCheese, though I did chat with a delightful worker at the only other location in Las Vegas. He informed me that, according to what he's overheard, the Minneapolis CrunCheese has hit several construction delays.
Here's what we know: The affordable Korean-style corndogs ($2-$5) come deep-fried with a thick, dairy-free batter and in a variety of styles—plain, mozzarella, cheddar, squid ink, potato-riddled, or with a rice tube instead of a meat one. They look tasty as hell. Sauce options include cheese-mustard, sweet chili, parmesan, and garic parm.
Keep an eye on the local shop's Insta for opening details. It'll be located inside the former mini U.S. Bank at 401 14th Ave SE., right on the corner of Fourth Street & 14th Avenue.
Need a Korean corndog now? Bap & Chicken, a St. Paul restaurant we're quite fond of, reportedly has 'em on special every Thursday.