On the surface, Lutunji Abram's story sounds like it's a matter of "right place, right time." For the last few years, the Lutunji's Palate Bakery founder has been working out of a commercial kitchen is in northeast Minneapolis. One day, she parked her car and just… started walking.
The neighborhood is full of new-build condos and apartments, many with commercial real estate on the ground floor. Abram had been dreaming about opening a brick-and-mortar bakery, so she jotted down one of the numbers, and called.
"He answers on the second ring, and I just say, 'Hey, I'm Lutunji. I'm a gourmet pastry chef, and I love this space that I'm standing in front of," Abram says. "He said, 'You know what? Give me your information, and I'm gonna call you back.'"
Abram was soon sitting down with the development group to give a presentation about her bakery, which specializes in both buttery and vegan desserts. "And I did what I always do: I took some cobbler with me," she says.
She was told the location she'd been looking at wouldn't be ready for years. But the idea of the Black-owned community cafe and bakery, along with her social justice mission—she works with youth, young adults, and men that have been previously incarcerated—made the developer think of another building that was under construction on the other side of the river.
The cobbler worked. She'll softly open Lutunji's Palate Bakery and Cafe in the Gatsby apartment building during the first week of May, with a grand opening May 15.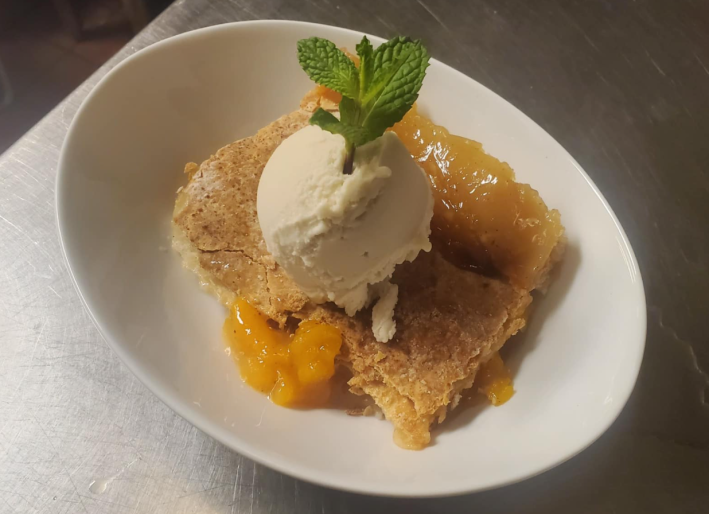 Of course, "right place, right time" always belies the incredible talent and dedication of the people who benefit from it. A fourth-generation baker born and raised in Minnesota, Abram's background is in education; she has a master's in organizational leadership with an emphasis on education. "Because when I grow up," she laughs, "my plan is to open a charter school for moms and dads."
The Lutunji's Palate story starts in 2018, when Abram went to meet with pastor Jeff Cowmeadow of the historic Calvary Baptist Church to discuss starting a GED program for teen parents. "I did what I do," Abram says. "That time, I took a warm peach cobbler."
As they discussed the ins and outs of the program and spaces she could potentially lease, the pastor stopped. "He said, 'Girl, you are going to sell these cobblers this summer in my farmers market.'"
She was at the Whittier Farmers Market within months, and has been baking out of Grace Lutheran Church in northeast Minneapolis. The move to the new building means she can now work baker's hours, something she rarely has the opportunity to do out of her shared space. And having a building of her own will also let her expand her community work, partnering with a number of nonprofits (StepUP, Dakota County Juvenille Services) to give young people a chance to learn leadership and development skills while they work, baking pecan and peach cobbler as they grow together.
In addition to her delicious baked goods, which you can also find at several Lunds & Byerly's locations, North Market, and the Minneapolis Farmers Market Annex, Lutunji's Bakery and Cafe in Elliot Park will serve a menu of cafe items, many inspired by the business owners who've inspired Abram on her culinary journey.
Sammy McDowell of Sammy's Avenue Eatery is a longtime friend, and "he has a pastrami sandwich that is to die for," she says. So, at Lutunji's Palate Bakery, you'll find a pastrami sandwich—it's called "The Sammy." You'll also find the pimento cheese dip and crackers, one of the very best things on the menu at Handsome Hog: they're "Justin Sutherland's pimento cheese and crackers." You can expect some salads and a number of other sandwiches and snacks—and, of course, the baked goods, both vegan and full of butter.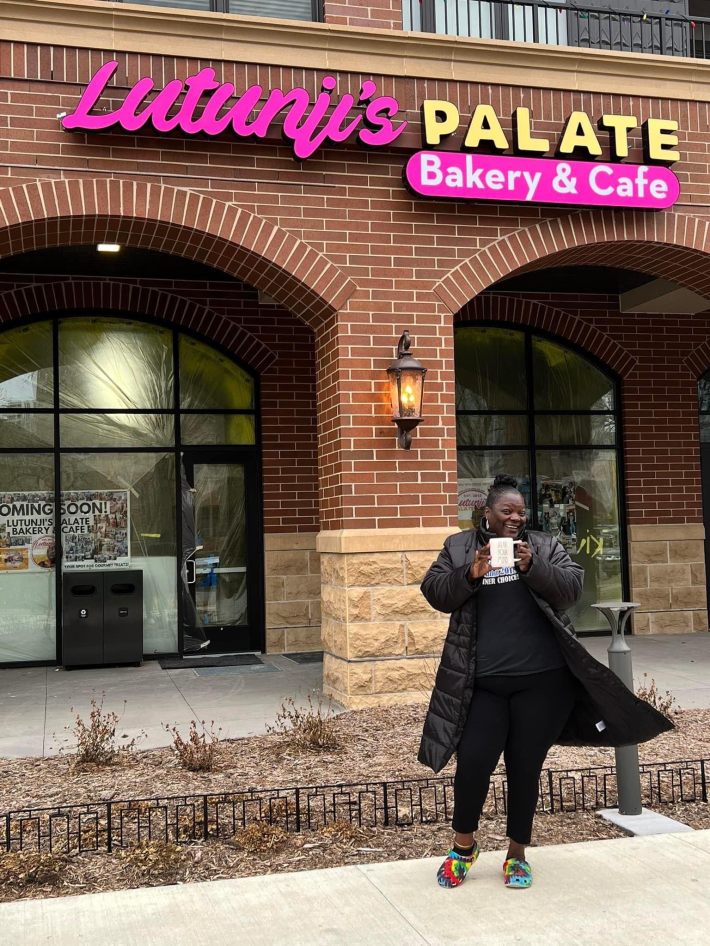 So much of Abram's success comes from asking, "Why not?" When she explains why she decided to open a bakery and cafe, she replies, "I'm under 244 apartments—why not do a little sandwich and salad?" And when she talks about introducing new programs to support the families who will live in the units above her: "It's a mixed socioeconomic community, right? And some of those families have kids. OK, I'm a bakery-slash-cafe closing at 3 o'clock, why not have a little after school program?"
In response, the community has rallied around Lutunji's Palate Bakery. A $70,000 crowdfunding campaign helped open the doors at the Park Avenue bakery and cafe, and chefs like McDowell and Sutherland have been overwhelmingly supportive. In return, now that she has a kitchen of her own, Abram plans to invite a rotating cast of chefs to cook out of it—follow along on Facebook and Instagram for more info about pop-ups and special dinners.
"It's happening … totally by faith," Abram says. "When I tell you everything that is happening: I just believed. I believe, and I still believe. What got me to this place was tons of prayer, faith, and my will to do."
It could be a higher power. But we'd also believe it's the cobbler.
Lutunji's Palate Bakery & Cafe
1400 Park Ave. S., Minneapolis
Opens May 1