Lots of Minneapolis pizza news these days! Wrecktangle⁠—winner of our big chain pizza survey⁠—is just about ready to open in Lyn-Lake; Boludo is moving into a bigger space at 38th & Nicollet; and Pizza Shark will soon expand into St. Anthony Main.
And over in St. Paul, the team behind Estelle is just about ready to open Mario's Pizza in the old Tillie's Farmhouse space (232 Cleveland Ave.). Chef Jason Hansen says Mario's has its first round of city inspections this week, and if all goes well, he expects they'll be open before April is out. (If all goes perfectly, they could be open as soon as April 1—no foolin'!)
Mario's will be open for lunch and dinner, seven days a week, with six different pan pizzas. "We were originally calling them Detroit style, but it's more of a pan pizza," Hansen says.
Without getting too into slice semantics here, Detroit pizza has a chewy, thick crust, with the sauce on top of the cheese. The cheese, which there's a lot of, forms a caramelized crust of its own around the edges of the pie, thanks to the pan in which it's baked. Mario's pizzas will be cheesy, and have a chewy-crispy crust made with Minneapolis's own Baker's Field Flour, and will be pan baked, but the sauce is going under the cheese. Safer, then, to call it a pan pizza.
"And we're keeping it pretty straightforward, we're not gonna do a bunch of taco salad pizzas, and stuff like that," Hansen says.
Mario's will also have a menu of hero sandwiches inspired by Italian delis in New York City. Evan Vranian, who's overseeing the kitchen here, is baking the Italian white sesame seed loaf bread in house, which will become the vessel for hoagies like an Italian combo (soppressata, salami, and mortadella), a turkey hero, and house roast beef. There's also a marinated artichoke hoagie for the vegetarians.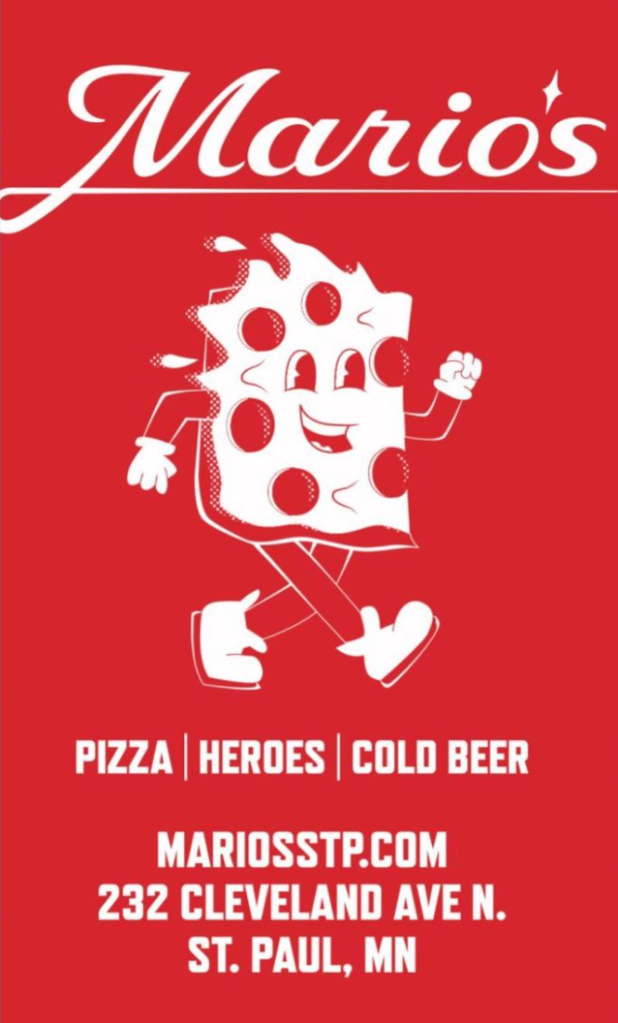 This oughta be a welcome addition to the neighborhood, as one of my most often argued local food takes is that though we have a few good sandwich shops around here, we don't have nearly enough of them.
"I was thinking the same thing," Hansen laughs. "And our sandwiches, you're not going to be able to get anything like it, other than at Mario's."
Something else you'll only find at Mario's is their new cheesy garlic bread doughnuts—"it's kind of alike a cheese curd, but kind of like a mini doughnut," Hansen says. "They're awesome." For folks who prefer their doughnuts savory, they'll also be whipping up blueberry and Oreo flavored zeppole.
On the beverage side, a few tap beers and plenty of stuff in cans, and a few wines. They'll also have Peace Coffee, so you can grab a coffee and a bag of sweets and walk out when they open at 11 a.m. Mario's will be a counter-service place, with 50-ish seats (and, if anyone knows how to fix it, an old Wurlitzer jukebox).
"It's a little more of a casual thing than our other restaurant, Estelle," Hansen says. "But it's definitely for the neighborhood, and being by the college, I think it'll work out great."