I was intrigued, visiting the Market at Malcolm Yards for the first time last summer, by a new restaurant called Joey Meatballs. They had a menu full of classics, from jumbo shrimp scampi to a peppery carbonara to spaghetti and meatballs. The pièce de résistance? Their signature cocktail—available at the Malcolm Yards bar—a drink called a "Gabagool Spritz."
Suddenly, Joey Meatballs was everywhere I looked, and it wasn't just a Baader-Meinhof thing. A second location opened at Keg and Case West 7th Market in October, followed the next month by an outpost at Potluck in Rosedale Center.
The meatballs were multiplying, taking over Twin Cities food halls. I had to know: Who is Joey Meatballs?
It turns out Joey Meatballs is two guys, Joshua Hedquist and Peter Stampone. "Me and Pete actually met over a bowl of pasta 12, 13 years ago," Hedquist says.
Both had worked in food and drink for over a decade, mainly in larger, fine-dining establishments. But when they decided to open a spot of their own, they wanted to do something that spoke to them—and that wasn't going to be white tablecloth affair. They saw the writing on the wall. Fast-casual dining is the future.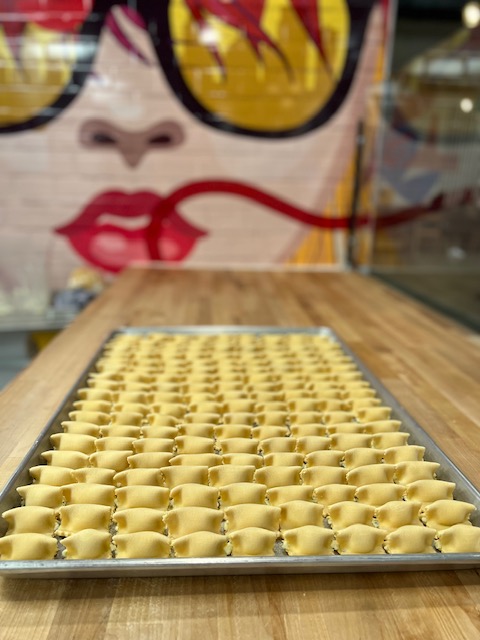 Hedquist and Stampone were both pasta lovers. ("Red sauce pumps through Pete's blood, Italian guy from Philly," his friend laughs.) But while everything from tacos to pizza to sushi burritos was available in a fast-casual setting, there wasn't really anyone doing noodles. That seemed weird to them, given that "Italian food is like America's sweetheart—everybody knows spaghetti and meatballs."
Hedquist challenged himself: Could Joey Meatballs make a bowl of pasta as fast as Chipotle can roll a burrito? Could they do it with scratch cooking, local ingredients, and thoughtful techniques?
The answer was yes.
"We're making that pasta fresh, every day," Hedquist says. "We're making fresh bread every day. We're making the cheesecake, we're making the sauce—everything." If you visit them at Potluck or Keg and Case, you'll actually see the fresh pasta being made right in front of you.
And that's partly a display of authenticity, yes—but it's also a little bit about "bringing the show back," Hedquist says, a throwback to the days of the tableside Ceaser salad. Customers ask questions and chat with the pasta preparer. It's more engaging than the experience you get at most fast-casual chains, and guests often walk away knowing a little more than they did before about preparing fresh pasta.
"We're really kind of closing a gap between proper fast food and what we do," Stampone says, noting that anymore, a full meal at Wendy's costs around $12. To his point, I remark that I was recently shocked by the $17 tab on two six-inch Subway hoagies. "That's approaching our price point for real food," he says—a heaping plate of pasta from Joey Meatballs goes for between $14 and $17.
The goal is to be approachable and affordable, no matter who you are. "If you're a foodie, and you want to have a truffle butter pasta with local blue oyster mushrooms, truffle butter emulsified in cream sauce with fusilli pasta, it's there for you," Hedquist says. If you want spaghetti and meatballs, or cheese ravioli, they've got that too. It's meant to be family-friendly. And doesn't "Joey Meatballs" just sound like a laid-back Italian joint you could find in any city across the U.S.?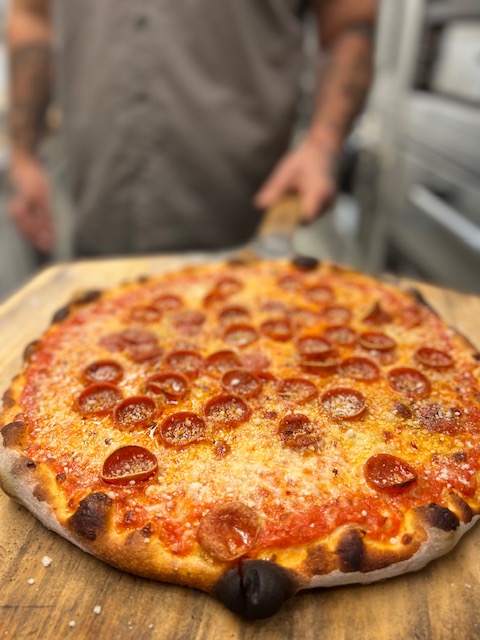 "No matter who you are" extends to the staff: "We're working with what you'd call the 'hard to hires,'" Hedquist says. "We like to provide opportunities to the right people … if you're a good person, you know how to cook, and you love food, you can be a part of our team." Hedquist is the chairman of the Board of Directors for The Redemption Project, a nonprofit that advocates for and supports inmates and previously incarcerated people who are looking for meaningful employment, and part of the Joey Meatballs mission is to be a felony-friendly and recovery-friendly work environment.
A fourth location in the works, this time inside the forthcoming Ties Lounge & Rooftop on Nicollet Mall. "Joey Meatballs is our baby, but we really wanted to do pizza," Stampone says. So they're doing both, opening another Joey Meatballs and debuting a concept called "OG ZaZa," which will focus on pizza, wings, sandwiches, and salads. They're doing New Haven-style pizzas—thin-crust, coal-fired Neapolitan pizzas that are one of the rarer styles in the Twin Cities.
That means that since August, they'll have opened four Joey Meatballs—Malcolm Yards, Potluck, Keg and Case, and Ties—and introduced their newest concept, OG ZaZa. "And don't forget Salad Slayer," Hedquist laughs—that's their build-your-own salad spot at Potluck. They have more yet-to-be-announced locations on the way.
It's proof to the pair that their concept works: keep it fast-casual, with less overhead, and you can stay agile, building quickly. They have a lot love, not just for food, but for the folks who prepare their food and for the folks who eat it. Watching someone take that first bite of and nod their head in a blissed-out pasta euphoria? To them, there's nothing better.
"This is the American Dream," Hedquist says. "I'm not rich, Pete's not rich. We didn't have a million bucks, we didn't get any investors. We're out here grinding every day—cooking food, doing what we love—and I think that's the biggest thing. I think that's why it works. We're Joey Fucking Meatballs, you know?"