Stories about restaurants in downtown Minneapolis these days read like a battle for the soul of the city.
In one corner, you've got your "downtown is done" contingent, like Seven Steakhouse and Sushi co-owner Erick Patterson, who told the Star Tribune last week, "Downtown is not getting any better from a crime standpoint or from an interest level with clients coming back." (Is Downtown the new Uptown? Discuss amongst yourselves in the comments.)
In the other, you've got folks like the Fhima family, who just opened a bakery, Mother Dough, in the ground floor of Capella Tower, and are working on a huge restaurant complex nearby in the North Loop. That's in addition to the downtown Minneapolis restaurant they've operated since 2018. "All you could hear about Minneapolis is: This is bad, this is bad, this is bad," a frustrated David Fhima told Racket last month. "We wanted to stop talking about it and do something about it."
Gene Sanguma, one of the co-owners of Ties Lounge & Rooftop, falls into the latter camp. You'd have to, to open a four-level lounge, restaurant, and rooftop hangout on Nicollet Mall.
"I really think it's a perfect location, but the past two businesses that have been there have been in and out," says Sanguma, Ties' creative director. "We're kind of trying to break that curse and be the one that stays for more than four years."
In order to do that, he says, the plan is to create something they've never really seen before. "We kind of wanted to bring all the best things about bars, lounges, eateries, and nightlife, and tie it all under one roof," he says, hence the name.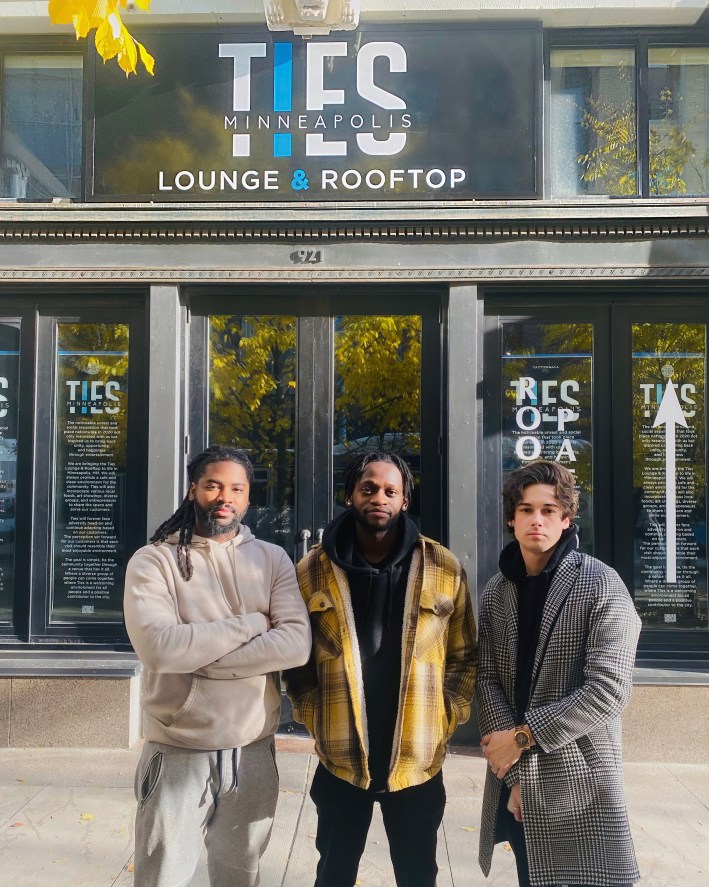 Each of the four floors will have a different vibe—on the main level, you'll find the dining room, which is being overseen by the duo behind the fast-casual pasta spot Joey Meatballs. They're bringing a new Italian concept to Ties, with pizza, pasta, salads, and wings, and they'll have quick grab-and-go options for folks in the corporate offices nearby in addition to a full sit-down experience.
Above that, you'll find a bar area, with cocktails and beers and other bevs. The basement will be the lounge, with a mix of nightlife and theme nights—karaoke one night, an LGBTQ+ dance party the next. Sanguma envisions hosting art receptions and fashion shows in that space, too. On the roof, they'll have another concept from Justin Sutherland, the chef behind Handsome Hog.
Sanguma and his co-founders, Stevie Moman and Tommy Joyce, started hanging out not long after college, and were always together. They founded a marketing and promotional company called Minneapolis Ties, doing promo for clubs and bars around the city (Crave, Pourhouse), and last summer organized a bar crawl called Lost In the Loop.
When an investor approached them to ask whether they'd considered opening their own space, the trio was hesitant at first. ("We don't come from money," Sanguma laughs.) But after talking it over, they realized this was something they wanted, and they scrimped and saved to make it happen.
"All the social separation that took place within our community—the protests, everything that happened with George Floyd—it really resonated with us," Sanguma says. He hopes Ties will foster "unity through entertainment," and notes that it's a place where they want everyone to feel welcome, so much so that they avoid using the word "nightclub," which can sound exclusive or exclusionary, to describe what they're doing.
"We're not just a bar, we're not just a lounge, we're not just an eatery—we're a community," Sanguma says. Having multiple experiences isn't just a way to keep Ties feeling fresh, but a means of making sure everyone, no matter who they are, feels like they're welcome, that there's something here for them.
Sanguma, Moman, and Joyce take that responsibility seriously. Beyond being a comfortable community space, they feel it's important to be part of a new wave of businesses breathing life into downtown Minneapolis.
"There's been this connotation where people feel afraid to come back downtown, but I honestly want to tell those people that downtown isn't a no-mans-land, or a foreign place," Sanguma says. "Downtown is part of our community as well. Downtown is our home, and home is where you find your family. It's up to all of us, as citizens of this community, to come back together and make downtown a safe and lively community again."
Ties Lounge & Rooftop
921 Nicollet Mall, Minneapolis
Opening March, follow their socials for updates