Wrecktangle Pizza already has two locations, but there's at least one major difference at their third spot—opening this week at the corner of Lake Street and Lyndale Avenue. 
"We get the space all to ourselves," exclaims co-owner Breanna Evans. 
After sharing space at Malcolm Yards and the North Loop Galley food halls, they're going solo at their much anticipated third location at 701 West Lake Street, a.k.a. the building f.k.a. Prieto, Hasty Tasty, and Falafel King. 
At a Friday afternoon media event, the paper once blocking the windows had been removed, and curious passersby frequently stopped to peer inside (some even smiled and waved).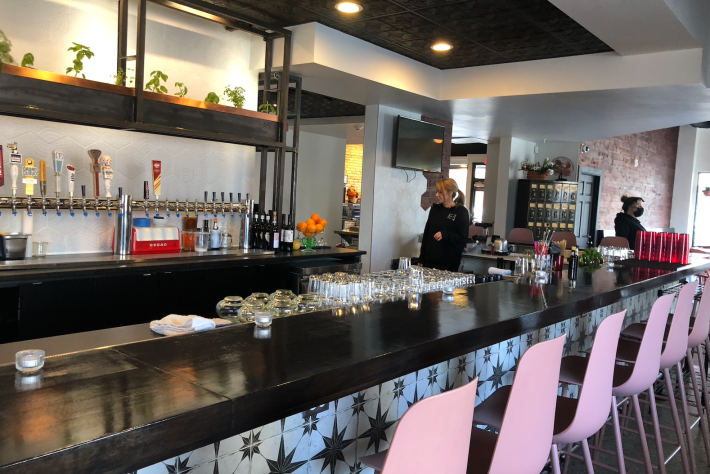 Since opening in Malcolm Yards in 2019, Wrecktangle has served up fan-favorite Detroit-style pizzas, the kind made in a pan. Though they look like Chicago-style deep-dish gut busters, they're not; these pies are fluffy—pillowy, even. The crunch comes from burnt cheese at the corners, while the gooey middle cheese, sauce, and toppings melt in your mouth.
The Shredder—a pie made with pecorino romano, pickled jalapeño, whipped Cry Baby Craig's honey, and pepperoni—has already made several best of lists (including ours). "The Shredder is our bread and butter," says Evans, as a fresh one comes out of the kitchen.
But while they'll be serving up their classics, there's more to the space than simply going solo. For starters, they'll take advantage of a few items that Hasty Tasty left behind, including a meat smoker in the basement that Wrecktangle plans to put to good use. Recent test pizzas have included a Philly cheesesteak pizza made with brisket from the smoker and a Hawaiian pizza with homemade bacon jam. They've also got meaty sandwiches planned.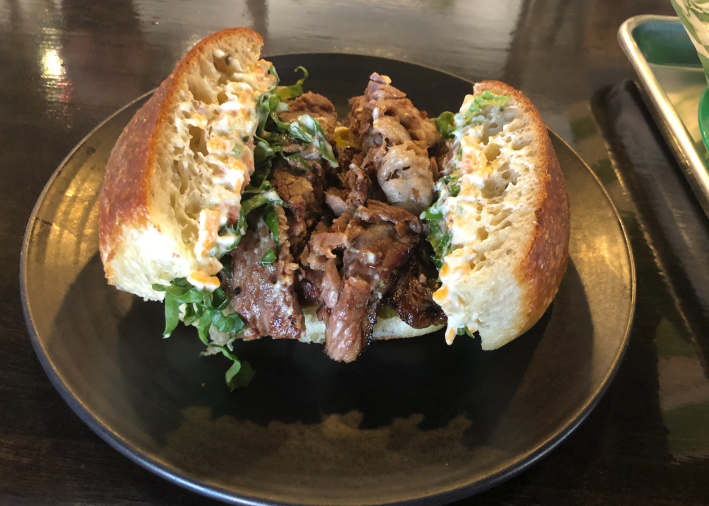 Hasty Tasty also left its slushy machine behind.
"We're going to do some NA slushies in there at some point," says Evans. "Gotta slap back some slushies for patio season."
Another thing that's different at this location: Wrecktangle plans to put the long bar to good use. Though their menu is still being developed, during the sneak peek a variety of refreshing, summery cocktails were served. A very pretty vodka smash featured raspberry, Thai basil, lime, and a little bit of sugar. An old fashioned arrived with a curry leaf. A Campari-style spritzer was refreshingly tart. Jinx Tea, an effervescent carbonated Arnold Palmer type drink, will also be on tap.
Those familiar with the space will notice that the entrance has moved. Rather than use the one directly at Lyn-Lake, guests will enter around the corner on Lake Street. The new entrance area also doubles as a daytime cafe, where they plan to serve breakfast and sell items from local makers.
Dubbed Silvers Market and Deli, the concept is an ode to chef/owner Jeff Rogers's grandparents, Italian immigrants who owned a grocery store in Hibbing. 
"Eventually we'd like to sell dairy basics like milk and eggs in the cooler," adds a staffer during the party. 
One of their breakfast offerings, called a "bungle," is a mashup of a bagel and a bun (think of a bagel without the hole in the center). This original creation has a crunchy-crust and chewy inside, and gives serious Meyvn vibes, for those who remember the delicious but ill-fated bagel shop at Bryant and Lake. 
Wrecktangle Pizza's third location opens April 20.