One fun thing about running Racket is that you people don't hesitate to tell us what you'd like to see more of. (And I mean that sincerely!) 
Over the last few months, folks have been clamoring for more lists: more burger or beer guides, more rundowns of restaurant openings and closings and coming-soon-ings. And since I've got running lists of at least some of the above in the ol' brain box anyway, we're going to start doing more of it. Easy! Here's January's! (I don't want to hear it; it's still January for another handful of hours.) 
We'll be back every month with a running list of updates, and if you spot anything we missed or should know about, shoot me an email: em@racketmn.com.
Now Open
Protagonist Kitchen & Bar
Pejmon Nadimi and Jahn Brink once ran Republic, the gastropub that once had locations in 7 Corners and Uptown. These days, they're bringing Republic's essence to the former Houlihan's space in Richfield. Protagonist—so named because these service industry stalwarts are out to prove they're "the good guy in our story"—has been quietly serving great food at Richfield-appropriate prices since December; read more about it here.  
The Creekside Supper Club & Lounge 
The much-buzzed-about Creekside, billed as a Wisconsin-style supper club, opened just before the new year at 4820 Chicago Ave. in Minneapolis. It's kitschy, it's fun, and it's got all the taxidermied deer and wood paneling and popovers a midwesterner could ever want. We sent our Wisconsin born and raised food writer to check it out. 
​​Wild Bill's Sports Saloon
Not to be confused with Wild Greg's, the downtown Minneapolis nightclub that hates Governor Walz and sued the city over its vaccine mandate, Wild Bill's is a chain of Midwest sports bars with locations from Apple Valley to Fargo. Its latest outpost is now open in St. Paul, in the old Liffey space by Xcel Energy Center.
Mother Dough
After opening Fhima's in downtown Minneapolis a few years ago, the Fhima family is expanding in a big way this year. First up is Mother Dough, a bakery located in the old Peace Coffee in Capella Tower. They're serving coffee, pastries, beer, and wine, from 7 a.m. to 2 p.m. Tuesday through Thursday.
Noa
What's that? Another new restaurant in downtown Minneapolis? Gotta wonder if rumors of its demise were greatly exaggerated. Noa, located in the IDS Center, is a "a California-inspired eatery" with a menu of street tacos, sandwiches, salads, and sushi. They're open for lunch now (Monday to Friday, 11 a.m. to 3 p.m.) with plans to add dinner in February. 
Abi's
Previously located at Lake and Bloomington, Abi's had a rough go of it during the Uprising, and they've since brought their Salvadoran and Mexican menu to 2828 Lyndale Ave. S. Open 10 a.m. to 8 p.m. daily (closed Wednesdays). Read more about their perfect pupusas here.
Carbon Kitchen + Market
New in Northeast from the Gastrotruck duo (Catherine Eckert and chef Stephen Trojahn), Carbon Kitchen + Market serves up all kinds of soups and sandwiches and bowls, with all the meats and veggies cooked on a coal-fired grill. The loaded fries look incredible. Opened January 6. 
Nouvelle Brewing by Travail
The news that Pig Ate My Pizza would close had folks pretty bummed last month, but the Travail team has already turned around and opened Nouvelle Brewing in the space. To no one's surprise, it's pretty great—read our review here.
Lush
LUSH closed in a blaze of chaos back in 2020, but it reopened this January under the leadership of an eclectic new team: drag queens Andrew Rausch (Crystal Belle) and Jared Lawrence (Nikki Vixxen), biscuit maven Jennifer Lueck of Betty and Earl's, and Jason Matheson of FOX 9 and myTalk 107.1 Here's a little more info on the drag brunch and biscuits.
Laune Bread
This new bakery on Lake Street trades in meticulously crafted loaves, baguettes, pretzels, and simits, as well as an array of sweet treats. "Laune is a German word meaning 'vibes,' and I named the bakery as such after my experience living in Germany," Christopher MacLeod, who founded Laune Breads as a solo baking endeavor in 2015, told Racket earlier this month.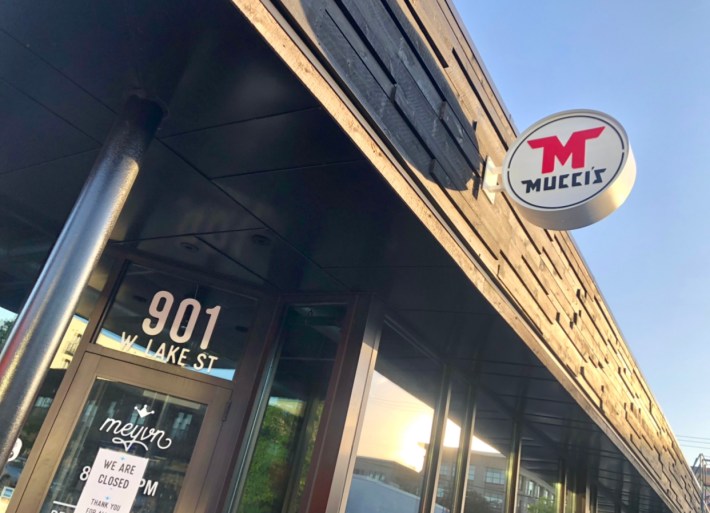 Closed or Closing
PinKU Japanese Street Food
After five and a half years in Northeast, the funky Japanese restaurant announced it was closing in mid-December and officially bowed out with a New Years Eve bash.
Pig Ate My Pizza 
Robbinsdale's popular Pig Ate My Pizza was another January 1 midnight closure; Nouvelle Brewing by Travail has already opened in its place. More on that up top.
Black Dog Cafe
After two decades in Lowertown, the beloved Black Dog Cafe said its goodbyes on January 15. "We are grateful for each and every one of you that has walked through these doors," a farewell note posted on their door read. "We have loved you as best we could." We've got a few more details on the closure (but not many) here. 
Part Wolf
January 28 was the last night for Part Wolf. The bar reportedly closed to make way for a pharmacy—important, but not nearly as culturally significant to the West Bank's storied but shrinking music scene. Plus, where will the bocce players go?
Trattoria Mucci
It was fun while it lasted, but there's no more Mucci's in Lyn-Lake. The popular St. Paul pizza-plus place opened a Minneapolis outpost around two years ago—and my, what a chaotic two years it's been. "I love Uptown, I love Lyn-Lake, I love Lake Street," owner Tim Niver said. "It just didn't work out this time."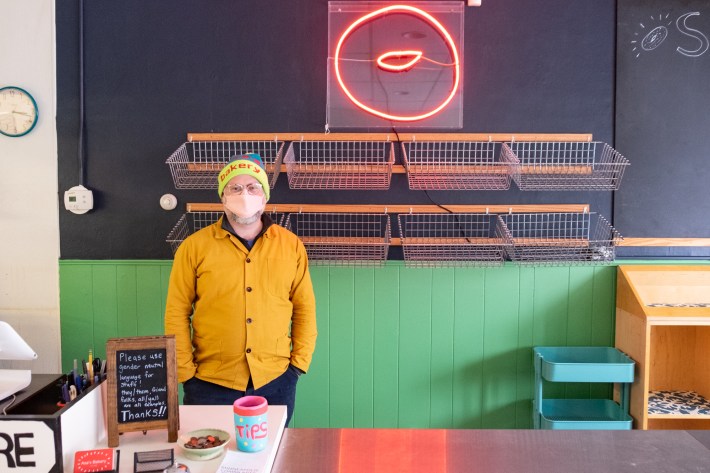 In the Works
Asa's Bakery 2.0
Asa Diebolt's namesake bakery has been quietly serving up some of the best (possibly the best) bagels in the Twin Cities for years, and it's one the only places around where you can get bialys. This February, Asa's will finally get a space all its own in which to shine. We stopped by the almost-finished new bakery earlier this month to learn what's in store. 
Ties Lounge
Coming soon to Nicollet Mall: Ties, a lounge and rooftop spot that puts the challenges of the last few years front and center. "The noticeable unrest and social separation that took place nationwide in 2020 not only resonated with us but inspired us to bring back unity, opportunity, and happiness through entertainment," their website reads. Look for a grand opening in mid-February.
The Apostle Supper Club and False Eye Doll
Purpose Driven Restaurants, the group behind Hope Breakfast Bar and the reborn Gnome Craft Pub in St. Paul, is also working on a supper club-slash-tiki bar across from the Xcel. Initially slated to open in October, supply chain issues are proving to be a problem. The Pioneer Press has the latest.
Mochi Dough and Bober Tea
Mochi Dough's Japanese doughnuts are already a huge hit in California, founder Jeremy Moore told Racket earlier this month. He's opening 11 (!) new Mochi Dough locations in CA this year, plus one in Colorado and one here in Dinkytown, where it will share a space with the Singapore-style boba joint Bober Tea. Read more of our chat with Moore here. 
Gus Gus 
St. Paul lost a hell of a burger joint when Stewart's closed late last year, but 128 N. Cleveland Ave. won't be dark for long. With Gus Gus, Anna Morgan and Kevin Manley want to create a space with great food that's cozy and laid-back; expect Jell-o shots and cans of Hamm's. The Strib has the scoop on what's in the works. Opens February.
Que Viet
Northeast's Que Viet, purveyors of massive, wonderful, State Fair-favorite egg rolls, are opening a second location. Em Que Viet—the "em" means little brother or sister in Vietnamese—should open at 1332 Grand Ave. in St. Paul sometime this spring. 
TK Fhima Project
We told you the Fhima family had more in the works. They're setting out to launch a multi-story restaurant, event hall, and food justice project in the historic Ribnick Furs building (224 N. First St.), which closed in December after 76 years. We chatted with Fhima about the ambitious project earlier this month.