Like everyone, Mike Kempenich, a.k.a. "The Gentleman Forager," has had an unexpectedly tumultuous handful of years.
Kempenich started his career as a mushroom cultivator, eventually expanding to offer group classes on wild foods and host foraging expeditions. The Gentleman Forager umbrella grew over time to include live events like the Black Morel Hootenanny, the Lobster Mushroom Jamboree, and the Wild Food Fandango. Their retail operation, Forest to Fork, opened a storefront in St. Paul's Keg and Case West 7th Market in 2018.
"COVID took care of all that," Kempenich says, laughing at his mindset in the height of the pandemic. "I have no restaurant clients anymore, my retail's been shut down. God doesn't want me to earn a living."
One thing the shutdown did afford him was the opportunity to host an outdoor music series at Keg & Case, which ran for 16 weeks. "That was when nobody could do anything, basically, so once a week you could come out and we'd have 500 to 1,000 people out there, outside."
But with things slowly returning to something approaching "normal," Kempenich and co. are doing something a little less normal. Over the last year or so, they've been trying to figure out a way to continue combining music with wild food and drink.
Enter: Gentleman Forager's Shroom Room.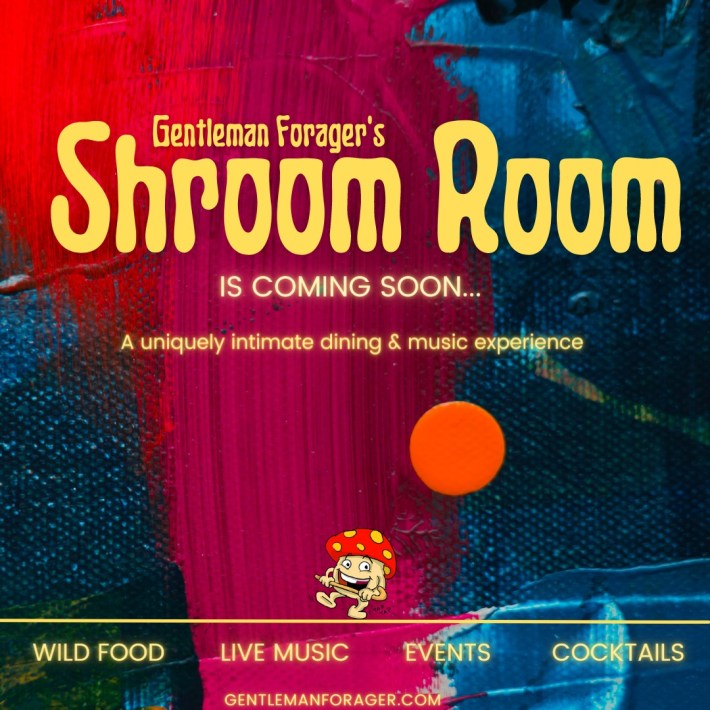 The building is located at 4030 Central Ave. NE in Columbia Heights, right on the edge of northeast Minneapolis. The venue will be on the small side—cozy and dark and intimate, maybe 50 or 60 people tops at each dinner-slash-show—with as much of an emphasis on the music you're hearing as the food you're eating.
"I think this is going to give us a really cool opportunity to continue with great chefs making great food with a really wild—and I'm saying that tongue in cheek—sort of theme to it," Kempenich says. "And beyond that, we can supply the public with a very cool, unique kind of venue for that."
The setup is meant to draw in a connected crowd, where people are there for the experience, not drinking loudly in the back of the room while a band they barely register plays. Though of course, having a cocktail or three is encouraged—The Shroom Room will have a full liquor license, with drinks made with wild ingredients and a memorable menu of foraged food.
"I have a lot of respect for how hard that road is, how little money there is out there, and how, too often, they end up playing somewhere for next to nothing," Kempenich says. "It's a two-pronged approach: Let's give food fans and music fans and mushroom fans a place that they know has really original programming and cool events going on, and let's also give the music community a place they feel good at, where they're treated really well and they're compensated for their talents.
"It's a little bit hippie," he chuckles, "but I mostly want it to be approachable to everybody."
The Shroom Room will have a soft opening dinner-and-show on Saturday, March 26, featuring JB Reilly and the High Summer Special. And Kempenich hints at a big name playing in the not-too-distant future. You'll be able to track down more updates on the Shroom Room on the Gentleman Forager website or on Facebook.
If having a five-course dinner and a couple cocktails and a show sounds like a bit much, the Shroom Room creator notes that the experience will probably change to match the music. They'll experiment with what makes sense from show to show—maybe sometimes a coursed meal with bluegrass, other times more of an hors d'oeuvres, drinks, and R&B affair.
"People sometimes ask me, 'How'd you get into doing this?' And I'm like, 'Well, I just like to do these things myself—I wonder if anybody else wants to come along to my party?"