Niche Twin Cities complaint incoming: We don't have enough sandwich shops. (All due respect to the triple-C triumvirate of Caffrey's, Clancey's, and Cecil's.) That's especially true in northeast Minneapolis, where the imminent closure of Dipped & Debris means the area will soon be down a great sandwich shop with a highly underrated burger.
Lucky, then, that Marty's Deli just announced a forthcoming brick-and-mortar sandwich shop in northeast!
For the last year and change, Marty's, from sandwich maestro Martha Polacek, has operated on a mobile, pop-up basis. (It was one of five fun new pop-ups and takeout spots Racket highlighted earlier this year.) But having a physical sandwich shop was always the goal, and, last weekend, Polacek announced that the time has come.
Don't cancel your lunch plans just yet: Polacek says there's "a long way to go" when it comes to transforming the building—a former tattoo shop at the corner of Fourth and Lowry—into a 15- to 20-seat sandwich shop.
"It's gonna be really small, kind of like a New York City sandwich shop vibe," she says.
You can expect to see the signature sandwiches that have made Marty's pop-ups a hit so far—The Seward (pickled beets, cauliflower, feta, pesto, and arugula), The Pool and Yacht (chicken salad and capers)—plus some new stuff, like hot sandwiches and breakfast sandwiches. (Polacek's especially stoked about breakfast sandwiches.) And of course, everything will be served between Marty's signature focaccia. "I'll be able to make way more focaccia because I'm using the world's smallest ovens right now."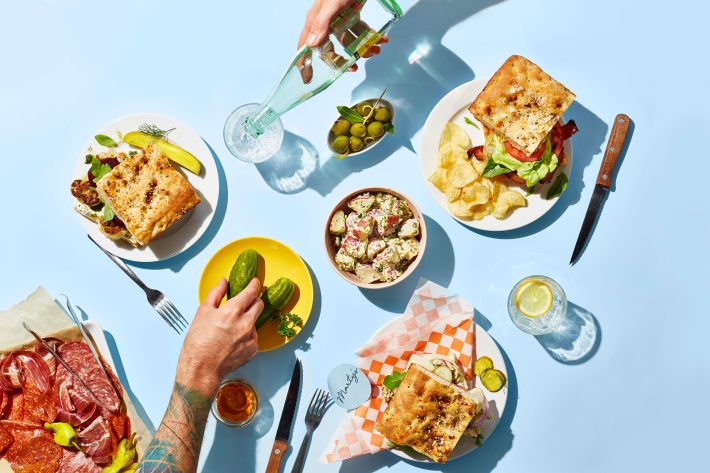 Having a physical deli means the pop-ups Marty's Deli has been doing for the last year or so will take a back seat, but Polacek would love to keep slinging sandwiches at special events, personnel permitting.
"Right now it's just me," she says. "I'm really pumped about being able to hire people and getting to work with people again."
The full buildout of the Northeast building will start within the next few weeks, but as for how long it'll take? It's anyone's guess. (COVID, supply chain issues, backordered kitchen equipment, etc.)
"I'm hoping people don't get too annoyed with me posting construction updates, like all the sudden this sandwich Instagram account turns into a construction account," Polacek laughs. Judging by the overwhelmingly stoked response to her brick-and-mortar announcement, that won't be an issue.
"I honestly expected some reaction—like a normal amount—but I've gotten so many DMs, people are pumped," Polacek says. "I've been working on this for the last year, so it's nice to like, be able to announce it and have people be pumped about it."
Until then, you know the drill. Keep an eye on Instagram to see where Marty's will be serving sammies each week.