For some foolish reason Minnesotans relegate corndogs—and yes, the singular Pronto Pup—to the State Fair. South Koreans are much wiser about the indisputably delicious junk food. Since the 1980s, their cheesy variation on corndogs, simply called hot dogs there, have existed as a popular street food.
Myungrang Hot Dog launched from a Busan market in 2016, Bon Appétit reports, and today the chain boasts 650 locations. Recently, TikTokers encountered the thickly battered dogs, which are often surrounded in gooey cheese, specked with fried potato chunks, or dyed with squid ink. Last summer the hashtag #koreancorndog reached peak virality, according to reps from the platform.
Watch this guy go to town on nine dogs:
Unsurprisingly, the American appetite for deep-fried meat tubes swimming in molten cheese has proven sizeable. Myungrang had to impose a five-dog limit on orders when it arrived in Los Angeles in 2019, the L.A. Times reports. That same year CrunCheese Korean Hot Dog opened in Las Vegas, quickly expanding to two Vegas locations with a third in the works; nationwide expansion plans include shops in New York, Florida, and just outside the University of Minnesota.
For months, a "COMING SOON" CrunCheese sign hung inside the Dinkytown window of a former U.S. Bank outpost at the corner of Fourth Street & 14th Avenue. We weren't able to connect with the franchisee in January, though I did chat with a delightful Vegas worker by phone. He informed me that, according to what he'd overheard, the Minneapolis CrunCheese had hit several construction delays.
Our CrunCheese finally opened over the past weekend at 401 14th Ave. SE, and early/glowing online reviews warn of long wait times. Dinkytown correspondent Chris Steller captured throngs of customers waiting for their dogs late Sunday.
The line I endured for 75 minutes Monday afternoon looked similar. Like some sort of dumbass, I wore a parka, softshell jacket, and sweatshirt in the 63-degree heat, adding some entirely avoidable discomfort to the experience.
Here was my sweaty vantage point along 14th Avenue: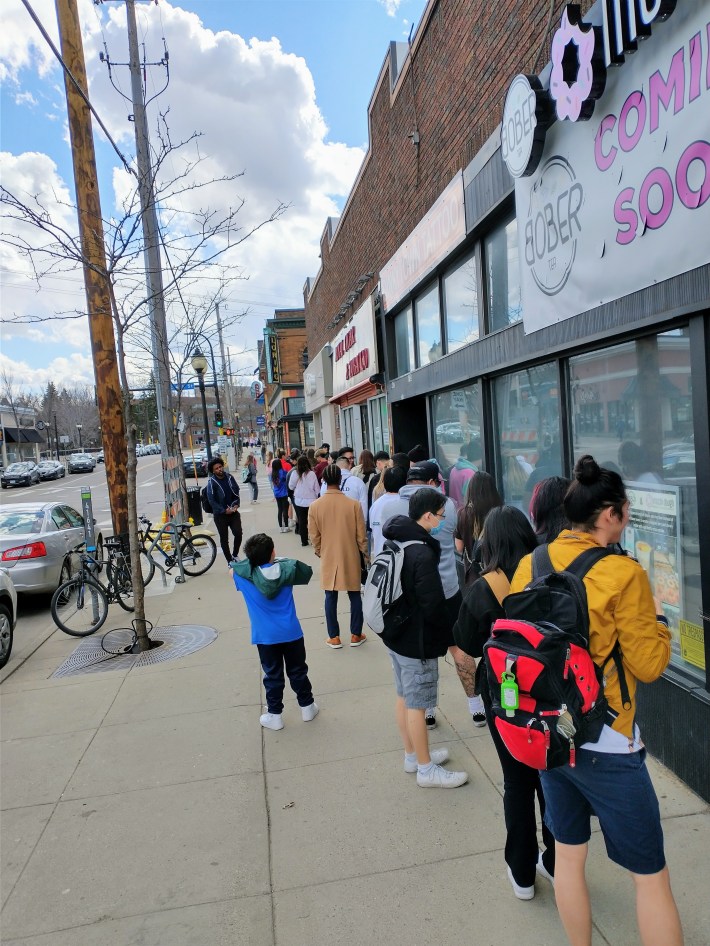 "It's going to be worth it," one soon-to-be patron assured their friend with a twinge of desperation.
"This is like… too much," said another.
So, over an hour later, how'd Minnesota's first Korean hot dog joint fare? Pretty fucking great.
Roughly the size of 20-ounce pop bottles, these are big boys—one dog could satisfy as a light lunch. The namesake crrrrrrrrunch is loud and satisfying as you chomp down through the cornmeal coating, giving way to the cakier batter beneath. The beef link housed inside two of the three I tried, Cheddar Hot Dog and Potato Hot Dog, resembled the juicy, industrialized hot dogs of your youth. There's no artisanal snap or health/animal welfare claims; it's a big cartoon hot dog, and sometimes that's what you crave. (Bap & Chicken, a St. Paul restaurant we're quite fond of, has scaled-down, higher-end Korean hot dogs on special every Thursday.)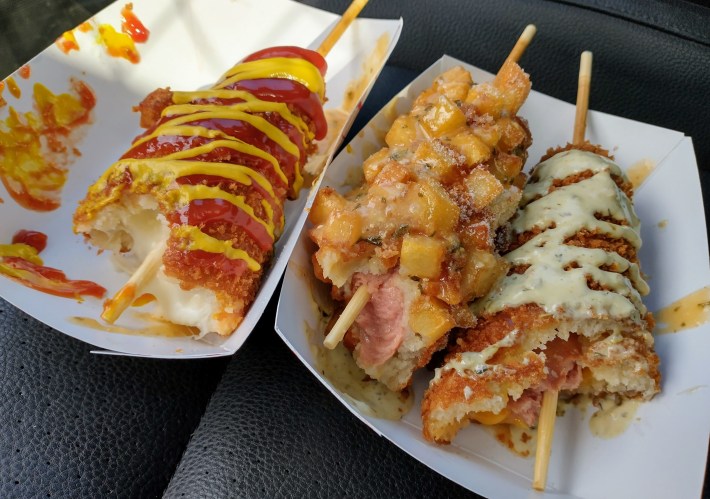 The Potato Hot Dog's Lego-like spud cubes provided a nice crispy carb armor, though the batter beneath was slightly undercooked. Text reading "BEST" accompanied The Mozzarella Hot Dog on the menu, and that wasn't false advertising. (The Squid Ink Hot Dog also carried this endorsement, but it was sold out Monday.) Cascades of soft, melty white cheese tumbled out of the crunchy shell, an experience that felt like eating the idealized mozzarella stick on steroids. If you're debating between mozzarella and cheddar, follow the menu's guidance.
As a hot dog substitute, diners can go all cheese, as I did with the mozzarella one, or opt for a tubular chewy rice cake. An array of sauces—ketchup, mustard, jalapeño ranch, sweet chili, garlic parm, etc.—and flavor powders add pop and additional Instagram appeal; a diner on Fourth Street demanded their group snap pix before biting in. Kudos to the staff of six workers packed inside the tiny former bank branch. They handled the soft-launch mania with calm, friendly precision.
Beyond the indulgent taste explosion, CrunCheese provides exceptional value at $4-$5 per dog. As local food coverage focuses on $500 semiprivate dinners, Gavin Kaysen's ode to the French Riviera inside the city's only five-star hotel, and idly rich Minnesotans deciding to make wine in Napa Valley, I'm happy to sing the praises of a tasty $5 lunch. But, to avoid panic-feeding Dinkytown parking meters, maybe wait a couple weeks before trying CrunCheese for yourself.