Food & Drink
A Bigger Boludo, Centro Heads South, and (Lots) More March Restaurant News
Tons of restaurant openings this March and April—let's gooooooo!
11:26 AM CST on March 3, 2022
Eagle-eyed Racket readers will note that though I promised in the initial installment of the Racket Restaurant Roundup that it would be a monthly affair, the first column was published on January 31. And it's now March 3. 
To that I say... oops. I don't know! February is a short, shitty month. Onto March, where we've got lots and lots of imminent openings coming up, along with some exciting new announcements.
Now Open
Emerald Lounge
An early contender for my "favorite new restaurants of 2022" list, Emerald Lounge opened in mid-February on West 7th. Fun cocktails like the Frozen Lake and the Green Lotus Grogg are paired with lovely little small plates—and folks, they've got a croque monsieur. Read more about it here, and order the mussels if you go. 
Nine Mile Brewing
Did you know that before 2019, Bloomington's charter prohibited taprooms? The folks behind the new Nine Mile Brewing, so named for the nearby creek that runs through the city, pushed to change that. Their brewery celebrated a long-overdue grand opening of its 200-person taproom on February 11, making them the first brewery in Minnesota's fourth-largest city. 
Pa Tea & Poke
Northeast's PinKU Japanese Street Food closed right at the turn of the new year, but their space wasn't dormant for long. Pa Tea & Poke is already up and running from 11 a.m. to 8 p.m. daily. They've got a big ol' list of milk teas, fresh fruit teas, and slushies, plus build-your-own poke bowls and house options.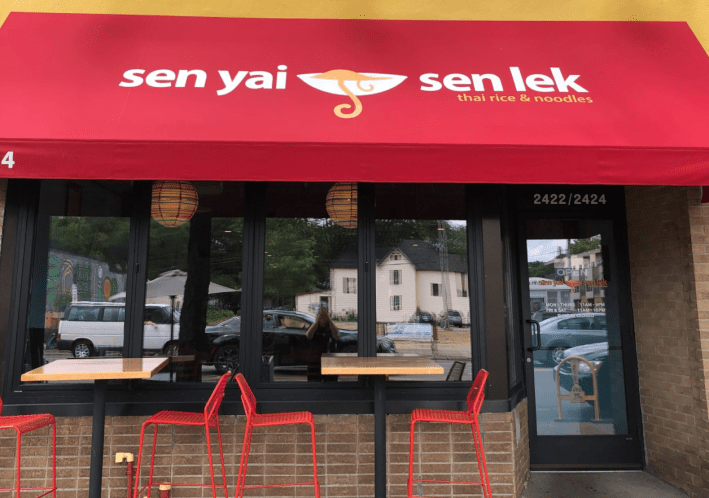 Closed or Closing
Seven Steakhouse & Sushi 
"Most people with a restaurant this size would have shut the doors a long time ago," Seven Steakhouse & Sushi co-owner Erick Patterson told the Star Tribune last month, citing mask/vax mandates and crime among the reasons they're calling it. As the Strib notes, that leaves a pretty substantial 30,000-square-foot hole in downtown Minneapolis. Surely now that COVID mandates have been lifted someone else can make it work!
Sen Yai Sen Lek and Dipped & Debris
After 14 years, Sen Yai Sen Lek co-owners Joe and Holly Hatch-Surisook have announced their neighborhood Thai restaurant will close next month. They're also closing the adjacent sandwich shop, Dipped & Debris, which opened just a few years ago. But because the pair are "BIG FANS of long Minnesota good-byes," you have until April 23 to stop by their restaurants one (or two, or three) more times. More details on the closure here. 
Zettas
Eat Street's home of "somewhat original" flatbread sandwiches is closing on March 18. But it's not all bad news—Yeah Yeah Taco, which the Zettas team started as a pandemic pop-up, has been so popular that it's taking over with an expanded menu.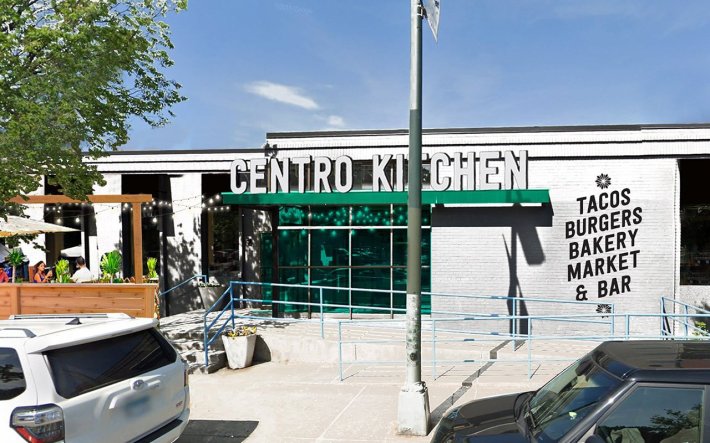 In the Works
Organized by our highly propriety system combining imminent openings and newsworthy coming-soon announcements, here's what's heading to the Twin Cities over the coming months. 
Ties Lounge & Rooftop
This sprawling, multi-story Nicollet Mall lounge and rooftop sounds like a lot of fun: "We kind of wanted to bring all the best things about bars, lounges, eateries, and nightlife, and tie it all under one roof," co-owner Gene Sanguma told Racket last month. Ties will have different energy from floor to floor (so you can have whatever experience you're looking for) and food from Joey Meatballs (which everyone should be looking for). Opens March 12; read our chat with Sanguma here. 
Asa's
Asa Diebolt's namesake bakery has been quietly serving up some of the best (possibly the best) bagels in the Twin Cities for years, and it's one the only places around where you can get bialys. Now, Asa's has a space all its own in which to shine. We stopped by the almost-finished new bakery earlier this year to learn what's in store. Opens March 13. 
Wrecktangle Pizza
Wrecktangle Pizza, the reigning champ of our decisive and flawless list of the best pizza chains in the Twin Cities, is aaaalmost ready to open at Lyn-Lake. The Detroit-style pizza place already has outposts at two food halls—the Market at Malcolm Yards and North Loop Galley—but this'll be its first standalone spot for these pepperoni masterminds. Opens March. 
Gus Gus 
St. Paul lost a hell of a burger joint when Stewart's closed late last year, but 128 N. Cleveland Ave. won't be dark for long. With Gus Gus, Anna Morgan and Kevin Manley want to create a space with great food that's cozy and laid-back; expect Jell-o shots and cans of Hamm's. The Strib has the scoop on what's in the works.
Gentleman Forager's Shroom Room
Mike Kempenich, a.k.a. "The Gentleman Forager," has spent his career doing all kinds of shroom-related stuff: mushroom cultivation, group classes on wild foods, foraging expeditions. Now, he's combining that wild food flair with a love for music, opening a music venue-slash-restaurant called Gentleman Forager's Shroom Room. Racket broke the news last month; read our chat with Kempenich here! Opens Saturday, March 26.
The New Uptown Cafe
The New Uptown Diner is expanding, scooting just a bit down Hennepin Avenue with a second breakfast and lunch spot (3008 Hennepin Ave.). At The New Uptown Cafe, expect a menu that's a lot like the original (with some new twists), and, eventually, dinner service. Opening March.
Mochi Dough and Bober Tea
Mochi Dough's Japanese doughnuts are already a huge hit in California, founder Jeremy Moore told Racket in January. He's opening 11 (!) new Mochi Dough locations in CA this year, plus one in Colorado and one here in Dinkytown, where it will share a space with the Singapore-style boba joint Bober Tea. Slated to open in March. Read more of our chat with Moore here. 
Pizza Shark 
Loan sharks? Bad. Pool sharks? Cool. Pizza Sharks? Very cool. Uptown's Pizza Shark is swimming into new waters this spring, with a second location in St. Anthony Main (201 SE Main St.). Expect a bigger menu of pizzas, plus wings, ice cream, beer, and wine. Opening in late March or early April.
Boludo 2.0
The popular pizza and empanada spot Boludo is moving—but don't worry, they're not going far. As teased in a charming series of social media posts, the original Boludo in south Minneapolis is scooting just across the street, to a bigger address that'll give chef Facundo Defrai seating for 25 and the space to play around in the kitchen and possibly add some new stuff to the menu. The Strib has more info—opening April.
Mario's Pizzeria
Enough pizza news for ya? Mario's—a new Detroit-style pizza place from the folks behind Estelle—is heading to the former Tillie's Farmhouse space on Cleveland Avenue. Beer, wine, takeout... you know the drill.
Provision Community Restaurant
After opening in October of 2019, Provision—Minneapolis's pay-what-you-can restaurant—has been closed since the pandemic hit. Great news: Founder and executive director Anna Wienke tells Racket they're almost ready to reopen, with a redesigned dining room and more fun stuff in the works. Opening April 6; read more of our conversation here.
Em Que Viet
Northeast's Que Viet, purveyors of massive, wonderful, State Fair-favorite egg rolls, are opening a second location. Em Que Viet—the "em" means little brother or sister in Vietnamese—should open at 1332 Grand Ave. in St. Paul sometime this spring. 
Lost Fox
Elephants and foxes and horses—oh my! The former Elephant Bar space in Lowertown will soon be reborn as Lost Fox, from Ann Rose (who worked at Dark Horse Bar & Eatery) and Michael Rose (who's worked at Cafetto for about a decade). Like its predecessor, this'll be an all-day cafe that turns into a full-service restaurant around happy hour. The Pioneer Press has the scoop. Opens May-ish.
Eat Street Centro
The Wedge Table space on Nicollet, which has been empty since the summer, will soon house the first in a multi-location expansion for Centro. The northeast taqueria's Eat Street outpost will be bigger than the original and will include a version of their bakery and market, Vivir, an expanded patio, and another yet-to-be-named concept that's still in the works. Coming summer 2022.
Stalk & Spade
After debuting in Wayzata last year, Minnesota-based vegan chain Stalk & Spade is bringing its menu of burgers and chick'n sandwiches to the North Loop this spring. A 50th and France location is also in the works.
Clancey's x Grand Cafe
We don't know much about this yet—just that the owners of Clancey's Meat and Fish bought the former Grand Cafe building. Axios had the scoop, but there's no word on exactly what's coming to Grand Avenue, or when. 
The Apostle Supper Club and False Eye Doll
Purpose Driven Restaurants, the group behind Hope Breakfast Bar and the reborn Gnome Craft Pub in St. Paul, is also working on a supper club-slash-tiki bar across from the Xcel. Initially slated to open in October, supply chain issues are proving to be a problem. The Pioneer Press has the latest.
TK Fhima Project
The Fhima family is setting out to launch a multi-story restaurant, event hall, and food justice project in the historic Ribnick Furs building (224 N. First St.), which closed in December after 76 years. We chatted with David Fhima about the ambitious project in January.
Em Cassel (she/they) is a cyclist, a metalcore apologist, and a co-owner and editor of Racket.
Stay in touch
Sign up for our free newsletter