At Provision Community Restaurant, the motto is "come as you are, give as you can."
The Lyn-Lake spot is one of a small number of pay-what-you-can restaurants around the U.S., with some estimates placing the total number at around 60. It opened in October of 2019… just in time for the pandemic to shut the whole operation down in March.
Now, after two years, founder and executive director Anna Wienke tells Racket they're ready to reopen. They'll fling open the doors at 2940 Harriet Avenue S. on April 6.
"We're going with a little bit of a different concept than what we were doing before," Wienke explains.
In the five-ish months they were up and running before the pandemic, Provision served dinner Wednesday through Friday and brunch on Saturday, and they already had about a dozen regulars. "But it was very structured then," Wienke says. "We had set meal times, and it was family-style seating and service of the food."
When Provision reopens next month, things will be a bit more casual and free-flowing. They'll still be open Wednesday through Saturday, but they'll serve coffee, tea, seasonal beverages, and pastries, with a lunch meal from noon to 2 p.m.
Rather than a single seating, things will be come-and-go, cafe-style. And the set up will be a bit more like a coffee shop as well, with a few distinct seating areas rather than big, communal tables where everyone gathers.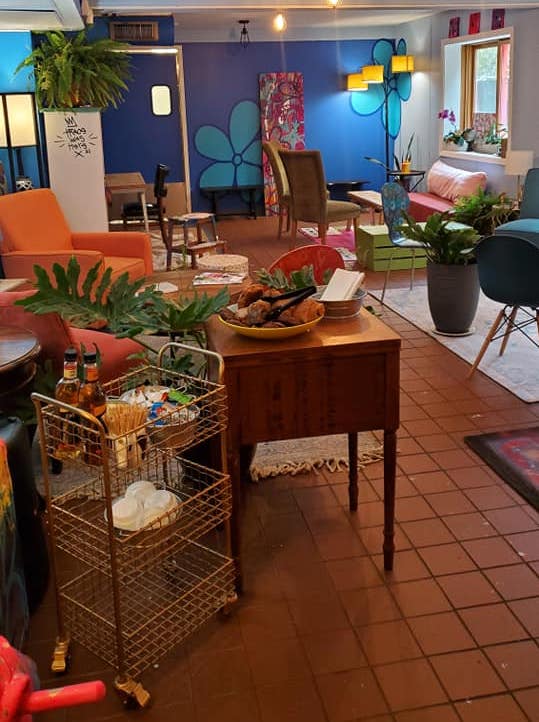 If you made it to Provision during its brief pre-pandemic debut, you'll also notice that things look a little different. The space has been redesigned—it's eclectic and colorful, with art from local artists and bright orange and green furniture.
But as much as things have changed since early 2020, plenty will stay the same.
"We work with whatever we have on hand," Wienke says, which means no two days and no two meals will be exactly alike. They'll continue to get the bulk of their food from partner companies including Rustica, Wildflyer Coffee, and the Food Group, along with local farms.
Just as before COVID, the ingredients will change depending on availability, with volunteer chefs arriving a few hours before each service to work their culinary magic. And of course, everything will still be pay-as-you-can.
More than 38 million people in the U.S.—including 12 million children—are food insecure. In Minnesota, Second Harvest Heartland reports that 1 in 9 Minnesotans, including 1 in 6 kids, don't know where their next meal will come from.
"A lot of us assume that someone can afford to meet for coffee," Wienke says. But a $5 cup of coffee isn't always financially feasible for everyone. Provision is a space where anyone can meet with anyone else, while making sure all parties feel welcome and comfortable.
More than that, the goal is still to get people to talk to one another—whether they arrived together or strike up a conversation with someone else.
"We definitely touch on food insecurity and food waste," Wienke says, "But the pay-as-you-can element is really about access." By that, she not only means access to food, but access to the space, to other people. There are fewer and fewer public places where a person can just go and be without spending money. Provision is one of them.