"It's worth the wait," a woman assured me as she left Emerald Lounge last week. My dining partner and I had arrived to find the place was packed—such is the risk you take, visiting a new West 7th cocktail lounge days after it's opened—and she'd correctly clocked our hesitation upon seeing a few other groups loitering about, waiting to snag a table.
So we took her word for it, sneaking towards a slim spot of standing room by the bar and admiring the space as we scanned the cocktail list.
The drinks here are a lot of fun. Anne with an "E" is billed as "for my mother"; it's followed by The 455, a cognac and cold press cocktail that promises to "wake you up and f#*k you up." We settled on a rum drink called the Green Lotus Grogg ("keeps the scurvy at bay"), which arrives looking like a sunset in a passionfruit blaze of yellow and orange, and the Frozen Lake, a very, very chilled martini with ice chips that make it drink like a vodka slushy.
Emerald Lounge is located in a former yoga studio, something you'd never guess looking around the room. The place feels timeless, with deep green hues, brick accents, and a massive mirror behind the bar. Plush banquettes line some walls, and dapper animal wallpaper covers the back. With soaring ceilings, it's comfy but refined, like the living room of the stylish friend you can never quite emulate.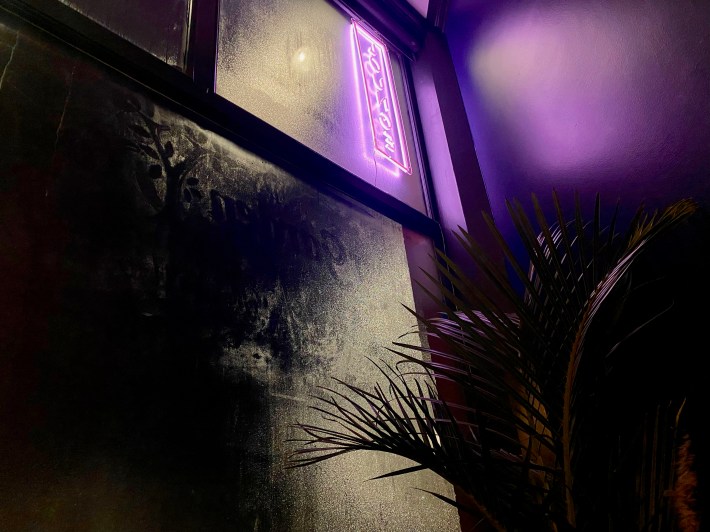 Before long, we were ushered to a table by the front window, where we promptly ordered the PEI Mussels ($14)—a choice I would happily make again and would urge literally anyone else to make (so long as you don't have a shellfish allergy). The platter arrives positively piled with poached mollusks, which are swimming in a garlicky cream sauce dotted with chili oil. Frizzles of shallots and spicy slices of Fresno chiles give the mussels a nice warm heat, and we were surprised to find soft oyster mushrooms hiding beneath the shells. The mushrooms were so tasty they became a point of contention, turning us into tableside foragers racing to pluck them from the broth.
"I would eat this as soup," my partner murmured when we'd polished off the mussels, before proceeding to spoon the remaining contents of the bowl into his mouth as though it were as soup. You might think about ordering more buttery house-made bread to sop it up (which… we did).
Y'all, I love seeing a croque monsieur on a dinner menu. The French sammy typically shows up at brunch or lunch (looking at you, Modern Times)—but that's if it shows up at all! They're a relative rarity around these parts, and it was a delight to order this one ($12) from Emerald Lounge: the fluffy, sweet bread, the salty ham, the blanket of cheese. As I wrote in my notes: "Ahhhhh, I love her." The wonderfully salty sandwich was paired with a sunflower sprout slaw, which was sweet and tart and apple-y in a way that made the croque's richness less overwhelming.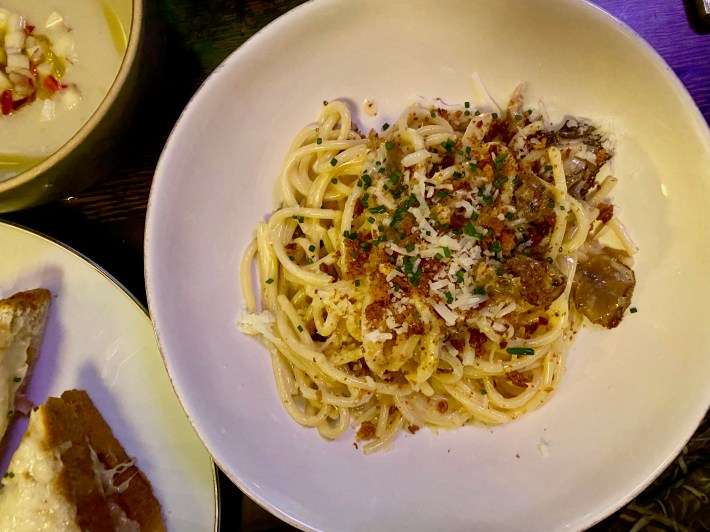 Bucatini and Sausage ($16) was a delight of richness, too. The oyster mushrooms make another appearance here, lending added decadence to a cream sauce prepared with savory miso and topped with toasted breadcrumbs and Grana Padano cheese. You could almost call it Bucatini and Oyster Mushrooms—the fennel sausage lends a soft, meaty heartiness to the whole thing, but as with the mussels, those forager-friendly bites are a real treat.
Emerald Lounge co-owners Molly Bard and Amanda Caruso met while working at Claddagh Coffee, the cafe next door to their new restaurant, along with Wee Claddagh, its sister shop on Selby Avenue. They're using the kitchen of the former and the bakery of the latter to create the stunning little plates and breads and desserts at this new joint venture—but you couldn't possibly tell, immersed in a meal here. This lounge has a personality that's all its own, and even in its first few days feels sure-footed and confident in a way some restaurants never do.
As for the woman who sensed our hesitation? She was right. It was worth the wait.
Emerald Lounge
455 Seventh St. W., St. Paul
Wednesday, Thursday, and Sunday: 4-10 p.m.
Friday and Saturday: 4-11 p.m.