Food & Drink
A Revival Revival, New Northeast Ice Cream, and Tons More May Restaurant News
Smoked meats, sweet treats, and hard-to-find Filipino fare in the latest Racket Restaurant Roundup.
11:58 AM CDT on May 18, 2022
Buckle up, folks. It's spring, and that means it's the start of Restaurant News Season.
Now Open
Revival Smoked Meats Nicollet
It really is a revival at 46th & Nicollet, where owners Nick Rancone and Thomas Boemer have brought their former Corner Table space (empty since 2019) back to life as Revival Smoked Meats. Located just a handful of blocks from the original fried chicken-focused Revival, RSM goes meatier still, with a menu chock-full of brisket, Texas Twinkies (bacon-wrapped, brisket cream cheese-stuffed jalapeños), and cheddar chive biscuits. Mpls. St. Paul Mag has the whole scoop.
Dream Creamery 
Speaking of revivals and scoops, the Travail Collective's short-lived Northeast BBQ joint quietly came back to life this month as Dream Creamery. They've got inventive ice cream flavors ranging from cereal milk to lemon blueberry butter cake to tiramisu, plus smash burgers and lobster rolls. Hours are Wednesday through Sunday, 12-9 p.m. for now; look for a grand opening at 816 NE. Lowry Ave. in June and find more info on their website. 
Burnt Chicken at First Draft 
Burnt Chicken got its start out of Cook St. Paul a few years back before taking some time off last year. We're all lucky to see chef Bernard Collins back in the kitchen—he just moved into the serve-yourself taproom First Draft, where Burnt Chicken is dishing out a savory streamlined menu of tenders, fries, and sammies. The fried-chicken spot celebrated its grand opening on May 1, but we chowed down on their killer chicken sandwiches last month and can't recommend 'em highly enough. 
Boludo El 38
In 2018, chef/owner Facundo DeFraia opened the original Boludo in a teeny-tiny, takeout-focused space in the Kingfield neighborhood of Minneapolis (3749 Nicollet Ave. S.). Now, DeFraia can serve up his incredible empanadas and diamond-shaped pizzas with a little more elbow room, after moving just across the street (8 W. 38th St.). Dubbed "El 38," the new Boludo has 1,000 more square feet of space to play with, which means seating for more than 20, a full bar, and some menu items you haven't seen coming out of their pint-sized former space. We've got the full story here.
Bober Tea & Mochi Dough
It's an exciting time to get snackin' in Dinkytown. Following last month's opening of Cruncheese—the first Korean hot dog joint in Minnesota—Bober Tea & Mochi Dough celebrated their grand opening on May 7. The Japanese-style doughnuts give you "a crunchy outside," founder Jeremy Moore told us earlier this year, with a "nice, chewy, airy, bouncy inside." But don't take our word for it: Find the latest hours on Bober Tea & Mochi Dough's Facebook and check it out for yourself.
Lutunji's Palate Bakery
Lutunji Abram started slinging her delicious desserts—including a truly show-stopping peach cobbler—at the Whittier Farmers Market in 2018. Over the years that followed, Abram's incredible cobblers (and impossibly rich vegan desserts) spoke for themselves, appearing at local grocers including Lunds & Byerly's, North Market, and the Minneapolis Farmers Market Annex. Now, Lutunji's Palate Bakery has a permanent spot of its own in Elliot Park, where Abram is serving up a daily menu of cafe favorites… and where she was immediately hit with a break-in. Read our April chat with Abram here. 
Kalsada
There aren't too many places to get Filipino fare in Minnesota, but the new Kalsada is one of them. At the new St. Paul restaurant (1668 Selby Ave.), you'll find a menu full of modern twists on classics, from ube pancakes at breakfast to lumpia shanghai at dinner. KARE 11 chatted with co-owners Leah Raymundo and John Occhiato earlier this month.
Midori's Floating World Cafe
I can't believe I missed this last month! After losing their building during the riots in 2020, Midori's Floating World Cafe spent some time operating on a takeout basis in the Seward Cafe. They're now up and running in a space of their own at 3425 E. Lake St. (a former Subway). It's takeout only for the time being, Thursday to Sunday from 4 to 8 p.m., but keep an eye on their socials for updates on inside dining and expanded hours. 
Closed or Closing
Sandcastle
Don't panic! Sandcastle is back in action this year—the Lake Nokomis seafood shack just opened for the season last week. But co-owners Doug Flicker and Amy Greeley have announced that this will be their tenth and final season at the lake, telling Racket that that's always been the plan after their lease with the Minneapolis Park Board came to an end. For more on the closure, we've got a full story here; for more from the Flicker-Greeley camp, check out our recent deep dive on dippin' cheese curds, for which Doug graciously humored us with a conversation.
Brothers Bar & Grill
Brothers Bar & Grill has closed its last remaining Minnesota location. "It is with disappointment that Brothers Bar & Grill has closed its doors," the downtown party bar announced in a May 16 farewell Facebook post. Goodbye, Brothers! I will forever cherish the time we shared after the Eagles won the Super Bowl, listening to a fall-down-drunk patron repeatedly scream "Nick! Fooooooles!"
Grand Catch
A bummer in Mac-Groveland: Grand Catch had its final day of service on April 30. The bright-blue St. Paul seafood restaurant from chef Sameh Wadi (Saffron, World Street Kitchen) opened in 2018—one of the only places around to find Veit-Cajun fare and a true seafood boil. "We recently made the extremely difficult decision not to renew our lease," their farewell post read. "It's been a fantastic four and a half years with lots of highs (and some major lows)." We've got more on the closure here. 
246 Grill
In December, 246 Grill debuted at the Uptown VFW. Chef Mik German's menu was full of jazzed-up burgers and slightly cheffier takes on the bar fare regulars knew and loved, but the collaboration was to be short-lived: The VFW announced last week that 246 Grill is now closed. "We are still serving Heggies pizza!" their website reads. You and everybody else, Uptown VFW!
Tin Whiskers
After announcing the popular downtown St. Paul brewery would close earlier this year (but not before a long Minnesota goodbye), Tin Whiskers officially "powered down the robot" on May 7. Is the brewery bubble about to burst? Maybe—or maybe Minnesota lawmakers are poised to bring our liquor laws out of the dark ages. Please discuss breathlessly among yourselves in the comments. 
Black Sheep Pizza St. Paul
Black Sheep made Racket's food/bikes editor (me) a little grumpy earlier this month after announcing the closure of their St. Paul location in a poem titled "Covid, bike lanes and shortages, oh my!" As I noted in that closing announcement, Black Sheep's two Minneapolis locations—in the North Loop and on Eat Street—will remain open, despite their proximity to bike lanes (a protected one, in Eat Street's case). Post-publication, Black Sheep co-owner Colleen Doran walked back the bike lanes stuff, saying, "I was really just trying to make a difficult decision something light hearted, of course bike lanes didn't cause us to close, it is obviously never one thing."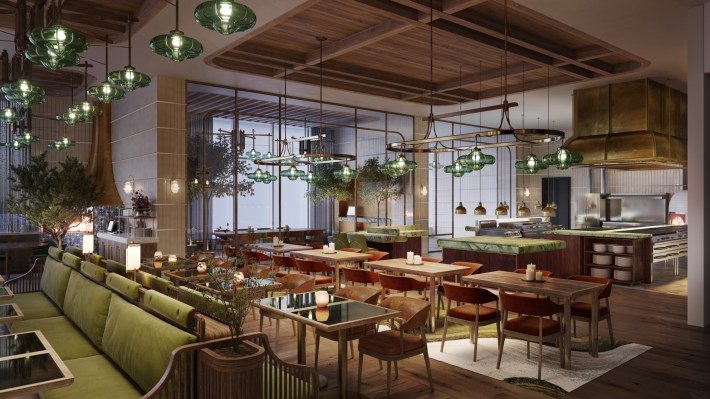 Just Announced / Coming Soon
That was a lot of news already, wasn't it, gang? Let's keep it to, shall we say, five of the most noteworthy/imminent announcements/upcoming openings here so you can get back to your day?
Slice Midtown Global Market
Just six months after opening their first Minneapolis location in Northeast, Slice has announced they'll soon open a second location in the Midtown Global Market. "Things have been going really well, and we really needed it, business-wise," Slice co-owner Hosie Thurmond told Racket earlier this month. "We're working in a really small space in our Northeast location. Like, our whole kitchen is really only 300 square feet." Look for them to open the week of Juneteenth. 
Guacaya Bistreaux
North Loop by way of NOLA? We're listening. At Pedro Wolcott's Guacaya Bistreaux, accessible, affordable tapas and cocktails are the name of the game, with an emphasis on flavors from Wolcott's native Panama and his years in New Orleans. And they've got Meteor Bar's Tyler Kleinow and Robb Jones developing the rum-focused cocktail program? Can't get to this place fast enough. Mpls. St. Paul Mag's Stephanie March had a sneak peek earlier this week, and keep an eye on the bistreaux's Instagram—March hints that they could be open by this weekend.
Mara and Socca
Gavin Kaysen's new restaurants in the Four Seasons Hotel Minneapolis have names—and they're juuust about ready to open. Mara's menu will "transport guests to the Mediterranean," according to a press release, highlighting the cuisine of 22 countries including Southern France, Italy, Spain, and Portugal. Meanwhile, Socca is a streetfront cafe located on the corner of Hennepin and Washington, and it boasts a one-of-a-kind chocolate room you can see from the street. The pair are expected to open next month, and it was hinted that reservations will open in June; if you want to be the first to snag one, sign up for the hotel's newsletter.
Bussin' Birria 
Hot Indian Food's Mall of America and Midtown Global Market outposts may have closed, but founder Amol Dixit is hanging on to that MOA space. Boards have gone up advertising the forthcoming Bussin' Birria, a taco concept from head chef Janene Holig that recently caused my partner to remark, during a recent mall trip, "...sorry, does that say bussin?" It does indeed. Find the latest updates on their Instagram.
Macanda
Danny del Prado's latest project has a name and location: Macanda and Lake Minnetonka, respectively. The Martina/Colita/Rosalia/Josefina chef's latest will "feel cosmopolitan like Mexico City and offer an array of creative but approachable dishes," per Mpls. St. Paul Mag, which has the news. It'll also have a vinyl lounge and record bar, and should open this summer—maybe even as soon as mid-June.
Previously in the Racket Restaurant Roundup…
Em Cassel (she/they) is a cyclist, a metalcore apologist, and a co-owner and editor of Racket.
Stay in touch
Sign up for our free newsletter