Welcome back to The Flyover, your daily midday digest of what local media outlets and Twitter-ers are gabbing about.
House OKs 6-Packs To Go, Frees the Growler
After years of lobbying from Minnesota's smaller breweries, who want to be able to sell four- and six-packs to go, and larger breweries, who can't sell anything to go, the Minnesota House said "OK fine" to both. In a Wednesday vote, the house approved a proposal allowing breweries to sell four- and six-packs of beer—right now they're limited to 64 oz. growlers and 25.4 oz. crowlers. The bill also "frees the growler," raising the 20,000 barrel production cap that prevents breweries like Summit and Castle Danger from selling growlers on site to 150,000 barrels. The bill passed soundly in an 85-48 vote, which means it heads to the Senate, where… anything could happen. But if it passes there, this would be far and away the most significant change to Minnesota liquor laws since Sunday sales started in 2017.
Who is Marisa Frances Lang/Ava Michaels/Marisa Francesca Colby/Kiki Minturno?
We'll begin by conceding that Michael Brodkorb, the former MN GOP deputy chair, might not be the most reliable narrator. But, following his 2012 Capital sex scandal/ousting, the man who once ran the blog "Minnesota Democrats Exposed" has been eager to kneecap either party. Brodkorb, who now works as a political comms consultant, dropped some tantalizing gossip via Twitter on Wednesday regarding… someone. It's really unclear who, and that's the grist: Brodkorb's long thread begins with an anecdote about Marisa Colby, an apparent operative of GOP AG candidate Doug Wardlow. Except Ms. Colby is "a ghost" known to many in the party as Ava Michaels, Brodkorb writes, though she has been tied under various aliases to politicians ranging from Wardlow to Lacy Johnson to Mark Bishofsky to… Second Lady Karen Pence? 
Brodkorb's dogged digging into this mystery woman's identity revealed that Marisa Frances Lang (apparently her government name) pleaded guilty to engaging in prostitution in 2015 and faces tax liens amounting to $31,894.63. Nutty stuff! As of yesterday, "Ava Michaels" was reportedly stamped as a delegate for this weekend's MN GOP state convention, a gathering that's reportedly unwelcoming to Racket. You should check out the entire fascinating, baffling thread:
Do, A Deer, A Female Deer, Re, Let's Sing the Walleye Song
What walleye song, you ask? Good question, actually. I had no idea that a parody of the TV western theme song "Rawhide," its title changed to "Walleye," was a regional hit up north during the 1986 fishing season. But Greta Kaul over at MinnPost has all the history of this local novelty fave. A fellow name of Charlie Campbell couldn't get the joke out of his head, so he called on singing Minneapolis tobacconist Rich Lewis, and, as the Hula-Poppers (named for a fishing lure) they quickly recorded the number, which became a favorite of local DJs as well as catching the ear of comedy song kingpin Dr. Demento. The Hula-Poppers even played a pair of shows before moving on with their lives.
So, About Last Night's Storm
If you're reading this, we hope that means you have power this afternoon, as it's been reported that over 29,000 Xcel customers don't. We also hope your cars are dent-free after last night's golf ball-sized hail, and that your roofs aren't harboring any fallen trees thanks to the high winds. For the people who got stuck in flash floods, we hope you can reclaim your car from the middle of the street. And congrats, Lake Chipotle: You are now officially a legit lake. One death has been reported so far due to last night's extreme weather; a woman traveling with a group of fellow meteorologist storm chasers died after their van hit a downed power line and was rear-ended by a truck on I-90 near Worthington. Stay safe everyone; it looks like we're getting more severe weather later tonight.
Cyclist Bleats Back at Black Sheep
Say that five times fast! Last week, we reported on the closure of Black Sheep Pizza's St. Paul location, which was announced via a poem on the door titled "Covid, bike lanes and shortages, oh my!" The lane-blaming felt weird to us, and to plenty of other cyclists and pizza fans—including one person who posted a poem of their own on Black Sheep's now-shuttered doors. A Racket subscriber sent in this photo of the poetic reply that's been taped up next to the closing announcement: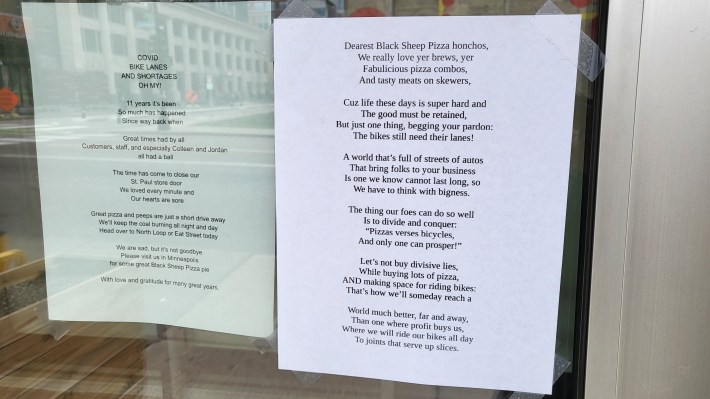 Let's not buy divisive lies while buying lots of pizza pies, folks. Couldn't have said it better ourselves.