Most times, when you see someone with a restaurant's logo tattooed on them, it's because they know the people who run it—they're a close personal friend of the chef, maybe even related by blood.
So I was surprised, after asking Bernard Collins about the Burnt Chicken tattoo he posted to Instagram last February, when he laughed and replied: "I didn't know this person at all."
Burnt Chicken got up and running about a year and a half ago, first as a pop-up food truck, before Collins started renting out space in Cook St. Paul.
That's where he met one of their neighbors, who started coming in weekly to get his hands on Burnt Chicken's tender, juicy chicken sandwiches.
"One day he sent me a picture of the tattoo. He was like, 'The food was that good, it was like a memory I wanted to keep on me,'" Collins says. That's some pretty high praise—especially, Collins chuckles, "because I don't even have a tattoo of Burnt Chicken!"
I have to say, after my first visit to Burnt Chicken's brand-new residency at First Draft… I get it. Collins and co. just started a yearlong residency the North Loop's serve-yourself taproom, where they're serving up a streamlined menu—a few chicken sandwiches, two kinds of tenders, fries—that should pair with just about any beer you order from the robotic barkeeps.
"People love the chicken tenders," a surprised Collins told me earlier in the week, adding that they've been the best seller so far. So we went with an order of the traditional tenders ($13) and a side of fries ($3). And we had to get the Twin Cities Hot Chicken Sandwich ($14)—these we paired with Bawk Bawk Fries ($5), which get a drizzle of oil and a dusting of hot seasoning as well.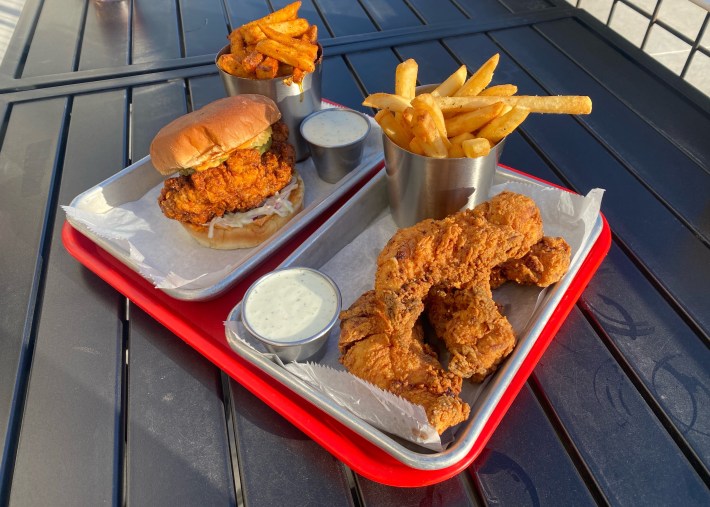 With respect to the popular tenders, which were big, meaty, golden-brown, and delicious, the Twin Cities Hot Chicken Sandwich is what I'll be ordering on return trips. This Southern-style sandwich finds fried chicken glazed in chili oil and dusted with not-too-spicy seasoning (Collins calls it a "passive-aggressive heat") nestled alongside country slaw and snappy pickles. It's topped with a generous drizzle of burnt sauce (a chipotle honey mayo) and sandwiched between a squishy-soft, sweet bun.
The chicken itself was beautifully spiced—it's not wildly hot, but has the kind of warm heat that builds with each bite—and almost impossibly juicy. That's partly because of the cut: Collins cooks with chicken thighs, not the ubiquitous breast.
"Once you've had a really good chicken thigh that's been taken care of well, cut to the right texture—I love chicken thighs," Collins says. "I love the texture, the richness … It's extra juicy and tender, and most other people out there are doing chicken breasts."
The third sandwich on the menu here (would've ordered it had I been a little hungrier, I will be back) is the Burnt Chicken Sandwich, which finds fried chicken thighs coated with a sweet, sticky bourbon glaze, and topped with pineapple pico.
"I'm from everywhere—my family's from down South, I get a lot of my cooking background from my family in the South—but I was born and raised in California, so I love fresh flavors, I love the diversity of the food that's out there," Collins says. He's lived in Minnesota for the last 15 years: "I pretty much try to give people my journey in the sandwiches that I produce."
The Twin Cities is rich in standout fried chicken sandwiches right now, but we haven't yet seen Burnt Chicken's on any local lists—probably in part due to the fact that they took some time off after their Cook St. Paul residency. I'd imagine that'll change before this year is out.
Burnt Chicken at First Draft
324 Sixth Ave. N., Minneapolis