Food & Drink
Your Guide to January's New Burgers, Breakfast Sammies, Breweries, and Bars
More like "brrrr-gers." It's the latest Racket Restaurant Roundup!
11:56 AM CST on January 31, 2023
Here's a little peek behind the curtain: When I reference the Racket Restaurant Roundup in messages and emails each month, I usually abbreviate it to the "RRR." This morning, oldest-living Racket editor Keith Harris told me that every time I do so, this is what he's picturing: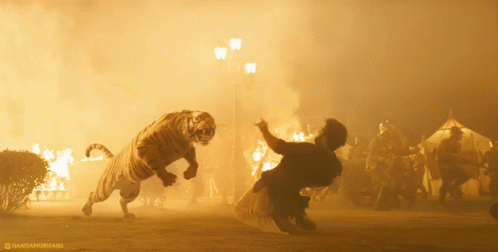 "Just u and your tigers fighting the British." Isn't that fun?
OK, here's the food news you came for!
Open
Bar+Cart Lounge and Restaurant
I lied to you all. Last month, in a slightly early Racket Restaurant Roundup, I wrote that Bar+Cart, coming to the old Khyber Pass space (1571 Grand Ave., St. Paul), didn't look like it would open before the year was out. But it did! And they've got all kinds of cool cocktails, plus snacky things like oysters and hummus and burrata. Very excited to check this one out. 
Francis
Hoo baby, we're big fans of this new vegan burger bar in Northeast. The burgers and sandwiches and such have been killer since Francis got its start at Sociable Cider Werks, but the new space (2422 Central Ave. NE, Minneapolis) gives the trio of friends behind it more room to play. And diners get to have some fun too, with an assortment of clever cocktails and more. Why not put chicken nuggets on your buffalo fries, ya know? 
Wendy's House of Soul
After getting some bad news in December—her landlord wasn't willing to renew her lease—Wendy Puckett got some good news in January—North Market wanted to welcome her in. That means she's left her beloved Harrison neighborhood for Camden (4414 Humboldt Ave. N., Minneapolis). But "The love and the soul hasn't changed," Puckett told Racket before the move, "just the location."
Shortwave Coffee
What's the deal with Shortwave Coffee, which opened somewhat quietly this month in Minneapolis's Lynnhurst neighborhood (824 W. 50th St.)? The Development Tracker tells us Shortwave is based in Missouri, where they have two locations, and in addition to Minneapolis they're also expanding to Florida. Our eyes tell us that their logo is very cute. Seems like a good place to stop in and do some work soon.
Marty's Deli
Marty's Deli, the popular sandwich pop-up that's been slingin' focaccia for the last few years, finally has a space of its own in Northeast (400 Lowry Ave. NE, Minneapolis). You'll find the sandwiches you either already love or desperately need to try, along with a crucial new addition: breakfast sammies. "You can add braised greens if you're a vegetarian; you can do bacon," Martha Polacek (Marty) told us earlier this month. "We make a house sausage, we can put a hash brown patty on there." Okay!!
Ties
Ties, which had a very abbreviated run on Nicollet Mall last year, has popped up in a new location: the ol' Uptown Tavern spot (1400 Lagoon Ave., Minneapolis). They've got food from chef Justin Sutherland and more info on their brand-new Instagram account.
Gambit Brewing Co.
Opening a new brewery  is indeed a gambit—as Gambit Brewing founder Josh Secaur told us last month, "a brewery is always kind of a risk." His opened up in the former 12welve Eyes Brewing space (141 E. Fourth St., Suite LL2, St. Paul) in mid-January. "The idea is really to let the community drive where we want to go," Secaur said.
Slurp Pop Up Noodle Shop
The new pop up from Union Hmong Kitchen's Yia Vang (again James Beard-nominated this year) is very good. We know that because we ate our way through ¾ of the menu a few weeks ago. OK, so there are only six dishes on the menu, but still. Great, heartwarming, belly-filling brothy and saucy options here. We're keeping our fingers crossed that this "pop up" (901 W. Lake St., Minneapolis) might overstay its welcome.
Juche
Cook St. Paul is now Juche, the Pioneer Press reports, but chef-owner Eddie Wu is still behind the "Korean-influenced dinner spot." There are some Cook favorites on the menu, like Wu's kimchi-filled Mac 'N' Chi, along with newbies like mung bean pancakes and doenjang jjigae, a soybean paste stew.
Green Room
A new music venue in Uptown? In 2023? You better believe it! On January 28, Green Room sprung to life in the old Pourhouse space (2923 Girard Ave. S., Minneapolis) with a sold-out, Gully Boys-headlined show. Racket was first to the news; check out our sneak preview of the space here.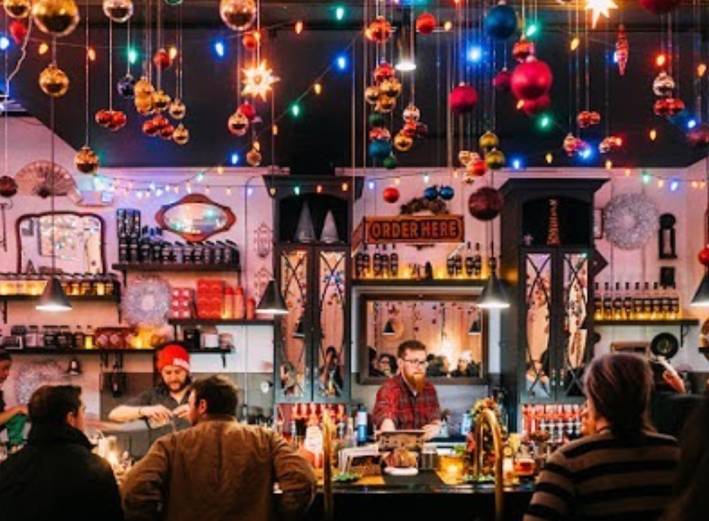 Closed or Closing
Keefer Court, Red Stag, Erté & The Peacock Lounge
All of these closures were announced with lots of advanced notice, but to put a cap on it: Keefer Court, Red Stag Supper Club, and Erté & The Peacock Lounge all closed at the very very end of 2022. Au revoir to all. 
Lawless Distilling Cocktail Room
January 28 was the last day of service for Lawless Distilling's cocktail room. The playful lounge known for its balls-to-the-wall holiday celebration (and its underrated and much more fun, IMO, Halloween celebration), made the "very difficult decision to close," citing extended pandemic wear and tear. Stilheart Distilling, its North Loop sibling cocktail lounge, remains open.
Common Roots
This one was… messy. After 15 years in Minneapolis, Common Roots Cafe closed abruptly and permanently this month, not long after its workers announced their intent to unionize. Racket's Jay Boller used the whole icky sitch as a springboard for this excellent longread about what happens when outwardly progressive companies are faced with unionizing workforces. 
The Bad Waitress
An Eat Street staple for the past 18 years, The Bad Waitress headed for Restaurant Heaven after brunch on January 29. "The strength, spirit, resilience, and support of this community will continue to inspire us for years to come, and we are so grateful to have had the opportunity to serve you," their farewell post read. "We could not have done it without all of you."
Arezzo Ristorante
After 22 years at 50th and France, this month was the end for Arezzo Ristorante. Their landlord refused to renew their lease, Bring Me the News reports, wanting instead to have something "new and fresh" in the space. Gotta wonder if that's gonna be some new, fresh condos. 
Just Announced
Ouro Pizzaria, Sushi Dori
With the final two tenants announced this month, all the pieces are in place for Eat Street Crossing. Ouro Pizzaria will be a Brazilian pizza joint from Bebe Zito's Gabriella Grant-Spangler and Ben Spangler; Sushi Dori will be a laid-back izakaya-style sushi spot from Zen Box Izakaya's John and Lina Goh. "This is what we want to do, where you can have a cocktail in one hand and you can have a rice sandwich in the other hand," Lina told Racket. Now, we wait for the opening announcement… 
Oliphant Brewing
We've very little information about this one so far, but Southwest Voices scooped the news that Wisconsin's Oliphant Brewing appears to be moving into the LynLake Brewery space. They're all NDA-d up, so that's all we know for now, but we've got our eye on it.
Bogart's Doughnuts Expands
Popular Minneapolis doughnut shop Bogart's is moving on into St. Louis Park. Construction is underway, but the doughnut makers are being coy about their timeline for now.
Butcher and the Boar
The Star Tribune got a sneak peek inside the reborn Butcher and the Boar, which is just about ready to open with new owners in a new location. Now part of the Jester Concepts restaurant group (Borough, Parlour, Monello, Constantine, P.S. Steak), Butcher and the Boar 2.0 will land in the North Loop on February 7.
​​Gai Noi
Mpls. St. Paul Mag has the latest on chef Ann Ahmed's forthcoming Loring Park restaurant, which it reports will be open by Pride. It'll be named Gai Noi, which is short for a type of rice and also means "little chick," and the menu is roughly 80% done—but we'll have to wait until the recently James Beard Award-nominated chef gets back from a trip through Asia for more details. 
Still In The Works
Wildflyer Coffee East
Wildflyer Coffee is collaborating with the nonprofit RS Eden to open a second shop in the old Fresh Grounds Cafe space in St. Paul. "It upwardly lifts everything we do," Kammerer told Racket of the upcoming location, which is slated to open by March.
Fawkes Alley Coffee
In similar youth-focused nonprofit coffee shop news: Futsal Society, an organization that acts as a lower barrier option for kids who want to play soccer, is opening a coffee shop in Loring Park. Southwest Voices has the scoop; look for an early 2023 opening.
SK Coffee 
SK Coffee co-owner Sam Kjellberg told Southwest Voices that they'd always said they didn't want to open a coffee shop—unless, that is, they could have "something like the Misfit shop." Good luck for them, then, that Misfit closed last year, freeing up their turnkey coffee shop at 2401 Lyndale Ave. in Minneapolis (a space that's been a coffee shop for more than three decades). SK hopes to open by February. 
Animales Brick and Mortar
Here's a meaty story for ya: Animales BBQ is looking to open in a brick-and-mortar building. Year-round ribs, folks! Jon Wipfli (Animales) is teaming up with Billy Tserenbat (Billy Sushi) to bring the place to life in either the North Loop or northeast Minneapolis. Look for it this summer.
Milly's Wine Bar & Bistro
"My personal stake in everything is: I want gigantic cheese boards," Milly's Brandon Witzel told us last year. "I want for you to come in and pick however many cheeses you want, however many meats, and just go to town for two or three hours, have a couple bottles of wine." Milly's is slated to open in early 2023 at 1129 Washington Ave. S. in Minneapolis, with a big ol' lending library and lots of plant life (and yes, gigantic cheese boards).
Boludo Expands
More like Bo-new-do! The popular Argentinian pizza and empanada spot, which just moved out of its tiny original space into a bigger spot at 38th and Nicollet, is about to add two new Minneapolis locations. (This is great news for me, a person who often walks by the south Minneapolis location and goes, "Hm, too busy!") The first proposal is for a 30-seat restaurant at 1519 Como Ave. SE, which was previously home to Oaks TW Hardware; the second is at 2935 Girard Ave. S. in Uptown, the old SotaRol Asian Kitchen space. The Biz Journal has the whole scoop.
Soul Lao 
The popular food truck and popup spot Soul Lao has its sights set on a brick-and-mortar space at Sibley Plaza on West Seventh in St. Paul. "We want to build a supportive environment where young chefs can shape a career and neighbors can share a plate of Lao sausage, sticky rice, and spicy papaya salad," Soul Lao's GoFundMe Page reads. "There's no other place we would want to place our roots." The projected opening date is April 2023; you can donate to their GoFundMe here.
D's Banh Mi
The sign is up at D's Banh Mi, which is taking over the ol' snack shack at 38th and Cedar. Brothers Dylan, Dyon, and Dustin Tran were shooting for a November opening; we've reached out to the brothers D for an update. Read our chat from April about their plans for the space here.
Bellecour Bakery at 50th and France
The third Cooks of Crocus Hill/Bellecour Bakery is headed for 3945 Market St. in Edina, joining locations on Grand Ave. in St. Paul and Minneapolis's North Loop. "Lots of exciting details to share with you when the time is right… stay tuned and looking forward to seeing you in our new space," chef Gavin Kaysen wrote in an Insta post.
Diane Moua Moves On
Speaking of Bellecour Bakery: Diane Moua announced last month that she's leaving her role as Bellecour's executive pastry chef to open her own bakery and cafe, which will combine Hmong home cooking and southeast Asian flavors with her French pastry perfection. "You'll see a chocolate croissant here and there, but I want to use coconut and yuzu," she told Eater Twin Cities, which has the rundown. "It's so French at Bellecour, but with this, I can use taro."
Pimento Jamaican Kitchen
Great news on Bde Maka Ska: Eat Street's wonderful Pimento Jamaican Kitchen is coming to the redesigned pavilion when it reopens next summer. Get ready for jerk chicken on the beach in 2023!
The Painted Turtle
No more Sandcastle at Lake Nokomis; next year is The Painted Turtle's time to shine. The new concept comes from the folks behind Unleashed Hounds and Hops, the indoor/outdoor dog park/human restaurant. They'll have a full ice cream shop thanks to a partnership with La La Ice Cream, and Kramarczuk's Sausage Company is also name dropped as an early partner. Here's the whole scoop.
Progress at the Fhima North Loop Concept
Though chef David Fhima says it's still "a winter away from opening," his new multi-level project in the North Loop has a name: Maison Margaux. The chef shared some updates on Instagram in December, including the challenges of "creat[ing] a three-level masterpiece with the coolest underground bar in the world, a modern take on a Parisian brasserie, a Ralph Lauren inspired event center, and neighborhood terrasse" while keeping the vibe Minneapolis-y. We chatted with Fhima about the project last January.
Spot some Big Food News we missed? Email em@racketmn.com with tips.
Previously in the Racket Restaurant Roundup...

Em Cassel (she/they) is a cyclist, a metalcore apologist, and a co-owner and editor of Racket.
Read More:
Stay in touch
Sign up for our free newsletter