It was 1:30 p.m. on a Friday afternoon—well past the lunch rush hour—when the Racket gang stopped by Slurp, the latest project from Union Hmong Kitchen's Yia Vang. The place was still hopping, so much so that we struggled to find a space to lay our bowls so the slurping could begin.
Unlike recent restaurants at 901 W. Lake St.—Trattoria Mucci, and Meyvn before that—Slurp is a no-frills joint. Gone are the large-scale paintings and big bouncy booths, and instead of booze, giant bags of rice sit stacked behind the bar. But the space is airy and sunny, the seating is spread out enough that it doesn't feel cramped, and the condiment station offering a bowl of limes and a bowl of chili oil lets you know that you're being taken care of.
The menu is streamlined, but still varied enough for a variety of palates, with three "saucy" dishes and three "brothy" ones. There's one vegetarian bowl in each category, and there are solid choices for vegans and gluten-free folks. You can add an egg for $2, and you'll want to load up on that chili oil if you like it spicy.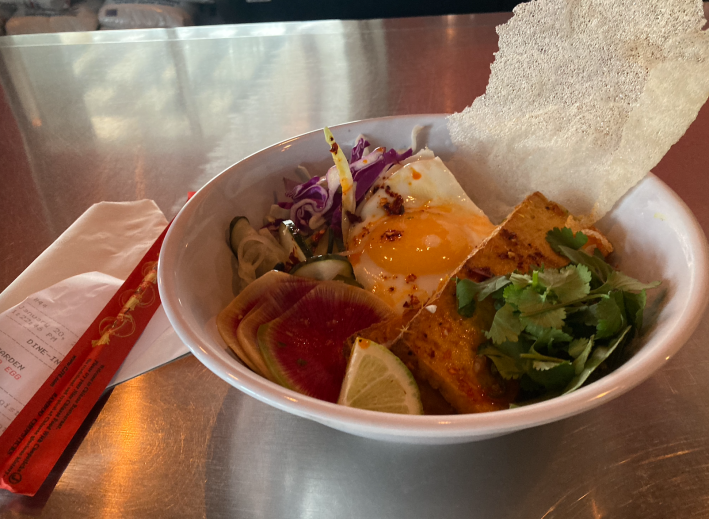 I went for the Garden Noodles ($16), a deceptively simple but restorative bowl. The crunchy block of charred tofu paired well with the tart crispness of the pickled vegetables and springy chilled noodles. The herbs brought a "kapow!" of freshness, while the sweet chili sauce was a whisper that secretly brought everything together. I felt healthy after wolfing this down, but also full.
The Crispy Crunchy Curry ($20) was an intriguing oddity reminiscent of biscuits 'n' gravy. In this dish, the carby portion is a mound of simultaneously crunchy and chewy noodles, and the savory element is a generous slathering of thick, earthy curry. The pork was fall-apart tender. "It's a perfect choice for messy eaters who fear turning the table into a Shamu splash zone of broth," explains my colleague Jay.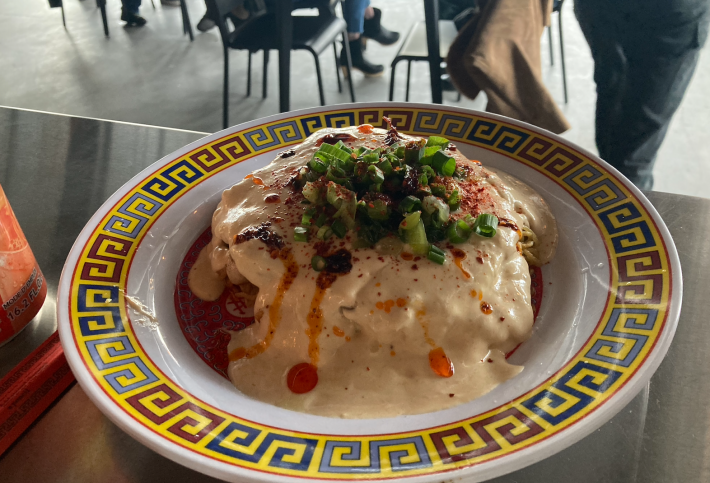 Speaking of slurpin', Keith's Pork N' Greens ($16) was the slurpiest dish we ordered. It came with giant slabs of delicious pork belly (crisp, but tender!) and a tasty hunk of bok choy. The broth itself had just a hint of heat from the jalapeños, but they didn't overwhelm.
The star of our orders was the Khao Poon ($18) which Em described as "kickass." The zippy red curry broth clears the sinuses, the veggies pop with crispness, plus there's tons of ground chicken; it's a super filling bowl of food.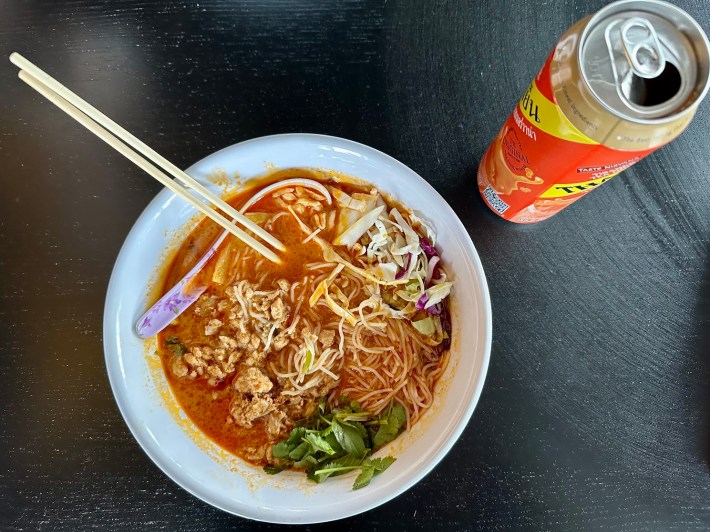 So, with plenty of customers and rave reviews, does that mean that the venue's curse is broken? Well, no, not necessarily. Whatever business sets up shop at 901 W. Lake St. has always been busy, whether their serving up comforting Italian eats (Mucci's) or the most expensive bagel you've had in your life (Meyvn).
Be prepared for a little sticker shock. Most dishes here are gonna run between $16 to $20, which is spendy for a lunch spot, though none of us left hungry. (Em pointed out the excellent Khao Poon at nearby Khun Nai Thai costs just $11.95.) But an Andrew Jackson might be the price you gotta pay to eat really good food served by an innovative chef at a hot location. 
Ultimately, whether the curse has been broken or not is irrelevant. We're just thankful that Slurp is here right now. Frankly, we'd love to see it stick around (and if it does well, maybe it will—we overheard some folks at another table say that they're looking into getting a liquor license?), but regardless of its fate, this is another great effort from Vang, who continues to dazzle us with his innovative and tasty projects. 
Slurp Pop Up Noodle Shop
901 W. Lake St., Minneapolis
Wednesday, Thursday, and Sunday: 11 a.m. – 3 p.m.
Friday and Saturday: 11 a.m. – 8 p.m.