There's been a serious deficit of live music in Uptown since 2009. Now, 14 years after the storied Uptown Bar closed, concerts will come roaring back to the Minneapolis neighborhood, one whose life and/or death is breathlessly debated.
Almost one year ago, Racket provided you a scoop on plans to transform the shuttered Uptown Theater into a 2,500-capacity entertainment venue. Today, we've got another one for ya: The former Pourhouse space down the block is nearly ready to re-emerge as Green Room, a 400-capacity live music club.
The team behind Coup d'tat, the original tenant at 2923 Girard Ave. S., still holds the lease, and they're entrusting the address to local musician Tanner Montague.
"It's my baby—all the creative decisions, all the hirings," says Montague, who also works as marketing director at St. Paul food hall Keg & Case. "I've been here every day doing everything since August."
The new proprietor has been busy erasing the bro-y club ambience that defined Pourhouse's five-year, abruptly concluded run. The endless flatscreen TVs are gone, replaced by a veritable greenhouse of faux plant life; the curious wiseguy branding has been tastefully painted black; the bathrooms have been refinished. In total, Montague estimates it took about $70,000 to retune the two-level, 10,000-square-foot space's vibes.
"Honestly, the audience comes last in our equation. If the band and bar staff are happy and well-paid, it's going to be a kickass show," he says, adding that Green Room could be open by late January. "The only thing I'm not trying to have in here, unless it's a private party, is a DJ playing Top 40 hits. We'll have all genres: jazz, indie rock, metal, hip-hop, dance… funeral doom."
Green Room inherited Pourhouse's "blown out" sound system, though it has since been upgraded and restored to the point where every performer will "feel like a rock star." Montague, who worked in the live-streaming biz during the worst of COVID-19, will offer bands multi-cam recordings with soundboard audio for a small fee.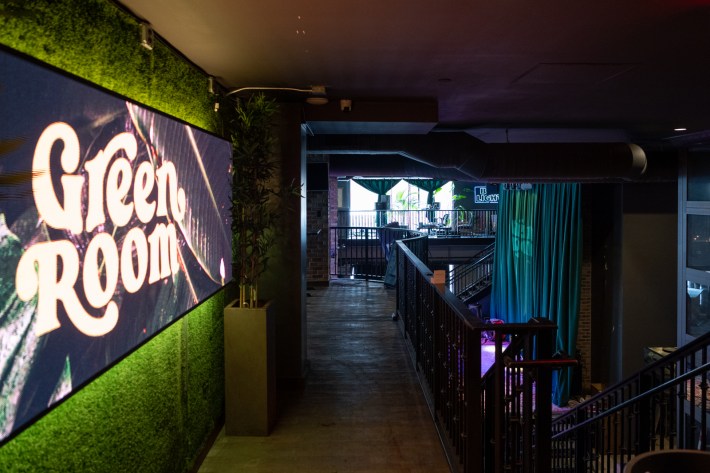 "I made a point to not force it to be anything. But it's turning into, like, a Nashville venue—bachelorette parties are going to show up, it's beautiful, there's a lot of money in it," the 27-year-old Seattle native says. "There's nothing really in the area until you get to Icehouse or Mortimer's."
Green Room should be a nice fit. Two St. Paul venues are similarly sized—Turf Club and Amsterdam Bar & Hall—but there's an obvious marketplace gap this side of the river. Montague hopes his club will serve as something of a sister venue to the Uptown Theater, which is being reimagined by Swervo Development, the company that rehabbed Minneapolis's rundown Armory into one of the region's premier concert halls. He's already brainstorming collaborative ideas like a multi-venue neighborhood music festival.
Green Room's bar program will be curated by the crew from Earl Giles Distillery in Northeast. Montague plans to have a rotating cast of "up 'n' coming" chefs and food trucks manning the full kitchen, and he intends to make heavy use of the pizza oven; the streetside service window, once helmed by CHX Uptown, could become a late-night food option along Lagoon Avenue.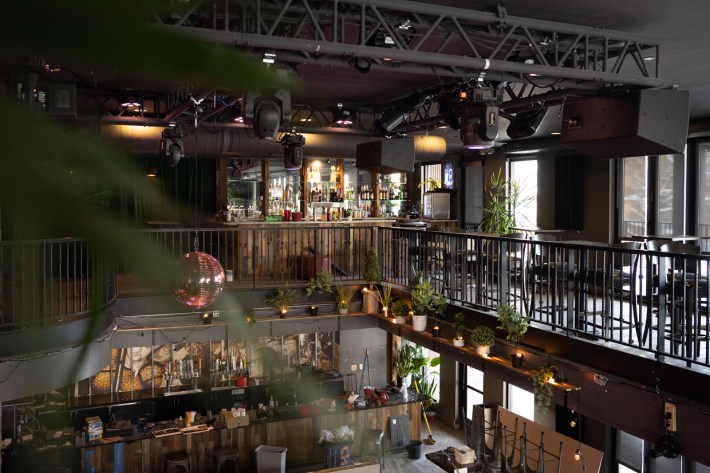 Of potential interest to the most dedicated Racket readers: Will Green Room allow reporters rocking Tevas sandals inside those doors, unlike the tyrannical bouncers stationed outside Pourhouse?
"Lemme tell ya, Tevas are welcome at Green Room," Montague promises. "I get it, but I'm not gonna be a dress code guy. Wear whatever you want."
After attending college at St. Paul's defunct McNally Smith College of Music, Montague spent five years performing music on cruise ships from Russia to Sweden. He relocated to the Twin Cities in 2021, where he plays with R&B outfit Covalent Blonde and rock band Valors. As an upstart nightclub manager, he's betting big on Uptown—and himself.
"People are living in Uptown, and, for whatever reason, they aren't going out. Maybe they don't feel safe. Maybe there aren't enough options for them. I personally think it's the latter," he says. "I'm down for the challenge. Currently I'm doing everything; I don't know what I don't know, so I'm going to try everything. And if I can't do it, I'll ask for help. I'm excited to see what happens."