Plans are in motion to transform the Uptown Theatre.
In October, the city of Minneapolis issued a permit that greenlights the reimagination of 2906 Hennepin Ave., city spokesman Casper Hill tells us. The proposal includes a 10,000-square-foot expansion that'd overtake the Legeros Building to the south, plus a reclassification that'd turn the 950-seat movie theater into a 2,516-capacity live performance space.
For some Twin Cities context, that capacity would put the Uptown Theatre in line with the Northrop (2,700), the Orpheum Theatre (2,579), and St. Paul's Palace Theatre (2,500), per this handy venue-size infographic. No venue of that size exists south of downtown Minneapolis, meaning the Uptown neighborhood—whose life and/or death is breathlessly debated—would receive a major nightlife adrenaline boost.
Late last November, a zoning enforcement violation halted the Uptown Theatre redevelopment, Casper tells us. Required historic preservation hurdles related to the exterior had not been cleared, possibly ones involving to the massive, circular Gustave Kollman sculptures carved into the building's Kasota stone. If/when that review is completed and approved, construction can resume. The theater has been closed since March 2020.
Take a gander at this ground-floor blueprint from the building permit. Note the stage, two-tiered floor, lounge/bar, bathrooms, and VIP entry.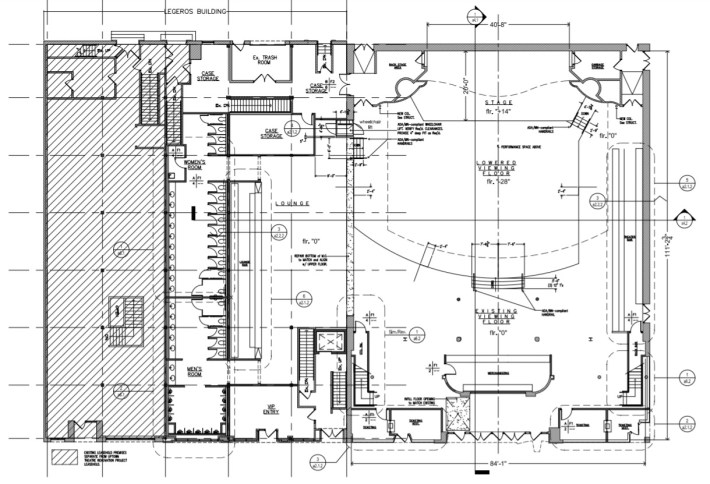 And keep gandering, this time at the upper-level blueprint. Note the expanded tiered balcony, new side balconies, lounge/bar, and bathrooms.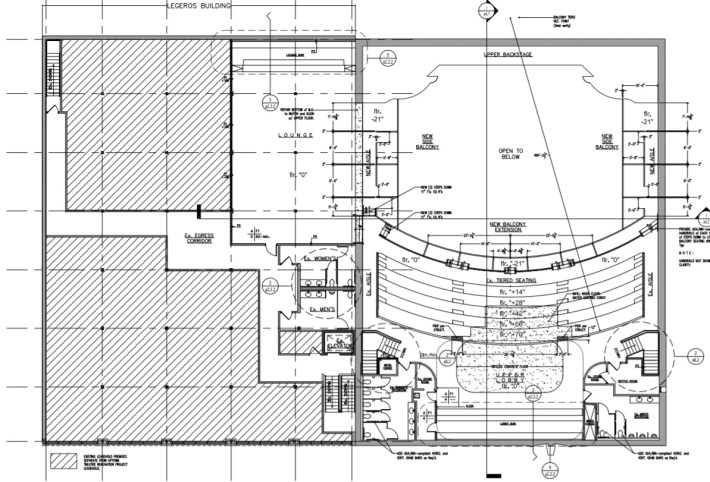 We were unable to connect with permit holder Lagoon Partners LLC, which is owned by mysterious mega-developer Ned Abdul, for additional information. Abdul acquired the Uptown Theatre for $466,667 in 2009, according to county records. Another of his companies, Armory Holdings LCC, is listed as the current owner.
Abdul's Swervo Development bought the Armory, then a run-down parking garage, for $6 million in 2015. Following an extensive makeover by Minneapolis architecture firm Shea Inc., the historic downtown structure emerged 2.5 years later as one of the city's premier concert halls, so Abdul has a track record of breathing new life into old venues.
The Uptown Theatre initially opened as the Lagoon Theatre in 1916, screening silent-era movies at Hennepin & Lagoon before transitioning to talkies. The theater's current face—including its limestone paneling and 50-foot vertical sign—took shape following a 1939 fire and subsequent rebrand/remodel, according to this MinnPost's historical remembrance. The most recent tenant, Delaware-based Landmark Theatres, bailed last year under threat of eviction due to $340,000 in alleged unpaid rent. They'd operated the movie theater since 1978.
Here's a video tour of the ol' Uptown Theatre. It could look a whole lot different in the coming months.