If one thing has to survive the great mall die-off, we're glad it's food courts.
Food halls, which are basically elevated cafeterias, have been popping up all over town, offering a mix of delicious eats and lots to drink: There's Keg & Case in St. Paul, the Market at Malcolm Yard over by the U of M, and the Galley and Graze Provisions & Libations in the North Loop.
Now we're getting one in south Minneapolis, as something called Eat Street Crossing is coming to… Eat Street. 
John Ng and Lina Goh from Zen Box Izakaya came up with the idea, and they quickly joined up with Ben Spangler and Gabriella Grant-Spangler of Bebe Zito. The team will be offering familiar eats from their respective shops. (We highly suspect Bebe Zito's Honey Butter Chicken Sammie will be here). The Bebe Zito crew also plans to create a new concept for the space, too.
"We love this neighborhood and want to do it justice," Ng says via a press release. "Lina and I had our very first meal in Minneapolis right down the street from where ESC will be, and I can already picture families, art students, neighbors on the way to and from work, friends meeting up, couples out for a date, all feeling like it's the perfect place to go."
Bringing us booze, wine, and beer will be Trish Gavin, who is promising a wine wall, rotating themed cocktail menus, and non-alcoholic and sugar-free options. Another thing to be excited about: "Our drinks will also be approachable from a pricing standpoint," she says. We shall see about that!
The new hall will be coming to the Old Arizona Studios at 2821 Nicollet Ave. S., and the long-empty 15,000-square-foot space will receive a much needed renovation. Eat Street Crossing will offer six unique concepts in the building, indoor and outdoor seating, an event space available to rent, and a liquor store (in a separate part of the building, of course; no co-mingling allowed here in Minnesota!). The space will be opening later this summer.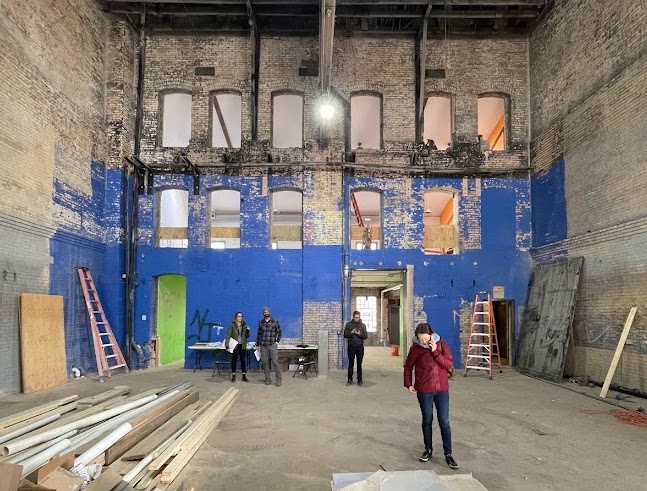 If this all seems sudden, don't worry, it's not. 
"We started the process before the pandemic, which seems so long ago," Goh says. "But having this much lead time meant that we could carefully choose who we wanted to work with, and also allowed us to be thoughtful about the look and feel we wanted to create. I am so proud that we have mostly women and new Americans in leadership roles."