There's never been a better time to be a vegan in the Twin Cities, but the Holland neighborhood of northeast Minneapolis has remained a bit of a plant-based desert. That changed earlier this month with the arrival of Francis, a burger bar that's raising the bar for vegan eats in Minneapolis.
Francis got its start with a residency at Sociable Cider Werks, slingin' superlative meatless burgers as the cidery's first vegan tenant. Last year, friends and co-owners Lindsey Johnston, Garrett Born, and Brendan Viele announced they'd soon take over the old Sen Yai Sen Lek address on Central Avenue, and they celebrated their grand opening on January 9.
The space to the left (formerly Sen Yai Sen Lek's sandwich and burger joint, Dipped & Debris) is Francis's dining room, with some walls splashed with a bold black and white mural and others painted a piggly pink.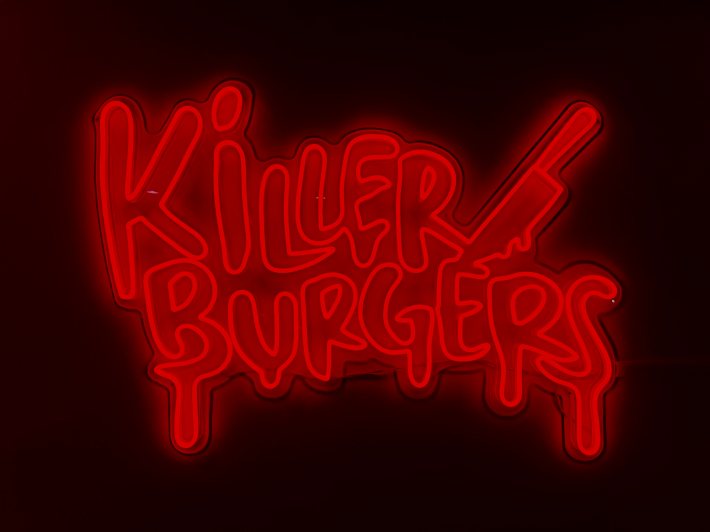 In the room to the right, the Francis team has transformed the space into a loungey vegan bar where black walls and tiling contrasted with red neon accents.
Behind the bar, partially obscured by a trio of ovular mirrors, the lyrics to Propagandhi's "Potemkin City Limits" are scrawled out—that's the song memorializing Francis, a Canadian pig and the burger bar's namesake, who escaped slaughter in Red Deer, Canada and became a folk hero in the process. "Francis didn't give a fuck about the rollbacks, the overproduction, the reduced demand…"
I'm no Chris Hannah, but I've sung the praises of these meatless burgers before. Made with Impossible patties (or a house-made bean burg, if you so choose), they're rich and satisfying and… meaty, for lack of a better word.
The new restaurant gives the Francis trio space to riff on their existing menu, adding options like a chicken bacon ranch sandwich, a vegan Juicy Lucy, and a whole suite of cocktails. And that's exactly what we ordered on a visit earlier this week, with a platter of buffalo fries to round the whole thing out.
We expected the buffalo fries ($11) to be messy in the way most buffalo-drenched things are, but when they arrived we were surprised to discover they were crispy, not-sloppy, and in fact not buffalo-drenched at all. Just kissed with sauce, and yet somehow completely coated in it, they're drizzled with blue cheese and get sprinkled with celery chunks for an added crunch. The potatoes maintain that fresh-from-the-fryer crispness throughout the meal—no soggy sadbois at the bottom of the pile—and they're the kind of thing you can actually eat with your fingers and not a fork.
(Oh, and the ones you see above are also topped with chicken nuggets because… that was an option, for just $3 more, and it would be impossible for me to say no to such a thing?)
The vegan Juicy Lucy ($13 or $16 with fries) doesn't quite have the sensation of the molten-core burn-hazard burgers that come off the griddle at Matt's, and that's not a bad thing. The vegan cheese melts differently than its dairy counterpart, so in Francis's Lucy, rather than glooping out in a hot blob that leaves you with a hockey puck shell of beef behind, it infuses the whole Impossible patty with a cheesy richness that oozes through the whole burger.
And the chicken bacon ranch sandwich ($14 or $17 with fries) was a real show-stopper. This thing has an incredibly spot-on fried-chicken flavor—my dining partner said it specifically evoked memories of "the bucket of broasted supermarket chicken you get when you visit your grandparents." (Does that mean anything to Racket readers? We'll find out!) We ended up picking off pieces of the breading and marveling at its texture, which had the exact sensation of snacking on chicken skin. What a treat.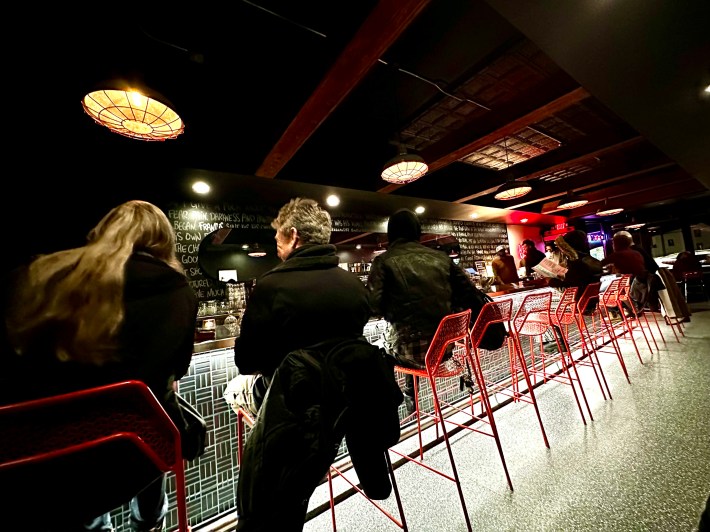 Throw in a few cocktails—we opted for the tequila-forward Margies by the Pool and the Long Island-like Get L.I.T. (both $12)—and set it to a soundtrack of Swearin', Slothrust, Against Me, and No Doubt (too bad about Gwen, huh?) and you've got a real winner of a burger bar.
Another plus? Unlike a lot of other options in the area, Francis is open late—currently until 10 p.m. Sunday through Thursday, and until midnight on Friday and Saturday. And if the place is packed enough during those hours, the trio has said it'll go for that 2 a.m. license.
Oh, and wait until you see the bathrooms.
Francis
2422 Central Ave. NE, Minneapolis
Sunday – Thursday: 11 a.m. – 10 p.m.
Friday + Saturday: 11 a.m. – 12 a.m.