Food & Drink
Here's All the February Restaurant News We Could Track Down
Is it possible that just ONE Twin Cities restaurant closed in February? Almost certainly not. Feel free to correct us in the comments!
10:47 AM CST on February 28, 2023
February: It's always kind of a slow restaurant news month! Too cold and snowy out there to get much construction done save for the finishing touches; too dark and dreary to think much past the drudgery of shoveling out your car, de-icing your sidewalk, and not slipping and falling to your death. 
But while we have little to offer you this month in the way of openings (and closures, for that matter), there's lots of fun opening news on the horizon—as soon as next month, in fact.
Open
Boludo Uptown and Boludo Como
Within a month, the number of Boludo locations in Minneapolis has doubled to four, with Boludo Como (1519 Como Ave. SE) and Boludo Uptown (2935 Girard Ave. S.) opening within a week of each other. Each is as small and colorful and loud as the next: "I always focus on tiny spaces because that's what we have in Buenos Aires, where I'm from," chef Facundo DeFraia told us earlier this month. He added that he's not done yet, with plans to expand to the suburbs first, and eventually beyond the borders of Minnesota.
Bricksworth Beer Co. 
Burnsville's Bricksworth Beer Co. is now up and running in Minneapolis (305 5th Ave. N., Ste. 105), with a menu of wings, salads, and sandwiches, plus an array of scratch-made pizzas that combine Detroit-style pizza, Chicago-style deep dish, and tavern-style Midwestern pies. This one is near the top of my to-visit list. 
SK Coffee
Southwest Voices has the scoop on SK Coffee, which just opened in the former Misfit Coffee space at 2401 Lyndale Ave. S. The address is practically a landmark in local coffee, where numerous bean-slingers have kept the Whittier community caffeinated since 1990, and co-owner Nate Broadbridge says it's also something of a homecoming: "Wedge was the first grocery store to ever take us," he told SWV.
Thaliwala
We don't bring you a lot of food and drink coverage from the 'burbs, but we couldn't let news that the Gorkha Palace/MomoDosa duo were expanding to Chanhassen (7850 Market Blvd.) go un-written-about. Rashmi Bhattachan and Sarala Kattel opened their latest fast-casual concept, Thaliwala, on February 20; a grand opening is planned for March 6. 
Tacos Tacos Tacos
Duluth's Tacos Tacos Tacos just opened a second location in St. Paul at 241 Seventh St. W., where they're slingin' al pastor pork, suadero, arrachera, and more (including not-tacos-tacos-tacos items like street doggos, tortas, and esquite). That West Seventh location puts it steps from Xcel Energy Center—great for a pre-show/Wild game taco stop.
Butcher and the Boar
The reborn Butcher and the Boar is now up and running at a new North Loop address (901 N. Third St. Ste. 195, Minneapolis), with a new team (hospitality group Jester Concepts, of Borough/Parlour, etc.) and a familiar vibe (big steaks, tall leather booths, lots of dark liquor). Take a photo tour via Eater Twin Cities.
Pivo Riverplace
On February 1, Wilde Cafe & Spirits (65 Main St. SE, Minneapolis) reopened as Pivo Riverplace under new owners Ryan Pulkrabek and Christy O'Keefe, Mill City Times reports. They're focusing on "classic comfort foods from the Midwest to Italy," with plans to redo the bar, renovate the exterior, and expand the big ol' riverside patio awning.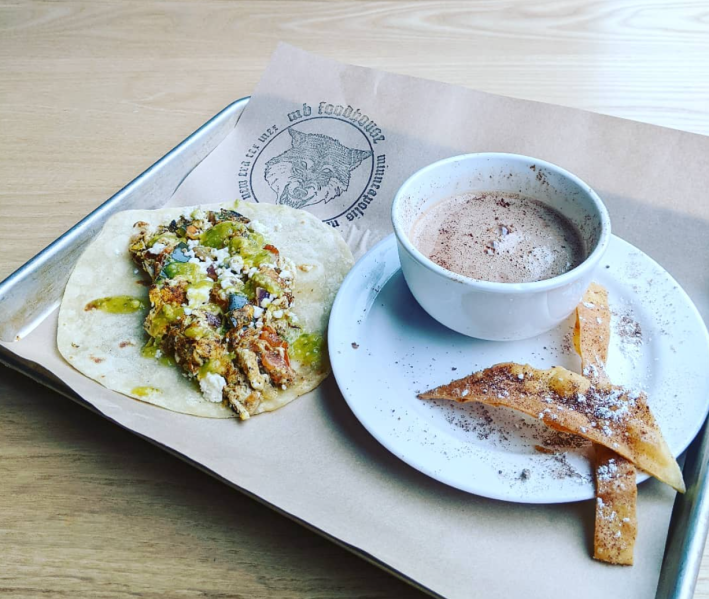 Closed
MB Foodhouse
Bad news for Tex-Mex fans: MB Foodhouse is leaving the Twin Cities. After opening up at the North Loop Galley food hall in November of 2021 and then relocating to a Northeast food truck shortly thereafter, chef Kristen Martinez is relocating a bit further afield—this time to Cottonwood, Arizona. "I could write a book about this chapter of MB FOODHOUSE and the insane amount of gratitude we have for all of you," she wrote in a farewell post.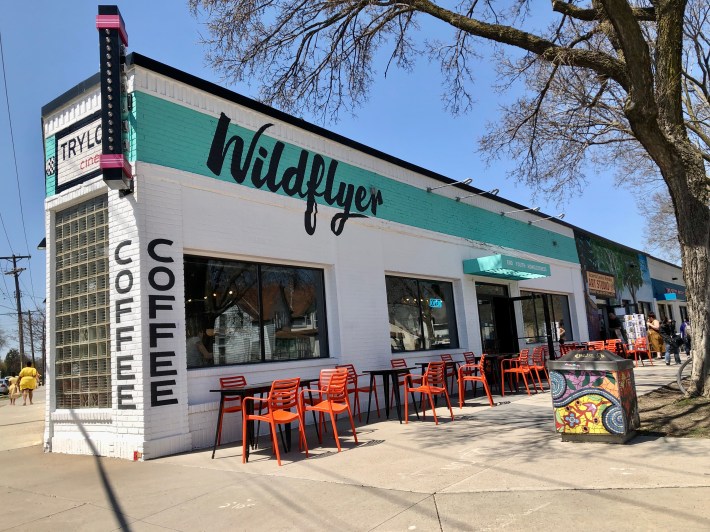 Just Announced and Opening Soon
Eat Street Crossing 
Minneapolis's newest food hall is juuust about ready to open, with a debut planned for this Saturday, March 4. We've covered the place pretty darn extensively since the Bebe Zito and Zen Box Izakaya folks announced their collaboration in June—what can I say? We're excited to see two super well-liked local restaurants teaming up to revitalize this long-empty, underused Eat Street address (2819 Nicollet Ave.), and in fact you can expect even more coverage from us before the week is out.
Slice Pizza No. 3
Nice news for folks who just want their favorite restaurants to remember there's a second city they can expand to: Following locations in northeast Minneapolis and Midtown Global Market, Slice is heading for St. Paul, and this'll be their first standalone location with indoor seating. Co-owner Adam Kado told the Biz Journal they'll have room for 30 in their space on the first floor of the Frogtown Crossroads apartment building (495 Dale St. N.), and they hope to open in late April.
Wildflyer East
Speaking of exciting St. Paul expansions, mark your calendars for March 11—that's when Wildflyer will celebrate the grand opening of its second shop (1362 Seventh St. W.). The coffee shop, which already employs youth experiencing homelessness at its existing Minneapolis location on Minnehaha Avenue, will soon be able to support twice the number of young people thanks to this location, and a new collaboration with the nonprofit RS Eden will expand their mission further. "It upwardly lifts everything we do," executive director Carley Kammerer told Racket in October. 
La Bodega Taco Bar
Perhaps you're familiar with Alex Rosario's La Bodega Taco Bar in St. Louis Park or his Crystal-based food truck of the same name. Uptown residents will soon get to know the budding taco bar/car dealership/ice cream shop mogul. At La Bodega Uptown, Rosario hopes to serve booze inside the former clothing boutique at 2829 Hennepin Ave., as well as birria ramen, walleye tacos, nopales, and "Crazy Fries." Sounds fun as hell! "When everything's said and done, I want to leave my daughter in a better position than I grew up in," Rosario tells SW Voices.
Mother Clucker's Pizza
Coming soon to the ol' Nicollet Diner space (1428 Nicollet Ave., Minneapolis)? Mother Clucker's Pizza, a "neighborhood bar" that'll specialize in late-night pizza and broasted chicken, along with local beer and creative cocktails. According to its website, Mother Clucker's belongs to the Nicollet Diner/Roxy's Cabaret family; those spots are now up and running down the street at 1333 Nicollet Mall.
Juniper
Mpls. St. Paul Mag reported this month that an "alcohol-free THC restaurant" called Juniper is making its way into the old Common Roots address (2558 Lyndale Ave. S., Minneapolis). Juniper comes from Michelle Courtright, who was behind the vegan restaurant Fig + Farro in Uptown, and chef Heather Klein, from Root to Rise vegan catering. They'll have a patio, a plant-based bodega (the "restaurants with shops in them" trend you read about right here in Racket continues), and "euphoric non-alcoholic drinks" made with THC. 
Marc Heu Move
Frogtown's famed Marc Heu Patisserie Paris is leaving the neighborhood—but don't worry, they're not goin' far. Baker Marc Heu and his wife, COO Gaosong Heu, tell Mpls. St. Paul Mag that they're heading for the Selby & Dale neighborhood this spring (156 N. Dale St., St. Paul), where they'll eventually evolve into a full-on bistro with a 30-seat patio, Parisian bentwood chairs, and sammies made with Marc Heu baguettes and bread and prosciutto and Iberico ham. Sounds pretty pleasant, and very French! 
ALTBuRGEr
I'm already tired of typing this name out, but ALTBuRGEr—or "All Love This Burger"—is making its way to the former Sheridan Room space in Northeast (337 13th Ave. NE, Minneapolis) this spring. A press release promises "creative food not centered on animal protein with flavor profiles that are playful, craveable, and satisfying," and co-owner Martina Priadka tells us they hope to be "approved and ready to go before the snow melts." Neither the release nor the website explicitly say it's a vegan burger joint; if it is, it'll be the second to open in Northeast in short succession following Francis's arrival in January.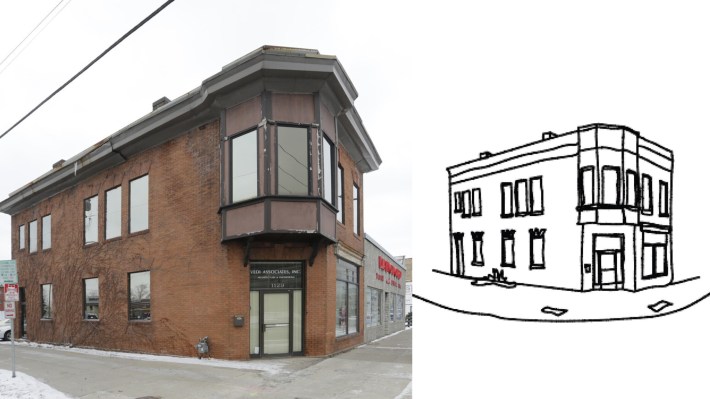 Still In the Works
As previously reported in the RRR...
Oliphant Brewing
We've very little information about this one so far, but Southwest Voices scooped the news that Wisconsin's Oliphant Brewing appears to be moving into the LynLake Brewery space. They're all NDA-d up, so that's all we know for now, but we've got our eye on it.
Bogart's Doughnuts
Popular Minneapolis doughnut shop Bogart's is moving on into St. Louis Park. Construction is underway, but the doughnut makers are being coy about their timeline for now.
Milly's Wine Bar & Bistro
"My personal stake in everything is: I want gigantic cheese boards," Milly's Brandon Witzel told us last year. "I want for you to come in and pick however many cheeses you want, however many meats, and just go to town for two or three hours, have a couple bottles of wine." Milly's is slated to open in early 2023 at 1129 Washington Ave. S. in Minneapolis, with a big ol' lending library and lots of plant life (and yes, gigantic cheese boards). Follow their progress on Instagram.
​​Gai Noi
Mpls. St. Paul Mag has the latest on chef Ann Ahmed's forthcoming Loring Park restaurant, which it reports will be open by Pride. It'll be named Gai Noi, which is short for a type of rice and also means "little chick," and the menu is roughly 80% done—but we'll have to wait until the recently James Beard Award-nominated chef gets back from a trip through Asia for more details. 
Fawkes Alley Coffee
In similar youth-focused nonprofit coffee shop news: Futsal Society, an organization that acts as a lower barrier option for kids who want to play soccer, is opening a coffee shop in Loring Park. Southwest Voices has the scoop; look for an early 2023 opening.
Animales Brick and Mortar
Here's a meaty story for ya: Animales BBQ is looking to open in a brick-and-mortar building. Year-round ribs, folks! Jon Wipfli (Animales) is teaming up with Billy Tserenbat (Billy Sushi) to bring the place to life in either the North Loop or northeast Minneapolis. Look for it this summer.
Soul Lao 
The popular food truck and popup spot Soul Lao has its sights set on a brick-and-mortar space at Sibley Plaza on West Seventh in St. Paul. "We want to build a supportive environment where young chefs can shape a career and neighbors can share a plate of Lao sausage, sticky rice, and spicy papaya salad," Soul Lao's GoFundMe Page reads. "There's no other place we would want to place our roots." The projected opening date is April 2023; you can donate to their GoFundMe here.
D's Banh Mi
The sign is up at D's Banh Mi, which is taking over the ol' snack shack at 38th & Cedar. Brothers Dylan, Dyon, and Dustin Tran were shooting for a November opening; we've reached out to the brothers D for an update. Read our chat from April about their plans for the space here.
Bellecour Bakery at 50th & France
The third Cooks of Crocus Hill/Bellecour Bakery is headed for 3945 Market St. in Edina, joining locations on Grand Ave. in St. Paul and Minneapolis's North Loop. "Lots of exciting details to share with you when the time is right… stay tuned and looking forward to seeing you in our new space," chef Gavin Kaysen wrote in an Insta post.
Diane Moua Moves On
Speaking of Bellecour Bakery: Diane Moua announced last month that she's leaving her role as Bellecour's executive pastry chef to open her own bakery and cafe, which will combine Hmong home cooking and southeast Asian flavors with her French pastry perfection. "You'll see a chocolate croissant here and there, but I want to use coconut and yuzu," she told Eater Twin Cities, which has the rundown. "It's so French at Bellecour, but with this, I can use taro."
Pimento Jamaican Kitchen
Great news on Bde Maka Ska: Eat Street's wonderful Pimento Jamaican Kitchen is coming to the redesigned pavilion when it reopens this summer. Get ready for jerk chicken on the beach in 2023!
The Painted Turtle
No more Sandcastle at Lake Nokomis; this is The Painted Turtle's time to shine. The new concept comes from the folks behind Unleashed Hounds and Hops, the indoor/outdoor dog park/human restaurant. They'll have a full ice cream shop thanks to a partnership with La La Ice Cream, and Kramarczuk's Sausage Company is also name dropped as an early partner. Here's the whole scoop.
Progress at the Fhima North Loop Concept
Though chef David Fhima says it's still "a winter away from opening," his new multi-level project in the North Loop has a name: Maison Margaux. The chef shared some updates on Instagram in December, including the challenges of "creat[ing] a three-level masterpiece with the coolest underground bar in the world, a modern take on a Parisian brasserie, a Ralph Lauren inspired event center, and neighborhood terrasse" while keeping the vibe Minneapolis-y. We chatted with Fhima about the project last January.
Spot some Big Food News we missed? Email em@racketmn.com with tips.
Previously In the Racket Restaurant Roundup...
Em Cassel (she/they) is a cyclist, a metalcore apologist, and a co-owner and editor of Racket.
Read More:
Stay in touch
Sign up for our free newsletter