Minneapolis and St. Paul don't have a whole lot of slice shops—nor do they have many Black-owned pizza places.
Starting Saturday, they'll have another of each.
It's been a long road for Hosie Thurmond and Adam Kado, the best friends and business partners behind Slice Pizza. Their sign went up on East Hennepin in Northeast more than two years ago (yes, technically Slice sits on the side of East Hennepin that puts it in the Marcy Holmes neighborhood). Since then, they've been converting a former insurance office into Slice's commercial kitchen.
"It has been a long time coming, for sure," Thurmond laughs.
Thurmond loves pizza and traveling, and he's spent a lot of time over the years flying back and forth from New York. "If you've ever been to New York, you can kind of find a pizzeria on every block. Go in, get a quick slice, be in and out on the fly. And as we looked at the Minneapolis area, we didn't see that niche being filled."
Sure, you've got your Pizza Luce, and there's Mesa Pizza at the U of M campus and in Uptown. But neither of those are quite Slice-like—Luce's menu includes everything from salads to hoagies, and Mesa throws barbeque steak and fries or mac and cheese on its slices.
Slice will be a good bit more traditional: a quick, efficient slice spot with a streamlined menu and traditional, flat, thin triangles. Something else they'll have in common with New York pizza? "You can expect a bigger slice than anywhere else. That's something we're trying to champion." They've been perfecting their five-cheese blend and a flavorful sauce, hosting free taste tests for community members who've been following their opening closely. Expect a lot of flavor and a lot of cheese.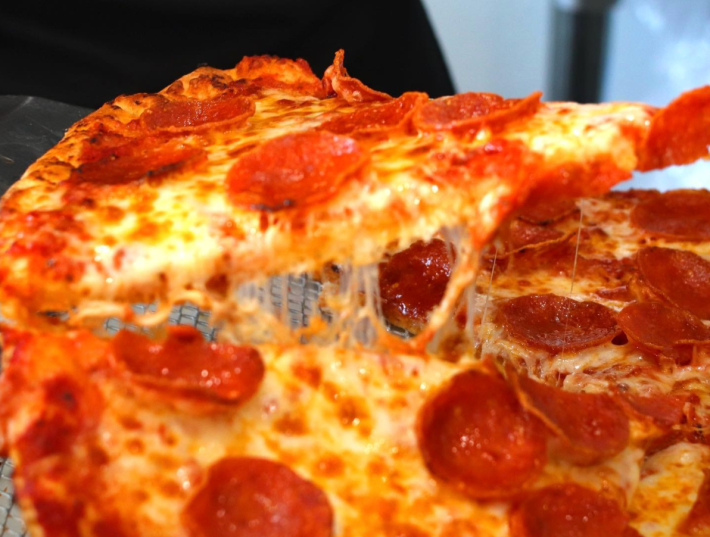 On Saturday at 1 p.m., they're having a grand opening. Yes, there absolutely will be a ribbon cutting.
Outside of pies, Thurmond runs the commercial screen-printing company Supply, which has recently collaborated with Target and Sweet Martha's Cookies. Kado works with the Timberwolves and Lynx basketball academy and runs a player consulting business.
"As African-American business owners, and now African-American restaurant owners, we're just extremely excited for the opportunity," Thurmond says. There are hardly any Black-owned pizza places in the Twin Cities. He's only aware of one: Tommie's Pizza, another New York-style spot in St. Paul.
"Hopefully, we'll show younger entrepreneurs and younger people coming up that there is space in other areas where African-American business owners can enter and flourish … We're trying to put our best foot forward and show good face for future Black entrepreneurs."
Slice Pizza is located at 519 E Hennepin Ave. in Minneapolis. It's open noon to 10 p.m., Monday through Thursday, and until 2 a.m. on weekends. Find them on Instagram: @sliceminneapolis.