Food & Drink
Here's a Bunch of Brand-New Restaurants and Bars to Check Out
More June food news than you can shake a mozzarella stick at
12:25 PM CDT on June 28, 2022
There are months when there's very little to report in the Racket Restaurant Roundup other than, "Yep, these 20 restaurants are all still working on getting the doors open!" And then there are months like this one, when it's like, "OK, that's enough news already!"
Here's what's in, what's out, and what's in the works in Twin Cities restaurants this June.
Now Open
Official Fried Chicken
A streamlined approach is the name of the game at Official Fried Chicken, which opened on 46th Street in Minneapolis earlier this month. "We do fried chicken and fries. We don't mess around," the website boasts. And they mean it: The menu is literally just fried chicken and fries. Owner Jared Brewingtn tells Heavy Table their fried chicken is "the old school of it all, bone-in bird, skin-on, crispy." It's takeout and delivery only; HT has the whole scoop.
Little T's
This late-night favorite off of Eat Street came roaring back earlier this month with a trio of new owners trading Tex-Mex for a Southeast Asian influence and reveling in mishmashery just as much as (if not more so than) their predecessor. "Whether you're digging into my sleeper-favorite fried cauliflower or the six-dollar waffle fries, a thicc-as-you-want-it steam burger or a kicking mapo rigatoni, you're going to be hard-pressed to find a holistically better bang-for-buck lineup round these parts," Tony Libera wrote for Racket earlier this month. Find the full review here.
Jetset Underground
In another revival, long-running North Loop gay bar Jetset is back in action this month after closing in 2018. With a new name (Jetset Underground), a new location (the old Honey space in Northeast), a new menu (they have drinks and food now), and a new political climate (the bar promptly pissed off everyone in announcing Jacob Frey would be a Pride weekend guest bartender), it's the same Jetset, reimagined for 2022. Read our feature about the Twin Cities' mini-queer bar boom here.
Taco Bell Defy
We don't take our restaurant coverage to the 'burbs too often, but when we do, you bet your ass it's for the grand opening of an architecturally significant Taco Bell. The world's very first Taco Bell Defy concept debuted in Brooklyn Park earlier this month, zipping contactless Crunchwraps to drive-through customers via a sort of vertical conveyor belt system. What a world!
Lost Fox
Lowertown's Lost Fox technically opened in April, but the all-day-cafe-slash-bar just reached its full 8 a.m. to 11 p.m. potential last week. From the husband-wife duo of Annie and Michael Rose—both industry vets—Lost Fox is a cozy, casual spot with breakfast every day, a daily happy hour, and a bar menu with burgers, wings, and more stuff to come. "It's really important for us to be there for the neighborhood," Annie told Racket earlier this month. "There's a lot of places in Lowertown, and a lot of places just in general, that aren't open every day." We've got more on the Lowertown newbie here. 
Guacaya Bistreaux
North Loop by way of NOLA? At Pedro Wolcott's Guacaya Bistreaux (337 Washington Ave. N.), accessible, affordable tapas and cocktails are the name of the game, with an emphasis on flavors from Wolcott's native Panama and his years in New Orleans. And they've got Meteor Bar's Tyler Kleinow and Robb Jones developing the rum-focused cocktail program. Neon lights, drinks with umbrellas in 'em, a cute-lookin' little patio… can't wait to get over here, personally. 
Tatanka Truck 
Sean Sherman's James Beard Award-winning Owamni is bringing back the Tatanka Truck! The Native American food truck is now up and running outside of Owamni, right off the river walk by the west edge of Mill Ruins Park, where they're slingin' Indigenous tacos from 2-8 p.m. Friday through Sunday. Find more info on the Tatanka Truck website.
Mara and Socca
Gavin Kaysen's Soigné Hospitality Group opened their pair of Four Seasons restaurants earlier this month. There's Mara, with a menu that spans the Mediterranean, and Socca, a Hennepin-and-Washington coffee/pastry/grab-and-go cafe. Here's a sneak peek via Mpls. St. Paul Mag.
Noyes and Cutler
Don't try to go tonight—Justin Sutherland's new St. Paul steakhouse doesn't open until June 29—but with roughly 24 hours separating us from that first service, we're counting it here. Formally "Noyes and Cutler on the Park," this meat-and-seafood steakhouse "rooted in rich tradition" takes its name from the historical building it occupies at Sibley and Sixth. Open Wednesday through Friday from 3 to 10 p.m. (dinner starts at 5) and Saturday and Sunday from 9 a.m. to 3 p.m. (brunch) and 5 to 10 p.m. (dinner). 
Cardigan Donuts at IDS
After pushing back the opening of their highly anticipated IDS Center location, Cardigan Donuts' skyway-level outpost debuted earlier this week. "People have come back downtown, for sure, but it's mostly the three middle days of the week. And they're out in the skyways looking for lunch or a break," owner Justin Bedford tells Mpls. St. Paul Mag. "We think that's part of the reason some are coming back, to have things they can't get at home." Cardigan's second downtown location is open Monday to Friday, 7 a.m. until 5:30 p.m.—and crucially, this Cardigan is also serving up ice cream beginning at 10 a.m. daily. Go get a stroopwafel ice cream taco!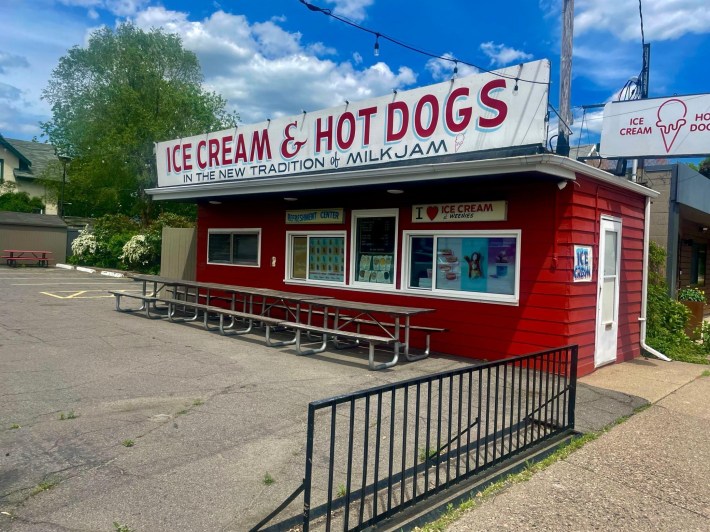 Closed and Closing
Milkjam's Lil Jam
After just four years in the longtime Dave's Popcorn shack on 38th Street, brothers Sameh and Saed Wadi of Milkjam Creamery and World Street Kitchen are moving on. Milk Jam Ice Cream & Hot Dogs, which hasn't been operational for several summers now, officially went up for sale earlier this month. Your pals at Racket broke the news that the 38th Street snack shack was on the market in early June; according to the property listing, a sale went through late last week. 
Side Chick
Almost exactly a year after it opened, Side Chick—the controversially named Uptown fried chicken joint opened by Justin Sutherland—abruptly closed this month. Some of its social media pages have disappeared; the Side Chick Facebook now promises that a restaurant called Luna Uptown is coming soon. You can read more on the closing here. 
Sheridan Room
This one stinks, IMO! A personal favorite brunch joint (they had top-notch biscuits and gravy and great breakfast cocktails), the Sheridan Room announced last week that this is the end. Open since 2015, the little American bistro from Jon Oulman (Amsterdam Bar & Hall, 331 Club, Cafe Lilla) was a gem in Northeast. "We have both personal reasons and professional reasons for closing," they wrote in a farewell Instagram post. "Mostly, we want to give a Big Ass thank you to every person who helped make this place a special one." The last day of service will be this Thursday, June 30.
B.A.D. Wingz
Another bummer June 30 closure: B.A.D. Wingz, chef Gerard Klass's customizable wing concept at Graze food hall. B.A.D. Wingz was relatively new to the space, but the news ain't all b.a.d.—Klass says they're closing up shop to put more energy into the very-good Soul Bowl, which also has a Graze location, along with one in Richfield.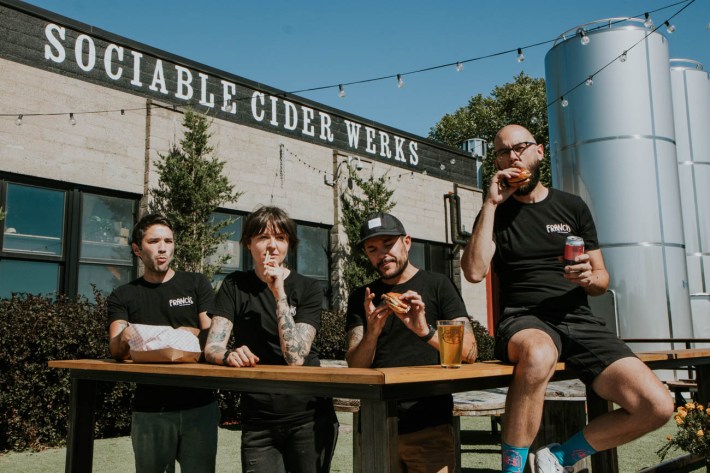 Just Announced and Coming Soon
Once again, folks, that feels like plenty of food and drink news already. But if you're still with us, here are some of the most imminent-slash-noteworthy in-the-works eateries around town. 
Eat Street Crossing
The folks behind Zen Box Izakaya and Bebe Zito are cooking up a cool new concept in the long-empty Old Arizona Studios (2821 Nicollet Ave. S.). Their forthcoming food hall, Eat Street Crossing, will bring some much-needed life to the 15,000-square-foot space, with familiar eats from their respective concepts and some new stuff, too. We've got more on the whole thing here.
Centro Expands
Speaking of Eat Street: The Wedge Table space on Nicollet, which has been empty since last summer, will soon house the first in a multi-location expansion for Centro. The northeast taqueria's Eat Street outpost will be bigger than the original, with a version of their bakery and market, Vivir, an expanded patio, and another yet-to-be-named concept that's still in the works. Coming summer 2022.
Vinai
While we wait for chef Yia Vang's Vinai to open in Northeast, you can get a sneak preview of the Hmong restaurant this summer thanks to a pop-up series with Steady Pour. The residency kicked off June 23 and runs on weekends through August; read more via Eater Twin Cities and snag tickets here.
Sociable Cider Werks
The Sociable Cider Werks food trailer/restaurant incubator has been the launching pad for some serious talents over the years: Curious Goat, Sammy's Avenue Eatery, Yia Vang's Union Hmong Kitchen. Now, the latest tenant, Francis, is on its way out, and Sociable is looking for someone new to enter the Chef Incubator Residency Program. Applications to be Sociable's next resident restaurateur are due by Thursday, June 30, and you can learn more and apply at: sociablecider.com/resident-kitchen.
Slice Midtown Global Market
Just six months after opening their first Minneapolis location in Northeast, Slice announced they'll soon open a second location in the Midtown Global Market. "Things have been going really well, and we really needed it, business-wise," Slice co-owner Hosie Thurmond told Racket last month. "We're working in a really small space in our Northeast location. Like, our whole kitchen is really only 300 square feet." They're hiring for the MGM location now; read our story from May here. 
Em Que Viet
Northeast's Que Viet, purveyors of massive, wonderful, State Fair-favorite egg rolls, are opening a second location. Em Que Viet—the "em" means little brother or sister in Vietnamese—should open at 1332 Grand Ave. in St. Paul sometime soon.
Previously in the Racket Restaurant Roundup...
Em Cassel (she/they) is a cyclist, a metalcore apologist, and a co-owner and editor of Racket.
Stay in touch
Sign up for our free newsletter