Journalist Ella Winter once quipped that you can't go home again, but when it comes to Whittier's legendary Little Tijuana—which closed in 2020 and is now open under new ownership—that's not totally a bad thing.
Of course, we band of barflies will fondly remember the Little T's of yore (read: pre-pandemic). Late-night grease. Strong-ass drinks. Weird movie nights. Drunk-drawing on tables. Man, we had it good. And in a city that's so excessively nostalgic, it can be tough to overcome such bittersweet memories and embrace change. (Just take a peek at some of the woeful online discourse around this whole situation.) But it's hard not to admire what this new crew of Minneapolis mainstays is doing with the beloved space.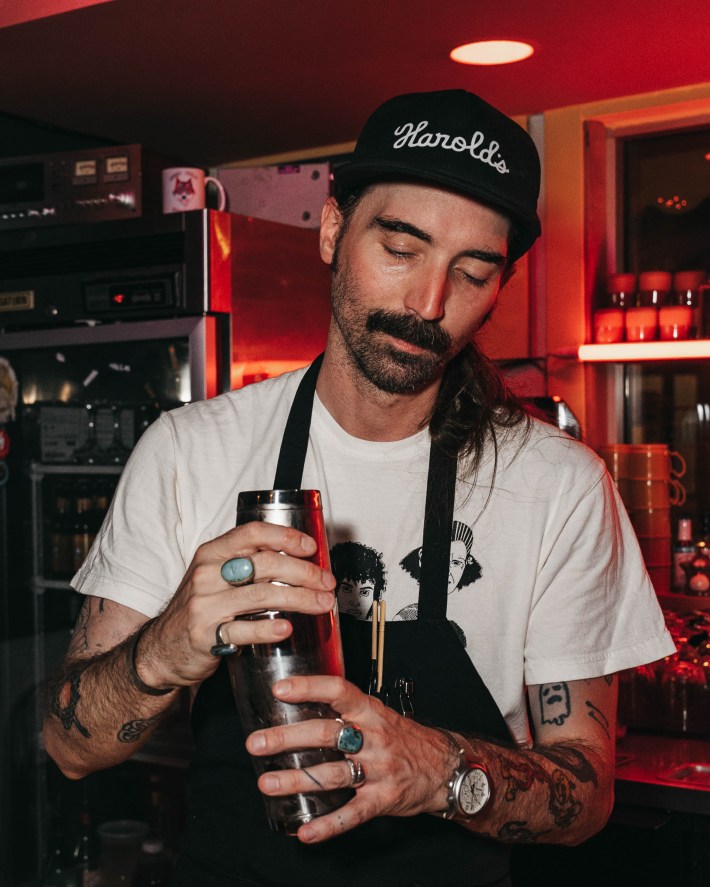 Moseying down 26th by light of day won't reveal too many tweaks to the former Tex-Mex haunt. That wonderful, dingy yellow awning still drapes across the building's stucco facade, but take a step inside and you'll notice right away that the times they have indeed a-changed thanks to owners Travis Serbus (beverage director), Dan Manosack (executive chef), and Bennett Johnson (bar manager)—that is, once you get past the bathrooms/architectural marvels that continue to greet and confuse upon arrival.
The most readily apparent overhaul comes from Billie C. White and Terresa Moses: a sprawling mural adorning the east wall that combines Western vistas with extraterrestrial hijinks, and in doing so, sets the tone for both the overall vibe and, in an indirect way, the updated menu. Ya see, this version of Lil T's—formally "Little Tijuana Neighborhood Lounge"—revels in mishmashery even more than its predecessor.
And while some may perceive these amalgamations as unfocused (the same people that don't understand what that hyphen in Tex-Mex means), the reality is that this team hit the bullseye when it comes to building out a restaurant that's novel, fun, and inclusive—and I'm not talking Betty Danger's, here.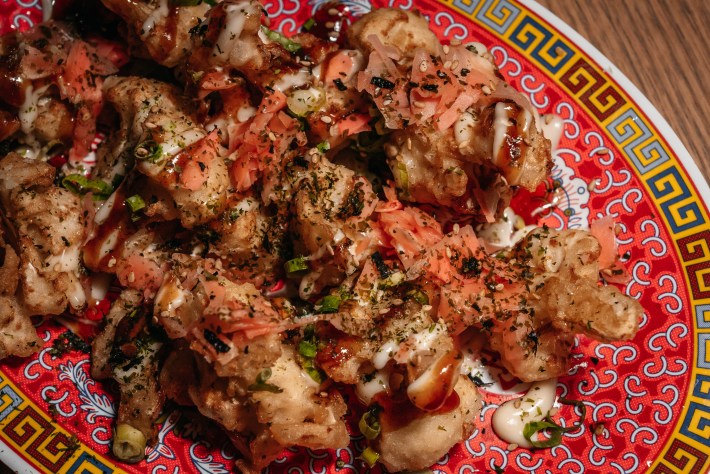 Take the eats, for example. There are few places on Earth (maybe none) that are going to hit you with a Palak Paneer Dip for an appetizer and Chopped Cheese for your main. Fewer still (none again?) that would be able to pull it off this well.
To the restaurant's detriment, I think, a lot of the reporting around their reopening and menu focused heavily on the shift toward a Southeast Asian influence without getting into the nitty-gritty of how "influence" can actually be applied. As such, there's quite a few misconceptions floating around as to what Lil T's is really up to here, an issue worsened by demands for the old enchiladas, et al., which may only be solved by going in and feasting for yourself.
But, if you'll take my word for it: whether you're digging into my sleeper-favorite fried cauliflower or the six-dollar waffle fries, a thicc-as-you-want-it steam burger or a kicking mapo rigatoni, you're going to be hard-pressed to find a holistically better bang-for-buck lineup round these parts. There's a something-for-everybody mindset here, and with very reasonable prices for the quality (excellent sando meals run $8-$12); plenty of gluten-free and vegan options; and a midnight kitchen/1 a.m. bar close, you're looking at an immediate go-to night spot in a town where the latter attribute alone is increasingly hard to find. You can't even get a post-bar McDonald's quarter-pounder in this hellhole anymore. Thanks, Jacob Frey?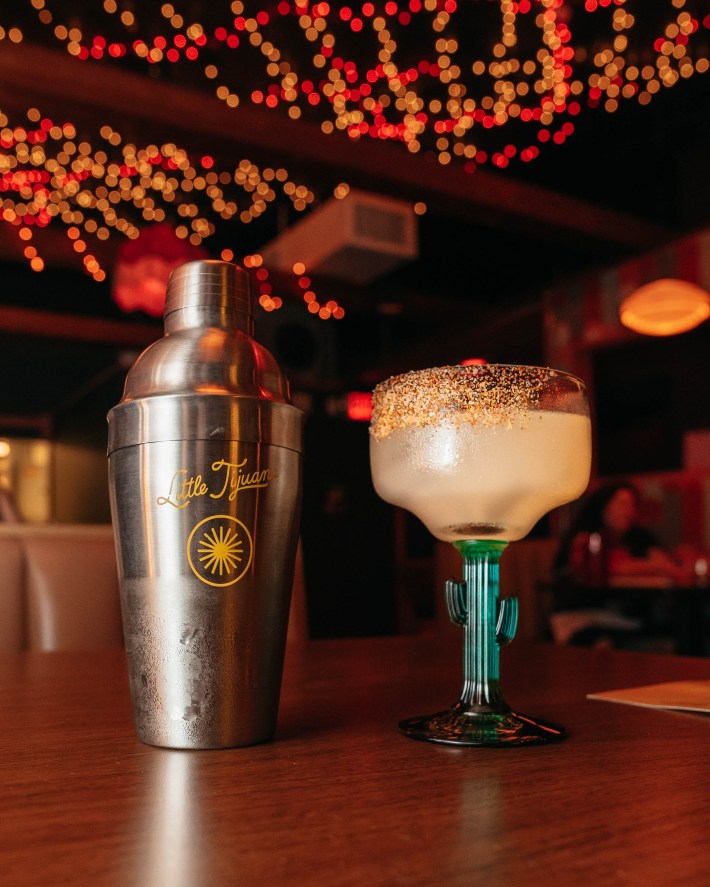 Wander over to the west side and you'll meet a decidedly divier atmosphere: sparse walls lit Sith-red by the LEDs crossing the back window, Bryan Ferry crooning via cassette tape, a disco ball twirling, twirling, twirling towards freedom. Grub is available on the drinks side and vice versa, but over here you get a hit of that old familiar watering hole feel, and saddling up to the bar has already offered a couple-some classic brass rail moments.
DJ nights and karaoke are coming down the pipeline, but for now it's enough to simply booze your way through a cocktail list that's equal parts inventive and archetypal. Standouts include a spike-able 3leches tonic collab (your boy happily went mezcal) and a Jay Bird that tastes flush with pineapple and lime but isn't painfully acidic like those at some other joints. If I'm being honest, and a little boring, my number one on this menu is the aptly named Perfect Margarita, which hit the spot like no other bevvy during this brutal June heatwave. It's easily my favorite marg in the city since Bar Luchador closed. Just be warned: It's a double.
I'd be remiss not to mention that we are, in fact, still in the middle of a pandemic, so the very close quarters and near-windowless construction that made the former Little Tijuana a top-notch hideout for drunks, college kids, and assorted ne'er-do-wells will surely give pause to the COVID-leery. Thankfully, in line with ownership's desire to truly serve the neighborhood, takeout is on the horizon. But if you're ready to venture back into the world and looking for a creative late-night retreat, you'll do no better than Little T's.
Little Tijuana Neighborhood Lounge
17 E. 26th St., Minneapolis
Wednesday – Monday, 4 p.m. – 1 a.m.