Since opening in July, Owamni by the Sioux Chef has been racking up accolades from big hitters like the New York Times and Vogue. By now, I don't think I have to tell you that this ​​Indigenous restaurant by Sean Sherman and Dana Thompson has a stunning view overlooking the Mississippi River ("Haha Wakpa," in Dakota), or that the name comes from the Dakota name for St. Anthony Falls meaning "the place of falling swirling water." Much of this has been covered, and covered well, by other publications. 
What I aim to do today is to share my experience—and it indeed was an experience—of dining at a restaurant that focuses on decolonizing local cuisine, and the impact that can have on a person of color who's been grappling for years to reclaim access to their roots. Food can be a powerful vessel for this type of reclamation, and Owamni is a step in the right direction for anyone who wants to access the dining pleasure of North American food and imagine what that means when it's not steeped in the mire of colonialism.
I waited months to get a table at Owamni, and expectations were high. The restaurant promised only pre-colonial fare—no wheat, dairy, cane sugar, pork, or chicken—and my Mexican-American self appreciated that it strives to incorporate food and drink from Indigenous people all over North America. The menu expands beyond our local plains to include everything from tacos to a sope-like open-faced sandwich to wild game to locally grown veggie dishes.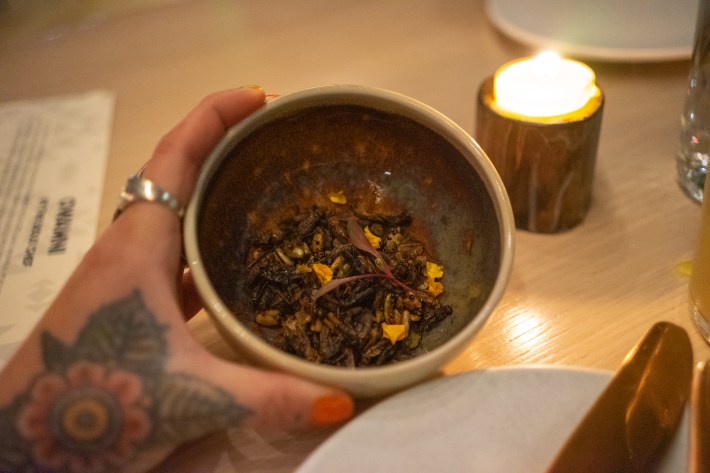 Their beer and wine list is primarily sourced from Black, Indigenous, and people of color (BIPOC) producers in North America, as well as Maori producers in New Zealand. Additional thoughtful touches were the herbal teas and zero-proof cocktail menu. I wanted to enjoy this meal fully and clear-headedly, so I opted for a maple switchel—not a compromise at all, with complex flavors of spicy ginger, sweet honey and maple, and the satisfying, mouthwatering acidity of apple cider vinegar. 
My dining partner and I browsed the menu and settled on (probably) too much food. But heck, seating is still difficult to come by, and we wanted to make it count not knowing when we'd be back. We started with crispy maple crickets that were like spicy, buggy granola. Frankly, I love eating protein-laden crickets. Owamni's were honeyed, crunchy from pepitas and sunflower seeds, and smokey, with dried chiles warming our palates. It's a dairy-free establishment, but I imagined enjoying these crispy critters on top of ice cream. 
Potted duck followed, with shredded meat tucked lovingly into a black-lidded dish topped with fresh fruit. We scooped the fragrant duck onto crisp, aromatic tostadas. The rough grind of the corn made me feel sentimental, as corn and corn tortilla-adjacent items always make me think of my family. The balsam fir and rosehips that seasoned the duck brought out the sweet and pleasant gaminess of the bird that, when piled on a tostada, summoned a symphony of flavors and textures in each bite. Following the duck dish were grilled mushrooms that were so perfectly cooked as to coax out the rich umami flavors they almost tasted like bacon. They lay in a pale puddle of fatty pepita cream, and it blew my mind that this dish lacked dairy. Pickled leek danced on my tongue and cut the richness of the mushrooms and "cream," balancing each bite—this was a dish that was tough to share.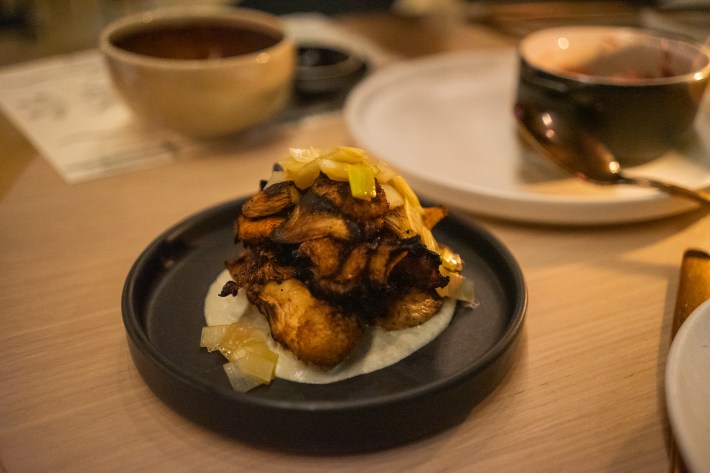 After the mushrooms, things started to ramp up emotionally for me. The Three Sisters Choginyapi, an open-faced corn cake sandwich, was the first that broke my heart open and almost led me to tears. Intermingling sweetness with a hint of nutty bitterness, the fried golden corn cake was smeared with earthy black beans and topped with juicy bursts of pickled corn and strings of squash. Crowned with gently-dressed dandelion greens, it shook something loose inside of me. Following it with an antelope taco—reminiscent of a leaner barbacoa and topped with refreshing prickly pear puree, sharp pickled onion, and mellow fried sage—really sent me over the edge. I had to slow down and slowly breathe so I wouldn't drip tears into my perfectly seasoned taco. 
As a Mexican person, I'm aware of my Indigenous background, but I've always been cautious about claiming it so as not to delegitimize the past and present pain of Native American nations. For my Mexican ancestors, along with the Spanish came colonialism, conquest, and a desire to "save" the Indigenous people living there. Sacred texts were burned, traditions and rituals were taken by brute force and replaced with a new religion. This story is not dissimilar to what happened to Indigenous nations across North America, and locally the legacy remains in plain sight. Because of the gap in time and an invasion that snuffed out pre-colonial Mesoamerican Indigenous cultures, my family lacks its connection to our roots. We're "just" Mexican: a blend of the Indigenous people who were always there and the Spaniards who stripped them of their heritage.
It's a messy, confusing, and painful line to walk—and how does this relate to me crying onto a pile of meat on a beautiful, velvety blue corn tortilla? Well, this food felt like a direct line to something I've lost. Eating at Owamni felt like coming home.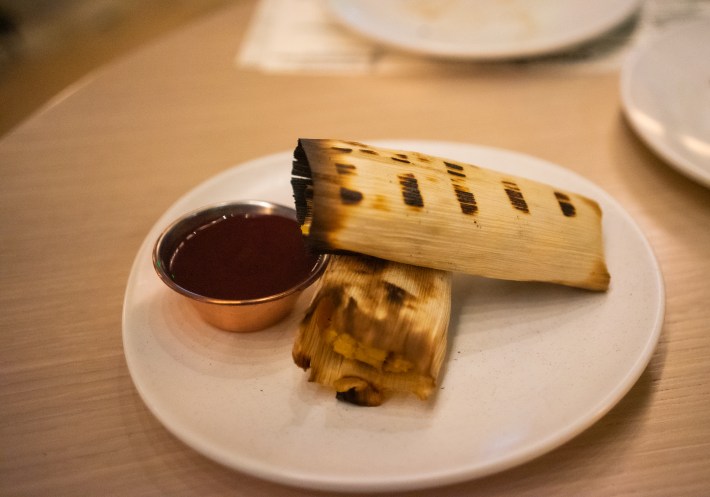 I choked back tears as the cornbread came, looking like a little tamal. Dark brown grill lines on the oja (corn husk) smelled to me like perfume, the woody char like incense. I opened the husk like a present, releasing steam and another heady blast of corn scent while I sighed onto my plate, inhaling it like the sweet breath of a loved one. The bread was flecked with pepitas and currants and presented with a dish of a tart, silky berry sauce called wojape for dipping, and both my dining partner and I voiced our surprise that yet another dish was so creamy without dairy. At the end of our meal, we realized we'd successfully polished off seven plates, and though we were certainly full, we weren't uncomfortable. We felt no heartburn or bloat. I slept well, and the next day I felt great. Perhaps a testament to the benefits of decolonizing our diets?
When I reflect on this incredible and (surprisingly) emotional meal, I think about what was taken from my ancestors and me in what is present-day Mexico when they were colonized. I think about what I'm being given back when I can sink into the comforts of cuisine that creates a bridge between then and now. I'm not so naive as to think we can heal the wounds of intergenerational trauma with food alone, but I do believe that with community connection and care, we can make it a balm to soothe some of the aches. For me, that is something Owamni gave to me on a lush autumn night, and I can't wait to experience it again.