Food & Drink
Buckle Up, Bitches: It's Time for the July Racket Restaurant Roundup
TILT gets LITT, Grumpy's grumples outta Roseville, and more July restaurant news.
11:55 AM CDT on July 29, 2022
All kinds of announcements in the Restaurant Roundup this month, folks. (As for some July food news you won't see below—did you read our predictions for this year's 38 (!) State Fair food newbies?)
Let's get right into it. 
Open
Em Que Viet
Que Viet's St. Paul sister restaurant (1332 Grand Ave., St. Paul) opened in mid-July and looks cute as heck. The family-owned Vietnamese spot is bigger and brighter than its original location in northeast Minneapolis, with an adorable patio and a bright 'n' airy interior space. Find their hours, menu, and more here. 
Tamu Grill & Catering
Back in March, we reported on the opening of Kilimanjaro Grill, a family-run Kenyan restaurant that took over the old Viking Bar space. Now, the Biz Journal reports that the space has reopened again as a Kenyan fusion restaurant called Tamu Grill & Catering. Same crew, though George Ndege, a.k.a. chef Jojo, is manning the kitchen, and his family is helping with all the rest. You can read our earlier chat with Jojo's son, Fanaka Ndege, here. 
Slice Midtown Global Market
Slice celebrated the grand opening of its Midtown Global Market location with a July 20 ribbon cutting—fanfare that's more than warranted, as this is the Black-owned pizzeria's second location to open in less than a year. You can read our May chat about the MGM location with co-owner Hosie Thurmond here.
Chicago's Very Own
We've got even more great Black-owned business news: Chicago's Very Own, the hoagy (that's their spelling, don't come for my Philly bonafides) shop planned for 2944 Lyndale Ave. S. in Minneapolis, is now up and running. And they're serving downright enormous sandwiches, if the photos I've received from friends are any indication. Can't wait to get over there. You can read last month's coverage of Chicago's Very Own here, and you can read our recent ranking of Chicago-style Italian beef sandwiches here.
Makwa
A Native-owned coffee shop opened in Roseville earlier this month. Makwa, which means black bear in Ojibwe, is owned by ​​Jamie Becker-Finn (she's also a DFL rep in district 42B), and their menu includes drinks like the Ziigwan (cold brew with milk, caramel, and maple syrup). Bring Me the News has the scoop.
Roots Cafe
And in other Native-owned coffee news: Roots Cafe is a new coffee and tea shop inside Indigenous Roots Cultural Arts Center in St. Paul. Eater Twin Cities reports that the shop employs local youth, and the coffee comes from a Yuma Reservation roastery called Spirit Mountain Roasting Co. along with Comunidad Tochan, a Nahua community in Mexico.
Macanda and Bar Rufus
Two new Daniel del Prado hotspots opened this month: Macanda, a celebration of "Latin America's magical realism" on the shores of Lake Minnetonka in Wayzata, and Bar Rufus, a "day-to-night lobby bar" in downtown Minneapolis's Rand Tower Hotel. Incredibly, that's not all—you'll find more del Prado projects below in the "Just Announced/Coming Soon" category.
Ramen Kawae 
The newest tenant in the North Loop Galley is Ramen Kawae, from chef Tuan Hoang, who's serving Japanese favorites like ramen, mazemen, gyoza, and karaage inside the food hall. It replaces Southeast Asian concept Soul Fu, the Biz Journal reports, which was one of the hall's original tenants in 2019.
Earl Giles Restaurant & Distillery 
A former horse and buggy factory is now Earl Giles Restaurant and Distillery, which opened July 7. The distillery takes its name from a floatplane pilot who journeyed all over North America to deliver liquor during Prohibition, and the 18,000-square-foot space seems similarly freewheeling, with a fun menu of pizza, not-pizza, and cocktails including the L.I.V.I.N. ($13), with mango, vodka, cannabis, cayenne, and a hot sauce rim in a red solo cup.
Afro Deli
Ope, missed this last month: Afro Deli just opened a Cedar-Riverside location, or rather, returned to Cedar-Riverside, where Abdirahman Kahin first launched his pan-African and Mediterranean restaurant. This one's just a block from that original, and it's serving up the Afro Deli hits you've (hopefully) already eaten and enjoyed at its other Twin Cities outposts. Read more via BMTN.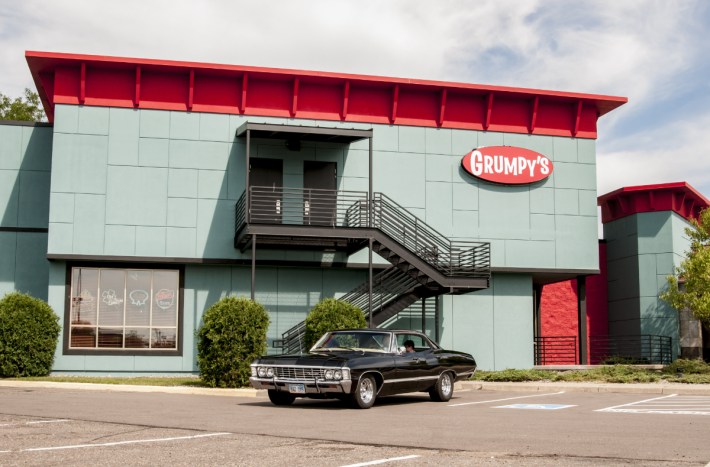 Closed or Closing
The Lab
The Lab, a three-year-old experimental taproom in St. Paul where visitors got to provide their feedback on in-development beers and other bevs, has closed. "At the end of the day, when we look ahead, we felt that it was important that we focus on our primary customer," Hirschfeld told Racket—meaning the beverage brands they do R&D for. But they're not going away entirely, just closing the customer-facing taproom. You can read more from our chat about the closure here. 
Bunny's Bar & Grill NE
Bunny's NE, the popular, no-frills neighborhood spot that opened outside the ol' Grain Belt Brewery in 2016, quietly closed the doors for the last time on July 4. The original Bunny's Bar & Grill, which has been a St. Louis Park staple since the 1930s, is still hopping. We've got more info here.
The Fremont and Hammer & Sickle
After weeks with "temporarily closed" signs in their windows, these adjacent Uptown restaurants appear to have closed for good—the social media channels are dormant, the websites are gone, and a "for lease" sign is now visible outside the Fremont. We broke the news earlier this month; you can read about it here. Fun fact: In a bit that didn't make our profile, MILF-loving Minnesota rap superstar Yung Gravy told our reporter that Hammer & Sickle was among his go-to hangs while in town.
Gray's
The latest chapter in the wacky saga of the Loring—which was owned by alleged sex creep Jason Maclean before he fled the country and was then taken over by its staff—will also be the last. After changing the name to Gray's and revamping the focus in December of 2020, its employee owners announced that they were calling it quits in early July. "We loved being part of this community for the last five years, bringing you delicious food, music, and memories, and we're going to miss what we've built together," a farewell Instagram post read. We've got more on the closure here.
Pie & Mighty
Talk about pie in the sky—Pie & Mighty, the Chicago Avenue pie place that opened a brick and mortar just before the pandemic hit in 2020, headed to Restaurant Heaven in early July. "The grind, day in and day out, for operational and financial stability wore us thin," owners Ratchet Mattison and Rachel Swan wrote via P&M's website. You can read more here. 
Bar Brava
Bar Brava is only sort of closing. On June 29, the natural wine bar announced that it would offer full service for just two more weeks, then switch to a Brava-Lite© model, with wine and snacks on weekdays and pop-ups with local chefs on weekends. First up: Bird in Hand, whose weekend residency kicked off on July 22. You can read more here. 
Andy's Diner 
Andy's Diner, a Midtown Global Market Mexican-American spot that opened an Uptown location a few years back, announced they were closing that Uptown spot in a July 1 Facebook post: "We did our best. We had fun having you as our guests and we will miss you." The MGM location is still open. 
David Fong's Bloomington
After 64 years, Bloomington's David Fong's will close this summer. "We've had an amazing run with David Fong's, and have proudly carried my parents' dream and legacy forward all these years," third-generation owner Ed Fong said in a statement. We're not going to top the heading we wrote when the shut-down was announced—"So Fong, Farewell"—so you can read a little more in that write-up here. 
Grumpy's Roseville
Goodbye, Grumplebee's. The Roseville Grumpy's will follow in the footsteps of its beloved downtown Minneapolis sibling as it heads to Restaurant Heaven. "In the end what got us was when the folks holding your mortgage say 'Sell or we call the note.' Well, you sell. It is very, very far from the ending we wanted," the team wrote in a Facebook farewell. The last day will be Saturday's Big Kahuna bash. We must protect Grumpy's Northeast at all costs.
Just Announced + Coming Soon
Here are some of the most imminent and/or noteworthy in-the-works eateries around town. 
TILT takes over Liquor Lyle's
Love everything about this news: TILT, the always-bustling pinball and hot dog spot off of Eat Street, is taking over the legendary dive Liquor Lyle's, which hit the market for $1 million in December. "I've always wanted to grow and expand," co-owner John Galvin told Racket earlier this week. "More machines, more room for people to lounge and hang out. We're super excited." You can read our full story here. 
Blondette and Miaou Miaou
We told you we weren't done talking Daniel del Prado. Bar Rufus, which just opened in the Rand Tower Hotel, will soon get two French-ish siblings. There's Miaou Miaou, which the Strib reports is a cocktail lounge and terrace; on the fifth floor, under a retractable roof, you'll find Blondette, which is French-ing up ingredients from the Pacific Northwest. Both are slated for summer 2022.
Francis
The vegan burger joint that became a hit at Sociable Cider Werks is getting ready to move into a Northeast space of its own. The Biz Journal reports that the brick-and-mortar building means a bigger menu, with more plant-based burgers, a "chicken" sandwich, and vegan ice cream. Read our January story about the burger spot and its heroic porky namesake here. 
Chopped & Served
Signs have gone up in the old Dragon Wok space in George Floyd Square implying that Chopped & Served Catering is moving into the space. Chopped & Served chef and CEO Imani Jackson grew up St. Louis Park, and her cooking is a mix of her Black and Jewish—or "Blewish"—heritage, according to their website. We've got a slightly more in-depth look here.
Eat Street Centro
Centro's Nicollet Avenue location is poised to open—the Strib reports that the 15,000-square-foot space will debut on August 4. They'll have a smaller version of Vivir, their breakfast and lunch cafe, along with a new burger restaurant (Everywhen Burger Bar), a central bar, and a 35-seat patio.
Vellee Deli
Vellee Deli, the very delicious Asian and Mexican fusion joint with a food truck and a Minneapolis skyway outpost, is just about ready to open in the ground floor of the NordHaus Apartments building in Northeast. We've got our eyes on it; they've teased that a grand opening is "coming soon."
​​Previously in the Racket Restaurant Roundup…
Em Cassel (she/they) is a cyclist, a metalcore apologist, and a co-owner and editor of Racket.
Stay in touch
Sign up for our free newsletter