Sociable Cider Werks' newest food truck tenant, Francis, is a vegan burger joint from a trio of friends: Lindsey Johnston, Garrett Born, and Brendan Viele.
So… who's Francis?
"Francis is a pig from Red Deer Canada," Viele explains. "In 1990, Francis escaped the slaughter right at the business end of his life. He became kind of a folk hero."
Francis has since been cast in bronze and honored at the Red Deer Museum and Art Gallery, and the city dedicates a wonderful section of its website, "Ham on the Lam," to the plucky pig who bravely saved his own bacon. He's been immortalized in a Propagandhi song, "Potemkin City Limits." And now, he's the inspiration for Francis the vegan restaurant, which moved into the trailer at the northeast Minneapolis cidery in September.
Initially, Born explains, the trio planned to make their own from-scratch burger patties.
"We kept coming back to Impossible because it's like, really good," he says. "We had the realization that like, how vain are we that we thought we could come up with a similar product of a billion-dollar company?"
(They do offer a house-made black bean burger for folks who want to try something proprietary.)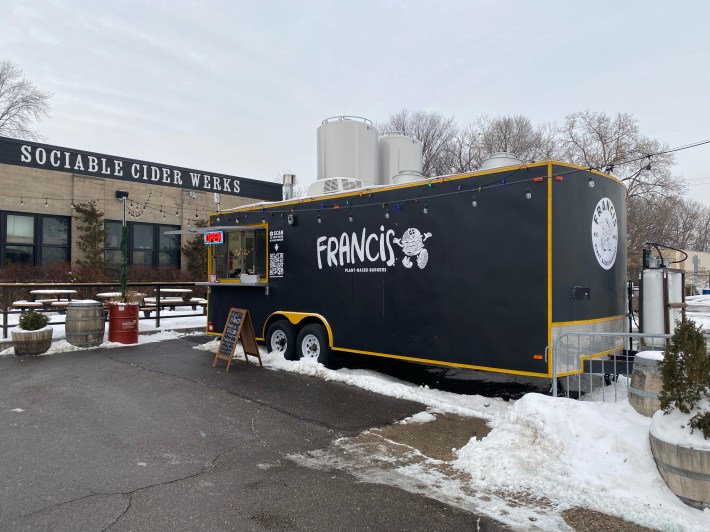 Though they're not making everything from scratch, you won't miss it: Francis sources the absolute best vegan ingredients out there, from the fluffy brioche buns to the unbelievably convincing Follow Your Heart cheese. "When you treat everything right, you can't go wrong," Johnston says. There's magic in the 400-degree flat top, which sears everything to a perfectly savory finish that wowed my dining companion: "You could serve this and not tell me it was vegan and I might not even know."
In addition to burgers, the menu includes breakfast sandwiches, salads, chicken nuggets, and chili, with smaller portions on the kids' menu. (If you're not sure what to get, Johnston says she recommends the Mosh Pit fries: crispy shoestring fries loaded up with chopped burger, cheese, veggies, and "francy" sauce.)
We went for the Francis burger ($11.50) and the Rodeo burger ($15), both of which are served with fries. The namesake burger is a plant-based take on a classic—shredded lettuce, tomato, onion, and pickles, plus a healthy amount of francy sauce. And the Rodeo really rocks, with a slow-building heat from pickled jalapeños and fried onions and a barbecue aioli. This was my first experience with Herbivorous Butcher bacon—I know, I know—which is a crispy, salty, tasty topper that mimics bacon without disrespecting our friend Francis the Pig. The whole thing is messy and wonderful: "The Rodeo was supposed to be our first burger of the moment, but then people were like, 'You can't take it away!'" Johnston says.
With the red plastic trays and checkerboard paper, the whole thing hearkens back to a classic, '50s diner burger—the kind of thing that might be served to you by gals on roller-skates—just meatless. They're looking to open a brick and mortar vegan restaurant in Northeast, which Born says would have more of those vintage flourishes. "It's kind of a vegan desert right around here," Born says of their neck of the woods. They'd love to land a permanent home in the area, where they'd expand the menu to include treats like vegan ice cream.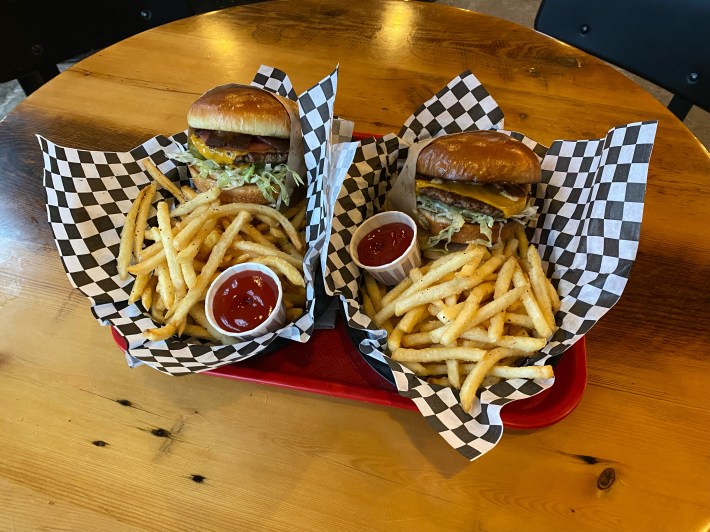 Sociable's unique on-site food trailer-slash-incubator opened in 2018, offering a rotating cast of chefs a semi-permanent space for periods of six or so months, but Francis is the first vegan restaurant to move in.
"The owners were like, ehh, you know, we're not vegan, so…" Born laughs. "We had to convince them a little bit."
But so far, it's been a hit, possibly because Francis doesn't necessarily target vegan diners—their goal is to be a restaurant anyone can love that also happens to be vegan. On the Saturday afternoon I stopped by the trailer, the orders came in in a steady stream, ticket after ticket after ticket.
"We've gotten so many responses of like, 'That's the first vegan burger I've had, and it's the best burger I've had in a long time,'" Born says, joking that he and his co-owners spent their first week trading off panic attacks in the 90-degree heat, trying to keep up with demand. "We're very bolstered by the response."