Food & Drink
Boo! It's the October Racket Restaurant Roundup.
There's... a new restaurant in a former funeral home? That's kinda spooky, right?
11:59 AM CDT on October 31, 2023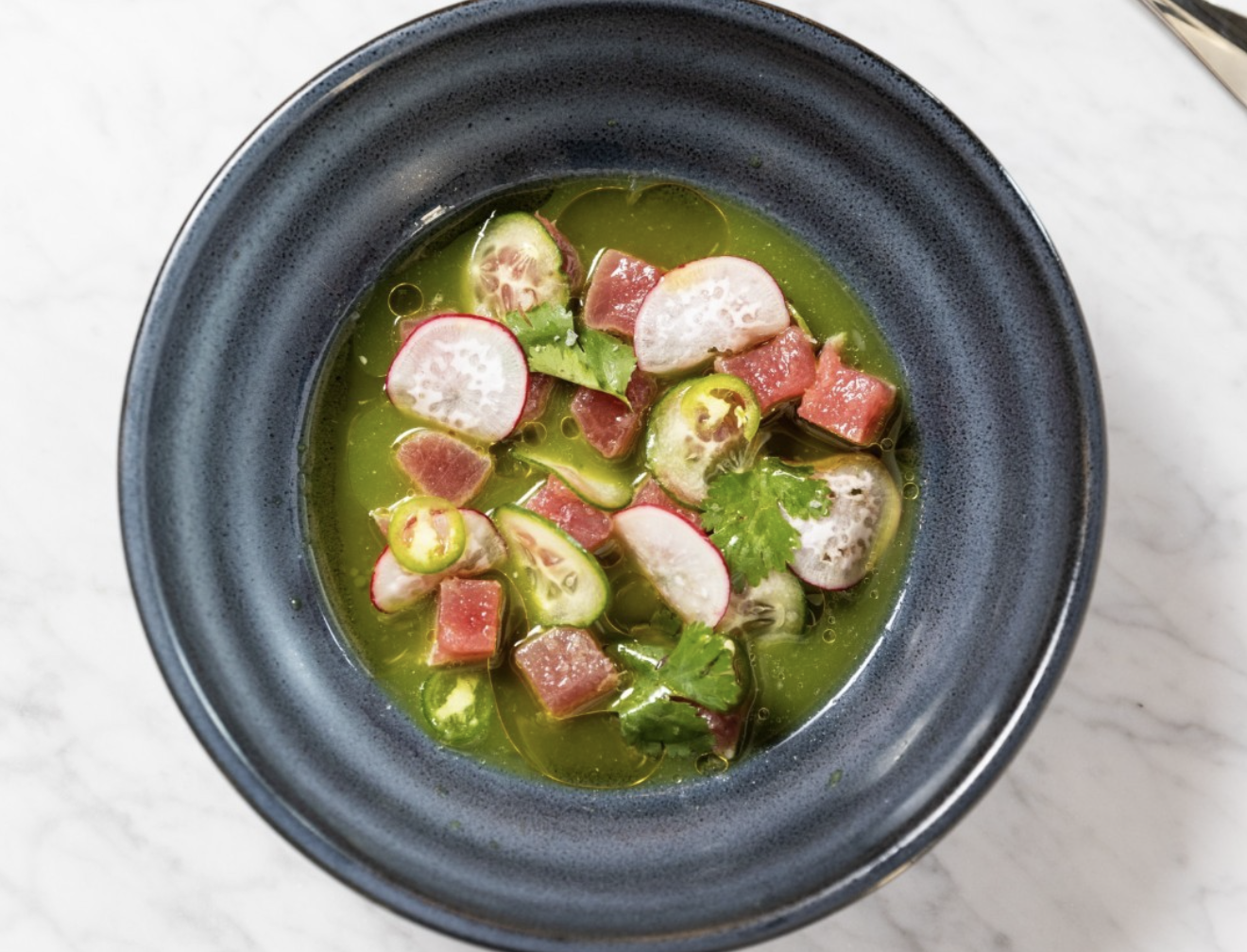 Let's not waste time you could be spending getting your last-minute costume together or sneaking out to buy candy to appease the neighborhood children. On to the news:
Now Open
South Lyndale Liquors
On October 4, South Lyndale Liquors debuted in a new (and frankly huge) space at 5516 Lyndale Ave. S., just blocks from the building they'd been in since the '70s. That means more beer, wine, and spirits, a market for cheese and charcuterie—and crucially, killer sandwiches, which you can read more about here.
Mi Mexico Querido
The former Dumpling space in Hiawatha (4004 Minnehaha Ave. S.) is now Mi Mexico Querido, which also has a location in St. Paul. They're open 9 a.m. to 9 p.m. daily, which means lots of huevos alongside a menu of enchiladas, quesadillas, burritos, and more. 
Silver Fern Café
"Silver Fern brings the quaint cafe culture of New Zealand and Australia to Minneapolis," according to its website, and if you know what that means, well... I don't, but I intend to find out! It's situated at 114 E. Hennepin Ave. and has coffee, wine, small plates, and charcuterie.
LITT Pinball Bar
The ol' Liquor Lyle's is the new LITT Pinball Bar—a bigger and dare we say better space that the charmingly dive-y original. There's just a little more of everything here: taps, seats, food, games, TVs, space to turn around in. Check out Racket's report plus photos from the new LITT here. 
Pure Ginger For You
There's a new juice bar at 3408 University Ave. SE, Minneapolis: Pure Ginger For You, which comes from Liberian immigrant Beauclarc Thomas. The juices and smoothies are all organic, and Thomas partners with local farmers and co-ops to make that happen.
El Sazon Cocina y Tragos
El Sazon became a sensation thanks to a series of fine-dining pop-ups it hosted in an Eagan gas station, but now those tacos, steaks, and ceviches are available all the time, in a full-service setting, at 5309 Lyndale Ave. S. in Minneapolis. And now there are cocktails! 
Pimento at Bde Maka Ska
The long-awaited, rather delayed new pavilion at Bde Maka Ska celebrated its grand opening this month, and while this uh, *peeks outside at the snow and swirling leaves* isn't the best time of year to enjoy dinner al fresco, Pimento on the Lake is open! There is some indoor seating in the grab-and-go Pimento Market, and the covered patio also has heat, so… ya know, on those 40-degree days in the forecast next week, it might be manageable.
Breva Bar + Grill
Breva, the new restaurant/bar in downtown Minneapolis's Hotel Ivy, made its debut this month, and it invites you to "enjoy the flavors of the Upper Midwest" with dishes that'll tickle your nostalgia. Masa and Agave, the taco+tequila cantina that's planned to join Breva at Hotel Ivy, appears to still be in the works. 
The Lodge of Lazarus Crowe + Hourglass Cafe and Bar
A St. Paul funeral home has been transformed into The Lodge of Lazarus Crowe (560 Seventh St. W.), a spooky-seeming "enigmatic escape room experience" from Trapped Puzzle Rooms, which already has locations in Minneapolis and St. Paul. Want to celebrate your escape (or don't want to do the puzzle room thing at all)? Hourglass Cafe and Bar is also open in the funeral home's former chapel, with dinner and cocktails. 
Public Domain
There are no menus at the new North Loop cocktail bar Public Domain (119 Washington Ave. N.)—you just tell 'em what kind of thing you like, and they'll whip up a drink based on your proclivities. The Strib has the full story and your guide on what to order; looks like they're… either still in their "pre-soft opening" or open, according to Instagram. An "elevated dive bar" named Neon Tiger will follow in the back of the bar. 
Oops!
A few we (and by "we" I mean "I") missed in September: Thai Curry is now open on Nicollet (and it rocks), On's Thai Express is open in Highland Park, and La Boulangerie Marguerite is up and running in Minneapolis's Sheridan neighborhood.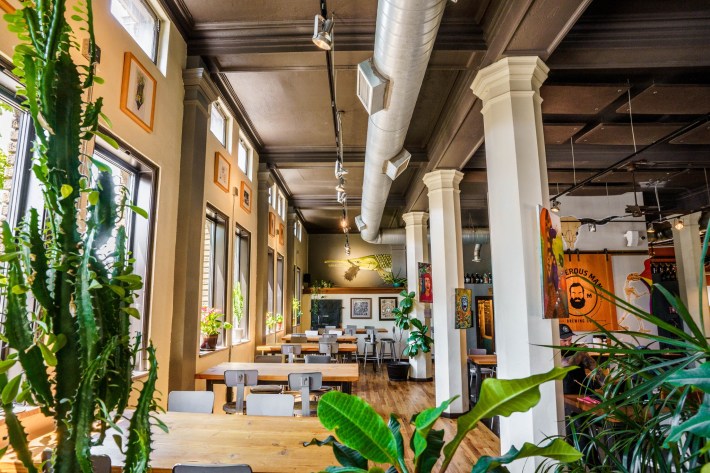 Closed, Closing, or Changing
Crepe and Spoon
Northeast Minneapolis vegan ice cream joint Crepe and Spoon announced back in March that this would be the last season, with owner Michael Beachy telling Racket, "I grew attached to it; it was a really tough decision. The cries of the people held me there for quite a while." The last day was October 1.
Lake Street White Castle
Spinning Wylde
St. Paul cotton candy shop Spinning Wylde closed on October 15, but it sounds like it might not be the end entirely. "As we pull back our retail operations, we are looking forward to a reimagined future that lets us continue our mission to bring whimsy and joy to our community," their goodbye reads.
Pivo Riverplace
After opening in St. Anthony Main this February, the new spot in the ol' Wilde Café announced its closure on October 16. "We poured our heart, soul, and lots of money into this venture, but unfortunately we couldn't make it work financially," a posthumous farewell post read.
Sooki and Mimi → Kim's
Ann Kim's upscale Uptown taco spot Sooki and Mimi officially closed on October 21, but it doesn't look like we'll have to wait long to check out her new restaurant… the signs are already up for Kim's and Bronto Bar, the concept that'll take over the basement bar space. 
Fire and Nice Alehouse
They had a good run, but Fire and Nice Alehouse, the wood-fired pizza place that opened on Lyndale juuust at the start of the pandemic, closed its doors on October 20. "As a new, small business in this changed atmosphere" (meaning post-Covid) "repairs, skyrocketing food, utility costs, and impending Lyndale construction plans made the goals we set out to achieve a bridge too far," their farewell post explained.
Dangerous Man Brewing Company
After announcing it would close back in September, Dangerous Man shut its doors for the last time on October 21. But don't fret—Yia Vang's long-awaited Vinai is headed for the address. 
Just Announced and Coming Soon
Zamboni's
Absolutely love this name for a bar! No notes! Zamboni's is headed for the former Eagle Street Grille space by Xcel Energy Center, the Minneapolis-St. Paul Business Journal reports, and is slated to open by mid-November. 
Chilango
Petit León's James Beard-nominated chef Jorge Guzmán is opening an "elevated Mex-Tex" restaurant at the Beach Club Residences on Bde Maka Ska. The Star Tribune reports it'll open in February-ish of 2024, with food Guzmán says is "bold, full of flavor, and playful."
Bûcharon
The former Revival/Corner Table space in Minneapolis's Kingfield neighborhood has been empty for a while now… but won't be much longer. Bûcharon, from a bunch of Gavin Kaysen alums, is planning to open there early this winter if all goes well, according to Mpls. St. Paul Mag, with "all the standards of Demi with a more laid back approach."
New Spot from Diane Moua
It's been a year since lauded pastry chef Diane Moua announced she was leaving Bellecour to focus on her own thing, and we have an update this month: The yet-to-be-named restaurant will open in the Food Building (1401 NE. Marshall St.) in NE Minneapolis, according to the Strib.
Dario
"If we have to pin it down, Dario is an American restaurant with Italian, French, and Asian influences," writes Mpls. St. Paul's Stephanie March about Dario, a new spot at 323 N. Washington Ave. in the North Loop from industry lifers Joe Rolle and Stephen Rowe. Look for it to land in early 2024.
801 Fish
Axios had the scoop on 801 Fish, a new seafood spot from the folks behind 801 Chophouse, almost a year ago. The restaurant will take over McCormick & Schmick's (which closed in 2020) very soon—this November, according to the Biz Journal.
Tender Lovin Chix
The former Fire and Nice Alehouse spot won't be vacant long; Mpls. St. Paul Mag has the scoop on Tender Lovin Chix, a food truck-turned-brick and mortar from Marques (Ques) Johnson (the short-lived CHX tendie shops) and Billy Tserenbat (Billy Sushi). They're looking to open in spring of 2024. 
Lynette
It was a bummer when Richfield's Lyn65 closed to make way for an apartment complex a few years back, and it was a bummer when Riverview Cafe and Wine Bar closed indefinitely back in 2021. Good news on both fronts from Mpls. St. Paul Mag: Lynette, an homage to Lyn65 from a few of its founders, will head to the former Riverview space (3751 42nd Ave. S., Minneapolis) in spring 2024.
In the Works
As previously reported in the Racket Restaurant Roundup…
Vinai
So, about the former Dangerous Man building? It'll soon house chef Yia Vang's long awaited Hmong fine-dining restaurant, Vinai. Initially announced pre-pandemic for another location, Vinai is now expected to open in spring 2024. "This restaurant is about carrying on my parents' legacy," Vang says in a press release. "But it's also about carrying on a piece of Dangerous Man's legacy, and the legacy of the community here."  
Mediterranean at Vo's
Vo's Vietnamese (3450 Lyndale Ave. S., Minneapolis) hit the market earlier this year (you heard it here first), and the Business Journal reports that it sold in August; it could soon become a Mediterranean restaurant. 
Picnic
The old Clancey's space in Linden Hills (4307 Upton Ave. S., Minneapolis) will soon become a "neighborhood gathering spot first, food second" kind of spot called Picnic, Southwest Voices reports. They'll have snacky platters, picnic boards, sandwiches, and the like. 
Golden Thyme → Rondo Land Trust
This is pretty cool: Golden Thyme, the long-running coffee shop and cafe on Selby Avenue in St. Paul, has been sold to the Rondo Land Trust, the Pioneer Press reports. "For us, it's such a cultural gem, we couldn't not step in to preserve it, and create a plan to maintain the asset in community," land trust deputy director E. Coco tells the PiPress. The cafe will become a kind of pop-up/incubator space, with Sammy McDowell of Sammy's Avenue Eatery among the first tenants.
Bina's
The folks behind Centro are taking a break from tacos with their latest venture, Bina's, a "classic dive bar" at 1404 Quincy St. NE in Minneapolis (next to their original Northeast location). Bring Me the News reports it'll have burgers, mozzarella sticks, and fried pickles, plus Hamm's, PBR, and agave spirits. As for whether one can simply manifest a dive bar, in 2023, in a part of Minneapolis with perhaps the highest concentration of actual dive bars in the state? We'll see!
Treats No. 3
Treats, the local sweets chain that had the incredible idea to serve ice cream with cereal, has announced that its location in Blaine and St. Paul will soon be joined by a third in Minneapolis's North Loop, according to that neighborhood organization. Look for it to open in the new Intersect Apartments building (316 N. Second St., Minneapolis) this November. 
Ono Hawaiian Plates
Not to be confused with the wonderful On's Kitchen, Ono Hawaiian Plates is also expanding into a new location inside United Noodles (2015 E. 24th St., Minneapolis). RIP UniDeli, but this is excellent news. And that's not all: They'll also soon have a grab-'n'-go counter at Lunds & Byerlys in St. Paul's Highland Park, the Strib reports. (Read our recent chat with Ono's Warren Seta about Spam here.)
Mother Dough No. 3
David Fhima's Mother Dough Bakery is adding a third location this fall, according to Bring Me the News. You'll find it in the Mill District, on the ground floor of the Vicinity Apartments building at Park Avenue & South Second Street.
Animales Brick 'n' Mortar
Here's a meaty story for ya: Animales BBQ is looking to open in a brick-'n'-mortar building. Year-round ribs, folks! Jon Wipfli (of Animales) is teaming up with Billy Tserenbat (of Billy Sushi) to bring the place to life in either the North Loop or northeast Minneapolis.
Keefer Court
Just great news all around here: Keefer Court, the beloved Chinese bakery that closed at the tail end of 2022 after nearly 40 years at Cedar Riverside, has a new home. The bakery is headed for Asia Mall in Eden Prairie, where it'll be owned by the owners of Pho Mai, who have purchased the bakery and will learn the recipes from Keefer Court's original owner, Sunny Kwan, Sahan Journal reports. Look for it to open this fall.
New North Loop Project from Tim McKee
James Beard Award-winning chef Tim McKee (La Belle Vie, Sea Change, Octo Fishbar) has his eyes set on the North Loop for a new project inspired by the Basque region of Spain. He's being tight-lipped about the endeavor for now, but has revealed that it'll be somewhere on First Street and open sometime in 2023. Read more via the Strib.

Em Cassel (she/they) is a cyclist, a metalcore apologist, and a co-owner and editor of Racket.
Read More:
Stay in touch
Sign up for our free newsletter