Food & Drink
It's Time for Twin Cities Chefs to Embrace Spam
Spam is beloved throughout the world, created and produced right here in Minnesota, and, thanks to celeb chefs and social media, more popular than ever. Why don't more local restaurants appreciate it?
6:12 AM CDT on May 10, 2023
When John Ng and Lina Goh were developing the menu for Sushi Dori, Ng approached his wife and business partner with an early version of what would eventually become their Holy Grail roll. Goh was delighted by it, but also perplexed—there was something familiar about the soft, rich, salty protein he'd placed on top, but the exact ingredient escaped her. 
"When I ate it, I was like, 'Oh my god, is this tuna that's been torched?'" she recalls. "'Is this otoro, bluefin tuna? Because when I put it in my mouth, it melts. It's so good—what is this?'"
Ng didn't tell her what was in it because he wanted to see if she could guess: The roll's tender, luscious mystery meat was Spam. 
He'd been quietly innovating, freezing and thin-slicing Spam before placing it atop the roll and torching it, melting the fat to bring out the decadent aroma. Eat it without reading the menu, and you'll be mystified too: Is it eel? Is it tuna? 
Spam appears in a number of dishes at Sushi Dori, the chic snack shack in the new Eat Street Crossing food hall. There's also a Spamich with dashi egg, Kaiware sprouts, and pickled cucumber, along with a Saigon 88 sando with Spam, jalapeño, cucumber, and pickled carrot. 
That makes the restaurant something of an anomaly in the Twin Cities. While Spam is a household name and a global favorite, and while it's more popular now than ever before, and while it was invented and continues to be made right here in Austin, Minnesota, it has yet to experience a culinary reassessment in Minneapolis and St. Paul. (Though we have compiled a list of local restaurants with Spam on the menu here.)
Generally speaking, Minnesotans enthusiastically claim things that are From Here, whether we're talking about Jucy Lucys or Honeycrisp apples or Bob Dylan or Zubaz. What would it take for Spam to get the same recognition? 
---
It's a sunny Saturday morning in Austin, Minnesota, and the Spam Museum's bright-blue exterior is positively radiant. 
Inside, a conveyor belt winds above the heads of Spam-curious visitors, shuffling more than 700 cans past exhibits on Hormel history and Spam's popularity around the world today. A hands-on exhibit lets guests compete to quickly put together cans of Spam on the assembly line, and a gaggle of kids run in and out of the indoor play area, which boasts a multi-wall mural by Minneapolis-based artist Adam Turman.
It is—and I mean this with the highest compliments—not nearly as roadside attraction-y as I'd expected. 
"This is a pretty normal Saturday," says Spam Museum manager Savile Lord, surveying the few-dozen people milling about. Roughly 100,000 people visit the museum each year, checking out the Spamalot display or admiring the 12-foot Spam rocket while workers ("Spambassadors") walk around with trays of cubed, flavored Spam speared with pretzel sticks ("Spamples"). 
In 2016, the Spam Museum moved from its longtime home next to Hormel's corporate offices to Main Street in downtown Austin, hence the surprisingly modern monument to canned ham. At 14,000 square feet, with seven exhibits, the new museum was part of Hormel's plan to revitalize the city's historic downtown. There are kiosks where you can scroll through the brand's most popular recipes and email them to yourself ("we say that you can actually get Spam in your inbox," Lord quips) or take a Buzzfeed-style personality quiz to determine which variety of Spam you are. (My partner is Teriyaki, "soft and sweet"; I'm Hot & Spicy, "fascinating yet scorching.")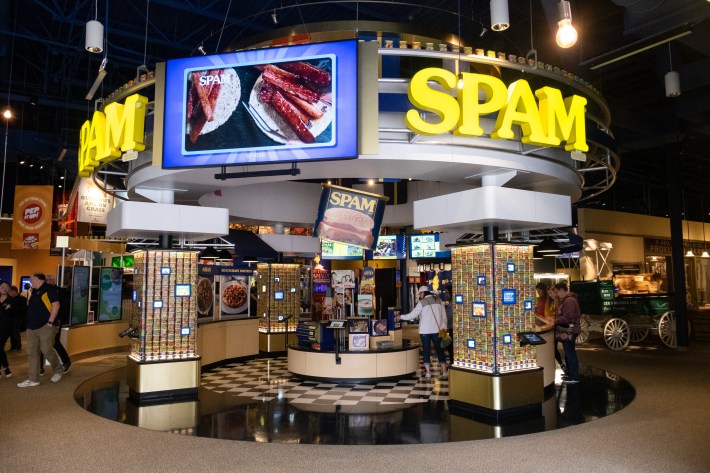 Minneapolis and St. Paul might not be highly enthusiastic about Spam, but Austin sure is—this is Spam Town, USA, the town Hormel built. (We'll quickly rattle off an obligatory admonishment of the 132-year-old meat mega-conglomerate for its labor, COVID, and animal-rights abuses, since none of that is broached inside the cheery Spam Museum.) 
"We don't charge an admission, and that's very purposeful," Lord says. "It just really helps communities share what they have."
In that spirit, the new museum, unlike the old one, doesn't have a dining area of its own. Instead, signs posted throughout the building highlight Austin's many restaurants, including roughly a dozen that serve Spam. There's B&J Bar & Grill, which offers Spam sliders with pineapple and lets you build a burger with Spam as your meat; George's Pizza serves Spam on their Hawaiian pie. Spam Dunkers with Cajun aioli are popular at the Old Mill Restaurant, and Culver's in Austin even serves a secret Spam sandwich. 
"Our whole goal is to send people out into the community," Lord explains. "Downtowns in America suffer. They truly do. And so to have places that you know are going to bring that support, and be that anchor, for a good purpose… that's why we do it."
That density of Spam would be unheard of here in the Twin Cities, where the handful of restaurants that have embraced it are almost all operated by folks with a cultural connection to the canned meat. 
A brief history of Spam: It was first produced in 1937, a creation of second-generation Hormel owner Jay C. Hormel. During World War II, as Allied troops were deployed around the world, Hormel sold millions of pounds of Spam and other shelf-stable products to aid the war effort. 
"If you look at a heat map of where Spam is popular, it's almost a one-to-one connection to, 'Where were Allied troops during World War II and the Korean War?'" explains Jason Baskin, director of marketing for the Spam brand.
To this day, Spam is beloved in places like Hawaii, Korea, Japan, and the Philippines. In Hawaii alone, folks consume 7 million cans of the stuff a year, and the annual Spam Jam festival brings 30,000 people to a six-block stretch of downtown Honolulu.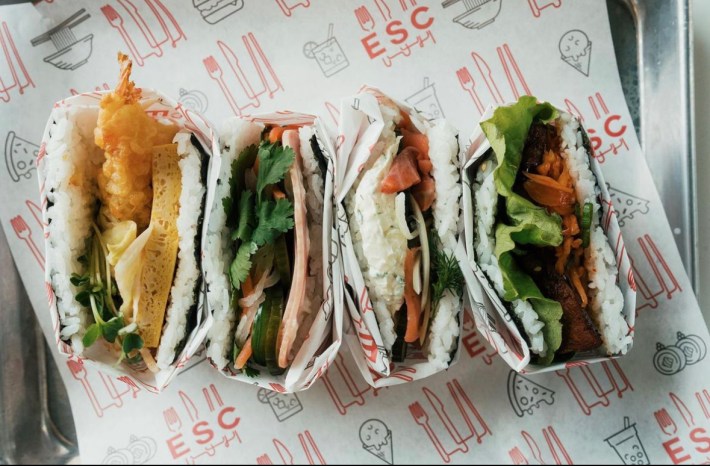 "I was obviously not there in World War II, but I can remember growing up, our family always had Spam in our pantry," says Warren Seta, the Hawaii-born co-owner of Ono Hawaiian Plates in Minneapolis's North Loop Galley and one of the few local chefs cooking with Spam. "You went to your friend's house, Spam was in their pantry, whether they were Portuguese, Filipino, Chinese—everybody had Spam."
Spam appears twice on Ono's menu: in the Spam musubi, a popular nori-wrapped snack food that sandwiches grilled Spam atop top of a block of rice, and in the Hawaiian fried rice, a "garbage-can fried rice" made with Spam, Portuguese sausage, bacon, and vegetables.
The popularity of the musubi has especially surprised Seta and Ono co-owner Jessie Kelley. 
"When we first started this restaurant, we said, 'Man, this is Minnesota, I don't know if people are eating Spam musubi. But it's unbelievable," Seta says. "I think last year alone, we did the numbers, and we sold something like 11,000 Spam musubis in the year. Just that product. And it's people from here that're eating it."
The list of local Spam defenders also includes Brian Ingram, whose Purpose Restaurants operates Hope Breakfast Bar, the Apostle Supper Club, and The Gnome Craft Pub.
"Spam is in our family," says Ingram. He first fell in love with it two decades ago, when he was dating his then-wife, who was from the Philippines. "I've got two Filipino kids, and it's pretty big in the culture… we partake," he chuckles.
Correspondingly, you'll find fried Spam tacos, wrapped in wonton shells and served with chili aioli, at the Apostle Supper Club. A new addition at The Gnome? Dill-beer batter tempura Spam fingers.
Asked whether he thinks local chefs could do more with Spam, Ingram doesn't equivocate: "It's completely underserved." 
And Lina Goh, who co-owns and operates Zen Box Izakaya in addition to Sushi Dori and Ramen Shoten at Eat Street Crossing, agrees—hence the multiple Spam items on Sushi Dori's menu. Spam is a comfort food she loved growing up in Malaysia and Singapore, and today it's still a favorite, for breakfast, or lunch, or a late-night drunk meal.
"It's so cheap, so affordable, and it can be kept for many years without going spoiled," Goh says. "But for us, sushi was also a poor man's food, and it became a big thing. Why can't we do that—do justice to Spam?"
"We want to play it up, and make it fancy," she continues. "Spam can be fancy! That's why we do it this way."
---
Elsewhere in the U.S., Spam's popularity is skyrocketing. 
Last May, Mashed reported that Spam is "more popular than ever," and in October, CNN ran a story with the headline "How Spam became cool again." Spam marketing boss Jason Baskin tells us 2022 was the brand's eighth consecutive year of record sales. 
"We're working on our ninth consecutive record year right now," he says. "And really, what has been a huge driver of that growth is the fact that restaurant operators and people who pay attention to food trends have really embraced Spam and kind of rediscovered it."
Anthony Bourdain was an early and passionate Spam defender; a decade ago, L.A. chef and "godfather of the food truck movement" Roy Choi became "the new face of Spam." NYC chef Esther Choi is another vocal Spam fan, and, of course, Hawaiian chefs like Sheldon Simeon are proponents of the canned ham brand. Meanwhile, a number of TikTok chefs have helped spur an online Spam revolution.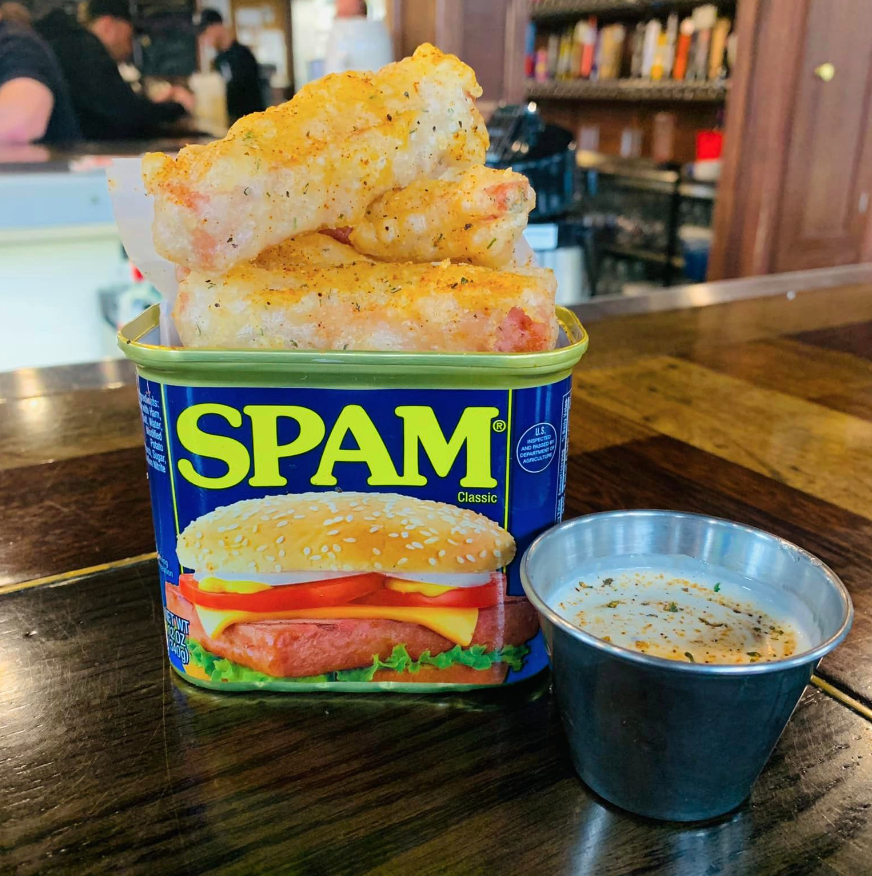 "It's something I grew up with, and the taste is homey and calming to me," Cristina Quackenbush, the Filipino-American chef/owner of the now-shuttered New Orleans restaurant Milkfish, told Serious Eats a few years ago. "I make no excuses for it. I love it. It's part of Filipino culture. I don't eat processed food. But I do eat Spam."
It makes sense, right? Our restaurant scene has become increasingly diverse, making space for the experiences and tastes of more Asian American and Pacific Islander chefs—and often, that includes a love of Spam. As a result, at 86 years old, the brand is experiencing a cultural resurgence, and Baskin says the fastest growth in the U.S. is coming from multicultural households.
"We're consumed by 17 million households today—that's up from 14 million households five years ago," he says. "More people than ever are figuring out that there's something really cool and really special with Spam."
Seta understands that some people aren't super stoked on the idea of a little loaf of ham entombed in tin. 
"You either love it or you loathe it," he chuckles. "But I mean, you go down the sandwich aisle at your local supermarket, and people are buying bologna, and olive loaf, and you look at the ingredients and you go, 'I don't know man.' Hot dogs… I mean, what are hot dogs?" (Spam, for the record, is just six ingredients: pork with ham meat added, salt, water, sugar, potato starch, and sodium nitrate.)
Spam is versatile, too—Sushi Dori's chefs can make it imitate tuna on a sushi roll, Ingram's Apostle turns it into tacos, an Austin pizza place pops it atop a pie. At the Spam Museum, Savile Lord says one of the most-emailed recipes is for the Spam butterscotch cookie: "You take this to any event—backyard barbecue, anything of that nature—and this is the talk of the event." 
Lord says one of the most rewarding things about the museum is that people come in every day and share their feelings about Spam, their connection with it. For some, it's classically kitsch, for others, it's a childhood favorite that reminds them of home. In many cases, it fed families through hard times; 12-ounce cans still typically retail for under $4. People feel a real relationship to it. And that makes Spam, and the Minnesota town that brought it to the masses, feel kind of remarkable.
"It's a very special place in Americana," Lord says, as we stroll past a grease-powered Black Label Bacon motorcycle. "We're very lucky to have a food that does that."
Em Cassel (she/they) is a cyclist, a metalcore apologist, and a co-owner and editor of Racket.
Read More:
Stay in touch
Sign up for our free newsletter