Food & Drink
Why Are So Many of Your Favorite Restaurants Opening Retail Shops?
From Khâluna to Wrecktangle to Viv!r at Centro, more and more Twin Cities restaurants are selling jewelry, housewares, and gifts. Why?
8:51 AM CST on January 18, 2023
In July 2020, as the COVID-19 pandemic and Minnesota's corresponding ban on indoor dining stretched into a fourth month, Centro co-owners Jami Olson and José Alarcon had a heartbreaking decision to make. Not knowing when the ban would be lifted or how readily guests would return once it was, they announced plans to close Popol Vuh, the Centro-adjacent Mexican fine-dining restaurant that had earned acclaim both local and national since opening in 2018.
But the news wasn't all bad. In its place, they'd soon introduce Viv!r, an all-day cafe and market selling breakfast sandwiches, pastries, and coffee alongside cookware, greeting cards, textiles, and toys. 
Olson was sad to lose Popol Vuh, but says they couldn't keep spending day after day looking at the huge, beautiful, empty restaurant next door. "It was just sad and depressing," she sighs. "Every time you walked into the room, it drained you a little bit." Flipping the concept, filling the space with color, and opening the doors during the day made it feel like a weight had been lifted. "It was something for the staff to do and look forward to. It brought us out of the doom and gloom of the pandemic."
More than two years later, indoor restaurant service has resumed, somewhat "normal" dining patterns have returned, and Centro has opened one new location and announced that there are more on the way. All along, Viv!r has remained a popular companion to the trendy Northeast taco joint.
What's more, several other local restaurants, from those that tilt toward fine dining to takeout-heavy pizza joints, have opened retail stores of their own.
At Khâluna, just named one of the 15 best new restaurants in the country by Eater, you'll find The Shop at Khâluna, where chef Ann Ahmed carries "travel found treasures" that "act as a bridge between Minneapolis and the regions of Southeast Asia." When Wrecktangle Pizza opened at Lyn-Lake last year, they introduced Silver's Market, which stocks locally made cosmetics, ceramics, and jewelry alongside all kinds of Wrecktangle gear. And in September, the team behind restaurant/cafe/hotel Alma opened a standalone retail store and cafe, Alma Provisions, in the space next to Brasa Premium Rotisserie in southwest Minneapolis.
Aside from Viv!r, all have opened within the last 15 months. So… what's behind the sudden restaurant-retail boom?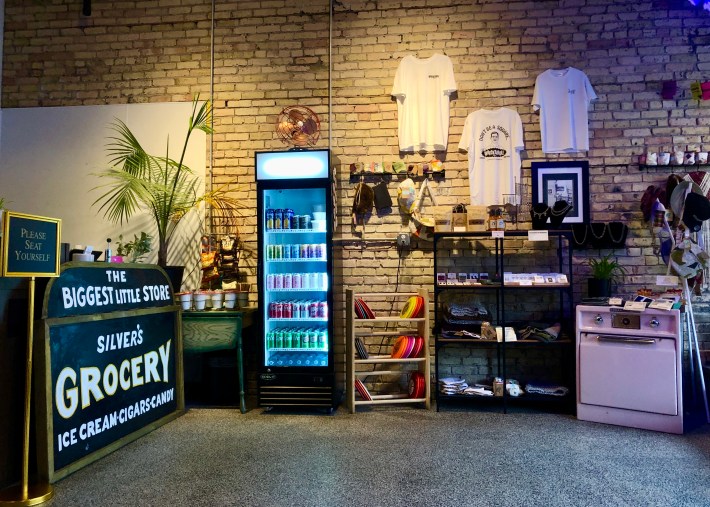 To start, eating and shopping have long gone together like forks and knives. Department stores like Dayton's had restaurants like The Sky Room designed to bring in shoppers (and keep them shopping longer), and the experience of eating at Hard Rock Cafe has always been as much about grabbing a T-shirt as you exit through the gift shop as it is wolfing down a $20 burger. Just look at all the restaurant options at the monument to capitalism that is the Mall of America.
But for independent restaurants, the on-site marketplace concept is somewhat recent. Industry publication FSR Magazine covered the emerging trend back in 2018, when new spots like Maketto in Washington, D.C. and Star Provisions Market + Café in Atlanta started dedicating chunks of their square footage to "artisan provisions" and "bespoke tableware." 
"The proliferation of this model makes sense when full-service restaurants are so often dealing with razor-thin margins that dictate decisions," Samantha Weiss-Hills wrote at the time. "A retail operation creates an additional revenue stream and more opportunities to attract repeat customers."
COVID and its enduring effects have helped accelerate the shopping trend; for the most part, those margins have only gotten thinner. Asked whether she thinks the pandemic has been a contributing factor in Minneapolis's restaurant retail surge, Wrecktangle co-owner Breanna Evans replies, "It totally is." 
"We opened still not knowing what the pandemic would hold for us," she continues. What they did know, thanks to their existing food hall locations at the North Loop Galley and the Market at Malcolm Yards, was that Wrecktangle was likely going to do a lot of takeout. Why not have a designated space where people could order and pick up their sandwiches and pizzas, or wait for a table, while shopping from a curated selection of chainmaille jewelry, ceramics, candles, and art?
"Instead of having an event, and doing a maker's market, it's a maker's market every day, and a part of what we are," Evans says. 
It's more than just a reaction to the pandemic; there are benefits for restaurants and for the makers featured on their shelves, too. Viv!r has a particular emphasis on locally made, women-made, and Mexican-made goods, and has since it opened in 2020. Elizabeth Klimenko, Wrecktangle's director of marketing, sales, and friendship, says her first criteria in selecting makers for their market was that they be based in Minneapolis or St. Paul. 
"And then my second criteria was: people who don't have a huge platform and not that many followers," she adds. "We just wanted to give them the space to showcase their work and make a little money."
It's also a matter of knowing what makes sense for the area. The Wrecktangle team had a hunch that what was good for the restaurant would be good for the neighborhood, and vice versa. Silver's opens when Wrecktangle does—11 a.m. daily—when it's more likely that shoppers will stop in for a gift and a sandwich to go than a cocktail and a pizza to stay. It brings foot traffic to their Lyn-Lake corner during the day, and as Evans notes, "Anything that's nice for dayside is good for the neighborhood."
As much as Olson and Alarcon enjoyed running Popol Vuh, an all-day cafe and gift shop has simply made more sense in their neck of the woods. "We had a lot of accolades, we were really well known," Olson says of their short-lived, well-loved restaurant. "But we were a tiny little restaurant in the middle of the Arts District, so we were very much a destination." Even before the pandemic, they found that their pioneering Mexican fine-dining restaurant—acclaimed as it was—might be booked on Friday and Saturday nights, but weeknights were slow going. 
"We would have done it forever and ever, because Centro really became the engine that was kind of able to fuel both of them," she adds. "But the pandemic handed us this opportunity to do something that maybe made a little more sense for the neighborhood."
And of course, having a shop can uplift the restaurant. At Viv!r, the market compliments Centro's menu—if you loved the salsa from one of their tacos, you can get a container of it on your way out. (Old-school restaurant/market hybrids like St. Paul's El Burrito Mercado and Cossetta have been hip to this for years.) It's a way to bring in some extra revenue: maybe you stop into the market because you need a birthday card, and then get a pastry, or come in for a coffee and walk out with a new print for your home office. It's fun for customers, and it provides a quieter energy that nicely complements and contrasts with the crowds and loud music next door at Centro.
"It's another way to get people into our space, and keep people in our space—that total, full experience," Olson says. It's working well—so well that the concept followed Centro to its second location on Eat Street—and it still does a great job of bringing people in during the morning, or for lunch. 
"I'm confident Viv!r and the market will be there for many years to come," she says. "We're here to stay, as long as people keep coming."
Em Cassel (she/they) is a cyclist, a metalcore apologist, and a co-owner and editor of Racket.
Read More:
Stay in touch
Sign up for our free newsletter