For decades, the 32-story Foshay Tower loomed as the tallest building in downtown Minneapolis. So, in 1947, the arrival of Dayton's Sky Room restaurant—which looked out from the 12th floor of the flagship department store—provided a tree-top perspective of a very different Minneapolis.
"Surrounding a teeming commercial metropolis is a city not of rooftops, but of trees—that's Minneapolis as seen from Dayton's Sky Room," reads the intro to a Sky Room menu from 1948; the poetic copy name-checks the lakes, river, creek, and falls, striking a declarative, egalitarian tone with "The waters of Minneapolis belong to Everybody."
The dining spaces that emerged in '47 at 700 Nicollet were marketed toward distinct demographics. The Sky Room, with its floor-to-ceiling windows, Waterford chandeliers, and pianist, catered to lunching lady shoppers and their various clubs (women be shoppin', sure, but they also be lunchin'). Also on 12th, the Men's Oak Grill, famous for its massive popovers, was about as subtle in its branding as Dr. Pepper 10. 
The hoi polloi won't dare approach the top floor following the $350 million Dayton's Project renovation, which concluded work on the 119-year-old building this month. Prime real estate above the third floor is reserved for tenants—both commercial and residential—the latter of whom can enjoy a 7th floor rooftop terrace, though leasing is only at 10%, Twin Cities Business reports. Curated by celeb chef Andrew Zimmern, the 45,000-square-foot basement food hall won't open until next year, and details are suspiciously vague for a project that was announced back in 2017. Don't expect the offerings to mimic the throwback dishes from the Sky Room.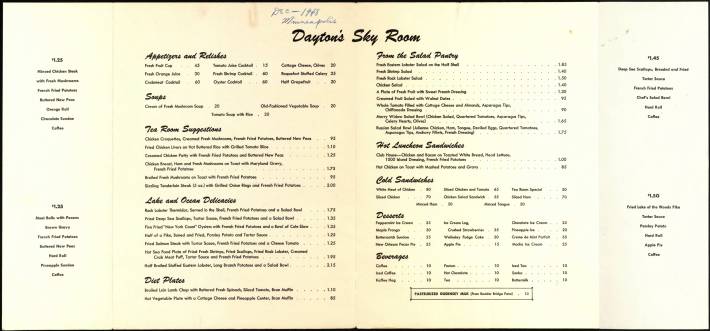 ---
Drinks: Pasteurized milk from the Dayton's-owned Boulder Bridge Farm, the largest of Lake Minnetonka's "gentleman farms," received top billing throughout. Coffee, tea, and relics such as Postum (a powdered, caffeine-free coffee substitute), Sanka (an early decaf coffee), and Kaffee Hag (yet another industrial decaf creation) were all available for 10 cents.
Meals: The menu hinged on chicken, with chicken croquettes, fried chicken livers, and creamed chicken patty all landing on the Tea Room Suggestions portion of the menu. An expansive selection of treats from the deep make up the Lake & Ocean Delicacies portion, while meatball and steak dinners make random appearances. The dessert tray featuring peppermint ice cream, maple frango, New Orleans pecan pie, ice cream log (?!), and various cakes and pies sounds scrumptious.
Oddities: By today's health standards, the Diet Plate section is more or less as healthy as the rest of the menu. Its curious choices—broiled lambchop with buttered spinach or hot veggie platter with cottage cheese—both came with a bran muffin instead of potatoes.
Goofy copy: An insert teased the "For Men Only' Shop," the special sixth-floor department where "there is no need to be a bewildered male about buying gifts" because "a competent young woman" will shop for or with you. The flummoxed husband ad trope is nothing new! Models would show off new fashions twice weekly inside the Sky Room and the Oak Grill.
Prices: Rock lobster with fries and salad for $1.75 in today's dollars? $20—not bad! The daily luncheon specials—roast veal, curried chicken, oysters, pork chop, halibut, meat loaf —arrived with ample sides and averaged about $1.40 or $16 in 2021. Mains such as chicken (broiled, fried) and seafood (scallops, salmon, shrimp) ran from about $1.25 to $1.75, as did the protein-forward pantry salads. Cold sandwiches (chicken, ham, tongue) presented the only real bargains at 50 to 80 cents or $6 to $9 today.
(Click here for full-size images of the full menu.)
---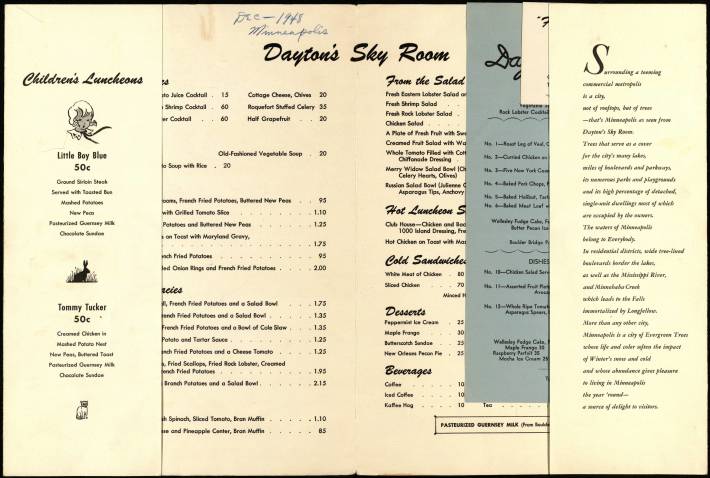 The Sky Room's middle-century cuisine and panoramic views were a hit, and it'd go on to serve thousands of diners per day for the next 20 years, the Strib's Rick Nelson reports in his essential history of Dayton's dining. It was a glamorous, full-service Ikea cafeteria in the sky, and critics adored it as much as shoppers.
"The Sky Room has no equal in the United States as far as a restaurant of this type goes," the Minneapolis Tribune's Virginia Stafford wrote in 1949. "Right now I could drool thinking about that special fresh lobster Thermidor that became a real adventure in lunching there, not so long ago."
By the 1970s, the Sky Room rebranded as the 300-seat Skyroom and began emphasizing its 40-foot salad bar to lunch-break crowd, Nelson reports. It'd endure two decade-specific makeovers, aesthetically speaking, before closing in 2017.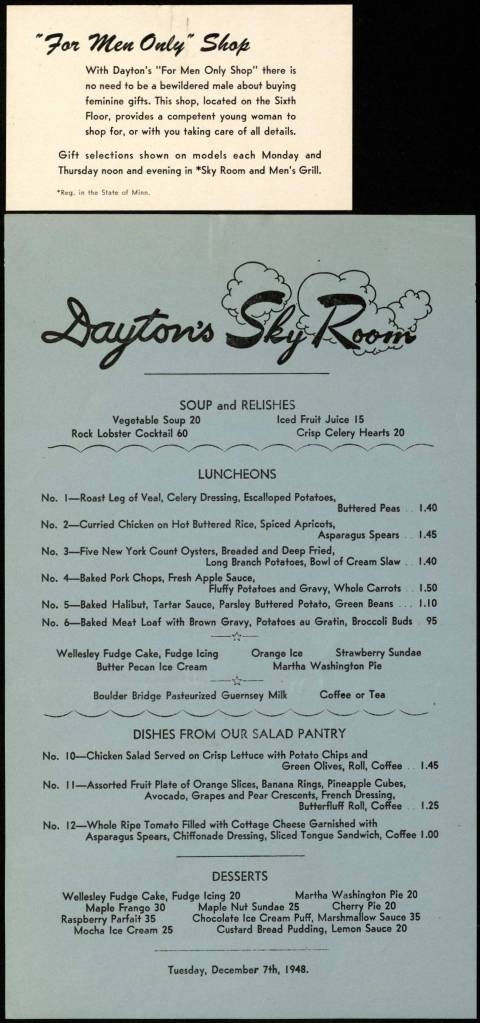 Better Know a Retro Menu grabs community-sourced menu photos from the indispensable Facebook group Old Minneapolis and takes 'em on a historical deep-dive. Got a suggestion? Sent it our way!