Food & Drink
Where to Find 'Minnesota Sushi' on the Menu at Actual Restaurants
MN sushi, pickle roll-ups... whatever you call 'em, they're not just for your uncle's potluck anymore.
9:16 AM CDT on July 27, 2023
Chefs love to rave about how the best food is just good ingredients, presented simply. That's probably why Minnesota sushi is so beloved. Good ingredients (pickles, cream cheese, ham), presented simply (glue the ham to the pickles with the cream cheese). What's not to love?
Now, Gordon Ramsay might not be making plans for a fine-dining turn on this potluck staple, but the snack is justifiably a favorite here in Minnesota. No matter what you call 'em—MN sushi, Midwest sushi, Lutheran sushi, pickle roll-ups—they're a classic of familial get-togethers. And beyond that, roll-ups had their 15 minutes of fame earlier this year with a Jeopardy mention and a cameo on HBO's Somebody Somewhere.
Minnesotans love these salty, briny little snacks so much that restaurants are adding them to their menus, both in the traditional roll-up sense and by reimagining them for dips, burgers, and pizzas. The brief pop-culture moment may lead to pickle roll-ups spreading like…like... like cream cheese on a pickle? At a minimum, there's a pickle roll-up-inspired dish coming to Hippo Pockets at Centro, general manager Jami Olson tells Racket. TV buzz, more MN sushi on menus... this stuff is—don't say it—a big dill. 
Dammit.
Here are 11 local spots where you'll find Minnesota sushi on the menu—though for some reason, you'll more often see the pickle roll-up moniker on menus, possibly because "Minnesota sushi" sounds like a sex act you wouldn't mention in polite company.
The Classic Trinity, As God Intended
Wrecktangle Pizza's Pickle Roll-Up
There's no messing around at Wrecktangle. Its $3 Pickle Roll-Up—that's what the menu calls it, though it does note that some people know it as "MN sushi"—is just the classic, something of a rarity on menus. The Wrecktangle folks serve it at each location, with the exception of their food truck.
Wrecktangle takes an entire spear, wraps it in ham, and puts a protective barrier of cream cheese between the two. The result would be just as at home on a picnic table as it is on this menu, except that Wrecktangle suggests pairing it with a martini. Get the combo. Become Minnesota's James Bond. 
The tiki drink hub slings Pickle Roll-Ups, keeping things simple, just like Wrecktangle. It's the classic trio of salty sailors: pickles, cream cheese, and thin slices of ham keeping the holy trinity together.
Apostle Supper Club's Pickle Roll Ups
Apostle in St. Paul makes three restaurants bringing this family get-together platter classic to the people. However, the supper club Frenches up its MN soosh, coating the pickles in dill cream cheese before sheathing them in a shell of Black Forest ham. Unfortunately, you'll only find these roll-ups on the happy hour menu.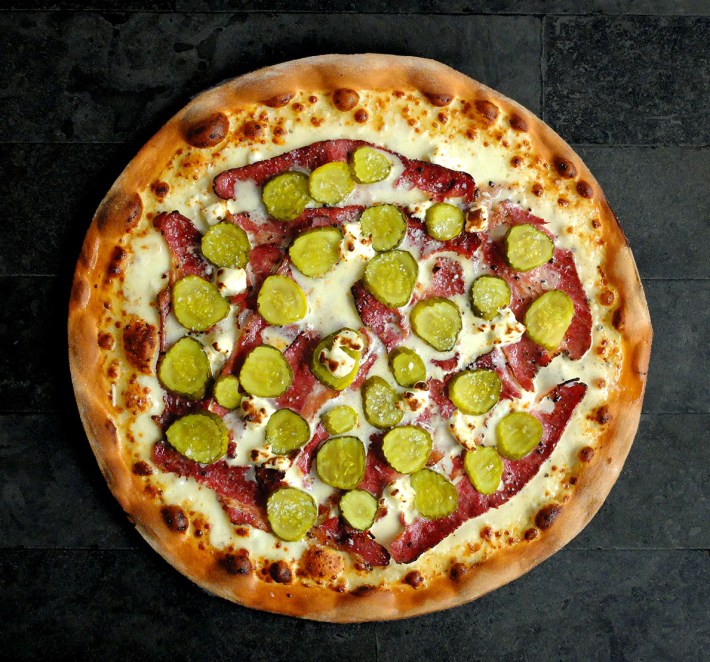 Pickle Pizzas on the Permanent Menu
Arturo's Pizza's Pickle Pastrami pizza
Arturo's delicious dough complements the toppings quite nicely on a pizza that, possibly more than any other listed here, tastes like a classic pickle roll-up. It comes with Alfredo sauce, lots of cream cheese, thick slices of pastrami, and pickle chips. I'd argue it could even use some more pickles—not every bite gets that much-needed tang.
Red Wing Brewery's Pickle Roll-Up Pizza
The uninitiated talk about pickle pizzas as though they're nothing but a stunt food, with no appreciation for the sheer variety of pickle pizzas available—respect the pickle, please! While some restaurants might serve up something with the goal of precisely replicating the symphonic flavors of MN sushi, others instead use the flavor profile as a jumping-off point. Red Wing Brewery's is one such riff, a sauce-less pie with mozzarella and ham, added to the menu in 2022.
QC Pizza's Kinda Big Dill pizza
If you're talking about pickles, you don't have to be a brine surgeon to know you're going to get some puns. (Though, some restaurants should be gherkin a little harder on… relishing… you know what? Forget it. I won't give in to the pun lobby.)
Anyhow, in Mahtomedi, the brine-obsessed can get the pun-rich Kinda Big Dill, a pizza featuring QC's house-made garlic dill sauce with "butcher-cut" slices of smoked Canadian bacon, crispy pickles, and mozzarella cheese. It gained viral notoriety in 2019 and has survived the (somewhat short) test of time to remain on the menu.
Northshore Pizza Cafe's Dillicious pizza
It would seem that if you go far enough north—to Two Harbors, say—they aren't scared to say MN Sushi. On the Northshore menu, it's called the Dillicious - aka MN Sushi Pickle Roll Up. So, no matter what you call it, you know what you're getting. It's a heavy one here. The pizza has Alfredo sauce along with dollops of cream cheese, Canadian bacon, Claussen pickles, and the restaurant's usual five-cheese blend. 
Burger, Singular. It Gets Its Own Category.
The DU Bar & Grill's Pickle Roll-up Burger
This is one of those pairings that, once you see it, seems like it should have been obvious all along. They were meant to be together, like Elf and Broadway, the Coen Brothers and Tom Waits, or ChatGPT and getting sued. Minnesota Sushi was always set up to be adapted into a burger. 
At the Stewartville restaurant, the Pickle Roll-up Burger comes, unsurprisingly, with ham, pickles, and cream cheese. The restaurant didn't overthink things when it added the burger to the menu in 2022. Make an MN sushi burger, sit back, and get recognized for your genius.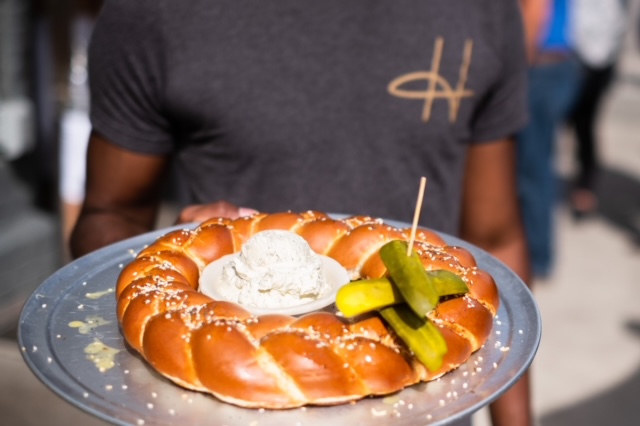 We're Stretching the Definition (And That's a Good Thing)
I can't tell you if Blue Door Pub was thinking of our dear MN sushi when it made Spam Bites or if these just accidentally evoke the classic. Either way, Spam Bites don't stray far from the mark. They're not eligible for the pickle roll-up name, though—when you substitute Spam for ham, you lose that privilege. I believe that was a gubernatorial order signed by Jesse Ventura.
The Spam Bites feature Spam, cream cheese, pickles, and a sweet chili lime sauce for dipping. We're stretching the bounds of MN sushi here, but if we're going to expand the definition at all, then by god, we're going to include Spam Bites. (If you don't see 'em on the menu, a representative tells Racket that Spam Bites disappear from time to time.)
The concept is now getting extended in multiple directions like a vinegar-soaked Stretch Armstrong. There's no meat in the Spicy Pickle Dip, but it's got two-thirds of the goods, with dill pickles and giardiniera cream cheese, which can be scooped up onto kettle chips. Fans of Minnesota sushi won't be disappointed, we guarantee it.
Hope Breakfast Bar's Giant Pickle Pretzel
If the last two count, then hey, so does this one. The three-pound pretzel gets topped with a pickle seasoning and served with a cream cheese pickle dip. Pretzels aren't ham, but hey, we're again two-thirds of the way there. Count it.
Stay in touch
Sign up for our free newsletter