Culture
The 10 Most Expensive Minnesota Homes Sold in 2021
Only one topped $10 million.
12:10 PM CST on December 10, 2021
Alright, look: Spare me your class-war lecturing about how these homes were inevitably purchased via the ill-gotten, hoarded wealth of the 1 percent. I'm not 6; I've read books. Be that as it may, home-ogling is interesting and passing judgement is fun—thus, we happily present the 10 most expensive single-family homes purchased in 2021.
For a more egalitarian glance at this year's zany housing market, read this piece I wrote for Minnesota Monthly. For a parade of sumptuousness almost exclusively situated on the shores of Lake Minnetonka, read on! Shoutout to Realtor Nate Pence of Pentz Homes for hooking us up with this luxury-tier MLS data.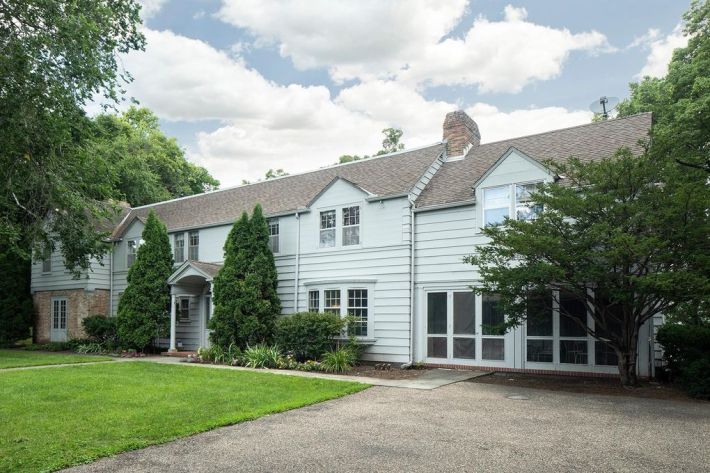 2560 Cedar Ridge Rd., Woodland
List price: $5 million (May 12, 2020)
Sold price: $4.17 million (March 15)
Specs: 9 bedrooms, 6 bathrooms, 7,631 square feet, built in 1935
Listing pitch: "Unparalleled and rare 210 feet of Wayzata Bay lakeshore! Nearly 2 acres in the prime, historic and estate area of Maplewoods. Classic home that can be remodeled or a perfect site to rebuild. Both the elevated and level lakeshore enjoys sunsets and lights from Wayzata. Watch the sail boats glide by and note that this is one of the highest elevations in the area so this enhances the views and light in every direction. Survey available upon request. This is a magical opportunity."
Racket take: Jesus, don't rebuild! It'd be a damn shame to lose this elegant '30s millwork and build quality to the wrecking ball, but today's buyers at this price point value living rooms with 20-foot windows, beige everything, and various techno doo-dads more than historically significant architecture. This baby is likely already rubble.
Click here for more photos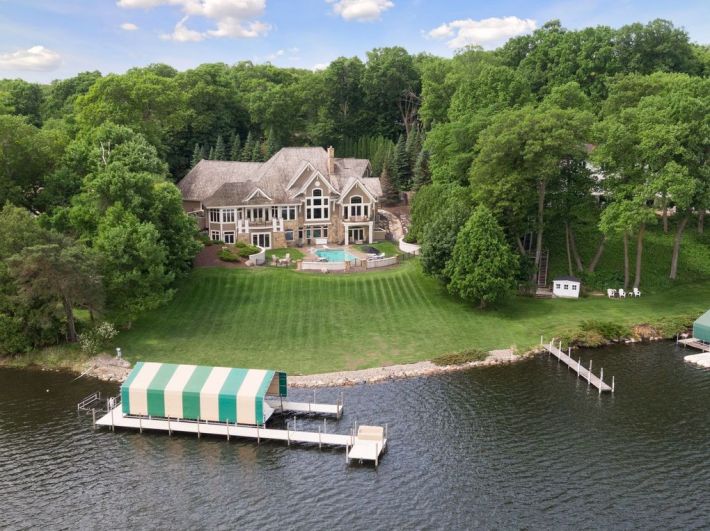 2665 Maple Ridge Ln., Orono
List price: $5.2 million (April 26)
Sold price: $4.2 million (Oct. 8)
Specs: 4 bedrooms, 6 bathrooms, 7,520 square feet, built in 2006
Listing pitch: "Major renovation on this spectacular Lake Minnetonka home on coveted Lafayette Bay with estate-like privacy on 1.62 acres & 152' of level lakeshore. This home offers exceptional high-end features throughout. Bright and open interior spaces this home has so much to offer, including: spacious bedrooms with panoramic lake views, executive style office, chef's kitchen for easy entertaining, a four season sun room, billiards room, custom bar, wine cellar, full theater room, and so much more. For the car enthusiast this home offers an attached 4 car garage complete with heated floor, along with a detached carriage house with additional 3 car spaces, and finished upper level. This amazing home is great for indoor and outdoor lakeside living complete with 3 docks, full size pool, hot tub/spa room, and beautiful outdoor spaces."
Racket take: As far as newer constructions are concerned, this one is rather tasteful. The Dr. Peppers, Stellas, and White Claws in the beverage cooler are a curious staging touch; the aquarium in the movie theater is another head-scratcher. I'm a 2006 Hyundai Elantra driver, so yes, I qualify as a car enthusiast, but even I find the four-car garage with heated floors to be excessive.
Click here for more photos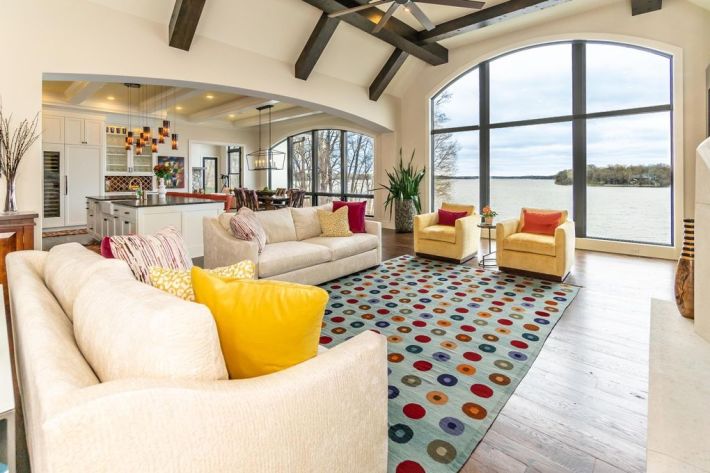 4595 Merrywood Ln., Minnetrista
List price: $5.5 million (Jan. 4)
Sold price: $4.35 million (Nov. 19)
Specs: 5 bedrooms, 5 bathrooms, 6,162 square feet, built in 2002
Listing pitch: "A Once In A Lifetime Opportunity To Own A New, Completely Redesigned And Built Estate Home On One Of The Cleanest Bays On Lake Minnetonka! Privacy Abounds For This One Level Plus Walkout Home On 270 Feet Of Perfect Hard Sand Shoreline & Approx 3 Wooded & Private Acres. High End Finishes Throughout The Home, Including The Chef's Kitchen With Quartz And Unique Labradorite Countertops. The Spacious Owner's Retreat Features Magnificent Lake Views, A Sitting Room, Large Walk-In Closet, Shower And Free Standing Tub. The Main Floor Office Is Perfect For Those Needing To Work From Home. The Lower Level Has 3 Additional Large Bedrooms & 2 More Baths. A Wine Room, Media Room, Game Room, And Very Large Exercise/Storage Area Are Also In The Lower Level. There Is A Private Guest Suite With Its Own Bathroom Above The Garage. Best Of All, Is The Outdoor Kitchen/Cabana As You Make Your Way To The Lake. It's Fully Heated So You Can Use It Year Round! Enjoy Lake Living All Year In This Beautiful Home!"
Racket take: If I'm trusting someone to sell my most valuable asset, one valued at around $5 million, that trust takes a serious ding when I see listing copy that capitalizes every word. Anyway, the absence of additional listing photos makes this one a bit of a mystery.
Click here for the same photo you see above + the listing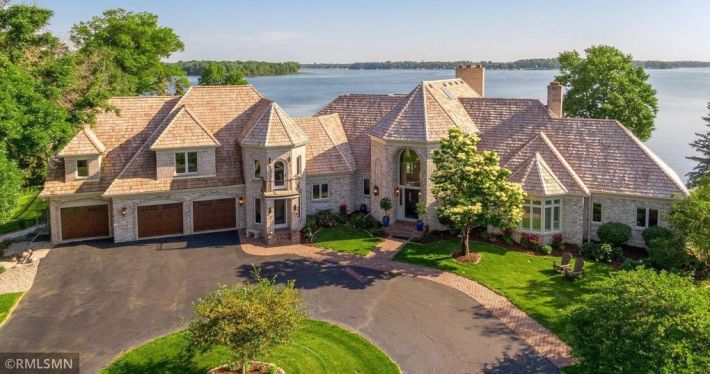 27190 Edgewood Rd., Shorewood
List price: $5 million (June 24)
Sold price: $4.7 million (Dec. 2)
Specs: 6 bedrooms, 8 bathrooms, 10,900 square feet, built in 1987
Listing pitch: "Private Oasis on Lake Minnetonka! Picturesque, 6BD/8BTH estate sits high & proud on 3 acres of rolling, grassy hills, a gorgeous lagoon on approach & 230 feet of pristine, rip-rap shoreline w clear water & hard packed sandy beach. Resort style pool-spa area with screened gazebo just steps from lake with beautiful & exciting unobstructed views of Lake Minnetonka. Gorgeous views outside every window features the lagoon, wetland in the distance, Lake Minnetonka & pool area. 2010 Interior remodel gives the entire home a fresh twist, white walls, wide open spaces, high ceilings, masterfully appointed details & high quality finishes. Easy flow floor plan is perfect for everyday life and superior for entertaining! Several bike/walking trails, fun parks and downtown Excelsior just minutes away. Neighborhood marina convenient for adults, fun for kids just a 1/4 mile down the road. Wonderful neighborhood. Award winning Minnetonka Schools."
Racket take: This is a BIG boy at nearly 11,000 square feet. The décor themes throughout its voluminous interior range from elk to horse to Paris to, most interestingly, a jingoistic bathroom that feels ripped from Anoka County. Huh!
Click here for more photos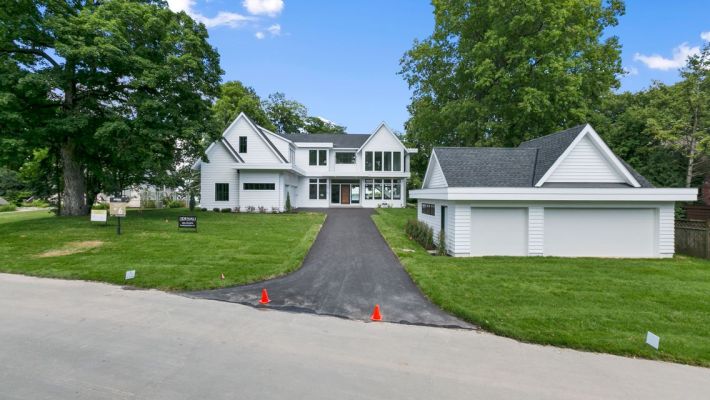 2315 Huntington Point Rd. E., Minnetonka Beach
List price: N/A
Sold price: $4.8 million (May 27)
Specs: 4 bedrooms, 5 bathrooms, 5,258 square feet, built in 2016
Listing pitch: "Sold before print. Beautifully built by Denali, this Minnetonka Beach masterpiece offers natural light-filled spaces, walls of windows and endless water views at every turn! Attached three car garage, detached two car garage."
Racket take: Man, this one is a bummer. Wish we could tell you more about the gorgeous, woodsy cottage from 1900 that once sat at this address. Instead, you get to read all about the white-washed "upscale casual" snoozer that replaced here.
Click here for more photos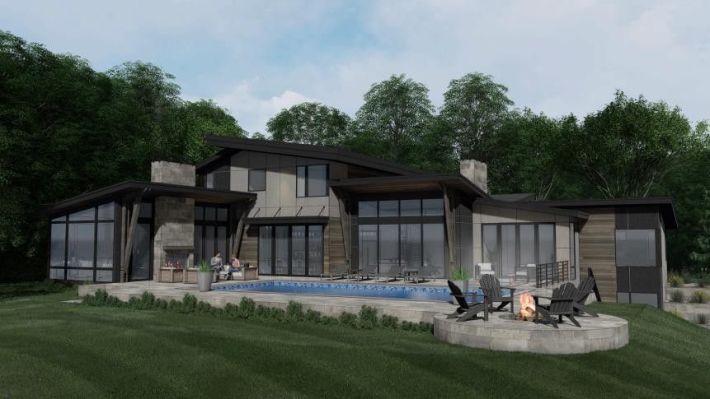 2501 Crosby Rd., Minnetonka
List price: $5.2 million (April 26)
Sold price: $5.3 million (June 28)
Specs: 5 bedrooms, 8 bathrooms, 6,663 square feet, built in 2020
Listing pitch: "Stunning Denali-built masterpiece offering spectacular water views! Private 2+ acre setting just 5 minutes to downtown Wayzata. Enjoy high-end details and finishes at every turn. Main-level living, pool, four car garage. Sold before print."
Racket take: Another new build from Denali Custom Homes, this "rustic, modern retreat" at least takes some architectural swings. Owning a "private bridge" seems desirable.
Click here for more photos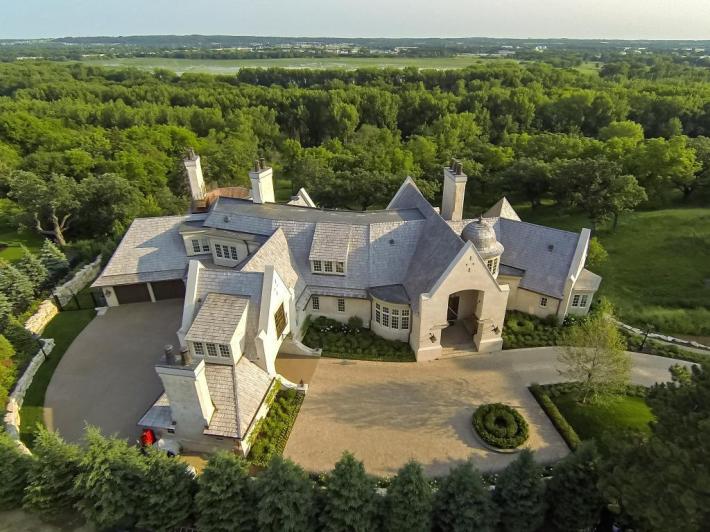 10675 Cavallo Rdg., Eden Prairie
List price: $6.5 (Sept. 5, 2019)
Sold price: $5.3 million (Feb. 26)
Specs: 5 bedrooms, 8 bathrooms, 12,558 square feet, built in 2013
Listing pitch: "With idyllic views of the Minnesota River Valley, this home offers views seldom seen in the Minneapolis suburbs. A curving floor plan and large expanses of glass facing the valley offer unparalleled privacy in a secluded, yet convenient location."
Racket take: This place, the lone home outside of the Lake Minnetonka area in our roundup, sat on the shelf for almost two years. It's massive at over 12,000 square feet, so much so that there's room for an indoor basketball court. With the dark timber beams and iron accents, the builder went for a classic aesthetic on a modern build and achieved mixed results.
Click here for a freakin' video tour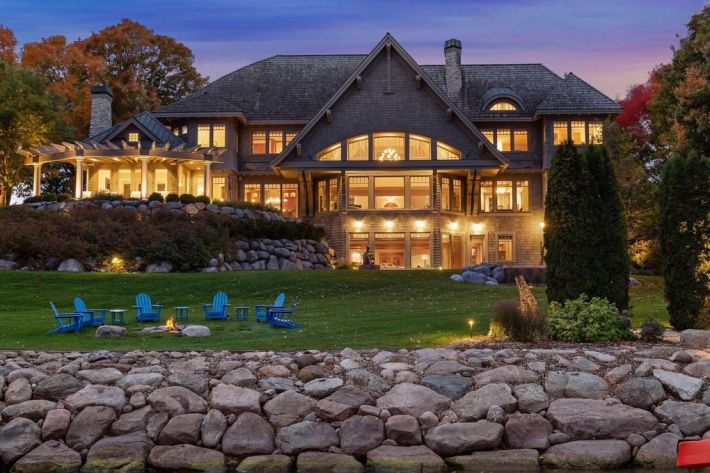 1640 Bohns Point Rd., Orono
List price: $5.6 million (April 5)
Sold price: $5.4 million (July 16)
Specs: 5 bedrooms, 6 bathrooms, 7,000 square feet, built in 2005
Listing pitch: "Sophisticated But Yet With Understated Elegance Defines This Beautiful Lake Minnetonka Home Designed By Mike Sharratt and Built By Robert Craig. With Over 200 Feet Of Level Sandy Lakeshore On Crystal Bay, The Home Offers Panoramic Lake Views From Almost Very Room. An Open, Vaulted Ceiling Great Room Meets You With A Wall Of Windows and Transoms. Architectural Detail Includes Chilton Stone, Brazilian Teak, Wood Beams, Beautiful Trim Detail, Artisan Metal Work, Alder Wood Cabinets and Venetian Plaster Walls. Walk Out To A Large Stone Patio With A Custom Pergola Or Curl Up in The Vaulted Ceiling Sunroom With Wall Of Windows, Heated Stone Floors and A Cozy Fireplace. All Of This and So Much More Is Set On Almost An Acre Privately Set At The End Of Picturesque Bohns Point. This Home Is The Rare Combination Of Superior Design Integrity Unparalleled Lakeshore All Located in Close in Orono Location."
Racket take: Again with the capitalized wording! What the hell? Clearly a spared-no-expense construction, this property doesn't boast any outrageous rich-guy amenities; it's simply content being a well-designed home.
Click here for more photos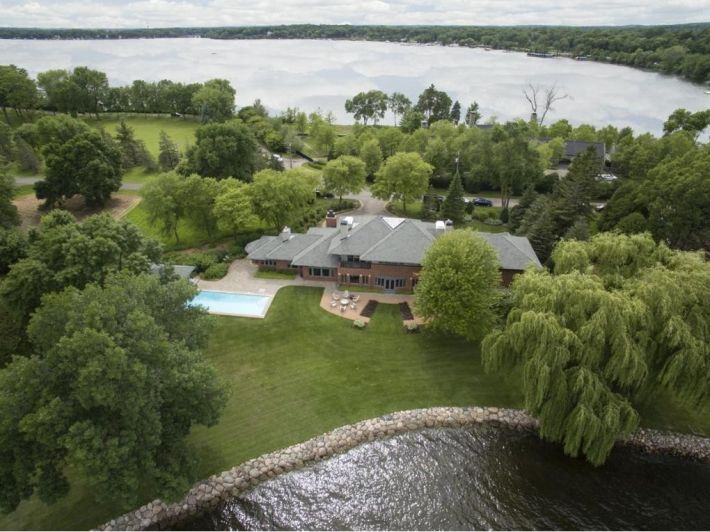 1280 Bracketts Point Rd., Orono
List price: This property has been sold nine times in the past two decades, according to county records. It's been on and off the market at various prices since 2015.
Sold price: $6 million (May 14)
Specs: 4 bedrooms, 6 bathrooms, 6,703 square feet, built in 1987
Listing pitch: "Stunning prime lakeshore property on historic Bracketts Point. Turnkey home designed and built to perfection. Over 300 feet of level lakeshore with huge lower lake views. Pool and pool house. Glorious gardens, expansive grounds and easy access to Wayzata and downtown. Towering ceilings, clean lines, elevator, views from every room! Be prepared to be amazed."
Racket take: Me and this home are both 34 years old, though only one of us was designed and built to perfection. The real story here is Brackettes Point, which was once home to the stunning "Southways" Pillsbury mansion that was tragically demolished in 2018. Here's some wreckage porn combined with ol' photos of the stately ol' mansion.
Click here for more photos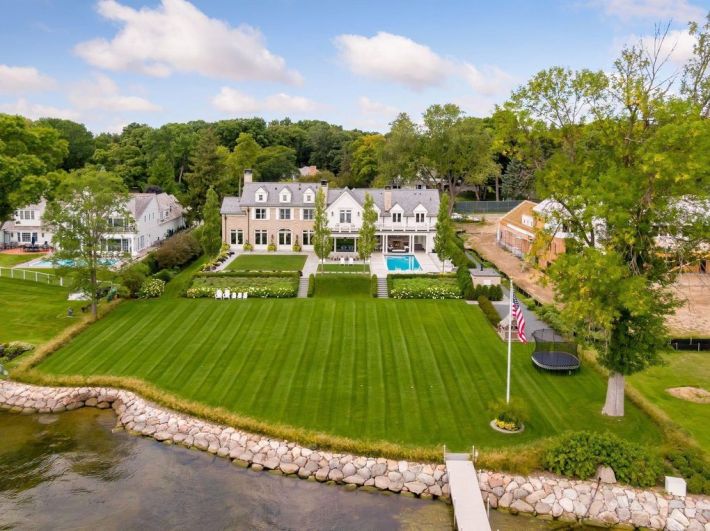 2209 Huntington Point Rd. E.
List price: $10.4 million (May 13)
Sold price: $10.4 million (Aug. 2)
Specs: 5 bedrooms, 7 bathrooms, 8,374 square feet, built in 2012
Listing pitch: "Unprecedented Lake Minnetonka estate with an exquisite level of finish, every detail executed to perfection! Beautifully sited on 1.35 private acres with 160'+ of level rip-rap shoreline & endless water views! This thoughtfully designed home offers formal and informal spaces, French doors opening to the gorgeous backyard & walls of windows overlooking the lakeshore at every turn. Spacious Owner's suite featuring a luxurious closet with large center island, and spa-like bath with oversized steam shower and waterside private deck. Large guest suite, three junior bedrooms with shared deck, bonus room, hobby room & laundry room complete the upper level. Enjoy the meticulously landscaped grounds with expansive stone patio and two sets of stairs down to the shore, pool and outdoor family room with fireplace- the perfect blend of indoor & outdoor living. Six-car garage including detached heated/ air conditioned garage. Storage outbuilding for boat + pool accessories."
Racket take: Waaay too much of that ubiquitous HGTV grey for our tastes. I'm not turning down a backyard party invite, however.
Click here for more photos
All photos courtesy of property listings
Stay in touch
Sign up for our free newsletter