Culture
Michelle and MN Realtors Win 'The Bachelorette'
Let's end this journey.
8:28 AM CST on December 22, 2021
Alright guys, it's the end of the journey. As usual, the finale is going to take about three hours and will featuring a live audience watching the show with us. It's kinda annoying, but that's how they do it here. 
The show opens with Kaitlyn announcing that Tayshia will not be hosting with her, as she was exposed to COVID-19 and is in quarantine. There's also a guy dressed as Santa Clause who is going to be doing a lot of awkward segments no one wants to see, but I am going to recap it, because if I have to watch you have to read it.
Michelle Does Some Soul-Searching on Camera
The show opens with Michelle. She's in her hotel room, journaling about Minnesota Joe while in full makeup and a gorgeous green silk jumper. She has a real shitty few days in front of her.
"I feel really excited," says Michelle, "because I am nearly at the end of my journey and I could be engaged in a few days."
Brandon Makes Michelle's Family Weep with Joy
Brandon time! He's going to meet Michelle's family again. He brought her dad a new pair of swim trunks, since he wore his pair back in Minnesota. 
You guys, Michelle's parents are so in love with Brandon. They giggle. They blush. They glow. He is wooing them so hard, and they are here for it.
"Michelle is pretty done gone ambitious," says dad.
Brandon is down with supporting smart women.
"Are you going to move to Minnesota?" asks her mom.
He works remotely, so he's ready to move anywhere. 
Michelle's dad is literally blushing and glowing in interviews about this dude. 
"I want to become part of you guys' family so bad," says Brandon. They want him there, too.
Everyone is basically weeping with joy, as you do when you meet your daughter's potential love for the second time. 
"Huge day. HUGE day," concludes Brandon in a voiceover. 
"My family has been looking for someone like Brandon…. for me," says Michelle in an interview. 
Well shit, good luck living up to that, Nayte.
Minnesota Factor: Brandon is willing to move to Minnesota! 1 / 10,000 lakes
The Family Shits on Nayte
We open with a shot of Nayte spritzing on cologne. Dude probably smells STRONG. Gotta show up smelling nice for the potential in-laws though, I get it.
"There is a very strong chance that I could be the last guy here," says Nayte.
He meets her parents. They are shot in a way that kinda makes it look like they already hate him. They are glaring at him. 
And here's the thing: Nayte seems awkward and nervous. And honestly, that is a more natural reaction than what we saw with Brandon. You shouldn't be weeping and crying and inviting a person into your family the second time you meet someone. Nayte doesn't have a perfect PR answer to every question, and that's OK. 
The show's editor, however, is not having it. His dad grills Nayte and it's awkward. His mom gives him a smackdown, and it's awkward. 
"I think one of the things she likes about him is that he's unpredictable," her mom concludes.
The word "rocky" is used a lot to describe the interaction between Nayte and Michelle's mom. 
There's crying this time, but it's Michelle crying after her family shits on Nayte. The soundtrack is going crazy with ominous music as this happens. 
"I am not going to be in a relationship where I don't know if he's going to stick around," says Michelle, stating the bare minimum for any relationship.
Minnesota Factor: It's unclear if Nayte is willing to move to Minnesota. Oh no! 0 / 10,000 lakes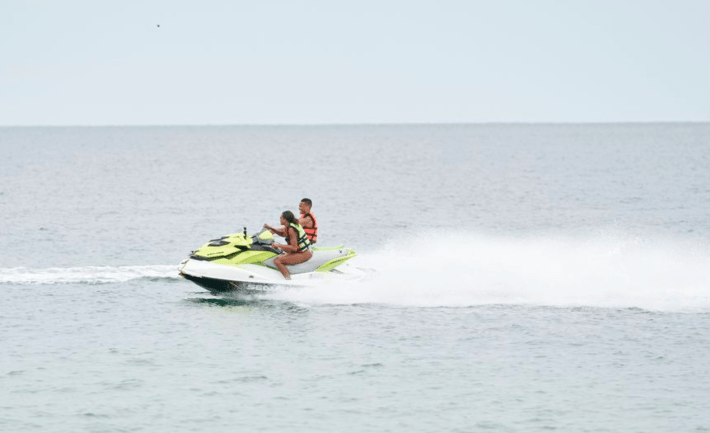 A Romantic Jet Ski Date
It's time for Brandon's date.
They ride jet skis. They hang at the beach. It's a simple date, but was probably a lot of fun. 
They meet again later that night at his hotel room. He pours her a glass of wine from a bottle without a label on it. They toast to the journey. They both take a single sip, then put their drink down.
Brandon talks more about "leaving it all on the table," but this time he leaves out the part about "literally" ripping his heart out and throwing it everywhere. Much better.
He gives her his (washed) sweatshirt from the food fight they had last week. Ew. PSA: Don't throw food around in hotel rooms, guys. Think of the cleaning staff.
"You look like you're deep in thought," says Michelle at one point. 
"Was I?" says Brandon. Exactly, Brandon.
Michelle tells Brandon that she is not falling in with with Brandon... she is in love with Brandon. Nooo, Michelle. Don't say it like that. 
The music right now is similar to what you hear in epic war movies. The sound department is going off, y'all!
Meanwhile, back at the live show, a grown man dressed as an elf pours maple syrup over a plate of spaghetti and frantically starts eating. Why is this happening? Do The Bachelorette producers realize that most of the people watching this show are probably adults?
Minnesota Factor: Nothing! 0 / 10,000 lakes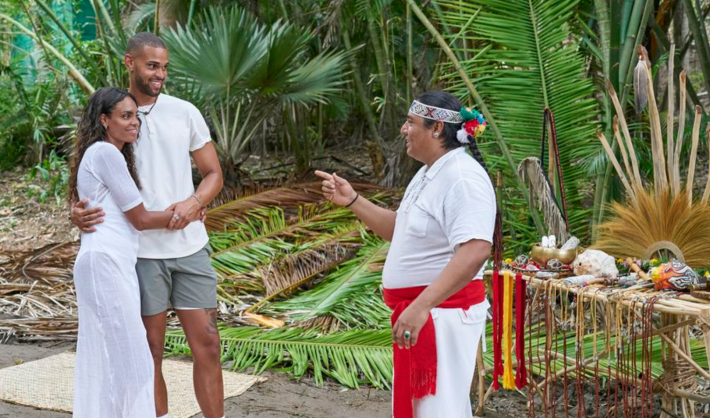 Cultural Appropriation Time?
Nayte and Michelle's date is not jet skiing. They're going to hang out in the forest with a shaman named Raul who is going to take them through some sort of ceremony that is not really explained. 
"I can see something in your brain. There is blockage there," says Raul the shaman to Nayte. Shit, is there a tumor or something in there?
Raul goes on to explain that he thinks that Nayte has a hard time expressing himself. I get it, Nayte. Right now he's in the woods, and some guy is trying to get him to talk about feelings while a camera crew films him for a national television show. I would be blocked, too. 
"He was very uneasy today," says Michelle.
Michelle thinks it's a red flag. I think it's the opposite of a red flag. If I drag someone I'm in love into the middle of a forest in a foreign country to meet a shaman, they better be scared AF. That's how I know they have gut survival instincts, man.
They end the date sitting on a random bench in the middle of a lawn. The music goes off into some "Harry Potter riding a dragon"-type music as Nayte gives what feels like an an Oscar awards clip. He only arrived that the show with two suits because he assume he would be sent home right away, he is totally into her, this is real, please love me!
"I am crazy about you," he concludes. "The world needs to know." Good thing there's a camera crew here then!
They head to Nayte's hotel room and chat. When Michelle returns to her place, she finds a note from Brandon. Brandon has the same handwriting I had in 5th grade. So nice and bubbly.
"You have infected me with love," writes Brandon. Dude, time and place.
Minnesota Factor: Nothing! 0 / 10,000 lakes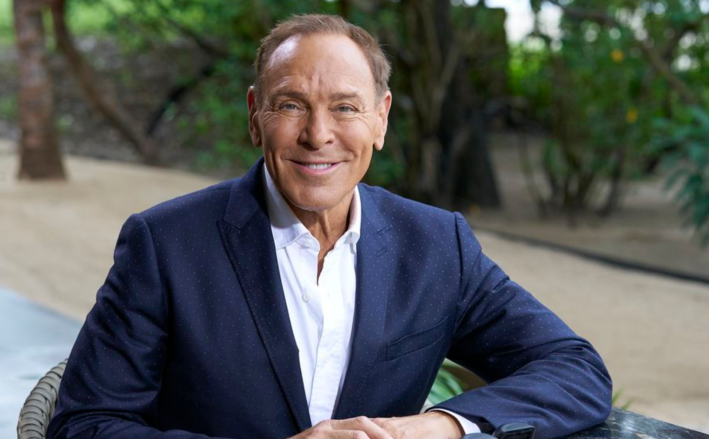 Engagement Ring Time
The guys pick out rings to propose to Michelle with. It's really boring. That's really all you need to know. 
Minnesota Factor: Nothing! 0 / 10,000 lakes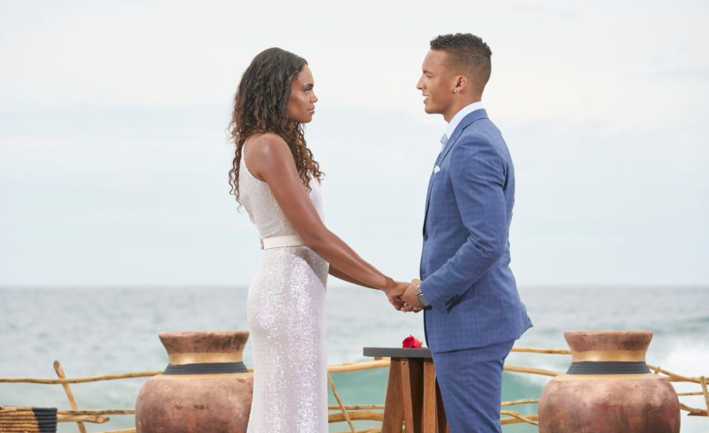 Time To Break Someone's Heart and Get Engaged!
Mother nature is pissed as hell today. The engagement platform is on a beach with rocky shores and waves that look like they are going to claim someone at any given moment. 
Brandon is making his way down to the platform of love. There is some thriller-type music playing. That's not a good sign, guys. 
He gives a generic speech about love. Michelle does not look like she's into it. It's kind of hard to hear because the waves are really loud. They are coming for this show. They want to be the next Bachelorette. 
Michelle dumps Brandon. 
"I have to go with what I feel," she explains. 
"Oh, man," says Brandon.
He's works to get through his "supportive nice guy rejection speech" but he's taking big sighs like he's in labor. Oh man. They hug and he cries with his face towards the camera. He awkwardly walks away up some stone steps.
"I am so fucking hurt," says Brandon. Aw. Hang in there buddy!
He throws something out at the ocean. I really hope it's not the engagement ring, because he will be on the hook to pay for that. There's a lot of bleeping and pixelating of his mouth as he ugly cries and curses the cruel sea, as we all do when we get dumped.
Meanwhile, Michelle is also wreck. No time for reflection, though, it's time to get engaged!
Nayte makes his way down the steps. He looks so dorky happy walking towards her and I love it. The ocean does not, however. It's still going crazy. That shaman has awakened something sinister, and it needs fresh blood!
Michelle tells Nayte she loves him. He proposes. She gives him a rose. At one point he says "nothing but Nayte," which is awesome. A mariachi band jams out as the recorded show ends and we're jettisoned back to the live studio with the creepy Santa/elves.
Minnesota Factor: Nothing! 0 / 10,000 lakes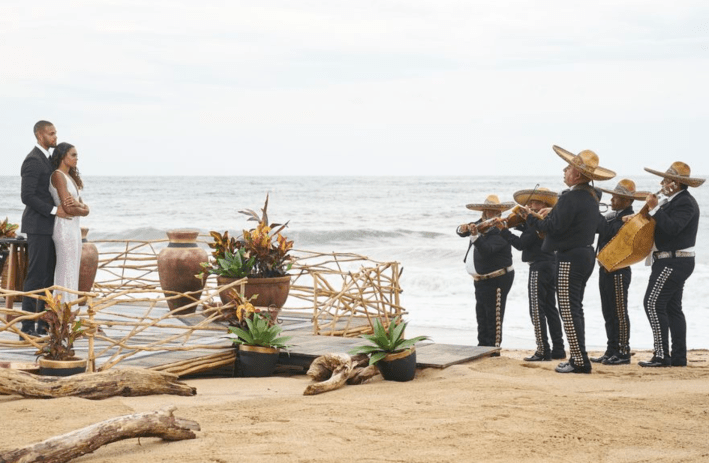 After the Rose Time!!
So, there's always a weird live interview after the recorded show ends. It's usually kind of a mess since it's unscripted. Here are the main takeaways:
Kaitlyn says she took a photo of Brandon the night he was dumped. It's a pic of him off in the distance sitting on the beach. Sad! Oh Brandon. Go be on a season of The Bachelor.
Brandon accidentally drops an F-bomb. He gets bleeped about five seconds too late. 
For some reason random people are making out in the audience.
When Nayte and Michelle come out, they give them a love montage which is basically a corrective edit for the season. 
Nayte is moving to Minnesota in a couple of months!
The show gives them a $200,000 down payment. Michelle is gobsmacked. "Is this real?" she asks Kaitlyn as they go to commercial. Get that money, Michelle!
They preview the new Bachelor season. It looks like the hot mess kind of stuff people go to therapy for years to get over. Oh fun!
And thus concludes my Bachelorette coverage. Thanks so much for reading, everyone!
Minnesota Factor: Well, Michelle and Nayte are probably moving to our neighborhood. Sweet! 5,000 / 10,000 lakes
Stay in touch
Sign up for our free newsletter