Food & Drink
Massive Bánh Mì, Bars + Bistros, and 'Adults-Only' Putt-Putt in the July Racket Restaurant Roundup
THERE'S TOO MUCH NEWS.
3:03 PM CDT on July 31, 2023
In the words of a heartstring-tuggin' Dr. Dog song recently re-popularized by TikTok: Where'd all the time go? Feels like it was only yesterday we were publishing the June Racket Restaurant Roundup, and now… July is over? 
Anyway, no time to get melancholy—there's an overwhelming amount of news in the RRR this month, from long-awaited openings to a handful of closures to a surprisingly high number of restaurants that are relocating, shutting down temporarily, or shifting their focus. Let's get into it!
Now Open
Acadia Café
OK, so this historic West Bank space is finally re-opening 17 months after getting hit with a pandemic and an equally unpredictable damn bus. Click here for the full story.
D's Banh Mi
At long last, D's Banh Mi has opened up in the ol' snack shack at 1848 E. 38th St. We had to be among the first to try it, of course, and per our critic: "D's fucks. D's fucks hard." Read all about these positively massive sandwiches here. 
Union Hmong Kitchen
When Yia Vang started popping up with rotating concepts at 901 W. Lake St. earlier this year, we wondered whether it might eventually turn into something a little more permanent. And it has! As of July 12, Union Hmong Kitchen is a permanent fixture at this Lyn-Lake-ish address, where it's serving up favorites from their first location at Graze food hall along with new specials and shareable platters.
Puralima Cantina 
The folks behind Crisp & Green and Stalk & Spade have opened a new and shockingly ampersand-less concept called Puralima Cantina in the North Loop (548 Washington Ave. N., Minneapolis). The latest chain-to-be from Steele Brands is meant to take on Chipotle, the Star Tribune reports, with a menu of tacos, burritos, bowls, and salads. (Also: little bags of mini churros.)
Toma Mojo Grill
Minnetonka's Toma Mojo Grill has opened up a second location in Richfield at 1700 East 66th St. We talked to Tomo's Mike Knox about making the switch from fine-dining fare to fast-casual chicken joint earlier this year. 
Goorgoorlu
Now open in north Minneapolis (2118 W. Broadway Ave.), Goorgoorlu is serving up a menu of dishes from Gambia and America that includes everything from chicken and lamb afra to a Philly cheesesteak with fries. It's helmed by chef Mo Kebbeh and business partner Ousman Bah.
Luna & the Bear 
The old Eat Street Social space didn't stay empty long—a new spot called Luna & the Bear is now up and running at 18 W. 26th St. in Minneapolis. They're open for lunch daily and brunch on weekends, with a fun menu that includes pickled jalapeño poppers, steak tartare, salads, and burgers. 
Fawkes Alley Coffee
Local nonprofit Futsal Society has opened a Loring Park coffee shop where every dollar spent helps support their youth-focused soccer programs. Located at 1621 Harmon Pl., which is tucked into the alley between Gai Noi and Lurcat, they've got locally roasted espresso, grab-and-go snacks, and more.  
Puttery Minneapolis
Can Can Wonderland isn't the only game in town if you want to play putt-putt inside while having some drinks and snacks. The mini golf chain Puttery just opened its first Minnesota location (240 Hennepin Ave., Minneapolis), with three bars and three courses. It's decidedly unlike Can Can in some crucial ways—for one, this place bills itself, somewhat paradoxically, as "adults-only mini golf." 
Harmony Coffee
New in Northeast is Harmony Coffee, from the same folks behind the clothing shop Together (501 First Ave. NE, Minneapolis). They're open 8 a.m. to 5 p.m. daily, with coffee, some pastries, and an emphasis on music.
The High Hat
Longtime W.A. Frost & Co. manager Michael Noyes has opened a new Cathedral Hill restaurant called the High Hat (485 Selby Ave., St. Paul). They're open for breakfast and lunch, the Pioneer Press reports, with South American and Southwestern influences.
Hi Flora!
As of July 19, THC restaurant Hi Flora! is fully up and running at 2558 Lyndale Ave. S. It's fully vegan and alcohol-free, with a cute patio, lots of salads and sandwiches, and $19 mocktails that were the talk of local Twitter for a day.
Milly's Wine Bar & Bistro
Milly's celebrated its grand opening on July 29, and starting August 1 the new Mill District wine bar will be open seven days a week at 11 a.m. And they've got WiFi! So if you want to sneak out of the home office and have a glass or two of wine with work… we hear that's very much encouraged. 
Star Bar & Bistro
Big month for bars and bistros, eh? Kim Bartmann's Star Bar & bistro is now open at 618 2nd Ave. S., Minneapolis, inside the Hotel Indigo. They've got weekend brunch and happy hour from 2-6 p.m. weekdays.
Erta Ale
A new St. Paul restaurant named for Ethiopia's volcano has opened in the former Kyatchi space in Lowertown (308 Prince St. E. Suite 140). Owner Amy Abebe Tsegaye said in a release that she picked the name to "symbolize the fiery and flavorful nature of Ethiopian cuisine," which objectively rules, and the menu is packed with all the tibs and kitfo your heart desires.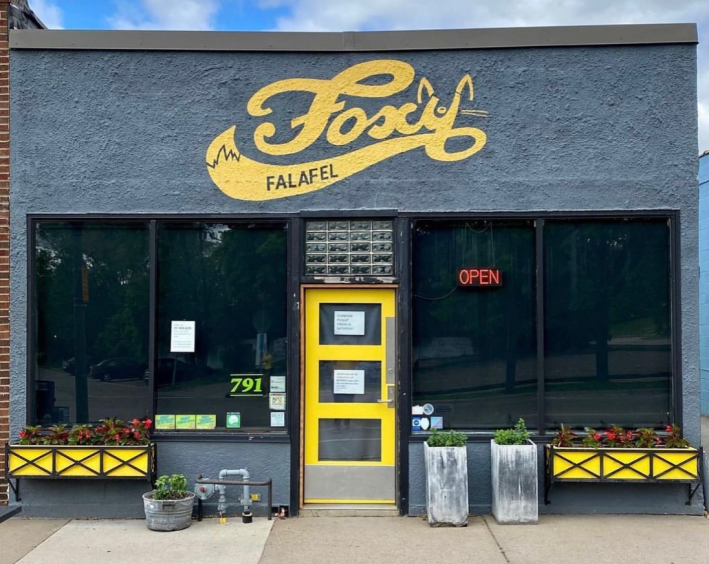 Closing/Changing
Foxy Falafel
St. Paul favorite Foxy Falafel announced in mid-July that after 13 years (as a farmer's market favorite, food truck, and finally brick-and-mortar), the shop was closing its doors. "This was not an easy decision but with the lease coming to an end I decided it was time for me to close," chef/owner Erica Strait explained in a farewell post thanking their loyal customers and staff. 
Ngon Bistro
Another big loss for St. Paul: After 16 years, Ngon Bistro called it quits this month. "It's been an epic run of 16+ years but we've made the difficult decision to close Ngon," chef/owner Hai Truong wrote on Facebook. 
Uptown Collab
After closing to rebrand, and then reopening with a new name last month, Uptown Collab has once again closed its doors. A spokesperson told Axios the closure is indefinite, and it's part of the redevelopment of the space. 
The Lynhall
The Lynhall at Lyn-Lake served its last brunch on August 16 as they shift to be more of an event-driven space. "Our team really enjoys executing private events, catering, and Lynhall-led ticketed events and is excited to focus more attention in these areas in the future," owner Anne Spaeth said in a release.
Cafe Meow
Also not closing closing: Cafe Meow, Minneapolis's sole cat cafe, is shutting down its Hennepin Avenue location and making a move to Roseville. "We have outgrown our location here in Minneapolis and need a more spacious layout that caters to the amenities we have discovered along the way, which will better support us and our customers," their social media announcement says. Hmm, remember when they made that huge stink about how they'd leave if Hennepin got 24-hour bus lanes, and then Mayor Frey vetoed 24-hour bus lanes, and now they're leaving anyway?
Breaking Bread Cafe
In a July 17 release, the nonprofit Appetite for Change announced that they would close Breaking Bread Cafe's location on West Broadway, with plans to convert to a food truck operation while looking for a more permanent home. They're not closed just yet: August 25 will be the last day. 
Bark and the Bite
Its social accounts have long said it's "temporarily closed for maintenance," but BBQ joint Bark and the Bite will not reopen, Mpls. St. Paul Mag reported this month. Its founding chef is moving to Paris—bon voyage!
El Jefe
On August 20, El Jefe will close its current location on 53rd and Lyndale—but they're not going away forever! They're taking over the kitchen at the Uptown VFW.
Taco John's Skyway
No more Taco John's remain in Minneapolis following the closure of their skyway location this month. However! The Wyoming-based chain tells Bring Me the News that they're "looking forward to returning to the Skyway and Minneapolis soon."
Momento Restaurant
Momento in downtown St. Paul is closed for now "while our team refreshes our food and beverage program and revitalize[s] our space to offer our guests a more energized, elevated experience," according to the website. They'll reopen September 6.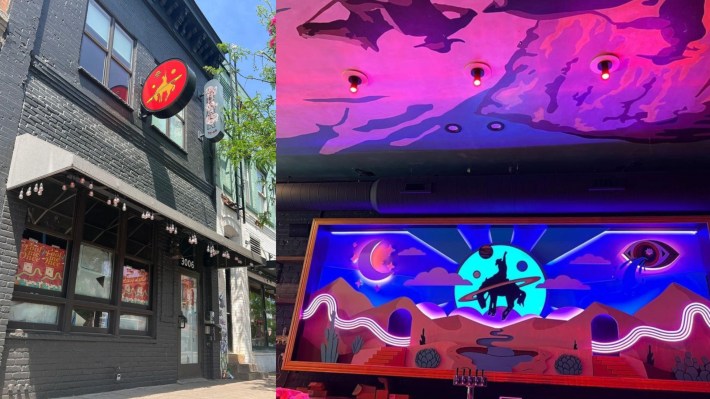 Just Announced + Coming Soon
Northern Coffeeworks 
Fun stuff is in the works at Northern Coffeeworks, the coffee shop owned by the same folks behind nearby Angry Catfish Bicycle Shop and Mend Provisions. In early May, they relocated to a coffee trailer at Angry Catfish, while the shop went through a full remodel, with a new bar buildout and expanded seating and retail space. "That had been the plan all along, I just feel like... the travails of running a small business!" head roaster and director of operations Naomi Vaughan told us earlier this year. "We're really excited that it's finally happening." The grand reopening is Thursday, August 3.
Fool Me Once
Lyn-Lake's new "cosmic cantina," Fool Me Once, opens this Friday, August 4. There's only one beer—Hamm's—on tap, plus cool cocktails and a food menu where "the cornerstone is smash burgers, and otherwise we're kind of ripping off a Taco Bell menu," owner Will Benedetto told Racket earlier this month. 
Baba's Hummus House
Baba's Hummus House (2220 Lyndale Ave. S. Minneapolis) opens so soon: The grand opening is this Saturday, August 5. We caught up with Rana Kamal, who runs Baba's with her brother Khalid Ansari, to learn more about this proudly Palestinian bakery/market/café earlier this month. 
Porzana and the Flora Room
We got an update this month on Daniel del Prado's plan for the old Bachelor Farmer space. The first floor will be Porzana, the Business Journal reports, a modern Argentinian steakhouse. In the basement, in the old Marvel Bar space, you'll find the cocktail bar Flora Room at Porzana. They'll open in August, and you can already book a reservation at Porzana; Flora Room is walk-in only. 
Thai Curry Restaurant
A new restaurant called from the family that runs Mela Thai Cuisine in West St. Paul will soon move into the old Young Man space, Southwest Voices reports. Thai Curry Restaurant is in the works now at 38th & Nicollet; meanwhile Young Man is still offering catering and rolling around via food truck.
Zhora Darling
I missed this news in May, so you're getting it now: The new concept in the old Red Stag Supperclub space will be called Zhora Darling, a restaurant/bar/music venue from owners Eric Odness and Michael Petersen. They're shooting for an August opening. 
Mother Dough No. 3
David Fhima's Mother Dough Bakery is adding a third location this fall, according to Bring Me the News. You'll find it in the Mill District, on the ground floor of the Vicinity Apartments building at Park Avenue and South Second Street.
Silver Fern Cafe
A cafe, bakery, and wine bar called Silver Fern is in the works at 114 E. Hennepin Ave. in Minneapolis. The Biz Journal reports it'll open in September next to Nye's. 
Rumba
Southwest Voices reports that a new restaurant and lounge called Rumba is heading for Uptown. They'll have Latin Caribbean tapas and cocktails from the mixologist at Iconos Gastro Cantina at Lyn-Lake, and should be opening… soon? SWV says they hoped to open by July 20, but there's no sign of life just yet.
Slice Brothers MOA and Slice Brothers St. Paul
After opening two Slice Brothers locations since 2021, co-owners Adam Kado and Hosie Thurmond are working to open another two shops this year—one in St. Paul, another in the Mall of America. "The opportunity with the Mall of America is one of those things, like, you don't know if you'll ever get a shot at doing a deal with the Mall, and that type of audience," Kado told us earlier this month, adding that he's "humbled by it all, and still kind of taking it all in stride." St. Paul's opening, slated for July 28, has been pushed back to August 25; MOA will follow in October.
In the Works
As previously reported in the RRR…
Wrestaurant at the Palace
Coming soon to the Palace Theatre in St. Paul: a new pizza place courtesy of the Wrecktangle folks! This won't be quite like Wreck's existing locations, according to a release, but you can expect the pies, playful cocktails, and sandwiches to be at least a little familiar. And it'll have a slice window for takeout. Opening this summer.
King Coil Distillery
Located across the plaza from Lake Monster Brewing, and owned by the same folks, King Coil Distillery will open this summer in St. Paul's Vandalia Tower. They'll have 140 seats with lots of "nooks and crannies," cocktails to drink in or take home, and pizzas, plus a patio and an events space. 
Pimento St. Paul
Great news on Bde Maka Ska: Eat Street's wonderful Pimento Jamaican Kitchen is coming to the redesigned pavilion when it reopens this summer. Not content with just that development, the Pimento crew is also bringing their jerk chicken to a new location in St. Paul (354 N. Wabasha St.). The Pi Press makes it sound super cool—they're using some of the top level of an adjacent parking garage for a rooftop patio/events space, and it's also where their food truck will live, after they haul it up.
Animales Brick and Mortar
Here's a meaty story for ya: Animales BBQ is looking to open in a brick-and-mortar building. Year-round ribs, folks! Jon Wipfli (of Animales) is teaming up with Billy Tserenbat (of Billy Sushi) to bring the place to life in either the North Loop or northeast Minneapolis. Look for it this summer.
Keefer Court
Just great news all around here: Keefer Court, the beloved Chinese bakery that closed at the tail end of 2022 after nearly 40 years in Cedar Riverside, has a new home. The bakery is headed for Asia Mall in Eden Prairie, where it'll be owned by the owners of Pho Mai, who have purchased the bakery and will learn the recipes from Keefer Court's original owner, Sunny Kwan, Sahan Journal reports. Look for it to open this fall.
Public Domain
The former Haute Dish space has been empty since 2017, which makes the news that a craft cocktail bar called Public Domain is moving in pretty exciting. The North Loop Neighborhood Association reports that Public Domain will be a bar without a menu; here, drink specialists will have hundreds of drink recipes in their heads, and will talk with guests about what they like to determine the order. The Racket staff is split on whether this is fun or insufferable, but I just experienced this at a Milwaukee bar called Bryant's Cocktail Lounge, which ruled—so I'm for it!
New North Loop project from Tim McKee
James Beard Award-winning chef Tim McKee (La Belle Vie, Sea Change, Octo Fishbar), has his eyes set on the North Loop for a new project inspired by the Basque region of Spain. He's being tight-lipped about the endeavor for now, but has revealed that it'll be somewhere on First Street and open sometime in 2023. Read more via the Strib.
Soul Lao
The signs are up at Soul Lao, the popular food truck and popup spot that's opening a brick-and-mortar space at Sibley Plaza on West Seventh in St. Paul. "We want to build a supportive environment where young chefs can shape a career and neighbors can share a plate of Lao sausage, sticky rice, and spicy papaya salad," Soul Lao's GoFundMe Page reads. "There's no other place we would want to place our roots."
Diane Moua Moves On
Diane Moua has left her role as Bellecour's executive pastry chef in 2022 to open her own bakery and cafe, which will combine Hmong home cooking and southeast Asian flavors with her French pastry perfection. "You'll see a chocolate croissant here and there, but I want to use coconut and yuzu," she told Eater Twin Cities, which has the rundown. "It's so French at Bellecour, but with this, I can use taro."
El Sazon
El Sazon, which made a splash serving fine-dining fare out of an Eagan gas station, is moving into more permanent digs. The Strib reports that El Sazon Tacos & More is bringing its birria ramen, braised meats, and more to the Tangletown neighborhood in Minneapolis, though they haven't announced the exact location yet.
Em Cassel (she/they) is a cyclist, a metalcore apologist, and a co-owner and editor of Racket.
Read More:
Stay in touch
Sign up for our free newsletter