Events
Erykah Badu, Taste of MN, Freedom From Pants: This Week's Best Events
We're going all the way through the Fourth this week.
11:51 AM CDT on June 26, 2023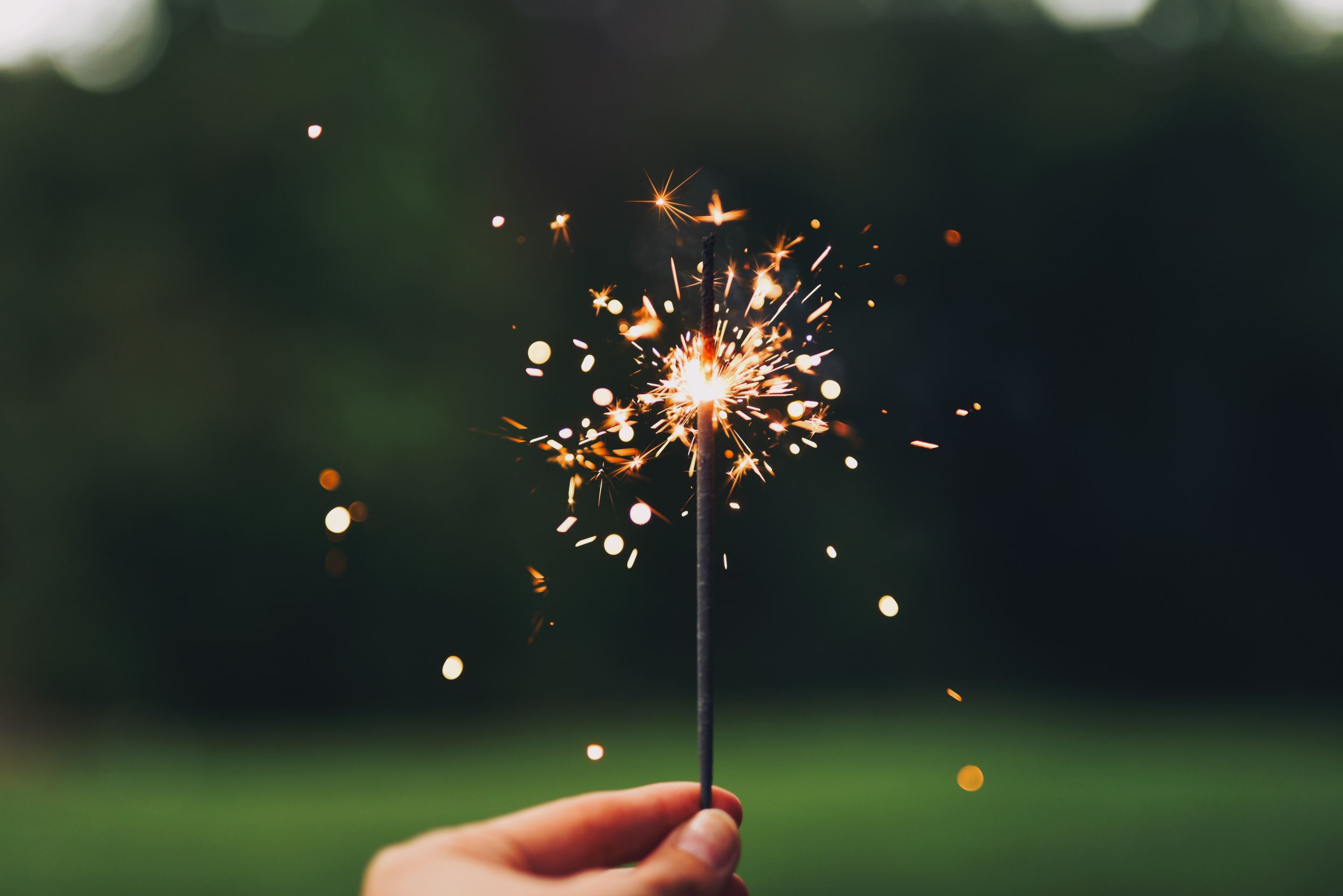 Welcome to Event Horizon, your weekly roundup of the best events in Minneapolis and St. Paul.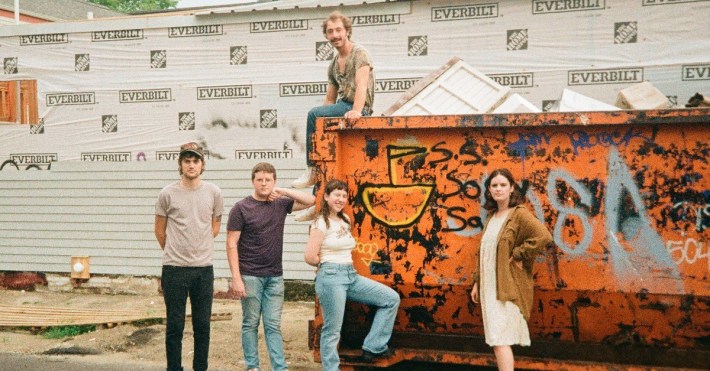 WEDNESDAY 6.28
Wednesday
First Avenue 
The most celebrated young indie-rockers of 2023 ain't exactly a new band—on the critically acclaimed Rat Saw God, this Asheville, North Carolina quartet's fifth album, you can hear a group that's both worked out some kinks and fallen into some habits. At Wednesday's mossy, humid core is the expressive drawl of singer/songwriter Karly Hartzman, whose yelps occasionally hint at Hop Along's Frances Quinlan, though more grounded (good) and less transcendent (less good). As guitarist MJ Lenderman inflects his noisemaking with just the slightest hint of twang, they sound like they learned everything they know about Crazy Horse and Skynyrd from the Drive-By Truckers. And yet, they probably didn't, judging by their adventurous taste in covers on their 2022 album, Mowing the Leaves Instead of Piling 'em Up. When's the last time you heard anyone under 40 mention Gary Stewart, let alone try their hand at "She's Acting Single (I'm Drinking Doubles)"? With Tenci. $20/$22. 8 p.m. 701 N. First Ave., Minneapolis; find more info here.—Keith Harris 
Geoffrey Asmus
Acme Comedy Co.
Asmus is a filthy dirtball, a serial button-pusher who riffs on his own premature ejaculation, bedwetting, and uncanny resemblance to serial killers. His debut album, 2021's Sisyphus Brewing-recorded The Prodigal Little Bitch, made noise on the iTunes comedy charts, winning fans with material that giddily shocks without veering into calculated edgelord territory. And he's starting to blow up: Asmus's TikTok (177.2K followers) and Instagram (121K followers) accounts have been doing massive numbers over the past couple years. "I've been doing comedy pretty consistently for the past couple of months now," Asmus, a former local, told our pals at MN Comedy last year. "I know it's irresponsible, but I had to make money. I did get COVID from doing it, though, so I did get punished by God." Risk angering God by checking him out at the Midwest's most iconic comedy club. $18-$37. 8 p.m. Wednesday and Thursday; 7 and 9:30 p.m. Friday and Saturday. 708 N. First St., Minneapolis; find more info here.—Jay Boller 
Rock Your Ride 2023: A Move Minnesota Fundraiser
Hook & Ladder
The Hook's summer Under the Canopy series is a great way to catch live outdoor music, and it continues this week with the very cool transportation justice org Move Minnesota's annual fundraiser. Performing as part of the affair are Gully Boys, who you've read enough about on Racket that we needn't go into too much detail here. Their summer tour with Destroy Boys starts out east in July so this'll be your last chance to see them locally for a spell. They're joined tonight by energetic guitar poppers Why Not, who've been friends since middle school and released a snazzy self-titled 2022 album. Their latest single is a fun remake of "Nauseous," originally by Annie DiRusso, who they opened for last year. Oh, and if you don't have time to grab dinner beforehand, there'll be a food truck nearby. $15-$28. 6 p.m. 3010 Minnehaha Ave., Minneapolis; find more info here.—Keith Harris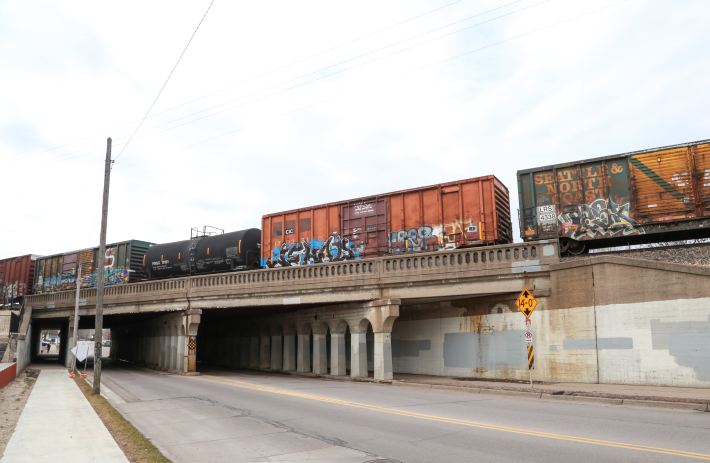 THURSDAY 6.29
Noteworthy Railyards Bike Tour
Insight Brewing 
From the lil'est Brio enthusiast to the ricketiest foamer, we all agree: Trains rock. Local history/dive bar buff Bill Lindeke is privy to this and, as such, his latest roaming tour will visit the "noteworthy" railyards of Minneapolis and St. Paul via bike. You're invited to join the two-plus hour tour that'll begin at Insight Brewing, a Minneapolis brewery whose taproom abuts some of those very rails. "They're quite interesting, and with the help of a local railroad expert, I'll do my best to explain what they are, how they work, and how they've defined the urban geography of Minneapolis and St. Paul," Lindeke writes in advance of his first historical bike tour in two years. Bonus: He promises the industry term "humping" will be explained in full. Click here to revisit an excerpt from Lindeke's recent book, St. Paul: An Urban Biography; click here to revisit our recent exploration of how freaked out Minnesotans should be about train derailments. Free. 7 p.m. meetup time. 2821 E. Hennepin Ave.; find more info here.—Jay Boller    
FRIDAY 6.30
Erykah Badu and Yasiin Bey
Xcel Energy Center
Will we ever get a new Badu album? Since she released the brilliant New Amerykah Part Two (Return of the Ankh) in 2010, all we've had was the playfully offhand EP Phone. But she'll remain an unmissable live act even if she never records another note, because it's in concert that she truly allows her eccentric spirit to range. (When I saw her at the Armory in October 2021, she led us in a chant of "Leave other people's bitches alone.") The title "Queen of Neo-Soul"—a sobriquet I don't doubt she hates, preferring to be addressed by her alter egos like "Badulla Oblongata" and "Sara Bellum"—shortchanges her. Badu's opening act, once known as Mos Def, hasn't been prolific himself lately—his last solo album could only be heard at a Brooklyn art exhibit. But his reunion with Talib Kweli as Black Star last year, No Fear of Time, was surprisingly lively. If I'm reading the Ticketmaster visual correctly, Badu is only selling tickets for the floor and 100 level, so this could be slightly more intimate than your typical arena show. $80.85 and up. 7:30 p.m. 199 W. Kellogg Blvd., St. Paul; find more info here.—Keith Harris
SATURDAY 7.1
Free First Saturday: '90s Never Left
Walker Art Center
Before 9/11, two subsequent and simultaneous wars, one Great Recession, and a certain 45th president, a halcyon decade known as the '90s existed, as it still does in the memories of exhausted millennials. The Walker's family-friendly Free First Saturday series will revisit the era of Clinton and Tamagotchis this weekend, with activities like: arts 'n' crafts featuring pony beads and 16-bit video game inspirations, a decade-specific dance party with Carbon Sound's DJ Sanni, and certifiably rad dance performances from St. Paul's Cypher Side Dance School. As always, family tours of the museum are on the docket. In a word? Tubular! Free. 10 a.m. to 3 p.m. 725 Vineland Pl., Minneapolis; find more info here.—Jay Boller
SUNDAY 7.2
Taste of Minnesota
Nicollet Mall
Welcome back Taste of Minnesota, the two-day free festival along Nicollet Mall that city leaders are framing as a Minneapolis-is-back victory lap. The food 'n' tunes bash was held outside the State Capitol through the '80s and '90s, relocated to St. Paul's Harriet Island in 2003, and, finally, lasted for a couple of years in Waconia before shutting down in 2015. Summoning his trademark peppiness, Mayor Jacob Frey hyped the rebooted event earlier this month to reporters: "This is not getting back to the old normal, we're attracting new events, new talent, new kinds of experiences—and that's what this Taste of Minnesota is all about." In practice, that'll mean top-billed acts—'90s rockers Third Eye Blind and Outkast's Big Boi, plus Motion City Soundtrack and Uncle Kracker—who, in terms of draw, seem to be more like First Avenue headliners than festival ones, but who are we to quibble with a free event that'll also boast fleets of food trucks (Animales, Red Wagon, Nixta, Soul Bowl) and wrestling (F1RST Wrestling featuring Colt Cabana)? Curiously, the whole shebang will be made possible by a one-time $1.85 million stipend issued by the state to co-sponsor the Minneapolis Downtown Council, a nonprofit civic booster org. The money is being designated exclusively for Taste of Minnesota, which is expected to draw 100,000 people over two days. Organizers hope to secure a "multi-year commitment" to bring the fest back to downtown following its debut. Free. Noon to 8 p.m. Sunday and Monday. 250 Nicollet Mall, Minneapolis; find more info here.—Jay Boller
Fat Beach Day
Lake Nokomis Main Beach
[Editor's note: This event was rescheduled from last weekend to this one due to rain.] Cake Plus Size Resale's Fat Beach Days are back in 2023! There are two meetups planned at Nokomis this year—the first is this one, on June 25, with another to follow on August 13. Same vibes as last year: Expect a casual, low-key hang, no formal RSVP or ticket necessary. BYO everything, from snacks to sunscreen, and get ready to hang out with Cake's staff and a whole bunch of fat babes while soaking up some sun or cooling off in the shade. (Cake is also bringing back the Fat Splash pool parties this year; find more info on those slightly less low-key swimming sessions here.) Free. 1-4 p.m. 5001 Lake Nokomis Pkwy. W., Minneapolis; find more info here.—Em Cassel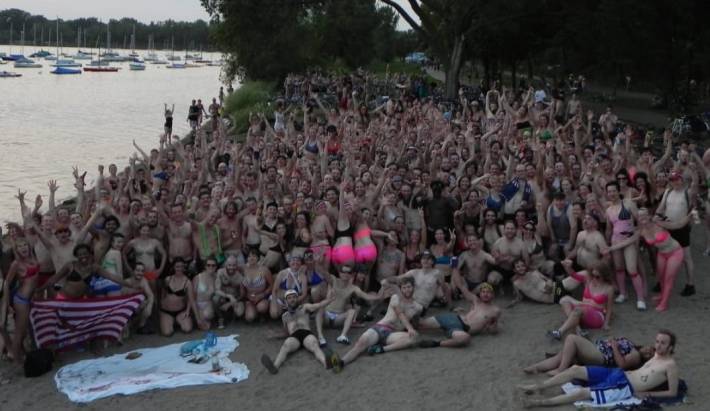 TUESDAY 7.4
Freedom From Pants Ride
Nicollet Island
Is the annual Freedom From Pants ride one of the longest running, kinda-off-the-grid Fourth of July traditions in Minneapolis? Maybe! The event, which started in the mid-aughts, is quickly nearing the 20-year milestone. That's longer than other notorious 4th traditions 10 Second Film Festival (RIP, Soap Factory) and D4 Fourth of July (RIP, Triple Rock). Regardless of what event takes that crown, for (approximately) the past 17 years folks have been stripping to their skivvies, slamming a few cans of beers in a parking lot (usually Arby's), and riding en masse to… somewhere. It's the kind of goofy, feel-good disruptor event that makes friendships, gives you a no-line sunburn, and brings joy to the world. This year's ride will kick off around 6 p.m. at Nicollet Island under the Hennepin Avenue Bridge, with folks heading out around 7 p.m., making their way to the Sabo Bridge–about a 20-minute ride in total. The evening will end with a DJ'd dance party of sorts (and if you still have beer in your backpack, more beer). Come in pasties and a thong, no shirt and jean shorts, or fully dressed–how much skin you show is up to you. But, uh, do spray yourself down with SPF, especially if you're flashing body parts that rarely see the light of day. Don't litter, don't be handsy, and stay safe, folks. It's the American way. Free. p.m. 2 Merriam St., Minneapolis; find more info here.—Jessica Armbruster
Fourth of July Celebrations
Various Locations
Earlier this month, when I was looking for Fourth of July events to possibly include in our Summer Guide, my search for "Red, White, and Boom" kept pulling up AARP-sponsored picnics (for Boomers, I guess?). So, for now at least, the big downtown fireworks show along the river appears to be dunzo. And that's okay. Maybe–hear me out here!–we're even moving toward a post-fireworks era: they're pricey to host, there are always safety concerns, and they traumatize pets. That's said, there are still celebrations around town, albeit more laid back. If you live in the 'burbs, you don't have to go far to find a parade, smaller fireworks show, or mini-fest in a park (try this Explore Minnesota post for lots of good suggestions). If your heart is really set on seeing cool stuff in the sky, you can still head over to Boom Island Park on Monday, July 3, where you'll find a patriotic laser light show featuring tunes, food trucks, and family fun from 8 to 10:30 p.m. If you'd like to make a day of it, Langford Park in St. Paul will be hosting a festival on Tuesday, July 4, that starts with a parade at 11 a.m., then features family fun all day (inflatables, lawn games, live music, picnicking), and ends around 6 p.m.—Jessica Armbruster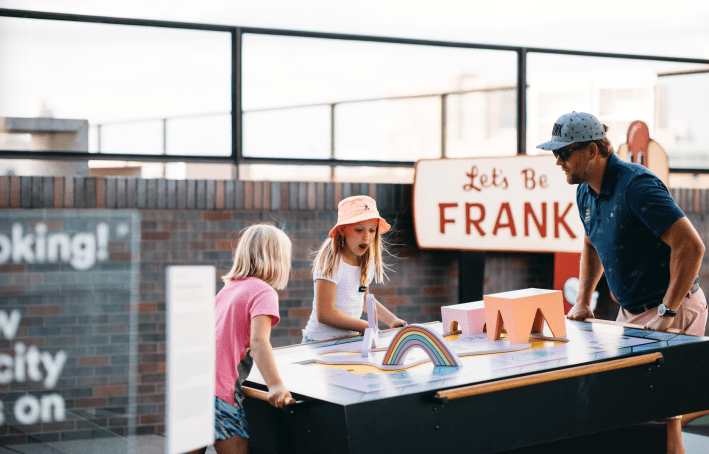 ONGOING
Much Ado About Nothing
Various Locations
Classical Actor's Ensemble is heading back to the parks this summer to bring free Shakespeare to the unwashed masses, as it was originally intended. This year's production is Much Ado About Nothing, a 1600's romcom that pulls out all the greatest hits: mistaken identities, unwanted flirtations, masquerade shenanigans, raging small town gossip, and, ultimately, love. Sorry to spoil it for you, but we all know these things usually end in marriage (if it's a comedy) or mass death (if it's a tragedy). The plot: A group of rowdy soldiers end up in a small Sicilian town. Will the evil Don John succeed at cockblocking? Find the list of dates and locations at classicalactorsensemble.org. Through July 16—Jessica Armbruster
All Hail Parker Posey
Trylon
Parker Posey's dominance of a very particular slice of '90s film defined an era as strongly as any non-star could, as this four-movie series shows. It begins with Party Girl, a glimpse of pre-gentrified Manhattan in which Posey is forced to work as a librarian (the shame!) after an illegal rave she organized gets busted. (The movie was shown online before it hit theaters, a pretty big deal for 1995.)  That's the only movie here fully centered on Posey. She could make her mark with just minutes of screentime in memorable character roles, whether terrorizing freshman girls in Richard Linklater's classic hangout flick Dazed and Confused, or wielding a sword and wearing a huge curly blonde wig in Greg Araki's The Doom Generation, which Ebert famously gave 0 stars for its nihilism. And she practically steals Waiting for Guffman away from the rest of the brilliant ensemble as a DQ worker dreaming (ever-so-vaguely) of success in New York. Oh, and we're helping to sponsor this series, so tell 'em Racket sent ya. $8. 2820 E. 33rd St., Minneapolis; find showtimes and more info here. Through June 27—Keith Harris
The Nicollet xChange
Nicollet Mall
Our city leaders really want us to go to work in downtown from Tuesday through Thursday. Who knows if that's going to happen; it's ultimately up to your corporate overlords. But, if you are one of those people who has to sit at a desk in downtown for money, it's nice to know that this cool weekly event is returning for the summer. Every Tuesday, the Nicollet xChange will turn the Mall into a mini street fest, with a focus on swapping goods and selling sustainable fashion and home items. Bring things to trade, from art to sports equipment, and take something new (to you, at least) home. There will also be live music, a market featuring local makers, freebies, and food trucks lining the Mall. Free. 11:30 a.m. to 1:30 p.m. 901 Nicollet Mall (9th and Nicollet), Minneapolis. Through August 29—Jessica Armbruster
Wild Nights at the Minnesota Zoo
Minnesota Zoo
Imagine a zoo with nary a child, one where you can sip wine and watch animals do their thing as the sun sets. Impossible, you say? Nope! We're talking about Wild Nights at the Minnesota Zoo, a summer series for grownups. During these events folks can explore all the trails and exhibits until 8 p.m. (hilariously, they note that food and drink is not allowed in the Llama Trek walk-through exhibit). Each installment will feature a variety of concerts, all themed that night around a specific genre–country, hip-hop, blues, '80s New Wave, etc. Tonight's music is brought to you by Malamanya, which will play old-school Afro-Caribbean tunes. Upcoming highlights this summer include Chastity Brown (June 22), the Cactus Blossoms (July 6), Joyann Parker Band (July 20), Nur-D (August 3), Information Society (August 17), Frogleg (August 31), and Kat Perkins (September 14). Find tickets and more info online. 18+. $40. 6-10 p.m. 13000 Zoo Blvd., Apple Valley. Through September 14—Jessica Armbruster
Skyline Mini Golf

Walker Art Center

Are we a mini-golf town? Signs point to yes, as we have trendy bar mini golf (Puttery, Arts + Rec), campy mini golf (Can Can, Betty Danger), old school mini golf (Big Stone, Golf Zone), and, yes, museum mini golf. For over 15 years, the Walker's Mini Golf has been a sign of spring, whether it's popping up in the sculpture garden or its more recent home on the skyline terraces. This year's installation features 10 holes total; highlights include a Hmong textile-inspired hole created in collaboration with the Asian American Organizing Project's Youth Action Team, and two holes from Native Youth Arts Collective. Returning hits include the hot dog hole, the one where you have to bounce off of ping pong paddles, and the one where you become the obstacles and hazards. Find more info at walkerart.org. $12. 725 Vineland Place, Minneapolis. Through October 1—Jessica Armbruster 
Paul Chan: Breathers
Walker Art Center

Can those inflatable tube guys used to drive people to sales be art? If it's in the Walker Art Center then, yes, it can. But that would be oversimplifying the work of Paul Chen, a Hong Kong-born, Nebraska-raised, NYC-based writer, publisher, and artist. In the '90s and '00s, Chan garnered attention releasing videos, animations, fonts, and more, often for free on his website, nationalphilistine.com. These pieces explored pleasure, war, politics, and human interactions. But by 2009, he had burned out, tired of looking at a screen. Relatable. Five years later, after a brief, you know, "breather," he found a new way to explore movement and meaning without a computer, instead using physics, fabrics, and fans to create shapes that move about in interesting ways (and, thankfully, won't try to sell you a car).  You can see these kinetic sculptures at the Walker; the show will also include some video installations as well as pieces from his publishing company, Badlands Unlimited, which releases poetry, erotica, artists' writings, and more. 725 Vineland Place, Minneapolis. Through July 16, 2023—Jessica Armbruster
Stay in touch
Sign up for our free newsletter