Events
Summer Guide 2023: Concerts, Festivals, Comedy
It's not officially summer yet, but it's already summer in our minds and hearts.
7:42 AM CDT on May 31, 2023
Welcome back to Racket's Summer Guide; we hope you use this as a resource to help plan your summer, when the days are long and the weekends go fast.
This post features some great concerts we're excited to see, the festivals we count on returning every year, and a handful of comedy shows you won't want to miss. Stay tuned this week and next for more Summer Guide stuff, including posts covering farmers' markets, bike stuff, camping info, and lots more.
Happy summer, everyone! Make the most of it.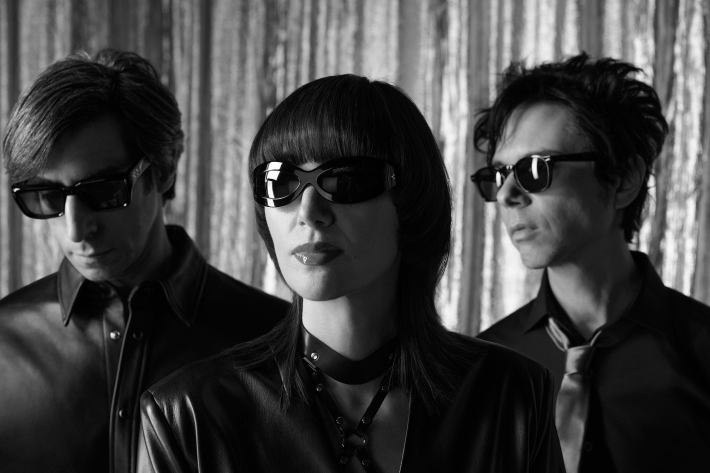 CONCERTS
Yeah Yeah Yeahs
The Armory
These 9/11-era New York rock revivalists haven't played the Twin Cities since 2013, which means countless Minnesotans of drinking age (and older!) have never had the chance to see Karen O in her full onstage glory. (Or hear Nick Zinner's guitar at its full three–dimensional electronic thrum, for that matter.) The trio is touring behind Cool It Down, their first album in nine years, and though it doesn't explode with the eager post punk bombast of Fever to Tell or strut with the high-stepping femme glamor of It's Blitz!, it will contribute several stylish additions to their setlist. And recordings never quite did this band justice anyway. Opener Mike Hadreas, aka Perfume Genius, appears on the lead track, "Spitting off the Edge of the World," and the band seems inspired by his midtempo theatricality throughout. He's a good role model. All ages. $98+. 8 p.m. 500 S. 6th St., Minneapolis; find more info here. June 3—Keith Harris
The Cure
Xcel Energy Center
When Ticketmaster costs and rampant scalping overwhelmed their fans, Taylor Swift handed matters over to the feds, Bruce Springsteen shrugged and essentially said "Them's the breaks," and Beyoncé? Well, she was unreachable in Dubai. But the Cure's Robert Smith, bless his obsidian little heart, not only took steps to limit ticket resales, but actually negotiated the behemoth down to save his fans money after they slapped their usurious fees on tickets for the band's current tour. The "Songs of a Lost World Tour," which hits North America after its current European leg, is named for a new album that didn't materialize as planned before the band hit the road, but the Cure have been beginning and ending their sets with two new songs, "Alone" and "Endsong," that will presumably surface on the album when it finally drops. The rest of the night is given over to material from the band's—get this—nearly 50-year career, including the long lugubrious stuff you diehards cherish and the college-radio synthpop preferred by poseurs like me. With the Twilight Sad. Sold out. 7:30 p.m. 199 W. Kellogg Blvd., St. Paul; find more info here. June 8—Keith Harris
Tyler Childers
The Armory
Stylistically, lyrically, and conceptually, Childers has been an especially ambitious country traditionalist (don't dare call him Americana!) since he cut his first record at 19. He closed his otherwise instrumental bluegrass album, A Long Violent History, with a title track that addressed the past and present of racism. For his fifth album, he went gospel—and how. Can I Take My Hounds to Heaven? repeats eight songs in three different versions: A "Hallelujah" version recorded with his band the Food Stamps, a "Jubilee" version that brings in horns and strings for a near-Dixieland feel, and a "Joyful Noise" version of remixes that incorporates samples. He doesn't skimp on the theology either: "The Triune God" gets a titular shout out and Childers revisits his old track "Purgatory," where he hopes the Catholics are right that there's a third option for the afterlife because otherwise he's bound for Hell. As for the title track, Childers lets some kindly proselytizers know that if he can't bring his pooches along to the hereafter, that's a dealbreaker for this hunter. With Marcus King. $189+. 7 p.m. 500 S. Sixth St., Minneapolis; find more info here. June 14—Keith Harris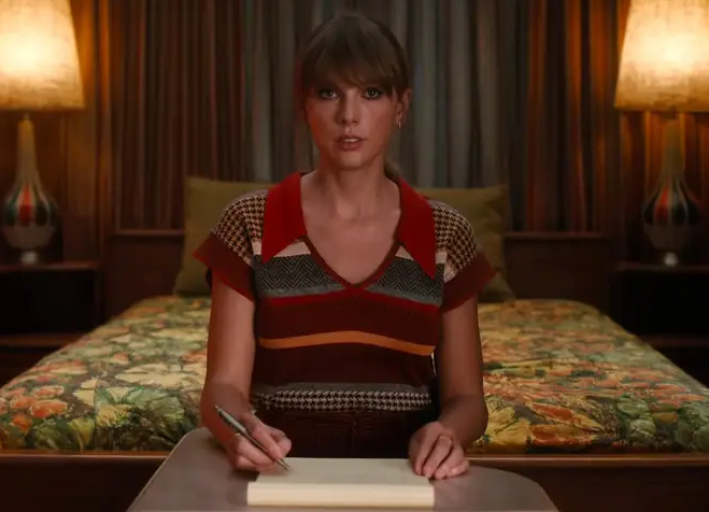 Taylor Swift

U.S. Bank 
Haha, right, what are you, made of money? Even for the nosebleeds, resale tickets are stretching well into the four digits. Meanwhile, the entrepreneur-next-door has just re-re-released (I may be missing a "re-" or two there) her latest, Midnights, which is indeed mid by Swift's high standards, with a phoned-in Ice Spice feature on "Karma" the supposed value added. But before we get too cynical, here's a review of Swift's recent Philly show from my teen niece, whose mom somehow scored some (relatively) reasonably priced tix: "It was the best day of my life." The "Eras Tour" not only celebrates a songbook as deep as any 21st century popular musician's but a series of considerable career achievements. Swift reclaimed mainstream country for women (if ever so briefly), crossed over adeptly into megapop, then relaxed into "indie" songwriter mode. Does it help that she's a long-legged white woman who comes from two generations of Wall Street bankers? Sure, but even if you're born on third base, stealing home is an achievement. With girl in red and Gracie Abrams on June 23 and girl in red and OWENN on June 24. Sold out. 6:30 p.m. 401 Chicago Ave., Minneapolis. June 23-24—Keith Harris 
Wednesday
First Avenue 
The most celebrated young indie-rockers of 2023 ain't exactly a new band—on the critically acclaimed Rat Saw God is this Asheville, North Carolina quartet's fifth album, you can hear a group that's both worked out some kinks and fallen into some habits. At Wednesday's mossy, humid core is the expressive drawl of singer/songwriter Karly Hartzman, whose yelps occasionally hint at Hop Along's Frances Quinlan, though more grounded (good) and less transcendent (less good). As guitarist MJ Lenderman inflects his noisemaking with just the slightest hint of twang, they sound like they learned everything they know about Crazy Horse and Skynyrd from the Drive-By Truckers. And yet, they probably didn't, judging by their adventurous taste in covers on their 2022 album, Mowing the Leaves Instead of Piling 'em Up. When's the last time you heard anyone under 40 mention Gary Stewart, let alone try their hand at "She's Acting Single (I'm Drinking Doubles)"? With Tenci. $20/$22. 8 p.m. 701 N. First Ave., Minneapolis; find more info here. June 28—Keith Harris 
Erykah Badu and Yasiin Bey
Xcel Energy Center
Will we ever get a new Badu album? Since she released the brilliant New Amerykah Part Two (Return of the Ankh) in 2010, all we've had was the playfully offhand EP Phone. But she'll remain an unmissable live act even if she never records another note, because it's in concert that she truly allows her eccentric spirit to range. (When I saw her at the Armory in October 2021, she led us in a chant of "Leave other people's bitches alone.") The title "Queen of Neo-Soul"—a sobriquet I don't doubt she hates, preferring to be addressed by her alter egos like "Badulla Oblongata" and "Sara Bellum"—shortchanges her. Badu's opening act, once known as Mos Def, hasn't been prolific himself lately—his last solo album could only be heard at a Brooklyn art exhibit. But his reunion with Talib Kweli as Black Star last year, No Fear of Time, was surprisingly lively. If I'm reading the Ticketmaster visual correctly, Badu is only selling tickets for the floor and 100 level, so this could be slightly more intimate than your typical arena show. $80.85 and up. 7:30 p.m. 199 W. Kellogg Blvd., St. Paul; find more info here. June 30—Keith Harris
Taste of Minnesota
Nicollet Mall
Welcome back Taste of Minnesota, the two-day free festival along Nicollet Mall that city leaders are framing as a Minneapolis-is-back victory lap. Summoning his trademark peppiness, Mayor Jacob Frey hyped the rebooted event earlier this month to reporters: "This is not getting back to the old normal, we're attracting new events, new talent, new kinds of experiences—and that's what this Taste of Minnesota is all about." In practice, that'll mean two top-billed acts—'90s rockers Third Eye Blind and Outkast's Big Boi—who, in terms of draw, seem to be more like First Avenue headliners than festival ones, but who are we to quibble with a free event that'll also boast fleets of food trucks and wrestling? Curiously, the whole shebang will be made possible by a one-time $1.85 million stipend issued by the state to co-sponsor the Minneapolis Downtown Council, a nonprofit civic booster org. The money is being designated exclusively for Taste of Minnesota, which is expected to draw 100,000 people over two days. Organizers hope to secure a "multi-year commitment" to bring the fest back to downtown following its debut. The food 'n' tunes bash was held outside the State Capitol through the '80s and '90s, relocated to St. Paul's Harriet Island in 2003, and, finally, lasted for a couple of years in Waconia before shutting down in 2015. Free. 250 Nicollet Mall, Minneapolis; find more info here. July 2-3—Jay Boller
Etran de l'Aïr
Turf Club
There's no shortage of Tuareg "desert blues" available to US listeners—Bombino and Mdou Moctar may not be household names, but anyone with a passing interest in African rock has heard them jam. And as far as touring African musicians go these days, you're as likely to catch a Saharan guitar-slinger on a local stage as you are a Malian kora-meister or even an Afrobeats pop star. No, wait, stay with me here. Even if nothing I've written so far makes a lick of sense to ya, anyone who likes electric guitars and propulsive grooves—not a small audience, right?—should check out Etran de l'Aïr. With their great 2018 debut, No. 1, this Niger family band secured their place among the premier practitioners of blues Saharan rock, with its circular melodies, triumphant ululations, and flashy improvisations. Their 2022 followup, Agadez, was even more impressive—a bit more virtuosic, the rhythms less choppy. On the album at least, they're much less Hendrix-y than popular fave Moctar, but we'll just have to see where their guitars go when they cut loose live. $17/$20. 8 p.m. 1601 University Ave. W., St. Paul; find more info here. July 5—Keith Harris
Fall Out Boy
Somerset Amphitheater 
Rarely do Racket's live music recommendations take you beyond the borders of the Twin Cities, but Fall Out Boy's "So Much for (Tour) Dust" dates don't roll through Minnesota, which means we've gotta send ya east. And honestly, doesn't a night outside on the Somerset lawn, listening to "Sugar, We're Goin Down" and "Grand Theft Autumn/Where Is Your Boy" sound kind of perfect? Kind of like something that you, as an elder emo, would be bummed to miss? Sure, it's a Thursday, but your boss'll understand that you need to scoot out a little early—just tell her how much stuff they've been playing off Take This to Your Grave lately. With Bring Me the Horizon, Royal & The Serpent, and CARR. All ages. $26+. 6:30 p.m. 715 Spring St., Somerset, Wisc.; find more info here. July 13—Em Cassel
TC Summer Fest
Target Field
I'm old enough to remember 2014's short-lived, unfortunately named, yet very fun "Indie Night" at Target Field. This similarly booked mini fest should have a similar appeal, and thankfully utilizes one of the metro's most underused and best large-scale outdoor concert venues. Friday's lineup of the Killers, the Flaming Lips, Death Cab for Cutie is the one to catch (baseball term), while Saturday's bill of Imagine Dragons, AJR, and Chelsea Cutler is, uh, um, well… it's just nice to see music outside, isn't it folks? You might need a Carlos Correa-sized bank account to attend, however (baseball analogy). $74-$406. 1 Twins Way, Minneapolis; find more info here. July 14-15—Jay Boller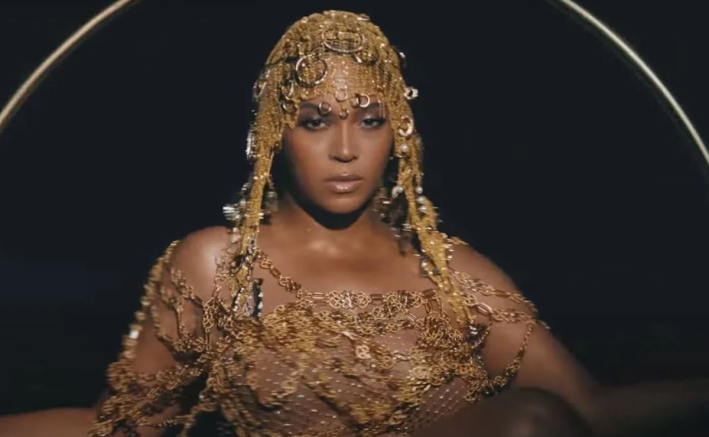 Beyoncé 
Huntington Bank Stadium
Beyoncé's critically adored 2022 album Renaissance is a call to party that's defined as much by its ambition as its groove—she's determined to gather unto herself every rhythm from the past 50 years, and to show her work. Dense, with disparate beats and styles grinding up against each other, the mood is less DJ set than club crawl, working the tension between the sweaty reality of a night out and the promised transcendence of the dancefloor. And like after any good Saturday night, tomorrow morning you'll still remember the best parts: the church girls actin' loose, the "Cuff It" crew fuckin' up the night, the "revolutionary" (heh, sure) call to quit your job. Her chameleonic vocal shapeshifting remains astonishing, and there's something (as always) both imperial and empathetic about how Bey incorporates (double meaning intended) her influences into her singular being—she's every woman. As for how it'll play live, well, probably no contemporary pop star has a better sense of how to use a stadium. So pretty well, I'd guess. $135 and up. 7 p.m. 2009 University Ave. SE, Minneapolis; find more info here. July 20—Keith Harris
Paramore
Xcel Energy Center
There's something that's been very healing to me about watching Hayley Williams and Paramore thrive. (I know, I know, parasocial relationships are bad and weird, but… what about ParaMOREsocial relationships?) She literally invented having bright orange hair [citation needed], and now she runs her own super-cute dye brand. Just last year, she started performing "All I Wanted" live, something fans long speculated would be impossible given the dramatic vocal range the song requires. There's just a tremendous sense of ease, and also joy, about her these days, and from the live videos I've seen it's translating into an incredible show-going experience. This is gonna be a good one. All ages. $46.50+. 7 p.m. 199 W. Kellogg Blvd., St. Paul; find more info here. August 2—Em Cassel
Zach Bryan

Target Center
This 27-year-old Navy vet is the kind of popular phenomenon that heartens music lovers who worry over whether mass success can still occur outside the constrictions of the pop machine. Bryan's 34-song major label debut, American Heartbreak—two-hours of melodically ambient and vulnerably macho country-folk that never distracts you from more pressing matters with such tawdry concessions to pleasure as radio-friendly hooks or contemporary beats—hit the top 10 on its release in 2022. Sure Billboard's chart methodology favors overlong albums, but even so this Oklahoma boy's aesthetic (unrelenting heartland fatalism as singalong mood music) hit home with a not insignificant fan base. Personally, I wish he wouldn't prove his upstanding downhome decency by regularly presenting himself as the wronged party when it comes to love. But he seems like a good dude, as such things go—his live album is called All My Homies Hate Ticketmaster, and he's taken steps to protect his fans from jacked up prices. With Charles Wesley Godwin. 8 p.m. 600 N. First Ave., Minneapolis; find more info here. August 9—Keith Harris
The National and the Beths
 Armory
Matt Berninger is a damn menace. Whether insisting that his soon-to-be ex keep their Afghan Whigs CDs or that his mate's optimism is driving him even deeper into depression, the moody baritone does what he does best on the National's latest, First Two Pages of Frankenstein: makes middle-aged male despair not just emotionally affecting but kinda sexy. In some ways, the new National album is a retreat from its predecessor, I Am Easy to Find, which opened up the claustrophobia by incorporating a series of female vocalists. (Guest appearances here from Phoebe Bridgers and Taylor Swift here don't quite count.) But what justifies Berninger's melancholy is his writing, which always roots his dejection in some concrete life situation, and a quality in his voice that suggests (to this despairing middle-aged male, anyway) that he'd rather not feel this way. Note that this is the same night as the Zach Bryan show—how are area saddos to choose? As for show openers the Beths, I've waxed euphoric plenty about them in the past. $57 and up. 7:30 p.m. 500 S. Sixth St., Minneapolis; find more info here. August 9—Keith Harris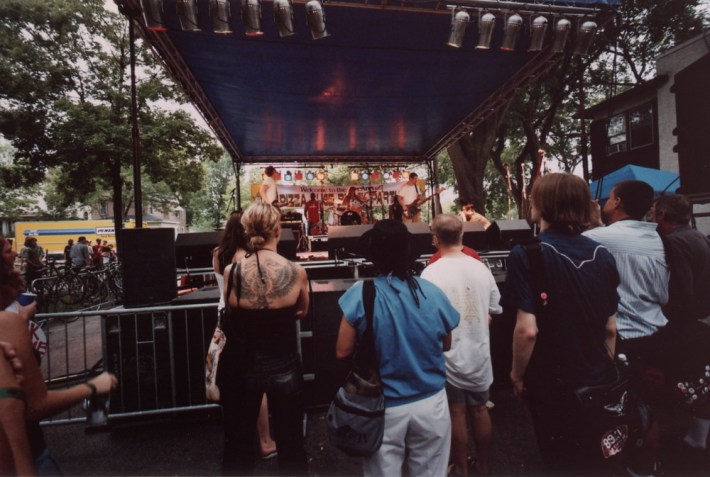 Pizza Lucé "Back on the Block" Party
Downtown Pizza Lucé
After three years off, the Pizza Lucé Block Party is back, just like the name this year says. The long-running block party, which returns for the first time since 2019 on August 12, is being touted as a celebration of the local pizza chain's 30th anniversary this year, and it's presenting a solid lineup of Twin Cities musicians. Among them is Dua Saleh, the charismatic Sudanese-born, St. Paul-raised rapper who, unless we missed something, hasn't performed locally in a bit. (Appearing on Netflix's Sex Education might have something to do with that.) Indie poppers Bad Bad Hats, who just celebrated the 10th anniversary of their breakthrough EP, It Hurts, will also perform, as will Vial, who just did a fun cover of Nirvana's "Territorial Pissings." Rounding out the announced acts are moody synth-poppers Graveyard Club and friendly local punks Supportive Parents. (Three more artists will be announced later.) We won't know what this all costs until tickets go on sale on June 4, though we know the days of free Lucé block parties are long behind us. 2:30-10 p.m. 119 N. Fourth St., Minneapolis; find more info here. August 12—Keith Harris
Lil Baby

Target Center 
The reigning trap king of Atlanta isn't brooding like Future or dynamic like Migos or weird like Young Thug. He's anxious, even at his most boastful, a mood that's in dynamic tension with his nimbly frictionless flow, which finds melodic nuances in even the most rotely rattling 808s. While he won over white liberal music critics with the post-uprising crisis of conscience "The Bigger Picture," that wasn't really a sign of what was to come. His straightforward latest single, "Go Hard," is more what he's about. And if he's yet to deliver a truly consistent full-length album, who listens to albums anymore anyway, right? I'm honestly more excited by opener GloRilla, the Memphis neo-crunk troublemaker who owned 2022 with the ratchet hits "F.N.F. (Let's Go)" and "Tomorrow," not to mention her girl GLOSS Up. With Rylo Rodriguez and Hunxho. $49 and up. 7 p.m. 600 N. 1st Ave., Minneapolis; find more info here. August 19—Keith Harris
The Chicks 
State Fair Grandstand

Natalie Maines sounds plenty more pissed—and so, plenty more engaged—on the rechristened trio's 2020 comeback, Gaslighter, than she did on Taking the Long Way in 2006, back when she, Martie Maguire, and Emily Strayer were nursing their wounds in the aftermath of a culture war against them. Thank (if that's the right word) Maines's ex-husband Adrian Pasdar, who was so worried by her breakup songs he wanted a court to determine if they violated the confidentiality clause in their prenup. (Good thing that never happened or we might not ever have gotten the lyric "My husband's girlfriend's husband just called me up/How messed up is that?" not to mention the very specific "Tights on My Boat.") Sure you'll probably show up for the oldies, but with much maligned, ubiquitous producer Jack Antonoff contemporizing their sound, the new stuff holds its own. With Wild Rivers. $77-$197. 7 p.m. 1265 Snelling Ave., St. Paul; find more info here. August 25—Keith Harris
The Hold Steady, Bob Mould, and Dillinger 4
State Fair Grandstand 
The State Fair's Grandstand lineup typically features a whole lotta Alabama-adjacent Boomer throwbacks, but this year's lineup is more or less stacked. You've got, among others: the Black Keys (August 24), the Chicks (August 25, see above), Boyz II Men with Chaka Khan (August 27), Brandi Carlile (August 29) Yung Gravy (August 30), and Duran Duran (August 31). And then along comes 89.3 the Current's Music On-A-Stick showcase, featuring locally inspired Brooklyn rockers the Hold Steady, St. Paul-launched punk legend Bob Mould of Hüsker Dü, and Minneapolis punk greats Dillinger Four. If you checked out on the Hold Steady after their two dud '10s records, we beg of you: Check back in. Craig Finn's band has been back in a major way since 2019, having released three albums that take the group in exciting musical directions while laying the platform for Finn's still-sharp lyrical meditations on once-wild characters who've aged with him. The last two Hold Steady LPs, 2021's Open Door Policy and this year's The Price of Progress, lack the urgency of those first three, though they showcase an older, wiser group that's thankfully not content becoming a legacy act. It's a good time to be a THS fan. $22-$37. September 2. 1265 Snelling Ave., St. Paul; find more info here.—Jay Boller
Ween
Surly's Festival Field
It really is a tale of two concerts in early September at Surly. On one hand, you've got the rock 'n' roll mad scientists of Ween, whose outrageous career has been spent flipping off any notion of genre confinement. And, on the other, you've got soul-rock schmaltzers Train playing on 9/11 three days later. But we're here to talk about Ween, who rock. Formed in 1984 by junior high buddies Gene and Dean Ween (not their legal names), the Pennsylvania group graduated from the lo-fi punk of their early years on Minneapolis's own Twin/Tone Records to grand, bizarre, and always catchy artistic statements like 1997's The Mollusk on major labels. Ween split in 2012, reunited in 2015, and played sporadic comeback shows, including a '16 on at St. Paul's Roy Wilkins Auditorium, before Covid shut things down. This run of shows is being billed as their very major reunion tour, which is surely sweet news for their Deadhead-level devotees. $65. 520 Malcolm Ave. SE, Minneapolis; find more info here. September 8—Jay Boller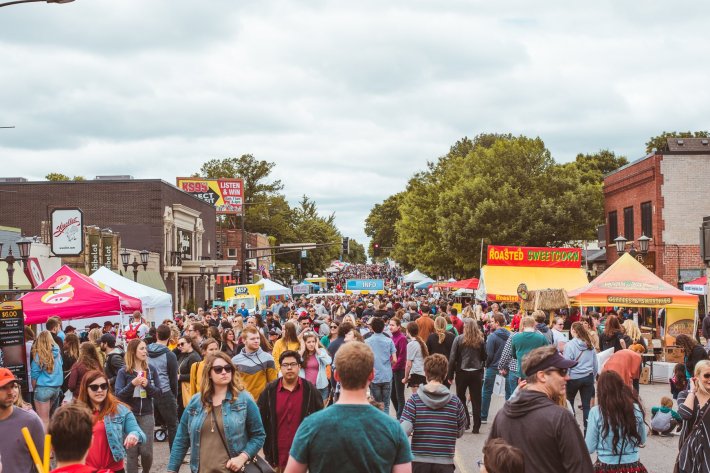 FESTIVALS
Grand Old Day
Grand Avenue
Billed as "the largest free festival in the Midwest," Grand Old Day is returning after being mothballed in the early days of the pandemic. The 30-block event will be just like you remember since the '70s, with parades, car shows, fun runs, weiner dog races, beer gardens, kiddo activities, 150 food options, vendors, small-biz boosterism, and, of course, live music across seven stages. Headlining are alt-country staples the Jayhawks, indie-pop standouts Bad Bad Hats, and Lizzo's talented DJ/buddy Sophia Eris. Free ($10 for beer garden wristbands; $50 for VIP passes). 11 a.m. to 6 p.m. Grand Avenue, St. Paul; find more info here. June 4—Jay Boller
Wild Nights at the Minnesota Zoo
Minnesota Zoo
Imagine a zoo with nary a child, one where you can sip wine and watch animals do their thing as the sun sets. Impossible, you say? Nope! We're talking about Wild Nights at the Minnesota Zoo, a summer series for grownups. During these events folks can explore all the trails and exhibits until 8 p.m. (hilariously, they note that food and drink is not allowed in the Llama Trek walk-through exhibit). Each installment will feature a variety of concerts, all themed that night around a specific genre–country, hip-hop, blues, '80s New Wave, etc. Upcoming highlights include Malamanya (June 8), Chastity Brown (June 22), the Cactus Blossoms (July 6), Joyann Parker Band (July 20), Nur-D (August 3), Information Society (August 17), Frogleg (August 31), and Kat Perkins (September 14). Find tickets and more info online. 18+. $40. 6-10 p.m. 13000 Zoo Blvd., Apple Valley. Through September 14—Jessica Armbruster
Skyline Mini Golf

Walker Art Center
Are we a mini-golf town? Signs point to yes, as we have trendy bar mini golf (Puttery, Arts + Rec), campy mini golf (Can Can, Betty Danger), old school mini golf (Big Stone, Golf Zone), and, yes, museum mini golf. For over 15 years, the Walker's Mini Golf has been a sign of spring, whether it's popping up in the sculpture garden or its more recent home on the skyline terraces. This year's installation features 10 holes total; highlights include a Hmong textile-inspired hole created in collaboration with the Asian American Organizing Project's Youth Action Team, and two holes from Native Youth Arts Collective. Returning hits include the hot dog hole, the one where you have to bounce off of ping pong paddles, and the one where you become the obstacles and hazards. Find more info at walkerart.org. $12. 725 Vineland Pl., Minneapolis. Now through October 1—Jessica Armbruster 
Open Streets Minneapolis
Various Locations
Summertime road closings kinda suck… unless we're talking about Open Streets, where the lack of traffic just means there's more room to party. This season's installment will feature five neighborhood locations where the main drags will be closed to cars, but open to people on foot, on bike, or on other non-motorized modes of travel. Along the way you'll find a variety of stuff to see and do, including parking lot concerts, sidewalk sales, middle-of-the-road yoga sessions, and pop-up beer gardens. Things kick off Saturday, June 10, on East Lake Street, followed by Glenwood (July 16), Cedar Riverside (August 20), West Broadway (September 16), and Lyndale Avenue (October 8). Free. All events begin at 11 a.m. and run until 5 p.m. Find more details at openstreetsmpls.org. June 10 through October 8—Jessica Armbruster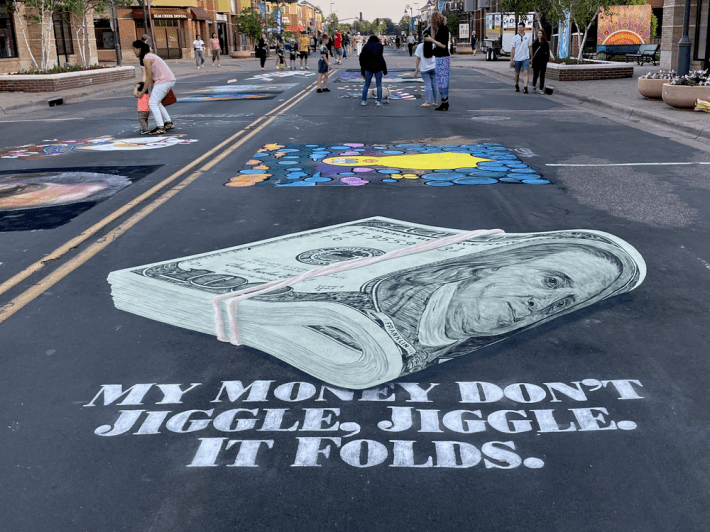 Chalkfest Maple Grove
Downtown Maple Grove
Chalk art is hella cool. Every summer, folks from around the globe come to the suburbs of Minnesota to show us that this very temporary form of art can be so much more than a simple sidewalk scrawl. We're talking about hyper-realistic nature pieces, "3-D" optical illusion that make for great Insta sharing, and stuff that looks like it walked out of a beautiful children's book. You can watch artists' create these pieces live during the weekend, and, in some cases, they might even invite you to help out. Otherwise, Sunday is when the crazy photo ops of finished pieces begin. Find a map and more details at chalkfestmaplegrove.com. Free. 10 a.m. to 5 p.m. Saturday and Sunday. Main Street, from Elm Creek Boulevard to Arbor Lakes Parkway, Maple Grove. June 10-11—Jessica Armbruster
Much Ado About Nothing
Various Locations
Classical Actor's Ensemble is heading back to the parks this summer to bring free Shakespeare to the unwashed masses, as it was originally intended. This year's production is Much Ado About Nothing, a 1600's romcom that involves all the greatest hits: mistaken identities, unwanted flirtation, masquerade shenanigans, raging small town gossip, and, ultimately love. Sorry to spoil it for you, but we all know these things usually end in marriage (if it's a comedy) or mass death (if it's a tragedy). The plot: A group of rowdy soldiers end up in a small Sicilian town. Will the evil Don John succeed at cockblocking? Find times and locations at classicalactorsensemble.org. June 16-July 16—Jessica Armbruster
Juneteenth Minnesota
Allianz Field
Looking for something free and family-friendly to do on Juneteenth? This event at Alliance Field, organized by the Anika Foundation, looks like it's going to be a lot of fun. Onstage will be a variety of performances, including a hip-hop retrospective and community griots. There will be all kinds of African foods, from Somali treats to U.S. soul food eats. A kids' fun zone will keep 'em busy, and a marketplace will showcase Black vendors. Wellness screenings and other services will also be available, as will financial resources. Add in some art and history exhibits, and you have a wholesome community driven celebration for all. Free. Noon to 4 p.m. 400 Snelling Ave. N., St. Paul. June 17—Jessica Armbruster
Stone Arch Bridge Festival
Stone Arch Bridge
Father's Day weekend means the return of the Stone Arch Bridge Festival, a multi-day event featuring art, food, and music. This year, over 200 artists will be featured at the juried show, with jewelry, pottery, woodwork, paintings, and more for sale and on display. There are also three separate makers' markets to explore: the Black Market, featuring Black-owned businesses and entrepreneurs; the Vintage and Vinyl Market, where you can dig through history for cool finds; and the Culinary Arts Market, where local artisans are serving up delicious foods, condiments, coffees, and other stuff for your kitchen. Bailame Dance Festival will host a social-dance party with tunes from DJs (find them at Portland and the River Parkway), and the car show will be the prettiest parking lot ever, with vintage cars, modded oddities, and more. Two stages of live music will feature mostly local acts, including Guante, Bethany Larson & the Bee's Knees, Night Jobs, Brasszilla, Dan Israel, and many more. For more info, visit stonearchbridgefestival.com. Free. 10 a.m. to 7 p.m. Saturday; 10 a.m. to 5 p.m. Sunday. 212 SE Second Ave., Minneapolis. June 17-18—Jessica Armbruster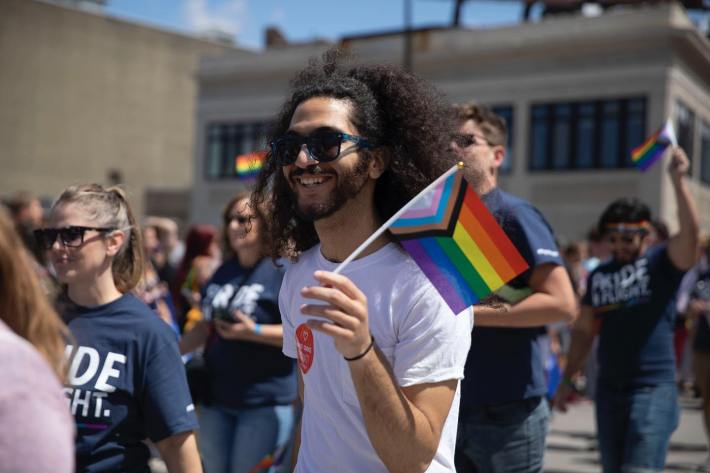 51th Annual Twin Cities Pride
Loring Park
As weird as this may sound, the best part of Twin Cities Pride is actually the crowds. That's because, even when the weather is hot as hell, the people who come to this fest are so damn friendly and nice. At the park, you'll find all kinds of stuff to do, including sporting events, live music, a beer garden, and food truck eats. The off-site, often unaffiliated happenings are usually pretty fun too, including the dance parties (we love Grrrl Scout), tons of drag shows (Sasha Colby is already scheduled at the Pourhouse), and lots of good vibes at the Union Rooftop, the 19 Bar, and at Bryant-Lake Bowl's free Pride Block Party, which is back after a brief hiatus. There's no headline concert this year at the official Pride event, but with Taylor Swift at U.S. Bank Stadium this weekend that's probably a wise move. If you can only make it to one event though, Sunday afternoon's parade is always a good time (and often it's super long!). For a full schedule of happenings, visit tcpride.org. Free. 6 to 9 p.m. Friday; 10 a.m. to 6 p.m. 10 a.m. to 7 p.m. Saturday; 10 a.m. to 6 p.m. Sunday. 1382 Willow St., Minneapolis. June 23-25 —Jessica Armbruster
Minnehaha Falls Art Fair 2023
Minnehaha Falls
Is the Minnehaha Falls Art Fair the most scenic of the art fairs in town? It's got our vote. Here you can order up beer from Sea Salt, and make your way through about 150 artists stalls, including jewelry makers, candle makers, local T-shirt printers, and all kinds of other cool stuff. Added bonus: Each artist will have at least a handful of items priced at $30 or less. For sustenance, food trucks will be stopping by and, honestly, the Sea Salt usually isn't any worse than it's typical rush hour line. Plus, if you need a break from the crowds you can visit the gorgeous falls. 3-8 p.m. Friday; 10 a.m. to 7 p.m. Saturday; 10 a.m. to 5 p.m. Sunday. July 14-16—Jessica Armbruster
Twin Cities Tattoo Convention
St. Paul RiverCentre
Do you ever get an itching to get more ink done in the summer? Then head over to this giant tattoo get-together to get ideas for your next piece. Over three days, artists from around the world will make their way to the city to ink people, talk about their process, and make connections with other body mod people. Featured artists this year include the folks who came from far away, like Erin Chance (New Zealand), as well as folks like Scotty Munster, who are basically living just down the street (St. Cloud). While some artists expect you to book months in advance for this event, others will be taking people on a first-come, first serve basis. So whether you are looking for a thoughtful full sleeve or just a bit of flash, you'll have options. Check out participating artists and find more info online. $30 (cash only at the door); $65 weekend pass. Noon to 10 p.m. Friday; 11 a.m. to 10 p.m. Saturday; 11 a.m. to 7 p.m. Sunday. 175 Seventh St. W., St. Paul. July 14-16—Jessica Armbruster
Minneapolis Aquatennial
Various locations
The details are still a little sparse on this one, but it looks like the Minneapolis Aquatennial is still on… in some capacity. On Wednesday, July 19, the Torchlight Parade returns, with bands, community organizations, dancers, and illuminated creations marching their way from 12th to Fourth Street on Nicollet, starting at about dusk. Meanwhile, the fireworks show along West River Parkway on Saturday, July 22, will light up the sky from a variety of viewing locations along the river starting around 10 p.m. Check out aquatennial.com for more details. July 19-22—Jessica Armbruster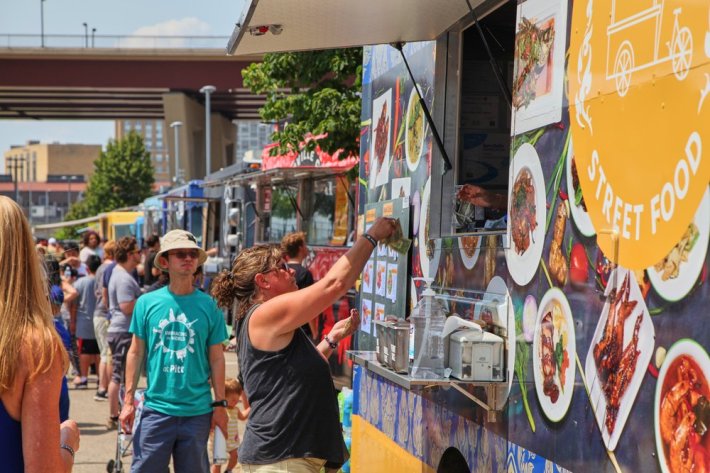 7th Annual St. Paul Food Truck Festival
Union Depot
Food trucks are where you can get some of the best eats around town. This summer, the Depot is hosting a super big gathering of wheel-based food, as over 60 trucks will be parking in their lot from brunchtime through the late-night snack hour. A few items mentioned on the menu: lobster rolls, gourmet donuts, birria tacos, papaya salad, ribs, hand pies, fancy pizza, and deep fried ice cream. The trucks won't be limited to food, however, as vintage fashion trucks, vinyl record trucks, and a photobooth truck will also be stopping by. Giant lawn games, rock bands onstage, and a lot of beer (pick up a free wristband at the gates) round out this tasty event. Find more details and the official lineup of trucks when it becomes available here. Free. 11 a.m. to 9 p.m. 390 E. Kellogg Blvd., St. Paul. July 22—Jessica Armbruster
Romeo and Juliet: A Pickup Truck Opera
Various Locations
For the past 15 years, Mixed Precipitation has brought accessible opera shows to parks, community gardens, and wineries throughout the metro and beyond. (The "pickup truck" in their name is a nod to the 2011 Ford Ranger Pickup that serves as their ride and, often, as part of their stage.) This year, they're reimagining Romeo and Juliet via Vincenzo Bellini's 1830 opera, I Capuleti e i Montecchi (The Capulets and the Montagues) for the modern day. In 2023, Juliet is a social media guru, helping folks live their best lives with DIY videos, recipes, and reviews while banished Romeo is sharing his carefully curated van-life from the road. Will the two manage to elope without creating a wave of murder and suicides? (Like I said above, we all know how these things end.) And, despite their name, this isn't an opera-only operation: Tunes will include hits from the Fugees, the Pixies, and Fleetwood Mac. Make reservations at mixed precipitation.org. $10-$20 suggested donation. July 29-September 10—Jessica Armbruster
Fringe Festival
Various Locations
For the past 30 years, the Fringe Festival brought thousands of artists to the stage for hundreds of productions that have entertained millions. Artists local, national, and international come to town each summer to present theater in pretty much every format, genre, and on any topic imaginable. The list of troupes and performers are up on the official website; what they'll be offering is not up yet. But you will be able to find pretty much anything your heart desires, be it a pop-culture comedy, a one-woman monologue, a queer romcom, a political satire, a dystopian sci-fi, or a comically bad piece you can't escape fast enough. Hey, there's a lot of stuff here, so there will be duds with the delights–that's half the fun. Most shows hit around 30-45'ish minutes, so if you end up at one of those, at least it will be over soon. Plan your Fringe by checking out the schedule at minnesotafringe.org. August 3-13—Jessica Armbruster
Minnesota State Fair
Minnesota State Fairgrounds
Held every year through Labor Day weekend, the Minnesota State Fair is the swan song of the summer. But hey, what a way to go out. The list of new foods and drinks hasn't been released yet, but we know the offerings are always epic. Last year, we especially loved the pickle pizza at Rick's, the vegan corn dog at Daryl's Dog House, the Mini Donut beer from Lift Bridge, and literally everything at Union Hmong Kitchen. Stay tuned, as we'll be eating our way through the Fair again this year. In between novelty beers, melting desserts, and fried foods on a stick, you can peruse a ton of charming creations in the Fine Creative Activities building, pet the baby animals and giant gentle beasts in the barns, and spot underwear on rooftops while riding the delightful sky buckets. The Midway will be all flashing lights and loud sounds, and free music will abound across multiple stages throughout the grounds, whether you're looking for a tribute show (Tom Petty! ABBA!) or a great local act (the Gully Boys, Kiss the Tiger). The Grandstand is where the big acts belong; this year's lineup includes Duran Duran, the Hold Steady, Yung Gravy, the Chicks (formerly of Dixie), Brandi Carlile, the Black Keys, and, uh, something for kids called "Blippi." Hey, there's something for everyone here! Find more info at mnstatefair.org. $15-$17. Daily gate hours are 7 a.m. to 9 p.m.; 7 a.m. to 7 p.m. Labor Day. 1265 Snelling Ave. N., St. Paul. August 24-September 4—Jessica Armbruster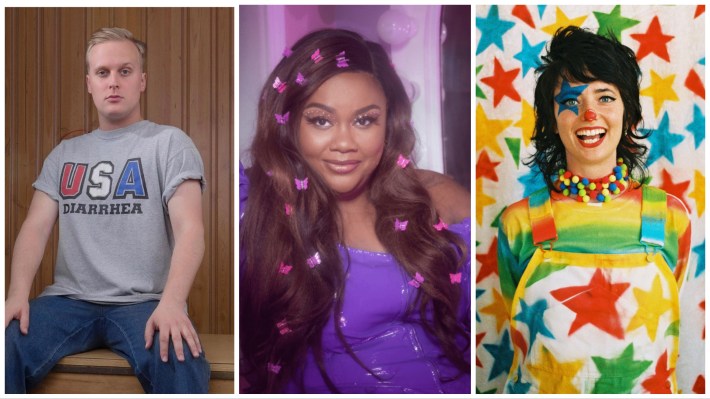 COMEDY
Check out our quick picks for solid comedy shows below. All blurbs here are by Jay Boller.
Pete Holmes 
The giggly, bombastic comic/actor/podcaster is taping a new special, Where Were We, during these back-to-back Dinkytown shows. Sold out. Varsity Theater, 1308 SE Fourth St., Minneapolis; find more info here. June 3
John Early 
It's always such a treat when someone as genuinely funny and creative as Early gets super famous. The Nashvillian comic is about to debut his first HBO hour, Now More Than Ever, which is captured "in the style of a gritty '70s rockumentary." $35. Fitzgerald Theater, 10 E. Exchange St., St. Paul; find more info here. June 3
Nate Bargatze 
Did you know Bargatze, who 10 years ago was opening for Marc Maron, had become such a big, big star? Motherfucker is playing six Ordway shows in three nights! He's quite good. $49-$202. Ordway Center, 345 Washington St., St. Paul; find more info here. June 16-18
Michael Ian Black 
The smart-ass sketch rascal from The State, Stella, and countless VH1 shows has become a formidable standup over the past decade. $25. Cedar Cultural Center, 416 Cedar Ave., Minneapolis; find more info here. June 17
Colin Jost 
Mr. Scarlett Johansson will likely mine his 2020 memoir, A Very Punchable Face, for material at the State. If you've never seen his dynamic with fellow SNLer Sarah Sherman (featured below), check out their ongoing "Weekend Update" bit. $45-$75. State Theatre, 805 Hennepin Ave., Minneapolis; find more info here. June 22
Aida Rodriguez 
Tiffany Haddish introduced the world to Rodriguez via Netflix's They Ready in 2019, and now, four years later, she's starring in and directing HBO specials. $17-$59. Rick Bronson's House of Comedy, 60 E. Broadway, Bloomington; find more info here. June 22-24
Sarah Sherman 
Sherman is the most exciting newish SNL cast member in years. Look out for a Racket interview with Sherman—who promises a wild, weird night—the week of her two shows in town. $30-$50. Parkway Theater, 4814 Chicago Ave., Minneapolis; find more info here. June 23
Doughboys Live
As featured in the recent Racket piece about how live podcasts are the new concerts. If you have the misfortune of working with me, Racket's Jay Boller, you hear about this chain restaurant pod ad nauseam. Expect an extended interview with the outrageously funny hosts, Nick Wiger and Mike Mitchell, in Racket the week of the show. $39. The Fillmore, 525 N. Fifth St., Minneapolis; find more info here. June 23
Geoffrey Asmus
This filthy, funny, locally launched comic started blowing up on TikTok over the past couple years. As such, his career trajectory is pointed straight up. $18-$37. Acme Comedy Co., 708 N. First St., Minneapolis; find more info here. June 28-July 1
Please Don't Destroy LIVE 
SNL finally found worthy heirs to Lonely Island's pre-taped throne. Set aside your nepo-baby misgivings; these second-generation comedy writers do, in fact, destroy. $40-$50. Pantages Theater, 710 Hennepin Ave., Minneapolis; find more info here. July 15
Sophie Buddle  
Serious momentum is starting to build around Buddle, who's already a standup star in her native Canada. $18-$55. Rick Bronson's House of Comedy, 60 E. Broadway, Bloomington; find more info here. August 31-September 3
Neal Brennan
The co-creator of Chappelle's Show is candid when discussing his brand-new hour, telling WaPo: "When I say 'Brand New Neal,' it's because I'm having fewer emotional disorders than I've had." Good for him! $44.50. Varsity Theater, 1308 SE 4th St., Minneapolis; find more info here. August 18
Kyle Kinane 
Pound-for-pound, one of the best pure standups in the game. Here he is on pillowcases. $33. Acme Comedy Co., 708 N. First St., Minneapolis; find more info here. September 7-9
Nicole Byer 
Whether she's hosting reality TV baking shows, voicing wacky animated characters, or chowing down on McNuggets with the hosts of Doughboys, there's nobody funnier than Nicole Byer. $39-$49. Pantages Theater, 710 Hennepin Ave., Minneapolis; find more info here. September 16
Stay in touch
Sign up for our free newsletter