News
The 10 Most Expensive Minnesota Homes Sold in 2022 (So Far)
Only one topped $8M, and it took almost five years to sell. The rest flew off the mega-dollar shelf.
12:42 PM CDT on June 16, 2022
Alright, look: Spare me your class-war lecturing about how these homes were inevitably purchased via the ill-gotten, hoarded wealth of the plutocratic elite. I'm not 6; I've read books. Be that as it may, home-ogling is interesting and passing judgement is fun—thus, we happily present the 10 most expensive single-family homes purchased through the midway point of 2022.
For a more egalitarian glance at the local housing market, consult the Star Tribune's recent analysis of how rising interest rates might be cooling off years of red-hot demand. For a parade of sumptuousness almost exclusively situated on the shores of Lake Minnetonka, read on! Shoutout to Realtor Nate Pentz of Pentz Homes for hooking us up with this luxury-tier MLS data.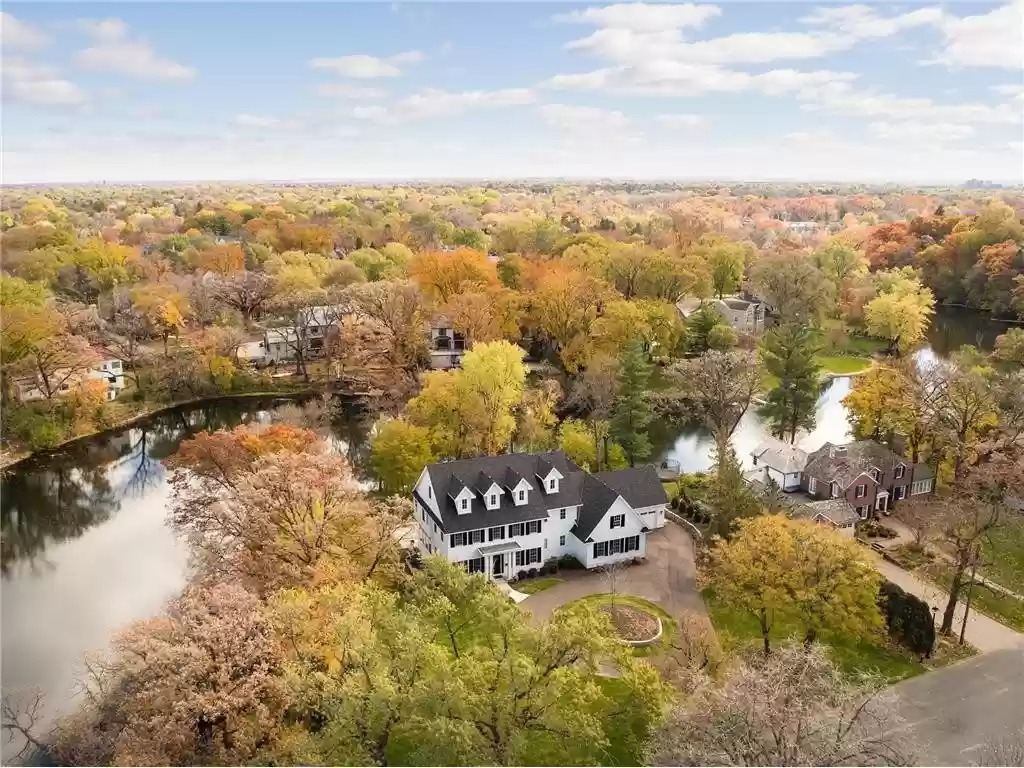 10. 4901 E. Sunnyslope Rd., Edina
List price: $4.5 million (This one was listed and sold twice this spring, according to iffy county records, so either in April or May?)
Sold price: $4.5 million (May 9)
Specs: 5 bedrooms, 3 bathrooms, 7,575 square feet, built in 2017
Listing pitch: "Sold off market! Extras include: Sport court 26x24, Screen porch 15x15, Patio off main floor 26x16, Patio off walk out lower level 15x15, Work out room 12x10, Lower level bar, Third floor bonus room 35x16Second floor bonus room 28x12."
Racket take: Semi-convincing simulacrum of an old-school Cape Cod on the outside, interchangeable grey/white/black onslaught of house flippery on the inside. Be sure to peruse the listing photos for one of the more unnervingly composed, haunting photos of a basketball hoop you'll ever encounter.
Click here for more photos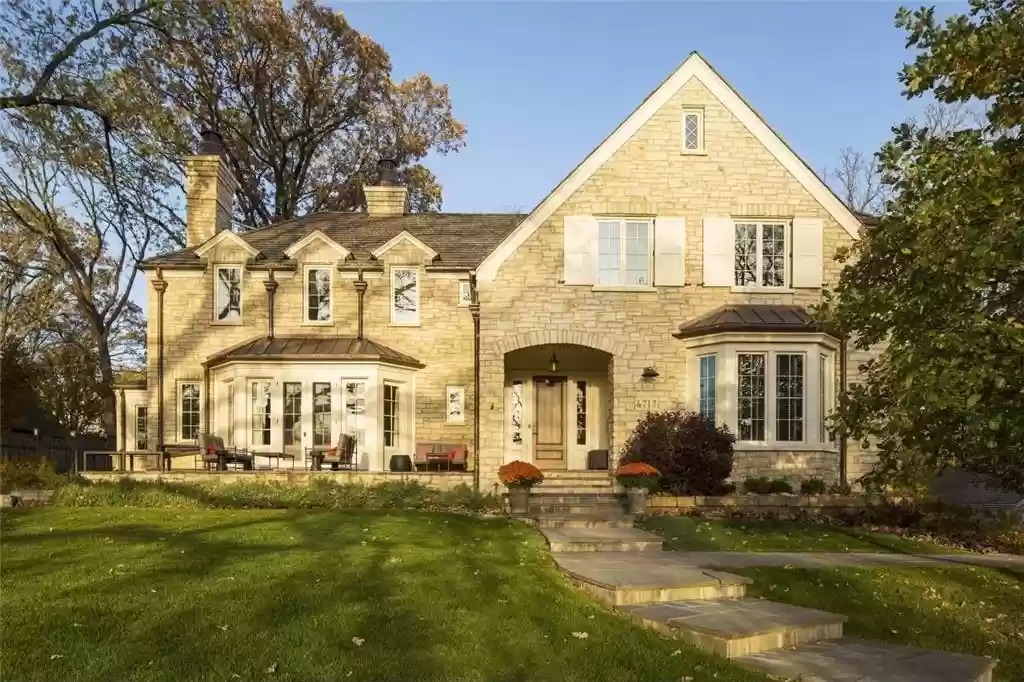 9. 4713 Townes Rd., Edina
List price: $4.5 (March 1)
Sold price: $4.5 million (June 1)
Specs: 5 bedrooms, 3 bathrooms, 8,687 square feet, built in 2011
Listing pitch: "SOLD OFF MARKET! EXTRAS: Main Floor Primary/Guest suite, Two closets in second floor Primary , Sitting room with fireplace in Primary, Second floor laundry with 2 washers/2 dryers, Butlers pantry with freezer drawers, Walk in pantry, Main floor bar, Dumb waiter, Music room on main, Exterior stone from a Stillwater quarry, Attic play space, Main floor office with walnut paneling, 3 Francois & Co fireplaces, Copper gutters and downspouts."
Racket take: Since this listing lacks photos, I'll simply use this space to beat a dead horse, peeve-wise, and question why wealthy individuals selling their largest physical asset trust real-estate agents who cook up tortured descriptions littered with bizarre capitalizations, run-on sentences galore, and screamingly obvious spacing issues. (Savvy reader/editors might take issue with the previous sentence's length—ya got me!)
Click here for more photos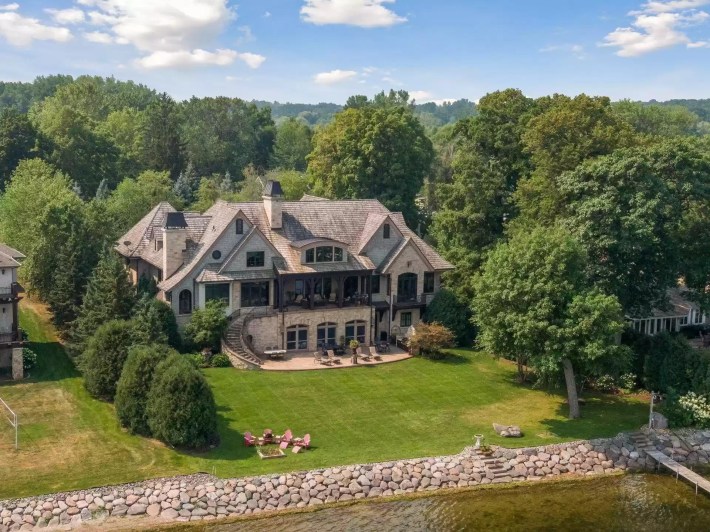 8. 27060 Edgewood Rd., Shorewood
List price: $5.2 million (April 30)
Sold price: $5.2 million (May 27)
Specs: 4 bedrooms, 3 bathrooms, 8,455 square feet, built in 2004
Listing pitch: "Unparalleled craftsmanship combined with 150 feet north-facing waterfront. Live your Lake Minnetonka dream in one of the most exquisite homes available... Enjoy breath-taking sunset views from the balcony and patio."
Racket take: Fans of the color brown will find a lot to like. You gotta hand it to '00s-era architects who attempt millwork that rivals the old-world/old-growth masters of a bygone homebuilding era. It aims for the same aesthetic chords, but strikes them in a fashion that's just-so-slightly off the mark. Visually, the 3,680-square-foot basement is somehow dominated by a large hanging clock. At the Star Tribune, my cubicle was situated directly in front of a large wall clock, whose second hand ticked off the moments of my miserable working life with robotic indifference—tick, tick, tick. Uh, um, anyway, this place boasts the bougie basement trifecta of wine cave, movie theater, and gym.
Click here for more photos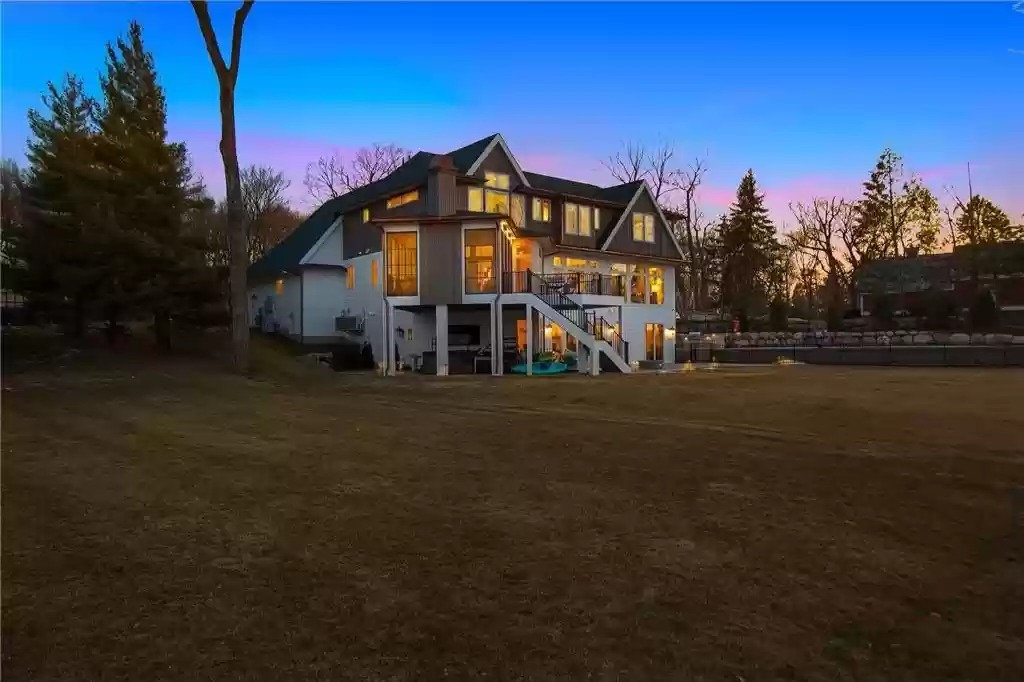 7. 27680 Island View Rd., Shorewood
List price: $5.5 million (April 13)
Sold price: $5.4 million (May 31)
Specs: 6 bedrooms, 2 bathrooms, 6,334 square feet, built in 2020
Listing pitch: "Sold before print. Beautiful custom-built masterpiece overlooking 500'+ of shoreline! Enjoy light and bright spaces, an open and flowing floorplan and breathtaking water views in almost every room! Additional features include four bedroom suites + laundry on the upper level, main-level office, three-season porch with fireplace and walk-out lower level with family room, billiards area, wet bar, wine cellar, exercise room, pool and hot tub! Level lakeshore with rip rap shoreline. Minnetonka schools."
Racket take: No photos, so you'll have to picture that rip-rap shoreline in your mind's eye. (Quick aside: Isn't "rip rap" a whole lotta fun to say?) Interestingly, this home was custom built for somebody else just two years ago, which makes you wonder why the big-money buyer simply didn't custom build the home of their dreams. Perhaps the almost-negligible price discount was enough to offset the death of said dreams.
Click here for more photos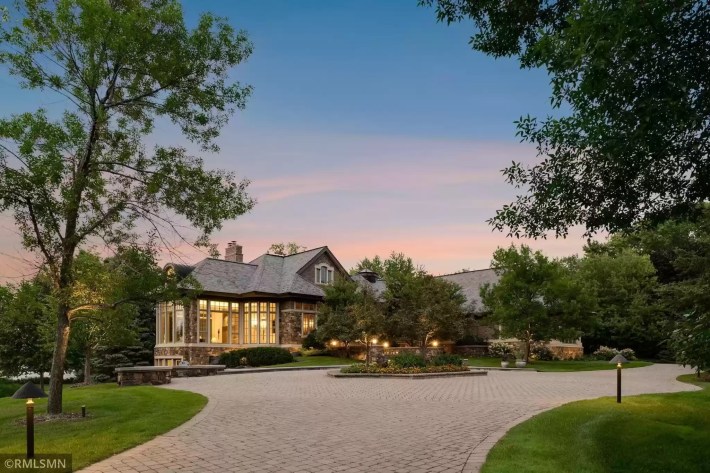 6. 60 Clay Cliffe Dr., Tonka Bay
List price: $7 million (Aug. 20, 2021)
Sold price: $5.5 million (Feb. 14)
Specs: 4 bedrooms, 5 bathrooms, 9,637 square feet, built in 2001
Listing pitch: "Set in the heart of Tonka Bay's demand gated Clay Cliffe enclave, this exceptionally designed and flawlessly executed walkout one-story residence is positioned on a private picturesque 1.54 acre site with 430' of prime Lake Minnetonka shoreline on Old Channel Bay. The residence features ample yet intimate spaces appointed with exquisitely detailed ceiling treatments, state-of-the-art accent & task lighting, banks of floor-to-ceiling windows, gleaming spotted gum hardwood flooring, whole house smart control system, prominent enameled millwork and plaster skimmed walls. A truly unrivaled package of location, site and residence."
Racket take: Ripped from '90s McMansion architectural playbook. A non-tacky buyer would be tasked with ripping up vast swaths of carpet, modernizing all of the cabinetry, and un-whitewashing the walls. The presence of an elevator? Indisputably neat. The ever-looming cost of $2,000 quarterly associate dues? Get the fuck outta here!
Click here for more photos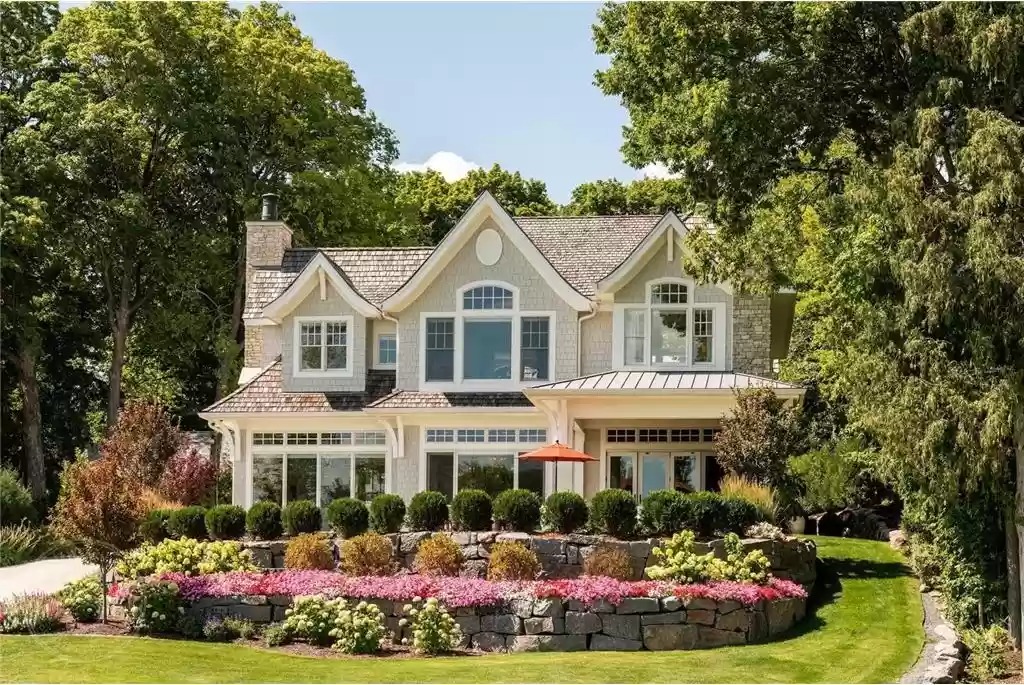 5. 2468 Lafayette Rd., Minnetonka Beach
List price: $5.5 million (Feb. 7)
Sold price: $5.7 million (May 27)
Specs: 4 bedrooms, 2 bathrooms, 5,889 square feet, built in 2018
Listing pitch: "SOLD BEFORE PRINT." OK!!!
Racket take: Very few known details aside from the fact it sold for more than asking. Crucially, it's located 30 minutes walking distance from a Culver's. Click here to read our glowing review of the limited-edition CurderBurger, an indulgence you can actually afford.
Click here for more photos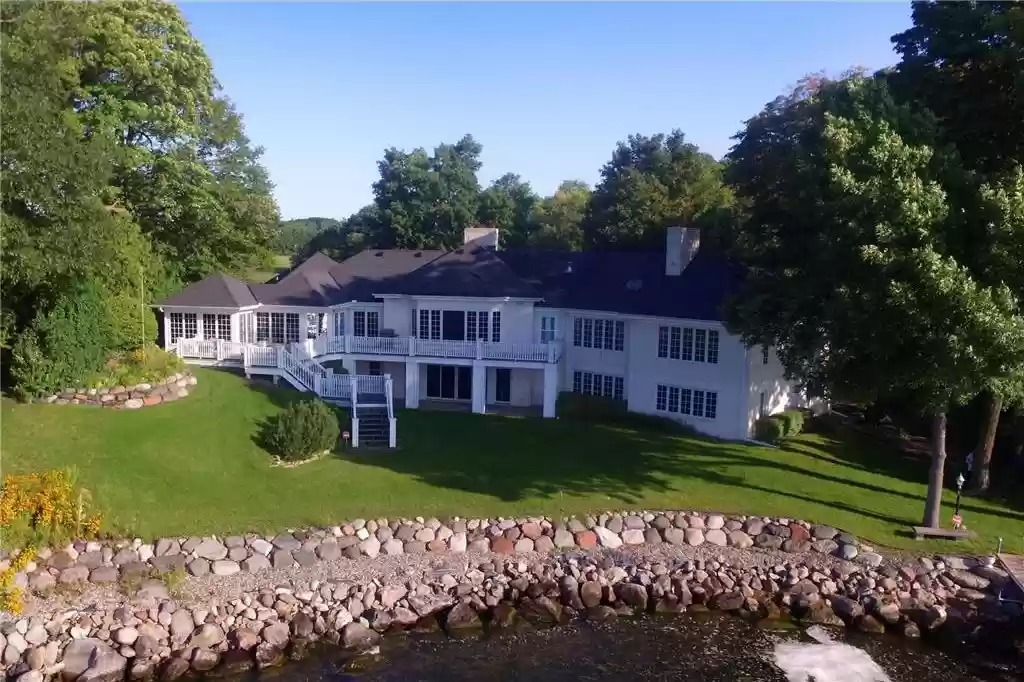 4. 670 Ferndale Rd. W., Wayzata
List price: $6 million (Feb. 14)
Sold price: $5.7 million (March 25)
Specs: 5 bedrooms, 4 bathrooms, 6,128 square feet, built in 1968
Listing pitch: "Incredible setting on Lake Minnetonka's Gold Coast. This coveted Ferndale estate offers 1.28 acres of manicured grounds, an arborvitae privacy hedge, circular driveway approach and tennis court. Enjoy sweeping views of Browns Bay from the perfect elevation and a gradual sloping lawn to 191' of south facing curved shoreline. Value is in the land. House is being sold in as-is condition."
Racket take: Do I view this sprawling mid-century mansion through a tear-down lens? I do not. Will it be reduced to rubble, rebuilt with materials of lesser quality and architecture of the boilerplate variety, and then accommodate a family of four who view the current home as too small by 3,000 square feet? Almost certainly. Does that stink? I think so!
Click here for more photos
3. 3125 Fox St., Orono
List price: $7.2 million (Oct. 31, 2021)
Sold price: $6.2 million (Dec. 22, 2021; so technically not this year—sue us!)
Specs: 6 bedrooms, 7 bathrooms, 7,959 square feet, built in 1952
Listing pitch: "Extraordinary estate nestled on nearly 8 private acres overlooking Maxwell Bay. This 8,000sqft 1950's build home has been timelessly updated with meticulous detail. The sprawling floorplan captures Lake Minnetonka from every vantage point with all living amenities on one level. The Main floor master suite offers an exquisite bathroom, walk in closet and private porch. Upstairs features 5 additional bedrooms as well as an exercise room. This home was built with a blend of indoor & outdoor entertaining spaces including a fabulous firepit and beach at the water edge. The oversized detached garage lends itself nicely to a sport court or car enthusiast's retreat. Sought-after Orono schools."
Racket take: OK this one rocks. Tastefully updated and jumbo yet unostentatious, it feels like a Cape Cod from the deep south of Minneapolis on steroids. Considering the yard appears to be the size of at least four football fields, you'll want to account for landscaping costs when crunching the numbers ahead of your pre-approval process. These are the perils that can leave luxury homebuyers "house poor"!
Click here for more photos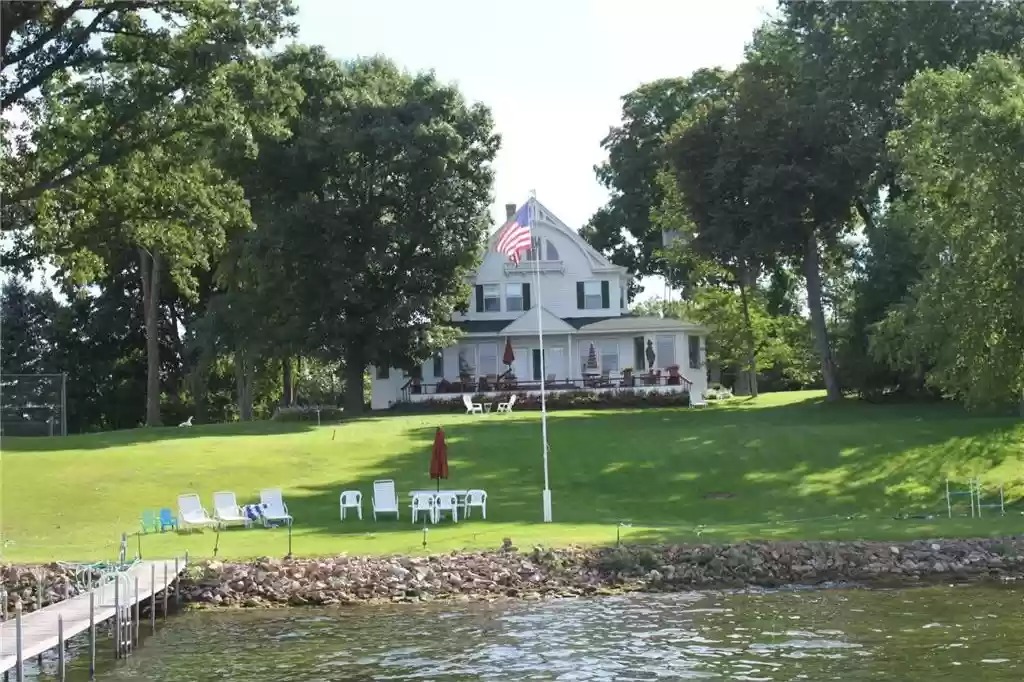 2. 2987 + 3005 Casco Point Rd.
List price: $6.5 million (Feb. 23)
Sold price: $6.447 million (March 25)
Specs: 4 bedrooms, 3 bathrooms, 2,888 square feet, built in 1900 (Editor's note: 1900 is often a county-records placeholder when the actual construction date isn't available)
Listing pitch: "Landmark estate owned by this family for over 80 years. This property consists of 3 separate parcels that are all being sold together. Ideal opportunity for a family estate that could accommodate 3 separate houses. The value is in the land. The entire property is 2.16 acres and offers a gradual sloping lawn to 265 feet of west-facing lakeshore. The middle parcel offers the main house and iconic water tower, the southerly parcel has a seasonal guest house and the northerly parcel has a tennis court."
Racket take: Sounding like a broken record at this point, but when people view older, character-rich lakeside homes purely as targets for the wrecking ball? It stinks! There's no way to assess the architectural significance of this "landmark estate," from our internet vantage point at least, so this one is largely a mystery. This much is certain, however: The "iconic" antique water tower sitting next to the home is certifiably neat. May the three beige newer-constructions that will one day dot these lots satisfy whatever finance execs, doctors, and/or lawyers buy 'em. Curiously, the sold price reflects a discount of just $3,000. Feel like I, a master of zero deals who struggles with basic math, coulda haggled off at least $5,000.
Click here for more photos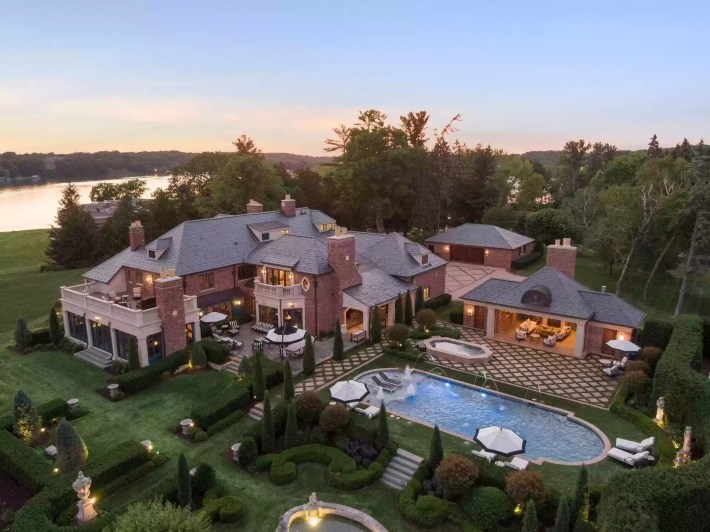 1. 3350 Fox St., Orono
List price: $14.5 million (Aug. 2018)
Sold price: $8.8 million (Feb. 25)
Specs: 5 bedrooms, 8 bathrooms, 17,992 square feet, built in 1920
Listing pitch: "A world-class combination of timeless architectural design and craftsmanship, this private sanctuary offers old-world elegance with modern conveniences, breathtaking gardens and extraordinary water views with 700+ feet of unobstructed, southwest facing shoreline on beautiful Maxwell Bay. Flawlessly designed gourmet kitchen, palatial master suite, high end finishes, intricate details & delight at every turn. Resort style pool setting and over the top outdoor entertainment area, lusciously manicured gardens and grounds. Private Oasis, Rare Offering."
Racket take: If you were asking yourself, "Hey, aren't those grounds strikingly similar to the gardens outside France's Palace of Versailles?" That's by design, according to the agent notes. This mammoth estate became even larger in 2013, when the old owners added 5,000 square feet to their already-massive historic home. The square footage of the pool house (504) isn't even reflected. This Gatsby-esque home does manage to retain much of its historic '20s personality, and the newer pool areas can only be described in the 2020s nomenclature of "sick." Why'd it linger on and off the market since '18? In the Twin Cities, anything hovering near the $10 million-mark is rich, even by rich-guy standards.
Click here for more photos
All above photos courtesy of the MLS
Stay in touch
Sign up for our free newsletter