Update (October 4, 2022): It's baaaaaaack.
From the very depths of our hearts: Happy National Cheese Curd Day.
The holiday is special every October 15, but this year's celebration of deep-fried cheese wads is more meaningful than ever. It all began, as so much of the discourse does in this healthy society, with a brand account's viral tweet.
On April 1, elite Wisconsin-based burger chain Culver's issued the following April Fools' Day gag:
We all had a good laugh. Cheese… between buns? Where do they come up with this stuff?
The joke stirred something in the American psyche, however, and soon customers were demanding IRL CurderBurgers; a change.org petition demanding the CurderBurger even began circulating.
Sensing a PR win, Culver's began experimenting in its test kitchen the following month. The eventual formula was simple: Take a Deluxe ButterBurger—on its own, one of the best fast-food burgers in the game—and toss a disc of molten, crumb-crusted Wisconsin cheddar cheese on top. To hear Quinn Adkins tell it, the CurderBurger is a genuine, thoughtful product of the chain's desire to please its loyal Midwestern fanbase.
"This isn't going to just be a media stunt, or throw something together for the engagement opportunities," Adkins, Culver's director of menu development, told the Capital Times. "Everything we do always has to deliver on the quality, and the spoken and unspoken promises that we make to each of our guests. If it wasn't going to just knock it out of the park, I don't think this ever would have seen the light of day."
At 10:24 a.m., I became the third customer to acquire a CurderBurger, the gregarious drive-thru worker at the Two Harbors Culver's informed me. The shop only had 192 left, he said, before noting how hot the curds get: "You've been warned!"
So, does the CurderBurger "knock it out of the park"?
I mean, come on: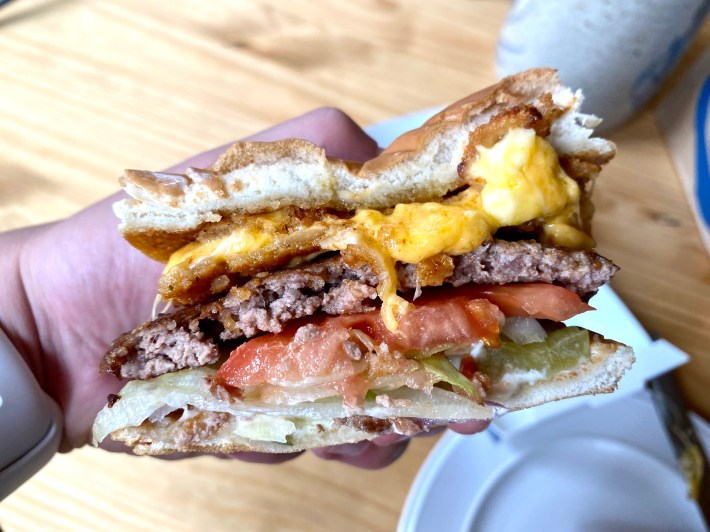 The big question, of course, is whether the curd patty improves upon the standard slice of American cheese.
In this instance, absolutely.
The cheese-curd products at fast-food chains are infamously substandard, but Culver's—true to its Wisconsin heritage—aces their version. The dense, almost jalapeño popper-ish curd casing gave way to a gooey cascade of cheese, as you see above. That curd wreckage melted into Culver's fresh, crumbly, and juicy beef, all of it accented with crisp produce and generous globs of mayo. The butter-kissed, toasted bun did a noble job holding together this indulgent umami mélange of distinct flyover origins.
The suits at Culver's better get ready for cries of, "Add it to the full-time menu, cowards!"
For now, the CurderBurger is available Friday only (while supplies last) at 800+ Culver's locations.