History
San Francisco Is in Minnesota
San Francisco Township, that is. Located in Carver County, it's home to a historic one-room schoolhouse, rolling farmland, and lots and lots of gravel.
8:27 AM CDT on April 5, 2023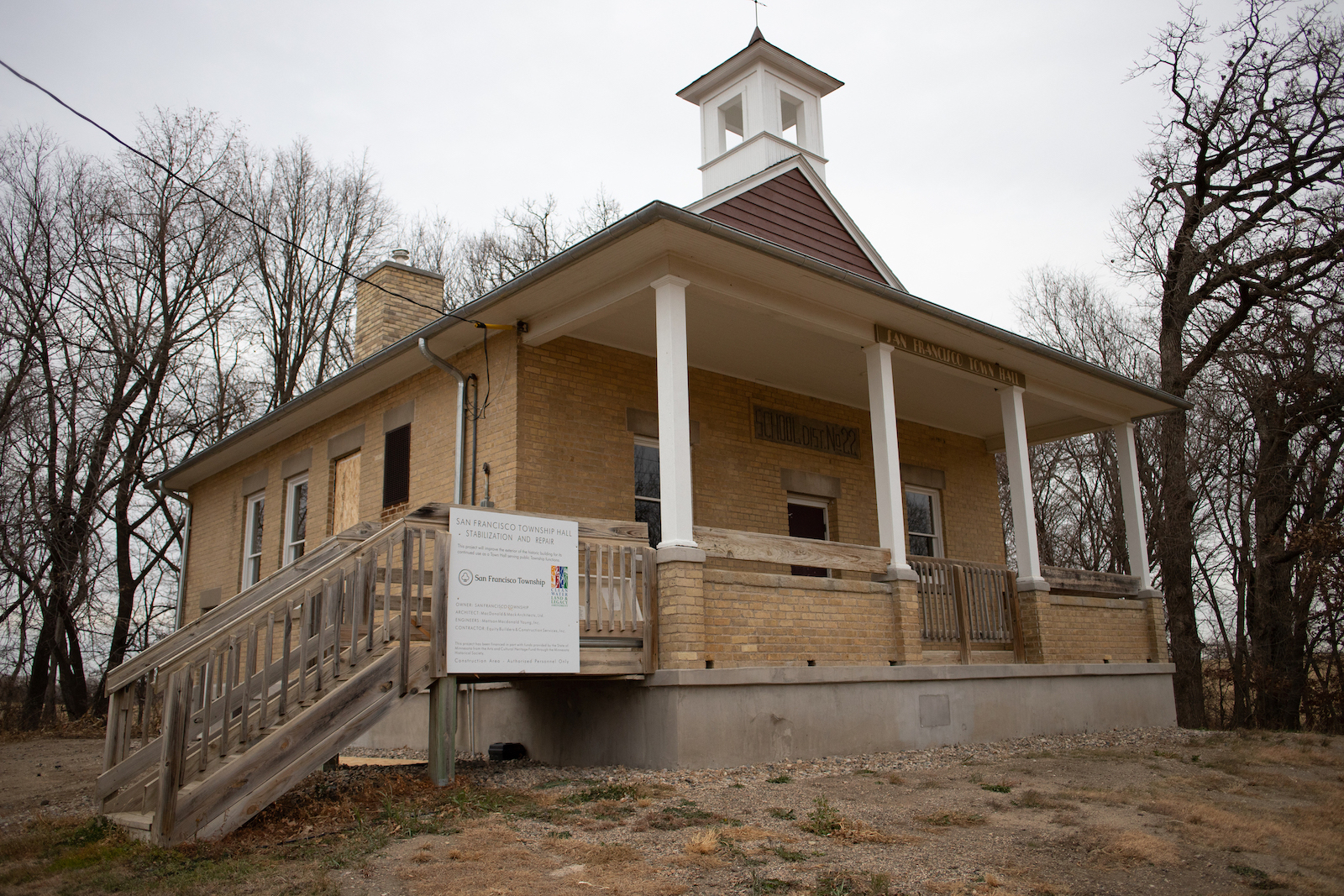 One balmy November afternoon, I drove a rented maroon Honda west from the Twin Cities to a place with rolling hills, pine forests, and winding roads, some paved in red. That place is San Francisco. 
Not the California city and county where I was born and raised. I mean the township of San Francisco, located here in Minnesota. I've been curious about Minnesota's San Francisco since I moved out to the Twin Cities in 2016, and last year I finally decided to meet the people who lived there. 
The San Francisco I grew up in is known for its cable cars, architecture, exorbitant (but falling) housing prices, and intense and petty politics. The Minnesota township, however, is characterized by its bucolic landscape, horses, pit mines, solar panels, rapidly flowing river, and neighbors who all know one another. 
What and Where Is San Francisco Township?
San Francisco Township is actually a remnant of a village established by William McFadden Foster, who was born in Pennsylvania in 1815 and was a surviving member of the Donner Party, that notoriously ill-fated group of families who ventured out west in search of gold in 1848. 
Foster came back east to Minnesota with his family in 1854, establishing with partners the village of San Francisco, named for the California city where he'd worked briefly as a carpenter, on land the United States would eventually steal from the Dakota when it canceled the 1851 Treaties of Traverse de Sioux and Mendota. Shortly after its founding, Foster and his partners built a downtown along the river, across from a major fur trading post, and this became the seat of newly designated Carver County in 1855. 
Things didn't quite work out as planned. The county's board needed more space to meet, so residents voted a year later to redesignate Chaska as the county seat, which it remains today. And the Minnesota River was prone to floods, which wiped out San Francisco's downtown in 1863, leaving behind the other 24 square miles of the township, much of it arable land amid rolling hills situated several hundred feet above the river. 
Foster returned to San Francisco, California, in 1860 and died there in 1874. Shortly after he left, the township became populated by Irish and Swedish immigrants who began to farm it, and whose descendants remain to this day. 
Getting to the township, which is located about 30 miles southwest of Minneapolis, requires driving about 40 minutes or spending about 70 minutes onboard Southwest Transit and SmartLink, the dial-a-ride service run by both Carver and Scott Counties. Both take you past suburban tract homes, strip malls, and an isolated Fleet Farm on Hwy. 212 before giving way to a mix of gravel roads and roads paved in red that traverse rolling terrain, surrounded by farmhouses, farmland, homes, and, at some point, trees. 
Nonetheless, somehow people still manage to get the two San Franciscos confused. "The accidental calls for the actual city of San Francisco only happen a couple of times per year," says township clerk Heidi Schmidt, who hears from people who want to obtain permits to build in California's San Francisco. "It's always comical."
Their Home Upon a Hill
I pulled up at a dirt lot with several other vehicles parked, as well as an old road grader. There to greet me were volunteers working to restore the schoolhouse adjacent to the lot. 
"It's the only public building that we have in the township," says Claudia Solseng, one of the volunteers. "And it's old, and it's historic, so we're working on preserving it."
The building was constructed in 1917 using cream brick quarried from nearby Chaska, at a time when many rural communities in the area were served by one-room schoolhouses. When the township bought the building in 1961, it had been neglected for at least the previous decade, when the school district that owned it decided to stop using it. (The school district itself ultimately dissolved.)
Volunteers successfully got the structure listed on the National Register of Historic Places in 2021, allowing the township to access a $186,000 grant to shore up the property. They plan to renovate the interior by adding a bathroom, and perhaps building a park outside of it. They hope to potentially rent it out for meetings, picnics, and even weddings.
Inside, the building still retains its schoolhouse feel. Where the teacher once taught, its Board of Supervisors sit for meetings. Where the students once sat are now where people sit to watch the supervisors deliberate. It's also where they set up voting booths whenever they have elections. 
More Than Just Gravel
The township mostly sits on soil composed of varying amounts of sand, silt and clay that was deposited 10,000 years ago when glacial Lake Agassiz, in what is now northwestern Minnesota and southern Manitoba, overflowed, causing the Minnesota River to spill over its banks and creating a mile-wide chasm. "From one end to the other on the River Bluff side, it's all of this gravel that is such a precious resource," says Heather Arends, a minerals manager with the Minnesota Department of Natural Resources.
Closer to the river, the minerals appear in gravel form. One company, Chard Grading & Excavating of Faxon Township in Sibley County, immediately to the west of San Francisco, extracts it from a pit on a horse ranch to be used to build the roads we ride or drive on. The mine has existed since the 1950s, a conditional use permit was issued in 1981, and was amended in 1992 to allow mining on 16 more acres of the property.
"Because we permitted them to have the gravel pit, we get a little slice of income from them," says Schmidt. The township received about $15,000 in 2021.
A different gravel pit operator, Olson Construction of Cologne, a jumble of a farm town and burgeoning suburb about seven miles northwest of the township, withdrew an application in June 2022 to excavate gravel in the northern part of town after the community voiced strong opposition to the  noise, dust, and traffic the project would bring to a predominately residential area.
The Chard gravel pit is located on the 400-acre River Valley Horse Ranch, which has called the eastern side of the township home since 1998. It's open weekends from 10 a.m. to 4 p.m. during the winter and seven days a week from May through October, and people can sign up for rides anywhere from thirty minutes to two hours. A representative from River Valley Ranch declined to comment on the ranch's history and how it ended up in San Francisco. "The owner's not much of a talker," said the person who picked up the phone last fall.
The west end of town is also home to a nine-acre solar farm that generates one megawatt of energy to power 225 homes. It opened in the summer of 2020—not without opposition from the township and the county because it was in a residential area and residents were afraid of stray voltage affecting a nearby dairy farm. Although they voted it down, the company that runs the farm, U.S. Solar, appealed the ruling and won.
David Woestehoff owns the land on which that solar farm sits. It's been an economic boon for him after years of growing corn for his hogs and to make into ethanol, and soybeans for foreign markets. "[I'm making] more than twice as much," Woestehoff says. "The only way that affects it is that you can't raise the crop on those 10 acres."
Woestehoff is not the only one who produces food in the township. Most farms operating in the township produce dairy, although some grow fruit and vegetables. In fact, the township's downtown became a turkey and cattle farm, though the owners of the area sold it to the U.S. Fish and Wildlife Service in 1995. Today, it's part of the Rapids Lake unit of the Minnesota Valley National Wildlife Refuge.
San Francisco Is Home
Growing up in San Francisco, I knew some of my neighbors. I knew most of the people who lived in the apartment building I grew up in, as well as some folks who lived up the street from me. Still, by the time I left, I probably knew less than 1% of the city's population.
San Francisco, Minnesota is different. "Here you know everyone within a mile of you because you just do, you know what car they drive," says Claudia Solseng.
The Solsengs moved to the township from Chaska. "We wanted a bigger house, then my husband wanted horses," says Claudia. "It's just a really nice place to live. You're close to the city without entering the country."
And where the city of San Francisco's population hovers around 800,000, the township has never swelled beyond 900 residents. That's a draw to some, like Lou Longhenry, who moved to the township in 1986. "We liked the scenery. We liked the ambiance, we enjoyed the kind of rural nature, and we have good neighbors," he says.
For those of us who don't call it home, San Francisco Township is still a great place to visit. And while it might not be as big a tourist destination as the California city, getting to San Francisco, Minnesota, is certainly much less of a hike.
Stay in touch
Sign up for our free newsletter