Culture
Ren Fest 'Fear Factor' at U.S. Bank Stadium: Last Night on 'The Bachelorette'
This episode was a love letter to Minnesota, and I was loving it.
10:30 AM CST on November 17, 2021
The dudes are on the move, walking through MSP International Airport and saying "Minneapolis!" to each other and no one in particular a lot. 
Next there's a montage of tourism B-roll of Minneapolis. A sign for St. Anthony Falls! The Stone Arch Bridge! Seventh and Marquette! A MetroTransit bus! Capella Tower where I used to work before the pandemic!
There's a shot of Michelle on the Stone Arch Bridge, then she's back home talking to her parents. They have lemonade and potato chips, and it looks like they have actually been enjoying them. "For these men to be able to come to Minnesota, there's no better way to know who I am and what I stand for," Michelle explains.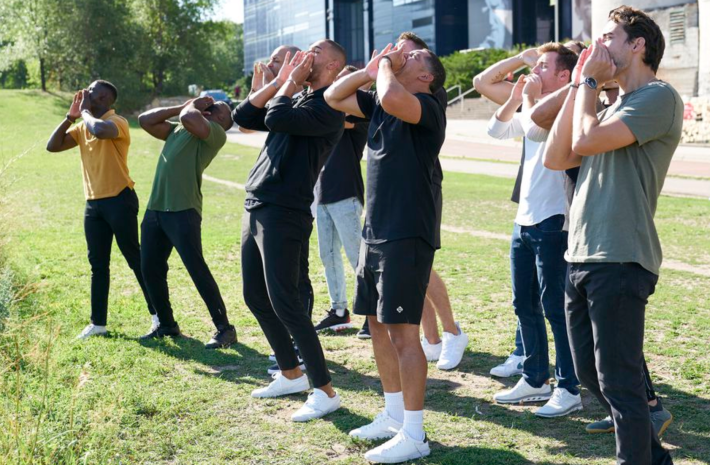 Next we get a man montage of the dudes kind of running around east downtown. There's a shot of the Depot and the Milwaukee sign. (Confusing for non-local viewers!) The guys run up those stairs by the bike path over there and there's a glimpse of the Guthrie. The dudes convene near the river and shout something unintelligible.
Minnesota Factor: We're here! This is definitely Minneapolis! 6,000 / 10,000 lakes
Does Minnesota Give Minnesota Joe an Advantage?
The dudes are outside at Government Plaza. They greet Michelle with a Minnesota "eh!" which closed captioning translates as "ey!" 
"I know I'm going to get the one-on-one date, and I'm excited," some dude says. 
He does not get the date, Minnesota Joe gets it. The dudes seethe. Minnesota Joe has an advantage because he already knows Minnesota! No fair!
"She did me dirty," the denied dude states. 
There's a shot of Loring Park and the Marquette Hotel sign… which leads to Michelle and Minnesota Joe at the Target Field. They're here to throw out the first ball at a game. There's a shot of the fans in the bleachers, and it's hella empty. 
The announcer tells the crowd that if Michelle throws a good first ball she has to kiss Minnesota Joe. She throws a good ball, of course. They share a kiss on the Kiss Cam. The five people who showed up for the Twins game clap.
Next, they head to her high school in Woodbury. They make out in front of her old locker, then they look at an old yearbook, and Michelle points out some trophies on display in a case. Oof. I haven't even made it to a high school reunion, so I cannot relate to any of this. My high school memories are 90% anxiety induced rashes. 
They end their time at the high school with a game of basketball.
"I could see how Joe would have been my crush in high school," Michelle muses. "Mr. Basketball, Miss Basketball: It goes together."
Michelle tells Minnesota Joe, who she is now calling Minnesota Joe, that she appreciates how reserved he is. He reminds her of her dad and brother. Minnesota Joe says that he is trying to tear the wall down and be more vulnerable, and spending time with Michelle and a camera crew on a competitive dating show airing on national TV is helping him do that. 
After the commercial break there's a warning that there will be talk about suicide and depression. Changing it up from dead-dad first-date talk, I see. 
No, but really, skip ahead if that's a trigger.
They are at Betty Danger's in northeast Minneapolis. They sit at a table with a random, untouched burger. The decor includes hot-pink paint, a roaring fireplace, and bales of hay.
They are talking about basketball again. Minnesota Joe brings up breaking his foot in middle school and then breaking it again in college. After a few bad surgeries, he felt that he couldn't play at 100%. This sent him into a depression/anxiety spiral where he felt suicidal. Poor guy. Michelle and Joe are crying. 
He thanks her for bringing up basketball again, which is kind of funny. But also, has all this basketball stuff between them been upsetting for him? He then explains that he had to learn to focus on what makes him happy after basketball.
He gets the rose.
"The best things in life are on the other side of fear," says Minnesota Joe, quoting an inspirational poster. Right on, dude. 
They ride the Betty Danger Ferris wheel. 
Minnesota Factor: They spend a little too much time at the high school, and Betty Danger's is a restaurant with a lot of baggage. Also, Target Field is looking kinda sad. 4,000 / 10,000 lakes
This Vikings Date is a Little Too Literal
Group date time! None of the guys want to hear their names called… until they realize that the date is at U.S. Bank Stadium. Now the dudes are EXCITED. Sports!
"Are you ready to meet the Vikings?" Michelle asks.
A bunch of dry ice smoke wafts through the player entrance. Three guys in Nordic-themed Renaissance Fair costumes emerge. They ask the dudes to practice screaming. They throw some tree stubs. It's a typical lame group date.
The dudes go into the locker room and put on their own Ren Fest costumes. We're talking purple leggings, fur blankets, goofy hats. Snake, rat, and crocodile Chris S. is given a centaur costume. 
The next challenge is worse than poetry. It's a food challenge. "I see a bunch of flies swarming over the cloth and I'm like, 'Lordy what is it?'" narrates Olu. Lordy indeed, my dude.
The show forces them to eat whole pickled fish and some sort of gelatin hell with cow brain, cheek, and tongue in it. The guys start chomping down on whole fish. Michelle explains in an interview that she wanted to see if the guys would be open to trying new things. Ma'am, you do not have to pretend this is your idea. This is all producer fuckery.
"Oh god, is it crunchy?" asks Rodney, the dude who the show forced to streak on his one-on-one date. 
"Will I get high if I do this?" asks snake, crocodile, rat, and centaur Chris S.
Clayton, who is actually a former football player, gets the "Ultimate Viking" title. I have no idea what that means. I guess he got a free hat? 
Cocktail time!
They're at the Semple Mansion. Classy!
Michelle is rocking a banging dress. It's green and sparkly, and seriously gorgeous. The guys congratulate themselves for being here for Michelle and talk each other up. It's kinda cute. 
Centaur, snake, rat, and crocodile Chris S. is not feeling it, however. "He's acting weird," one dude explains. 
"You can't be prideful, you can't be insecure, and you can't be jealous," says villain-adjacent Frosty, basically mapping out what is going to happen because Chris S. is getting the villain edit.
I am very happy to report that there's a buffet at this cocktail date, and the guys are eating. 
Clayton gets the rose, Chris S. is mad.
"You've been smacking your lips. Do you have something to say?" one guy asks former centaur Chris S.
"If you thought he was desperate last week, he's way more desperate this week," one dude says in a totally not scripted voiceover, because he doesn't seem that desperate. 
Minnesota Factor: Most people can't afford to go to a Vikings game, and the Semple Mansion is mainly a spendy wedding venue. This segment is strangely elitist for the amount of pickled fish that was consumed. 3,000 / 10,000 lakes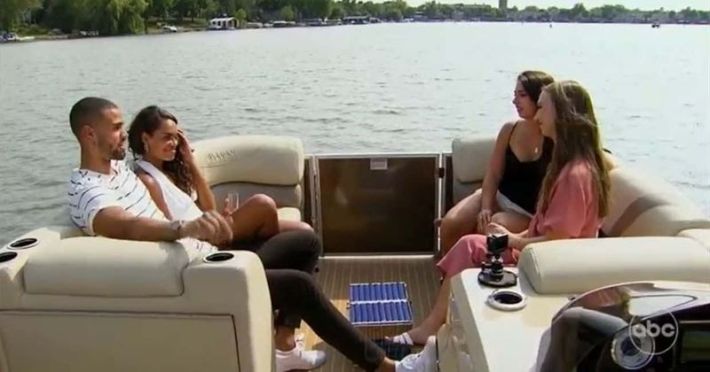 Nayte-Light on the Lake
It's time for a one-on-one date with Nayte. And yes, again, that is how he spells his name. Nayte is also an MVP this season for all the funny faces he makes in the background when the other dudes are bringing drama. You can tell this guy is having a lot of fun on this show.
They're about to go on one of the best dates you can have in Minnesota: an afternoon on a pontoon. Fuck yes!
"The Minnesota dream for me is to have a house on Lake Minnetonka," says Michelle in an interview.
They drive the pontoon up to Lord Fletcher's, where they pick up two of her closest friends. They grill Nayte, he answers things nicely. Her friends explain that Lord Fletcher's and Lake Minnetonka are "hot spots." I mean, I guess?
"She needs to stay in her power and trust her gut," her friend concludes. To gut health! 
"In Minnesota, there is a tradition to get purified in the water of Lake Minnetonka," Michelle explains to Nayte. I've seen Purple Rain too, Michelle, but that lake is kinda gross with all the drunk-people trash in it. They jump in the lake together, effectively ending the date.  
Time for the fake dinner! I think they're back at U.S. Bank Stadium, but in an area us regular folks don't get to experience. Michelle talks about a shitty relationship she had a while back. She is vibing with Nayte. 
But a really dumb storm is brewing. There's a shot of a steaming purple night sky, letting us know that Prince does not approve. The sound of police sirens alert us that Chris S. is here to embarrass himself. He interrupts the date, and Michelle and Chris S. go out on a balcony. He tells her he's bummed that she didn't throw Nayte out. Michelle points out that last week Chris S. spoke for her, and she wasn't into that. As a Black woman, people speak for her a lot. 
She walks Chris S. out so he can journey away from the show. 
The date ends with Michelle and Nayte making out in front of fireworks that seem way too close to them. Be careful with fire, kids!
"I do feel like I am starting to fall for Nayte," says Michelle. Yep, it is around mid-season that the bachelor/ette is allowed to say that statement, word-for-word. 
Minnesota Factor: They spend most of their time on the lake, and that's definitely a true Minnesota vibe.  9,000 / 10,000 lakes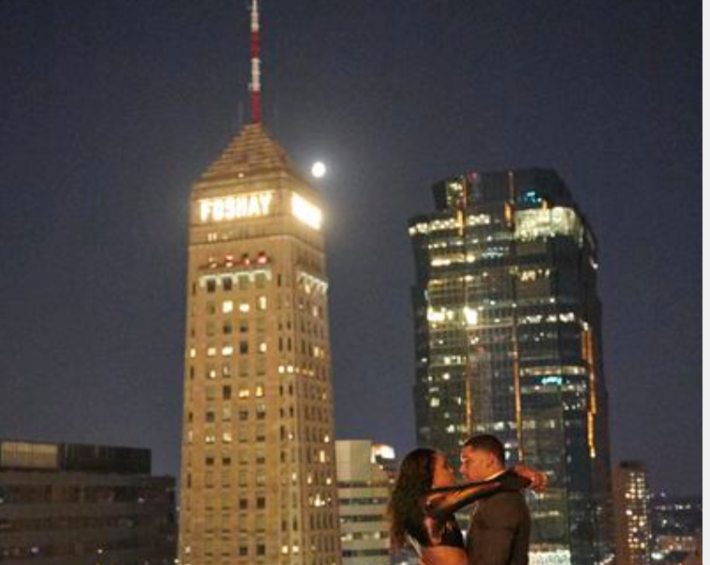 Last Call for Cocktails and the Elimination of Love Ceremony 
"This is among the greatest group of guys I have ever been around," says Rodney, amping the dudes up.
"To think that five weeks ago I didn't know any of these men is unreal," says Michelle.
Michelle and Rick head out on the town, walking by City Center and Nordstrom Rack, where I bought an awesome cashmere sweater for 75% off while on a lunch break from jury duty. They walk by one of those painted pianos that people used to play during those little street festivals downtown had before COVID hit. They make out at that one bus stop at Seventh and Marquette that has a reflective mirror crosswalk—my old bus stop! The camera watches them make out via the street art piece. 
Michelle heads to a rooftop with Rodney. They decide to scream "We love Minnesota!" at the Foshay Tower.
"I am so blessed and honored to be in this beautiful city on this beautiful night," he says.
Michelle also hangs with the Frosty. He explains that where he is from, Miami, the women are high maintenance. Michelle asks him to explain what makes those women high maintenance. He says that they're women who expect men to do everything for them. Michelle asks him about dudes. He doesn't seem to think men expect women to do everything. Michelle gives him a smile of pure doubt and hatred. I agree, Michelle.
At the rose ceremony, the biomedical Ph.D. dude who we never really saw is let go, as is Casey, the guy who helpfully narrated a lot of stuff. Fare thee well, gentlemen.
Minnesota Factor: I had a pretty good time picking out where they were downtown. I'd like to see more walking around segments, but I would also like them to visit other areas of the Twin Cities next week. 8,000 / 10,000 lakes
Next week: Another week in Minnesota! Fuck yes! The preview features guys walking around again and lots of people crying. Looks like fun!
Stay in touch
Sign up for our free newsletter