Events
Pond Hockey, Epic Snow Sculptures, Sex Aliens from the Year 2022: This Week's Best Events
When the weather gets cold we keep it weird here in the Twin Cities.
10:22 AM CST on January 17, 2022
Now that the temps have dropped into the frozen tundra zone, it's time for Minnesotans to decide how they are going to spend their days until the thaw. Do we dare to venture outside, where the elements might kill us? Do we head indoors, where the plague awaits? Or, do we stay home and hermit away, sharing stories (streaming services) in front of a campfire (TV)?
No matter what approach you take this winter (or each day), we'll have options for you every Monday here in Event Horizon.
WEDNESDAY 1.19
World Snow Sculpting Championship
Lowell Park
For the inaugural World Snow Sculpting Championship, nine teams from five countries–Canada, Ecuador, Germany, Turkey, and the United States–will arrive in town to blow our minds with incredible works made in a precarious medium. Teams will begin carving packed snow on Wednesday morning, and won't stop until Saturday at 2 p.m., when judges will decide who is the winner. Each day will feature a slew of things to see and do for us non-artists, including a snow slide for all ages, a warming tent with coffee and cocoa, a block party on Saturday, food trucks, and a beer tent serving up local and worldwide brews, bloody Marys, wine, and hard seltzer. Free. 10 a.m. to 5 p.m. Wednesday through Thursday, and Sunday; 10 a.m. to 10 p.m. Friday and Saturday. Find more info here. 201 Water St. N., Stillwater. Through Sunday –Jessica Armbruster
Now That's Funny
Dual Citizen Brewing
It feels like more and more breweries are hosting standup comedy, and our objective take is: That's a good thing. Will the towering warehouse ceilings at this St. Paul brewery be conducive to a good room for this rock-solid bill of comics? Only one way to find out! Tonight's showcase includes: comedian/master barber Trevor Wade, Racket-featured Khadijah Cooper, Stand Up! Records-signee Wendy Maybury, and actor/comic/model Boima Freeman. $10. 5:30 p.m. 725 Raymond Ave., St. Paul; find more info here.–Jay Boller. 
Trash Film Debauchery Presents Alien Intruder
Trylon Cinema
Hm, Alien Intruder. Is that some lesser-known installment in the iconic Alien franchise? Well, this Trylon screening is presented by Trash Film Debauchery, so… lol, no absolutely not. A little less Alien Vs. Predator and a little more alien vs. playmate, Alien Intruder takes place in the far-away year 2022, when a group of convicts sentenced to life in prison are sent on a dangerous deep-space mission. As incentive, they're allowed to spend their weekends in a virtual reality world where they can satisfy their sexual fantasies with any woman they want—but one of those playmates won't stay confined to the computer, and chaos ensues. With Billy Dee Williams as the convict-ship captain (more like Lando Caljizzian) and Tracy Scoggins as the VR love bunny gone haywire. $5. 7 p.m. 2820 E. 33rd St., Minneapolis. Find tickets and more info here. —Em Cassel
​​Kacey Musgraves
Xcel Energy Center
In her long upward arc toward not-exactly-country stardom, Kacey Musgraves has played Twin Cities arenas a few times in support of artists as varied as Harry Styles, Katy Perry, and Little Big Town. But the 2019 tour behind Golden Hour, an album of lush, throwback country-pop that captured the odd mix of melancholy and contentment you can feel when you're just a little stoned, marked the last time she'll headline rooms as intimate as the Palace for a while. Now she's finally gathered up the arena-level fandom she always seemed to have in her, and she's kicking off her small (15-show) tour behind her latest album, Star-Crossed, in St. Paul. The album addresses her divorce from singer-songwriter Ruston Kelly in a set of songs that can be low-key but never dour, the lyrics, in typical fashion, less probing for insight into the end of the relationship than conveying relatable experience. King Princess and MUNA open. $16 and up. 8 p.m. 199 W. Kellogg Blvd., St. Paul; find more info here.—Keith Harris
THURSDAY 1.20
January Social: Cider & Board Games
Sociable Cider Werks 
Nobody talks about Rotary Clubs anymore. Far as we can tell, they're not cult-y like Freemasons, not political like chamber of commerce-adjacent weirdos, and not churchy like so many damn churches. (If Rotary Clubs are actually insidious, please correct us in the comments.) The emphasis seems to be on building strong communities, so this feel-good event from the South Metro Minneapolis Evenings Rotary Club just makes a whole lotta sense: drink some cider, play some board games, color in some coloring books, and, as the charmingly casual Facebook event floats, potentially go in on some pizzas together. 5:30-7:30 p.m.1500 Fillmore St. NE., Minneapolis; find more info here.–Jay Boller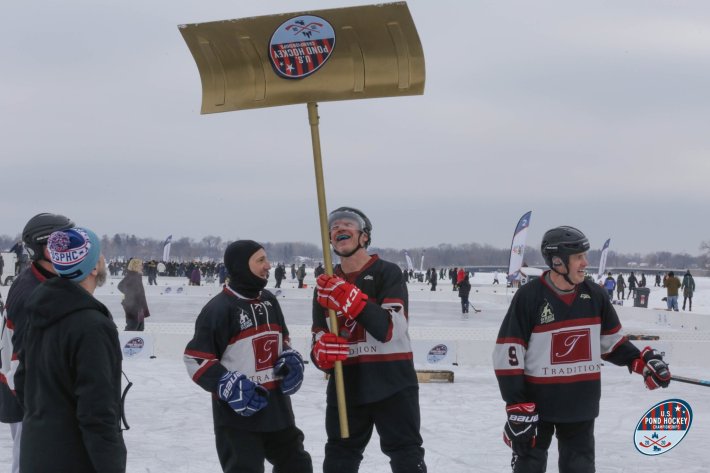 FRIDAY 1.21
U.S. Pond Hockey Tournament
Lake Nokomis
This weekend, hockey fanatics, from amateur to retired pros, will be at the lake to compete for the Golden Shovel. After taking a corona year off, the gang is coming together again for the U.S. Pond Hockey Tournament. This year, the event will be spread out over two weekends instead of one. Divisions include men's, women's, sled, rink rat, 40-plus, and 50-plus. In addition to cheering on teams, spectators can enjoy free open skating on a separate ice rink, food concessions, and a beer garden. Click here for more info and for the complete schedule. Free. 8 a.m. to 6 p.m. Fridays through Sundays; 4 to 9 p.m. Wednesday and Thursday (Jan. 26-27). 4800 E. Nokomis Pkwy., Minneapolis. Though January 30 –Jessica Armbruster  
SATURDAY 1.22
Lake Harriet Kite Festival
Bde Unma/Lake Harriet
No matter what time of year it is, there is pretty much always wind out there. Meaning, it's always kite season. Which is one of the reasons why this annual festival works well, even though it is traditionally scheduled in the dead of winter. This year they'll be teaming up and sharing space with the Art Shanty Projects, which is also on the lake right now. In addition to kite flying, there will also be food trucks and free s'mores roasting by the bonfire. Find more info here. 4135 W. Lake Harriet Pkwy., Minneapolis. –Jessica Armbruster
Courtney Barnett
Palace Theatre
Retro? Her? Nah, Barnett's greatest strength as a songwriter is her fascination with the ordinariness of the ordinary, and what could be more ordinary in 2022 than the mid-tempo conversational three-piece rock she shows no signs of abandoning? Now that our everyday experiences are limited, her delight in the everyday is more subdued, though not quite diminished on her third album, Things Take Time, Take Time. The little things matter to her—the way she throws a twist into the (friend? Lover?) break-up of "Before You Gotta Go" with "Don't you know/I'm not your enemy/Maybe let's cut out caffeine" or even pulls off pep-talk cliché like "Take it day by day/You gotta put one foot in front of the other''—and they will to you too if you listen up. After all, your feelings are more ordinary than you think, and that should come as a relief. Julia Jacklin, whose 2019 breakup album, Crushing, was my favorite of that year, opens. 18+. $40.50-$56. 9 p.m. 17 W. Seventh Place, St. Paul; find more info here.—Keith Harris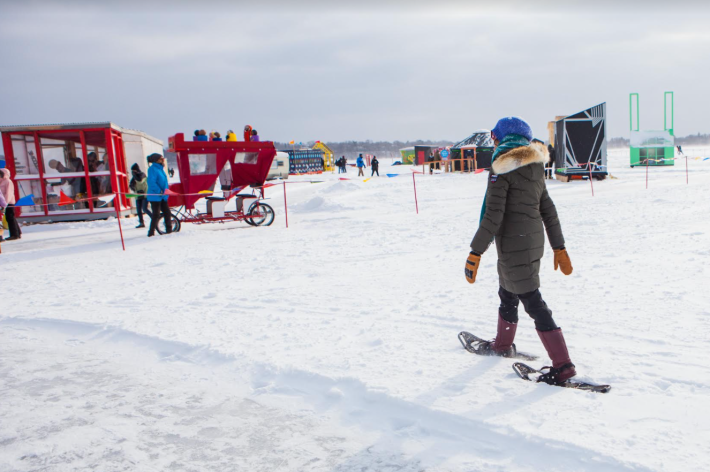 ONGOING
The Art Shanty Projects
Bde Unma/Lake Harriet
Hell yeah! After taking a coronavirus year off, the Art Shanty Projects are back. There is a teeny tiny catch, however: All shanty shenanigans will be 100% outside this year. But the usual fun will be familiar, as artists, scientists, teachers, musicians, and more will invite guests to engage and explore a variety of themes and ideas, including global warming, equity, and accessibility. There will be art, including an installation of 600 ceramic flowers by Damien Wolf and ice sculptures that people are welcome to smash to bits. There will be athletics, with lacrosse sessions and frozen yoga led by BIPOC instructors. Winding Sheet Outfit will present a play from inside a translucent clock tower, and a giant amp-shaped shanty will host local musicians and DJs. Admission is a suggested donation of $10-$20 to keep things going into the future. 10 a.m. to 4 p.m. Saturdays and Sundays. 4135 W. Lake Harriet Pkwy., Minneapolis. Through February 6 –Jessica Armbruster
Ice Palace Maze
Stillwater Zephyr Theatre
Getting lost in a land of ice: No, it's not a life-or-death situation, it's whimsical winter fun! For this massive ice maze in Stillwater, 775,000 pounds of ice was used to build 10-foot-tall walls that will take you on a half-mile stroll designed to (safely) confuse the fuck out of you. Once you escape you'll be treated to other things to see, do, and consume. A huge slide is open to kids and grownups alike, hot chocolate and s'mores will be served, and there will be an ice bar pouring delicious booze for those of age. Learn more about this little ice fest here. $20; $12 kids 12 and under. 2-10 p.m. Mondays through Fridays; noon to 10 p.m. Saturdays and Sundays. 601 N. Main St., Stillwater. Through February 20 –Jessica Armbruster
The Minnesota Ice Castle
Long Lake Regional Park
This year is already bringing us bummer news: Park officials recently warned that it's probably not going to be a good winter for access to the Apostle Ice Caves. So if you're looking to see ice doing weird/cool stuff, you're going to have to venture elsewhere. One option: This massive, man-made ice castle filled with all kinds of things to see and do. The enchanted "home" is made out of millions of tiny icicles that have been pressed together by hand, and the results are gorgeous. There are huge archways and caverns that will make you feel like an arctic explorer, there are ice slides to zoom down, and there are little tunnels to crawl through to discover a magical surprise on the other side. There's also private, fire-lit VIP alcoves, if you're looking for a romantic date spot… or just a majestic place to social distance. Dress warm and RSVP online to reserve a time to visit. $11-$15; $16-$22 weekends. Thursdays through Mondays. 1500 Old Hwy 8, New Brighton. Through February 13 –Jessica Armbruster
Outdoor Rinks are Open
Various Locations
Now that the deep freeze has arrived, outdoor ice skating has returned to the cities. While this handy map can help you find a Minneapolis or St. Paul park rink, there are also a few new additions and special events scheduled this week worth noting. If you venture out to Eagan (2611 Nordic Way), you'll find that the Vikings' training campus is hosting Winter Skolstice, a two-month celebration of ice sports. Multiple rinks will be open for free ice skating (bring your own skates), and there's a hill for sledding. Pond hockey tournaments are planned, and free curling lessons will be offered on weekends during the Winter Olympics.  If you're feeling bold, there's outdoor yoga and HIIT workouts scheduled, too. A warming house with Nordic eats, hot drinks, and live music will be open daily to keep you from freezing to death. Out in Edina (7499 France Ave. S.), Centennial Lakes is hosting daily ice skating until the melt. A warming house will have skates available to rent for $8, or take to the ice in your own pair for free. –Jessica Armbruster
Winter Warm-Up
US Bank
Ever thought to yourself: "Gee, I sure wish I could take a few laps in my inline skates on the very field where the Vikings embarrass themselves week after week." Well you are in luck! Winter Warm-Up is back this December and January, letting runners and skaters alike zip around the stadium's main and upper concourses. Family skate starts first at 5 p.m., followed by "athletic skating" from 8 to 9 p.m. Tickets are only available online—grab yours and find additional info via Ticketmaster—and be prepared to sign a waiver in case you pull an Adam Thielen and sprain your ankle. $12 (free for children 3 and under). 5-9 p.m. Tuesdays and Thursdays through January. 401 Chicago Ave., Minneapolis. –Em Cassel
Stay in touch
Sign up for our free newsletter