On the coldest day of the year last winter, in the midst of a brutal COVID wave, I went skating on Lake of the Isles. It was well below zero degrees Fahrenheit, a clear, blue, sunny day. The ice was hard and clean and absolutely untouched. I skated in circles for hours, until there was no more blood in my lower body and I couldn't feel my feet.
And I couldn't feel my feet for some time! Normally, when I'm feeling down during the winter, I'll walk three blocks to Matthews Park, abandon my feet, and take to my skates. But last year, due to the pandemic, the Minneapolis Park & Recreation board cut back rink operations. Fewer rinks were open, and the warming houses were notably and dispiritingly closed.
This winter, the rinks will be running at close-to-full capacity, with 47 spread across 23 different locations. This includes 21 rinks for general skating, 19 for ice hockey, and seven for broomball, plus warming houses with borrowable skates at every single park.
According to the Minneapolis Park & Recreation Board, that's the same number of rinks and houses as in 2019. They also note that broomball and pond hockey rinks are just for those activities—nothing else, you miscreants.
The physical construction of the rinks are mostly completed, but they remain eerie and empty for now, bereft of ice due to the warm weather. In the past I'd have maybe said it was "unseasonably warm weather," but we live in 2021, and let's be honest with ourselves and each other: This is climate change's fault. It takes between 10-14 days of consistently freezing weather—lows of single digits and highs in the 20s—to achieve a solid slate of ice, otherwise the water just sinks into the ground.
Right now, the Parks Department says that December 18 is a "wishful thinking" target date for rinks to be open, but the more realistic opening date will likely be around Christmas or early January. 
Here's a map showing the location of all the rinks across Minneapolis: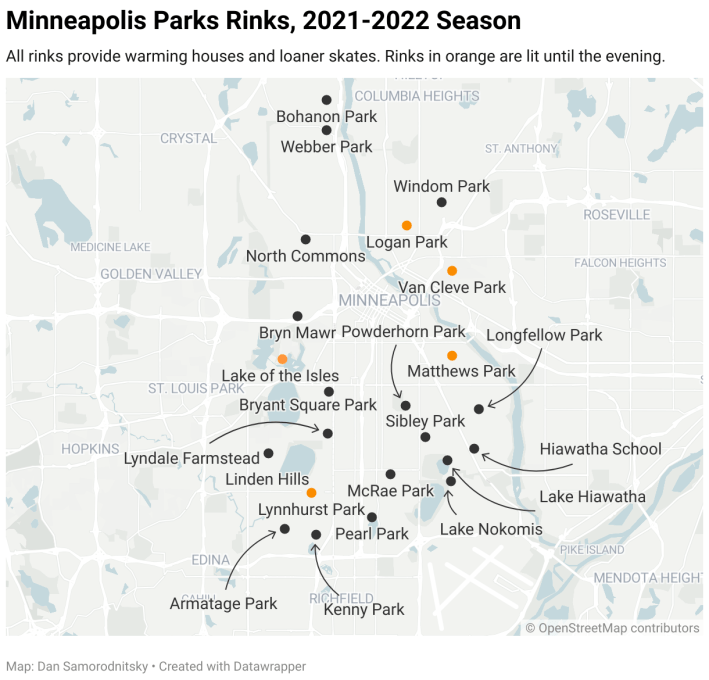 St. Paul has its own network of outdoor skating rinks, which is smaller though better lit than Minneapolis's (see the park's website for more info). St. Paul Parks and Recreation don't have an opening date yet for their rinks, but more info will be available in a week or two.
The Twin Cities are far from perfect—but the winter rinks network is a great civic achievement on par with bike lanes and rent control. No city in the United States has anything approaching the number and quality of public rinks, with free skates available to borrow. 
St. Paul and Minneapolis have the most and second-most ice rinks per capita, respectively, of cities in the United States. New York City, by comparison, has just seven public skating across four boroughs. Credit where credit is due (Canada): Toronto has 90 outdoor public skating rinks.  
In the midst of this richness of winter activity, I do not abide people looking down on winter. The public rinks system in Minneapolis is a marvel, not an admission that winter is dour and depressing and people need some kind of outlet to fight the blues but a full-hearted embrace of the season's goodness. That summer really shouldn't last forever, and that slowing down and resting from the warm seasons' torrid pace is necessary, healthy, and altogether joyous. I feel the weight of the short days and the long nights too. I know the best way to clean something is to freeze it, in water or in air.
Join me. I promise, the winter doldrums will fly away in an instant. Go buy a ratty old pair of used skates on eBay or a used sports equipment store; $20 or $30 will be plenty. Skate in circles, stop and go back and forth, or twirl in a circle. Let's hold hands in a great train across the ice. Hand on my heart, seasonal depression has a worthy adversary in a long skating session. If running is your usual method for achieving a bodily high, give skating a try. You can tell everyone about your runner's high and how great you feel, and Strava will even track your motion around the ice. Your body and mind will thank you. It'll be great. Join me.
For my part, I'll be out there until the wind strips away the layers of the year. I will skate until the wind whistles between my ears and blows the cobwebs out. Sweet and serene, cold and clean, my skull will vibrate like a tuning fork. And I'll be ready for a fresh start next year.