Events
Mpls Burlesque Fest, Greenway Glow, Greek Eats: This Week's Best Events
It's a short week but there's still lots to see and do.
12:02 PM CDT on September 5, 2023
Welcome to Event Horizon, your weekly roundup of the best events in Minneapolis, St. Paul, and beyond.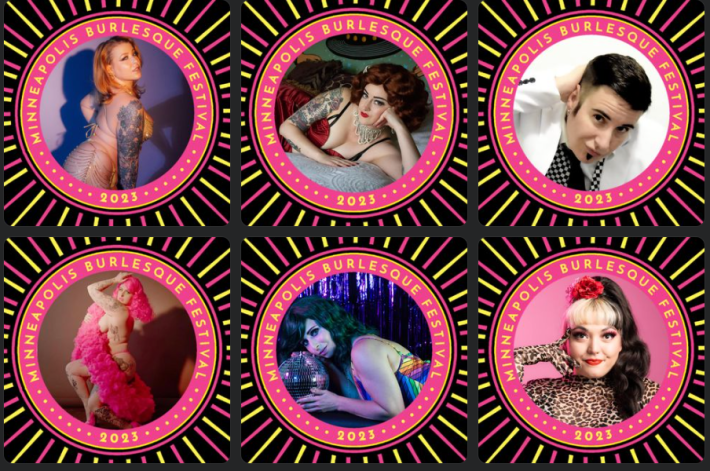 THURSDAY 9.7
The Minneapolis Burlesque Festival
Various Locations
This four-day burlesque fest brings performers from around the globe to Minneapolis for an alluring, elegant—and dare we say, quite risqué?—set of shows, workshops, and more. Things start Thursday with Gagged & Gilded at the Luminary Arts Center, one of five showcases at the new-ish North Loop performance space. There's also a "special edition" of Roulesque at the Black Hart of St. Paul (so it's really more of a Twin Cities burlesque festival, no?), along with Dr. Sketchy's at 331 Club in Northeast and a Sunday night fundraiser at Hook & Ladder. Want to go deeper on local burlesque? Don't miss Racket's recent guide from performer Petty Treason, who you can catch during Thursday's kickoff show, and find all the info and the full list of Burlesque Fest performances here. Through Sunday—Em Cassel
Kyle Kinane
Acme Comedy Co.
Pound-for-pound, Kinane is one of the best pure standups in the game. (Need immediate proof? Hear him out about pillowcases.) The Chicagoland comic comes off as a gruff hard drinker, but an underlying warmth bubbles throughout his specials, including this year's Shocks & Struts. The 46-year-old would likely be a favorite of Letterman due to his playfulness with language—dinosaurs are "God's little tricksters," foreskin is "the devil's calamari." There's nothing showy or gimmicky about Kinane; he's a throwback club comic whose enthusiasm and adventurous thinking puts him over the top. As of now, tickets are sold out. 8 p.m. Thursday; 7 & 9:30 p.m. Friday-Saturday. 708 N. First St., Minneapolis; find more info here. Through Saturday—Jay Boller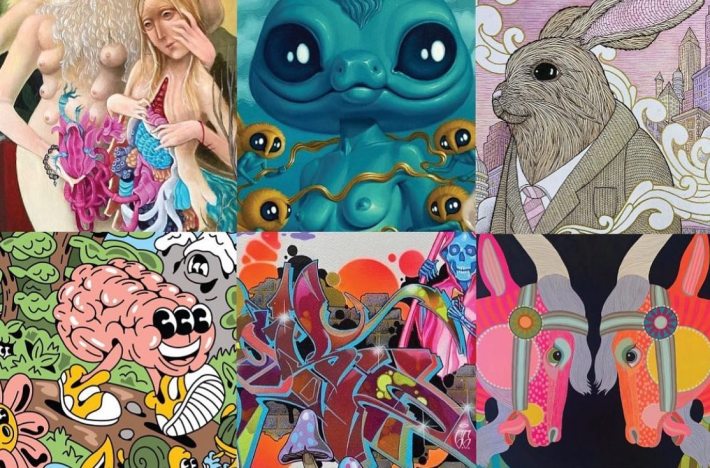 FRIDAY 9.8
It Might Be
Gamut Gallery
Much like outsider art, lowbrow art is art by the people for the people. It celebrates and explores things we love: think awesomely bad B-movies, superhero comics, DIY aesthetics, and cheap canned beer. Its roots are in '60s countercultures, but it really hit its stride in the '80s, where it thrived on the punk rock scene via 'zines, questionable tattoos, and gig posters. For "It Might Be," local illustrator/painter/muralist Chuck U has brought together a variety of artists working in this absurd, kitschy, delightful genre, including Alex Kuno, Briana Hertzog, Ewok, Jennifer Davis, Riiisa Boogie, Rodrigo Oñate, Vivian Le, and WingChow. "The world-building artists involved each create illustrative works that are accessible to artists and non-artists alike," explains Chuck U, "evolving the idea of what fine art is, what kind of art is valid in gallery spaces, and how anyone can interpret what they see and know they aren't 'wrong.'" The show opens this Friday, September 8, with beer from Indeed and DJ tunes from Mike 2600 from 7 to 10 p.m. Tickets to the party are $10-$15, or check it out for free the next day during extended open hours. 717 S. 10th St., Minneapolis. Through September 30—Jessica Armbruster
WAM-O-RAMA
Weisman Art Museum
When's the last time you made it over to The Weisman? That's right—too long ago. Fix that with WAM-O-RAMA, the annual back-to-school museum blowout that's open to all inside and around the Gehry-designed masterpiece. The live music begins with Dial Tone, winner of this year's UMN Battle-of-the-Bands, whose jangly, throwback emo suggests a woman-fronted Braid with more dramatic alt-rock flair. (Check out their killer in-studio at Radio K.) Also performing are folk-rockers Harlow and funky pop-rock headlining duo FenixDion. The party also features a photo booth, drinks from Misfit Coffee, and 400 free posters from Bohemian Press. Free. 4-8 p.m. 333 E. River Pkwy., Minneapolis; find more info here.—Jay Boller
Ear Coffee VI
Cedar Cultural Center
Racket made a big deal outta turning two last month, but the folks over at Ear Coffee have been doing their thing for six years now, which is, I believe, about three times as long. Born as a music blog, later branching into the world of podcasts and performances, they've got a great local lineup that's just the thing to perk (coffee term) you up. Headliners Early Eyes took their zippy indie funk/pop to new heights on Look Alive! Anita Velveeta's neo-grunge is just the right mix of catchy and frantic, and her 'tween-song banter is just as entertaining. 12th House Sun proudly call themselves emo-shoegaze. (I remember when bands who clearly played either of those wouldn't fess up!) And Psylo is all over the place stylistically in a way that's exhilarating rather than messy—except when they want to be messy, which we all do sometimes. All ages. $15/20. 8 p.m. 416 Cedar Ave. S., Minneapolis; find more info here.—Keith Harris
Taste of Greece Festival
St. Mary's Greek Orthodox Church
Greek food? Delicious. Taste of Greece Festival? Super delicious, of course. This popular food and culture festival returns to Uptown this weekend for three days of middle eastern tastes and treats. That includes dolmathes, gyros, souvlaki, and baklava, and be sure to stop by the bake sale where you can pick up things to take home. Outside, guests can enjoy live music, dance, and cultural performances; inside there will be tours, demonstrations, talks, and a book boutique. Bring your plastic money; this is a no-cash event. Find more details online. Free. 2-9 p.m. Friday; noon to 9 p.m. Saturday; noon to 5 p.m. Sunday. 3450 Irving Ave. S., Minneapolis. Through Sunday—Jessica Armbruster
Ween
Surly's Festival Field
It really is a tale of two concerts in early September at Surly. On one hand, you've got the rock 'n' roll mad scientists of Ween, whose outrageous career has been spent flipping off any notion of genre confinement. And, on the other, you've got soul-rock schmaltzers Train playing on 9/11 three days later. But we're here to talk about Ween, who rock. Formed in 1984 by junior high buddies Gene and Dean Ween (not their legal names), the Pennsylvania group graduated from the lo-fi punk of their early years on Minneapolis's own Twin/Tone Records to grand, bizarre, and always catchy artistic statements like 1997's The Mollusk on major labels. Ween split in 2012, reunited in 2015, and played sporadic comeback shows, including a '16 one at St. Paul's Roy Wilkins Auditorium, before Covid shut things down. This run of shows is being billed as their very major reunion tour, which is surely sweet news for their Deadhead-level devotees. $65. 5:30-10 p.m. 520 Malcolm Ave. SE, Minneapolis; find more info here.—Jay Boller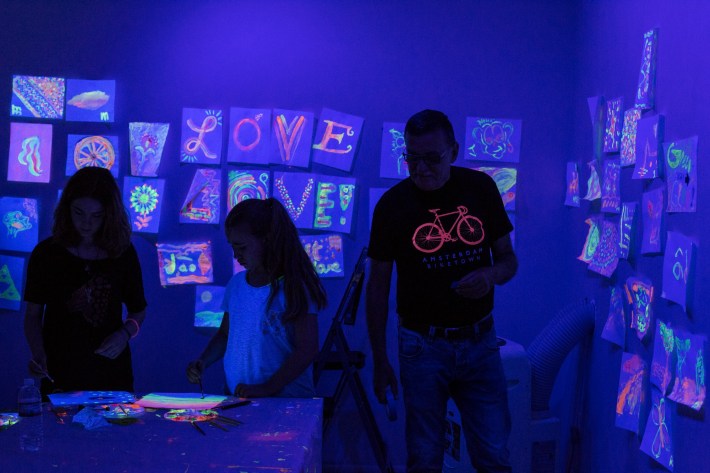 SATURDAY 9.9
Greenway Glow
Midtown Greenway
The Greenway is already a scenic ride, offering unique views of neighborhoods, lots of artists murals, and pollinator gardens along the way. But this week, the Greenway ups the experience with its annual nighttime glow ride. Along the five-mile trail folks will find illuminated art installations, pop-up theater performances, puppetry productions, and live music. As always, people are welcome to bike, walk, skate, or rollerblade though. Main hubs of activities include 10th Avenue near the Midtown Bike Center, the Roof Depot in East Phillips, and the Ivy Arts Building in Seward, where there will be a beer garden. This event is also a benefit for the Greenway; folks who pay for VIP tickets get two free pints, apps, and other treats. Free; $49 VIP. 4-10 p.m. Midtown Greenway, Minneapolis.—Jessica Armbruster
Selby Avenue Jazz Fest
Selby Ave. at Milton St. N.
Since 2002, this beautiful celebration of music and community has shut down Selby for a day of world-class live jazz. Among this year's performers: the Selby Avenue Brass Band, students and staff from Walker|West Music Academy, the enormous Brio Brass collective, trumpeter/bandleader Solomon J. Parham's Urban Legends of Jazz, uplifting duo Pippi & Daniel and, as headliner, New York City's Grammy-nominated smooth jazz saxophone/flute ace Najee. As always, the block will be lined with arts and food vendors, the latter of which will include Taste the Real Nawlins, West Indies Soul Food Truck, and Logan's Catfish. Free. 11 a.m. to 7:30 p.m. Corner of Selby Avenue & Milton Street North, St. Paul; find more info here.—Jay Boller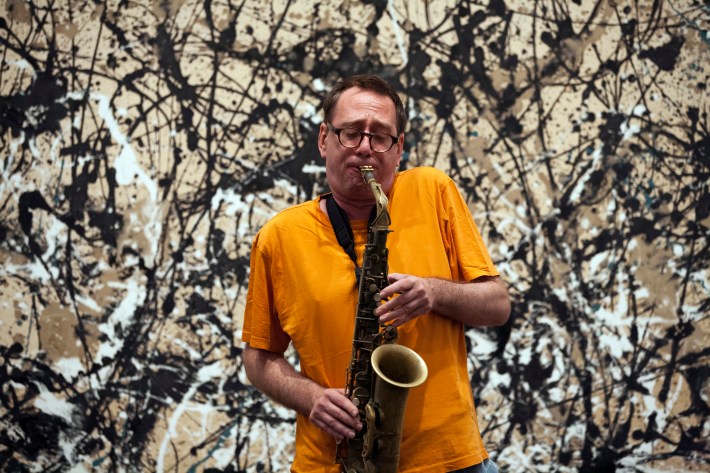 Zorn @ 70

Walker Art Center, Basilica of St. Mary's
You only turn 70 once, even if you're John Zorn. The genre-splintering experimentalist has amassed a colossal body of work over the years, rooted in classical music but boldly improvisational, taking on rock, jazz, traditional Jewish music, and whatever else has come his way. He's the kind of figure who practically demands an excessive celebration, and with 12 hours of performance, in various locales, Minneapolis is giving him one. From noon to 4:30 p.m., several Zorn ensembles will perform acoustic concerts in the Walker galleries. L'affair de Zorn continues at the Walker's McGuire Theater that evening with three separate performances. First, Bill Frisell, Julian Lage, and Gyan Riley perform Zorn compositions on acoustic guitars. Then John Medeski, Matt Hollenberg, Kenny Grohowski, and Brian Marsella will pay tribute to Zorn's more cacophonous side. The birthday boy himself will lead his New Masada Quartet (Julian Lage, Jorge Roeder, and Kenny Wollesen) after that. Finally—because far from being Zorned out by the day's events you are going to be totally in the Zorn Zone—cross the bridge over Lyndale and Hennepin to hear Zorn perform Hermetic Organ at midnight on the Basilica's organ. I'm 17 years shy of 70 myself and I sure hope John finds time for a nap before that. The gallery shows are free with Walker admission; tickets to the McGuire Theater performances are $20-$60, with each performance requiring a separate ticket. The Basilica performance is free to anyone who can stay up past midnight. 725 Vineland Place, Minneapolis; find more info here.—Keith Harris
The Third Annual Grape Stomp
AxeBridge Wine Co.
Why go to wine country to stomp all over some grapes when you could do it right here in the North Loop? Here's how AxeBridge's annual competition works: There are two stompers per team, and four teams per 30-minute heat (you select your heat time with your ticket purchase). Whoever manages to make the most juice is the winner, though be warned: "It's harder than you think," the winery promises. All participating teams get two glasses of wine and two T-shirts to tie-dye in grape juice, which is sure to be a conversation-starter at some point down the line. Don't want to sign up to stomp? You don't have to! Spectators are welcome to cheer on the grape galumphers free of charge. 21+ to participate. $50. Sessions start at 1 p.m. Saturday; noon Sunday. 411 N. Washington Ave., Minneapolis; find tickets and more info here. Through Sunday—Em Cassel
City Country Fest
Palmer's Bar
City Country Collective heads to Palmer's this weekend for the first-annual City Country Fest, with a 10-band showcase of local country, rock, and Americana. The fun starts on Palmer's outside stage, where Goatroper will set things off at 3 p.m. and Turn Turn Turn winds down the outdoor activities at 9 p.m. But the night is young: This is just when things move inside for James Eugene Russle, The Right Here, and, finally, Nato Coles and the Blue Diamond Band. Should be a lotta fun! $20. 2 p.m. 500 Cedar Ave. S., Minneapolis; find tickets and more info here.—Em Cassel
SUNDAY 9.10
Do Re #MeToo
Parkway Theater

In 1971, rock critic Ellen Willis set out to prove that Cat Stevens's "Wild World" was more sexist than the Rolling Stones' "Under My Thumb" with this One Weird Trick: Ask yourself if you could imagine a woman singing that song to a man. If you couldn't, that song was sexist. (Or sexist-er, I guess. It's also entirely possible that Stones die hard Willis was just looking for a way to defend her boys against her most doctrinaire feminist friends.) Well, tonight we'll find out how well Willis's exercise works as a bunch of the Twin Cities' most powerful female vocalists tear into some of the nastiest classic songs about women, backed by a band of all women as well. (There are too many big names to list without leaving someone out, but just look!) It's a benefit for the Abortion Access Front, which could certainly use the help at a moment when women face far greater enemies than even Cat Stevens. (I really do hope they don't play "Wild World." "Under My Thumb" would rock though.) All ages. $50. 7 p.m. 4814 Chicago Ave., Minneapolis; find more info here.—Keith Harris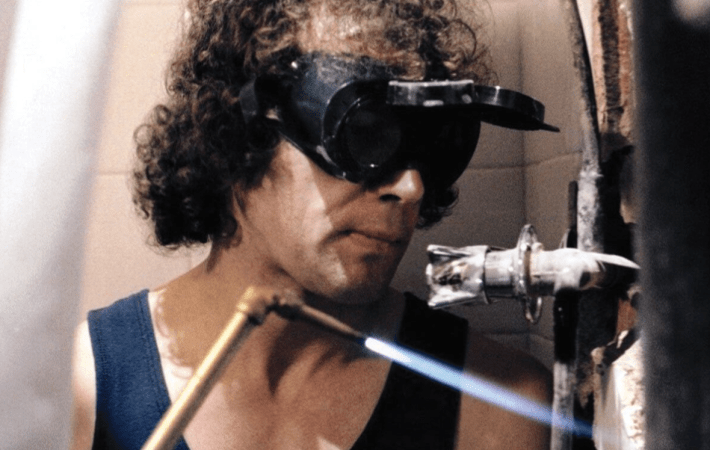 ONGOING
Peter Weir
Trylon
Though it's hard to sum up the career of a director who's worked comfortably across genres for nearly 50 years in a simple phrase or two, the films of Peter Weir are, for the most part, thematically consistent. Weir tells the stories of people who find themselves in places where they don't quite fit in, whether that's Harrison Ford as a Philly cop embedding with the Amish in Witness or the early 20th century Australian schoolgirls of Picnic at Hanging Rock who go missing during a class trip. This seven-film selection shows how flexible that scenario can be. Four of the movies come from the '70s, when Weir emerged as part of the Australian New Wave: his debut, The Cars That Ate Paris, about a town in the Australian brush whose inhabitants survive off car wrecks; Picnic at Hanging Rock, which is sort of an ur-text for Sofia Coppola's career; The Last Wave, a poetic examination of a colonialist legacy; and The Plumber, Weir's class conscious Ozploitation anticipation of Haneke's Funny Games. Weir made the transition to Hollywood in the '80s, and this series includes the two films he made with Ford: Witness, and The Mosquito Coast, about an American who rejects the modern world and relocates his family to Central America. The latest film in the series is Fearless, from 1993, with Jeff Bridges as the survivor of a plane crash who finds himself alienated from anyone who hasn't endured what he's been through. Personally, I've got plenty of gaps in my Weir viewing, and I'm looking to remedy that this month. $8. 2820 E 33rd St, Minneapolis; find times, dates, and more info here. Through October 1—Keith Harris
Slider Pop-Up
Fulton Taproom
We love sliders, don't we, folks? "What if we made a regular burger small and scarfable?" The innovation! Fulton is putting its own spin on the State Fair food fun this week with an all-slider pop-up in their North Loop taproom. There will be no regular menu during this time, just an array of snack-sized burgers and recommended beer pairings to help stave off the late summer blues. 414 Sixth Ave. N., Minneapolis; find more info here. Through September 6—Em Cassel
Romeo and Juliet: A Pickup Truck Opera
Various Locations
For the past 15 years, Mixed Precipitation has brought accessible opera shows to parks, community gardens, and wineries throughout the metro and beyond. (The "pickup truck" in their name is a nod to the 2011 Ford Ranger Pickup that serves as their ride and, often, as part of their stage.) This year, they're reimagining Romeo and Juliet via Vincenzo Bellini's 1830 opera, I Capuleti e i Montecchi (The Capulets and the Montagues) for the modern day. In 2023, Juliet is a social media guru, helping folks live their best lives with DIY videos, recipes, and reviews while banished Romeo is sharing his carefully curated van-life from the road. Will the two manage to elope without creating a wave of murders and suicides? (We all know how this thing ends.) Despite the name, this isn't an opera-only operation: Tunes will include hits from the Fugees, the Pixies, and Fleetwood Mac. Make reservations at mixed precipitation.org. $10-$20 suggested donation. July 29-September 10—Jessica Armbruster
Skyline Mini Golf

Walker Art Center

Are we a mini-golf town? Signs point to yes, as we have trendy bar mini golf (Puttery, Arts + Rec), campy mini golf (Can Can, Betty Danger), old school mini golf (Big Stone, Golf Zone), and, yes, museum mini golf. For over 15 years, the Walker's Mini Golf has been a sign of spring, whether it's popping up in the sculpture garden or its more recent home on the skyline terraces. This year's installation features 10 holes total; highlights include a Hmong textile-inspired hole created in collaboration with the Asian American Organizing Project's Youth Action Team, and two holes from Native Youth Arts Collective. Returning hits include the hot dog hole, the one where you have to bounce off of ping pong paddles, and the one where you become the obstacles and hazards. Find more info at walkerart.org. $12. 725 Vineland Place, Minneapolis. Through October 1—Jessica Armbruster 
Stay in touch
Sign up for our free newsletter