Arts
Striptease and the Cities: A Performer's Guide to Burlesque in Minneapolis and St. Paul
Where to see hot, nearly naked folks—and why it's important.
8:50 AM CDT on June 13, 2023
I'm on stage, and for the last five minutes I've peeled off layer after layer of pink satin and black lace to the growing delight of a crowd full of strangers. As my rhinestone-encrusted bra hits the floor, the audience erupts in cheers. The stage is covered in the costume pieces I've removed, as well as crumpled dollar bills people have thrown for me. I take a last look at my audience, wink, and strut away. My next act will be something completely different from what I just did—an upbeat disco track with a body-hugging jumpsuit and feather boa—and I just know it will leave them wanting more.
My name is Petty Treason, and for burlesque performers like myself, our striptease is our art. I started burlesque in 2016 in Des Moines, Iowa, after I saw a poster for classes in a coffee shop. As a theater major in college, I thought burlesque classes would help me feel more comfortable with my body while performing. It did way more than that. 
By the next year I graduated and moved to the Twin Cities. It wasn't long after that I put theater on the backburner and pursued more burlesque opportunities, and in doing so, found a theatrical fulfillment I never had before. I was my own director, costume designer, sound engineer, and star. I met lifelong friends and became a part of a vibrant community. Now, I'm a nationally traveled performer producing multiple burlesque shows in the Twin Cities. Burlesque has become my everything, and I can't wait to strip it down for you and expose all the parts I love.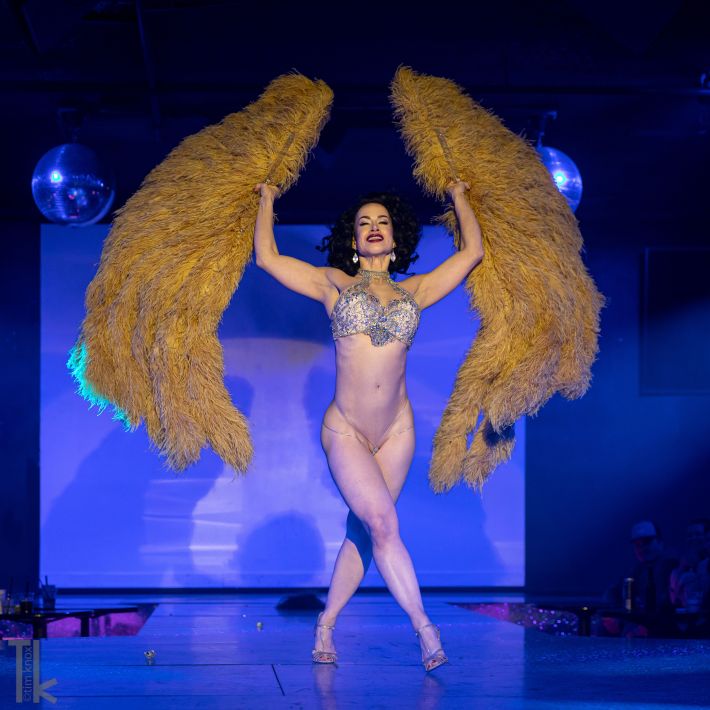 Burlesque has always been an adaptable art form. Its history in the U.S. starts in the 1860s with theatrical productions called "burlesques," which included music, circus, and dance, as well as women performing in menswear. Performers shifted from wearing conventional clothing to as little clothing as possible as the art shifted from theaters to burlesque halls and gentlemen's clubs. Burlesque as we understand it came into its golden era during the Jazz Age, when folks were looking for cheap escapism. 
By the 1950s, though, home television and Playboy magazine each took a toll on burlesque's popularity. Burlesque eventually moved almost entirely into strip clubs and gentlemen's clubs, and interest in the art dwindled by the 1970s, by which point American audiences could easily see nudity on movie screens. Then, in the 1990s, the neo-burlesque movement started as a more alternative art form, eventually growing into the burlesque we recognize today.
Since the '90s, neo-burlesque has taken stages by storm. Neo-burlesque can be a call back to vintage glamor, or something completely new and wild. You may see performers headbanging to Metallica in a thong (me), or stripping out of a Peewee Herman costume like Minneapolis-based performer and burlesque instructor Deeva Rose. In an especially charming act, local performer Pedi Bourgeois enters the stage in a modest 19th century garb. Her only reveal? Her ankles. It all depends on the performer and the world they want to create for their audience.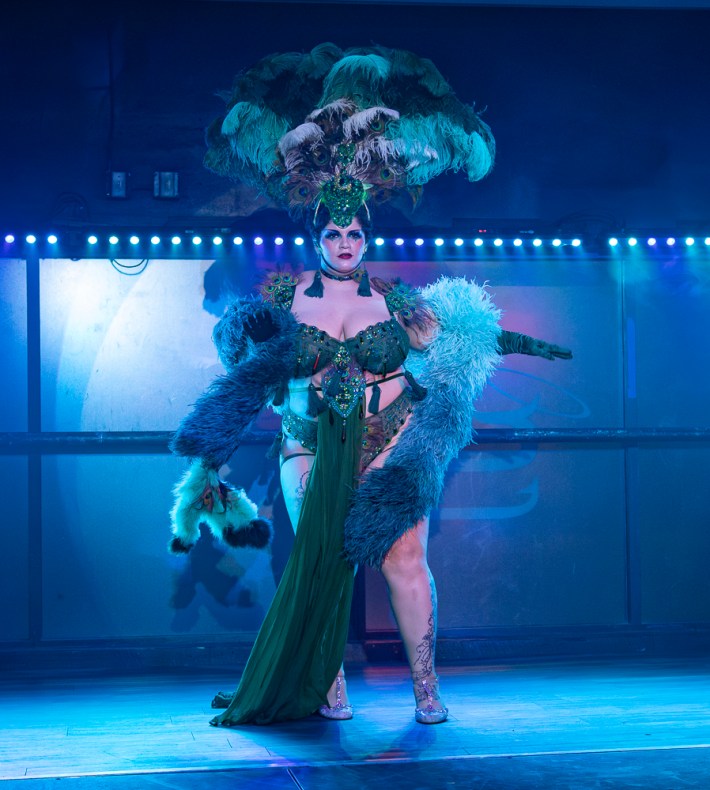 The neo-burlesque resurgence in Minnesota began around 2003, according to Pedi Bourgeois—who's also a professor and scholar—with shows including Le Cirque Rouge de Gus in Minneapolis's Warehouse District, Lili's Burlesque Revue, and Le Cirque Rouge Cabaret & Burlesque Show. These shows eventually shut down, but plenty of others emerged on the scene—more on those in a little bit.
In burlesque, our carefully constructed costumes and aesthetics build a world on the stage to create a one-of-a-kind experience for our audience. We tempt and tease while removing our clothing to specific beats and movements in the music we choose.
At your local cabaret show there's likely to be a variety of styles on display. Some performers, like international burlesque sensation Sweetpea, can have a "classic" look about them. Her costumes are dripping in glamor; her gowns are covered in rhinestones, sequins, or beads that accentuate every body curve. In Minneapolis, the stunning Keke Boudreaux's classic look incorporates colorful feather pieces and accessories, which are completed with decadent props, including the iconic feather accessories she makes herself. Performers also play with fans that hide their body and create beautiful staged moments. Boas drape around and hug the body, covering and revealing bits and pieces. These looks are a callback to when burlesque was at its peak in the '30s, '40s, and '50s, and the aesthetic is a classic for a reason: Being opulent never goes out of style.
The word "burlesque" also means "to parody," leaving plenty of room for comedic, over-the-top performances. I have an act where I dress up as a giant red gummy bear and strip down to a lollipop bra. I even throw gummy bears from different parts of my costume into the audience. Why something so big, silly, and sweet? Because I like candy, duh! 
A good friend of mine, performer Granny Pam T, has an act where she comes out dressed as a lunch lady, complete with a lunch cart and trays with sandwiches and milk. She performs to Adam Sandler's iconic "Lunchlady Land." Then the act shifts, and you see lunchlady Granny Pam T stripping down to a micro bikini, with her rubber gloves and hairnet still intact. Every time she performs this act, I see audience members doubled over laughing, taken in by her storytelling and stage presence.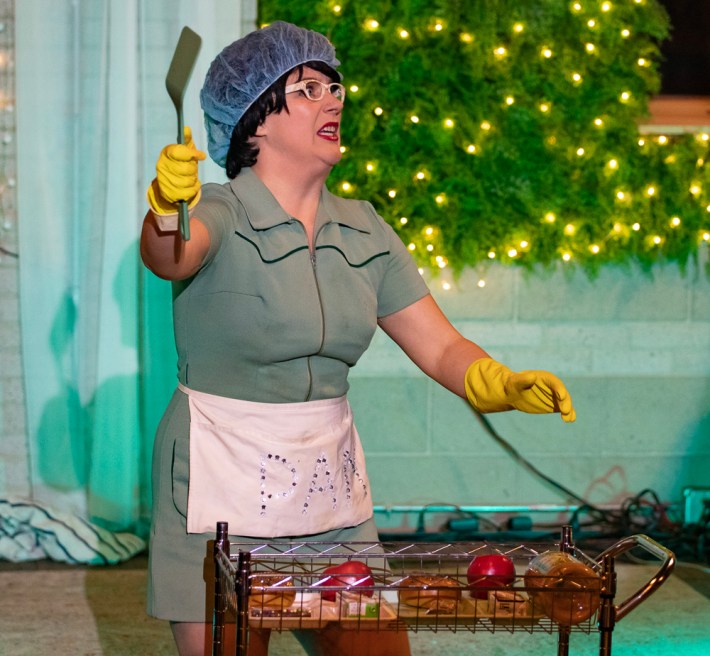 One of the best parts of burlesque as a performance style is its versatility; there's so much more to burlesque than striptease.
Despite the tassels, performing burlesque is an inherently political act. The art of showing your fully (or nearly) naked body on stage in public is something people have been put in jail for. And if that person has FUN while they're doing it? Heavens to Betsy! There are still laws in place at this exact moment that dictate what parts of their body an artist can show on stage. Most of these laws pertain to those with female presenting bodies, of course, but no one is exempt.
In the Twin Cities, performers alter their acts to fit modesty laws, or "blue laws," all the time. In some places, performers are required to cover their "underboob," or the area of the breast under the nipple. Some venues mandate that you cover your entire bottom (which is a problem for me, as that's my best feature). However, thanks to the efforts of sex workers and other artists and activists in our communities, there are places where we can perform. 
And the thrill of witnessing something so close to taboo is exciting and intimate. Seeing performers moving freely on stage without shame or concern about how they are perceived is something that audiences keep coming back to see. It's the true magic of burlesque.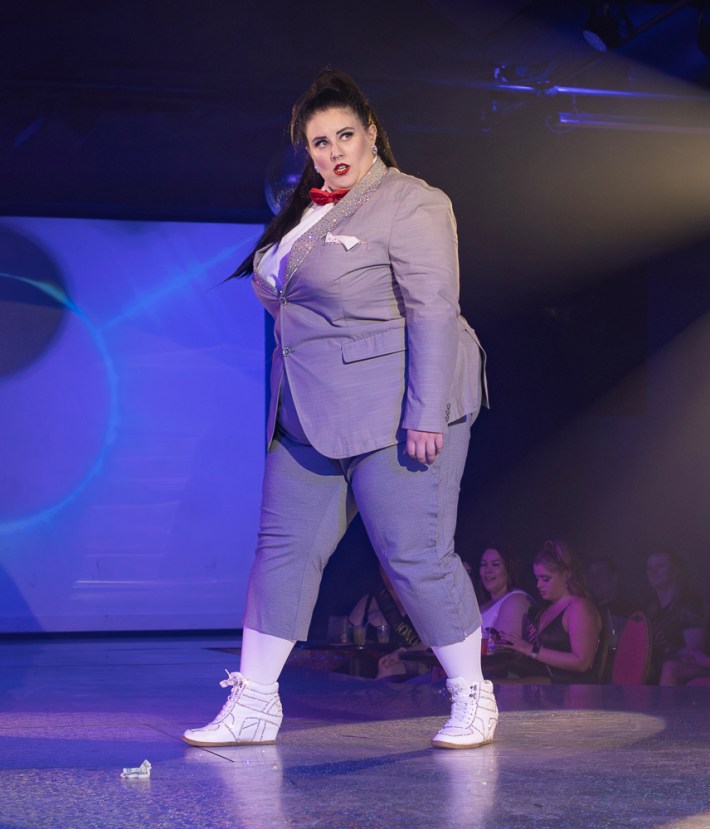 This is an art form that welcomes all bodies to the stage. My body is a fat body, and it looks damn good while I shimmy and shake for audiences. Other performers that share the stage with me may be smaller, or bigger, with a different skin color, different hair, different abilities, different gender expressions, and so much more. 
There is no singular "burlesque" body, and in fact it's our differences that makes burlesque a special art form. There's no room for shame on the stage! Burlesque performers are known for exuding confidence, power, and sensuality. These things can't happen if we're worried about what our bodies look like, or if they fit a made up standard of beauty. That energy of body love ripples over our audiences, making our spaces feel inclusive and body positive. 
I'm sure at this point you're thinking, "OK, Petty, but where should I go to see a burlesque show?" Well get your dollars out and get ready for life-changing sexy fun, because I got you!
Golden Garters Burlesque is a live band show, which is double the fun and magic! Live hot jazz music fills up The Amsterdam Bar & Hall while burlesque performers take the stage. Burlesque used to be performed to live music and this show does a beautiful job of embracing that nostalgia while showcasing burlesque styles of today. Talk about a range! Tickets and info about this show can be found on The Amsterdam's website or on Instagram at @capitalcitycabaretmn.
The Nudie Nubie Show: An Amateur Reveal began in 2007 and still runs today, making it the longest-running amateur burlesque competition in the U.S. These days, it takes place at the Black Hart of Saint Paul (formerly the storied Town House Bar) on the second Friday of each month, and it's run by local burlesque luminary Foxy Tann. Foxy has taken the competition to an even larger scale by hosting "Nudie Nubies Nationwide," a national amateur competition at the Historic Mounds Theatre in St. Paul. Performers who have just started their careers compete for the title of "Nationwide Champion'' in a showcase that features burlesque stars from across the country. There's no other amateur burlesque competition to this scale in the U.S. right now, and it happens right here in St. Paul.
Every first and third Saturday at the Historic Gay 90's, La Folies Burlesk performs on the Le Femme stage at 8:30 p.m. While the show features well established performers, they also have a segment of the show for up and coming performers! 
I produce a show called Whose Bra is it Anyway?, which is a burlesque improv show. Audience members draw songs out of a bucket and performers have to perform on the spot. The show has a fun and silly air about it, and you can currently catch it at Norseman Distillery on the last Thursday of the month. You can follow along on Instagram to keep up with whatever shenanigans I'm producing!
And when you've seen a burlesque show and thought to yourself, "I want to do that," you can head over to The Rose Academy of Burlesque. The Rose Academy teaches burlesque-specific classes, as well as classes focused on body movement and joy. No matter your ability or skill, they have a class that can fit your needs. Head over to their website to learn more.
Because let's not forget one of the biggest aspects of burlesque shows: They're sexy as hell. Gorgeous performers taking their costumes off on a stage while eye-fucking their audience is gooey goodness. My favorite moments are when I'm sinking into myself, touching my favorite parts of my body while making eye contact with my audience. I'm relishing in my sensuality, and it's fun to watch other people watching me. Burlesque is sexy because of the confidence of the performers and the way they embrace their sexuality and sensuality. 
…don't you want to feel that for yourself?
Stay in touch
Sign up for our free newsletter