Food & Drink
Local Pizza Chains, Ranked
We flipped open 30 cardboard boxes on a gooey, saucy, greasy quest to discover the best Twin Cities-based pizza chain.
7:36 AM CST on December 15, 2021
We've all got our favorite little neighborhood pizza joint, be it fancy or humble. And we've all ordered delivery from the giant national corporate pizza franchises. But in between the behemoths and the artisans is a special kind of outfit: the local pizza chain.
We're talking about the businesses that are successful enough to open in a few different spots in the Twin Cities metro but aren't out to bring Domino's down. These are the kind of joints most folks in the area know, and many of us have a strong opinion about. In other words, the perfect kind of pizza places for Racket to rank.
So we ranked 'em, and here's how we did it. First, we stayed local: The chain had to be based in the greater Twin Cities metro. Then we arbitrarily defined a chain as a business with at least three restaurants in the area. (Sorry to both Mesa Pizza locations.) 
Then, very scientifically, we ordered a cheese pizza as a control as well as what seemed to be the chain's signature speciality pizza, and we drove out to wherever the hell we had to pick them up. (Eden Prairie is fuckin' far, people!) Finally, we ate them, shared our opinions with each other—which, strangely enough, were almost always unanimous—and gathered them into the little blurbs you see here. (Each blurb is followed by some sample verbatim-ish quotes from our chow sessions, unattributed to protect the innocent.)
Did we miss a chain here? Probably! Are any of our rankings wrong? Absolutely not. Will you disagree with any of our rankings? Well, that's a different story.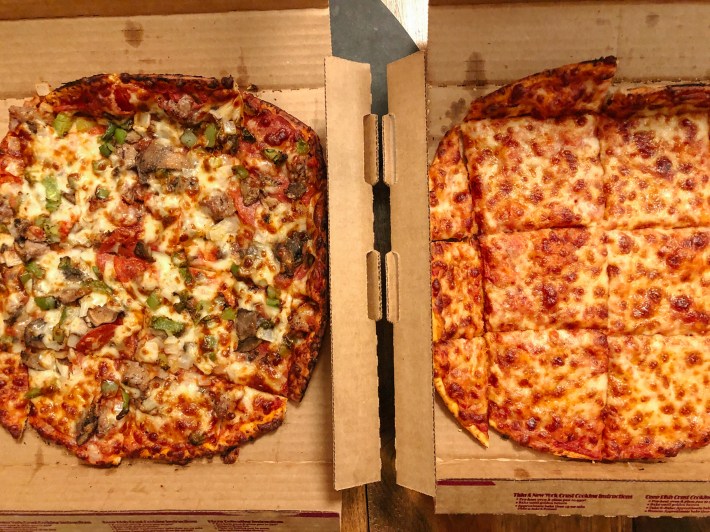 15. Broadway Pizza
Classic Deluxe: "A classic combination of cheese, sausage, pepperoni, mushrooms, green pepper & onion." (small 11")—$16
Cheese (small 11")—$10.30
A local institution, Broadway has been in business since 1953, and that's not hard to believe—these pizzas tasted 68 years old. If you grabbed them from under a convenience store heat lamp 300 miles into a long road trip, you might be satisfied. If they came delivered to your house, though, you might find yourself flinging the same unpleasant adjectives at it we did. The crust? Dusty, musty, and ashy. The sauce? Salty and stanky. The cheese? Stale and putrid, with a chemical aftertaste. Worst of all was the sausage, a foully seasoned cluster of sinew. At least Chuck E. Cheese or Circus Pizza offer animatronic entertainment. Broadway offers nothing but culinary despair. Not one of us finished our slices. Most of the bad pizzas we ate were just bland and forgettable. These, sadly, were neither.
"This sauce reminds me of cigarette ash."
"Is this from a skating rink?"
"That sausage fucks you up."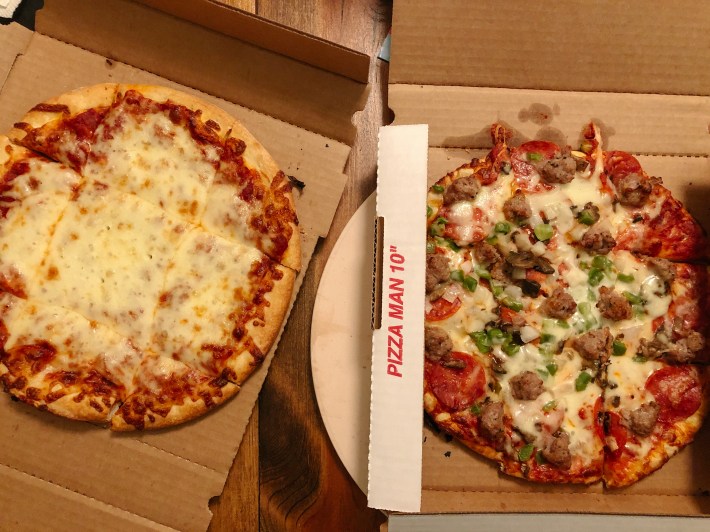 14. Pizza Man
Special: "Our Signature Marinara Sauce, Mozzarella Cheese, Pepperoni, Fresh Mushrooms, White Onions, Green Peppers, Italian Sausage and topped off with more Mozzarella Cheese" (small 10")—$16
Cheese (small 10")—$11
Like all men, Pizza Man says just what you want to hear. Dough made in-house, "fresh quality ingredients," excited to meet your parents, etc. But then the cracks start to appear. For Pizza Man, they begin small, like the fact that its '90s-era website claims to have 30 locations, though only 11 exist. (We were stunned, upon learning of Pizza Man, to see it's been around since '77.) The most damning falsehood is the screaming claim of "GREAT TASTING PIZZA." A quick caveat: Each Pizza Man is independently owned and operated, and the one we visited in Columbia Heights was working with a skeleton crew of two friendly workers, one of whom was puffing a heater outside before rushing in to process our order. So maybe being short-staffed resulted in the wet, doughy, confusingly cut, and mostly flavorless crust we encountered. Or the Ragu-tier sauce. Or the absurd amount of suspect cheese. Or the toppings that likely appeared (un)fresh from a plastic bag. We wanted to love the Pizza Man, but turns out he's a dog making pies fit for the doggie dish.
"My mouth immediately forgot what the cheese pizza tasted like once I swallowed it."
"With a square cut, it's gotta be crispy, otherwise it's a big old mess. And this—it's a big old mess." 
"Gotta say, the name Pizza Man fuckin' rocks."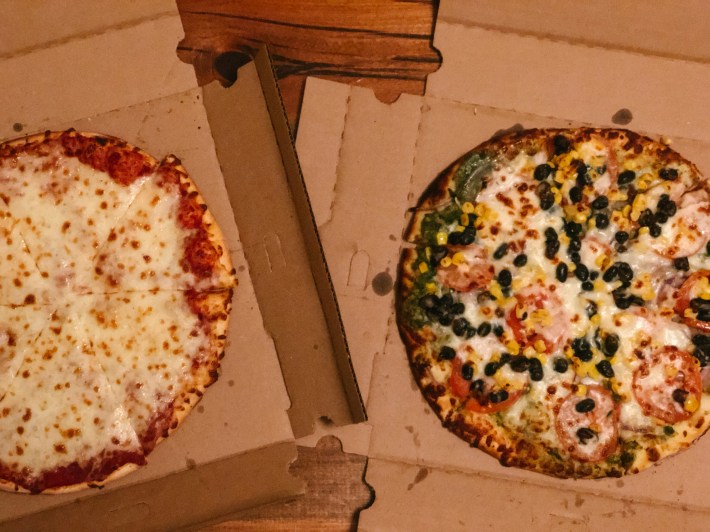 13. Parkway Pizza
Pico de Gallo: "Tomatoes, onions, corn, and black beans on a light pesto sauce topped with a light portion of mozzarella. Served with a lime wedge and cilantro." (small 10")—$14.17
Cheese (small 10")—$10.19
We had high hopes for Parkway Pizza. The menu looks fun, and there are lots of vegan and vegetarian options. To the people who talked Parkway Pizza up to us: Do you need to get tested for COVID? Because this 'za was at the frozen pizza level. The crust was spongy, bright white, and floppy, giving us big premade energy. The sauce was pure tomato paste. There were no spices—not even a hint of oregano. "This literally tastes like Sysco," one taster exclaimed. The cheese was thin and grainy, yet somehow doughy. It was a struggle to get it to melt in the microwave the next day. As for the Pico de Gallo pie, it was oddly corn-forward, and pretty bland overall. We were also confused about why there was Italian pesto sauce on a "Mexican" pizza. 
"We're in no man's land between frozen and fresh." 
"It's aggressively fine."
"This is a company party pizza."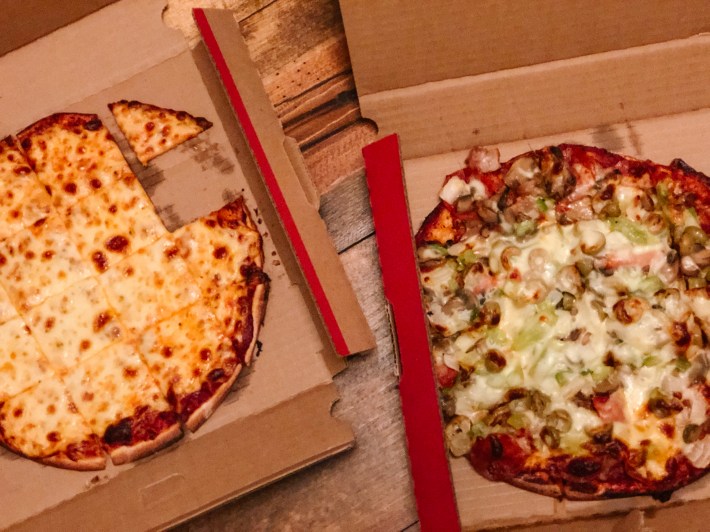 12. Red's Savoy Pizza
Red's House Special: "Savoy's Original Sausage, Pepperoni, Mushrooms, Onions, Green Peppers, Green Olives" (small 10") — $18
Cheese (small 10") — $10
Earl "Red" Schoenheider launched the first Red's Savoy back in 1965, and, as the story goes, worked at that restaurant seven days a week until he died in 2017. That same year, his company debuted its controversial "'Sota Style" branding—thin square-cut crust, "passive aggressive" sauce, toppings plus cheese galore. At the time, Chicago-based food blog The Takeout called Andrew Zimmern to ask whether 'Sota style is, in fact, a thing. "Fuck no," replied the noted local food dude. Setting aside that debate, the Red's Savoy we sampled was drowning in salty cheese at a dangerous 1:1 crust/cheese ratio. The allegedly spicy sauce was a bland afterthought, the mushrooms appeared to be of the previously jarred variety, and the pepperoni failed to distinguish itself, though the homemade-looking spicy sausage proved pleasant. Burnt on the outside yet chewy toward the middle, the crust served its purpose. One Racket owner deemed the accompanying pull tab that lets you win pizza to be "cute." Does the bloated marketing budget devoted to proselytizing "'Sota Style'' contribute to a small pizza costing $18? In the parlance of my third-generation 'Sota-style parents: a bit pricey.
"It tastes like bar pizza, and that's what fuckin 'Sota style is." 
"Like a Lotzza Motzza. Except I'd rather eat a Lotzza Motzza."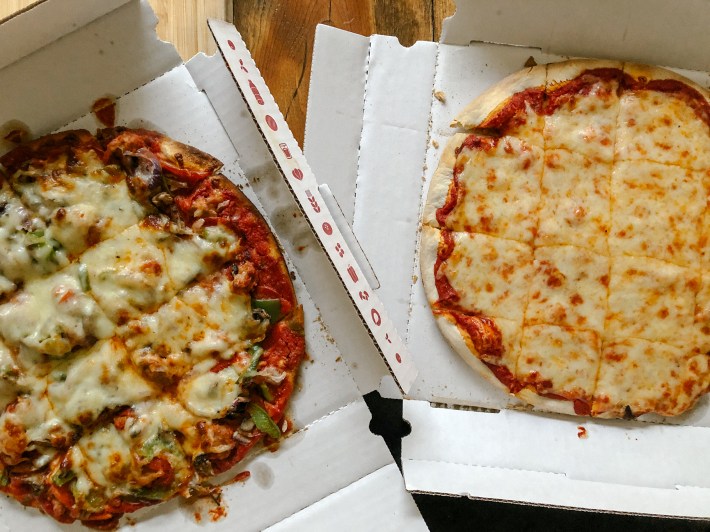 11. Carbone's Pizzeria
Carbone's Special: "Sausage, Pepperoni, Mushroom, Red Onion, Green Pepper" (small 10")—$14.75
Cheese (small 10")—$9.50
Carbone's 67-year-old roots trace back to a small Italian grocery store on St. Paul's East Side. Today, the empire laid by Antoinette "Nana" Carbone has sprouted around 20 locations throughout the metro, including the neat neighborhood pizza pub by Lake Nokomis we visited. The pizza, unfortunately, doesn't live up to the legacy. Leathery in appearance, an excessive sheet of cheese hugged everything tight like a tarp. The crust, at once stale on the perimeter and soggy at the center, struggled to hold the toppings which, to their credit, had clearly seen a knife in-store; the mildly sweet sausage didn't offend. Applied sparsely, a thick, oregano-forward sauce delivered a funky aftertaste. Similar to Red Savoy's, Carbone's puts an emphasis on its marketing and franchising opportunities—rarely indicators of quality. It's possible Carbone's hunger for growth got in the way of keeping longtime customers hungry for its pizza.   
"Parkway, Red's Savoy, and Carbone's are all kinda doing the same square-cut thing, none of them particularly well."
"As an olive branch: The restaurant seems like a fun place to grab a beer."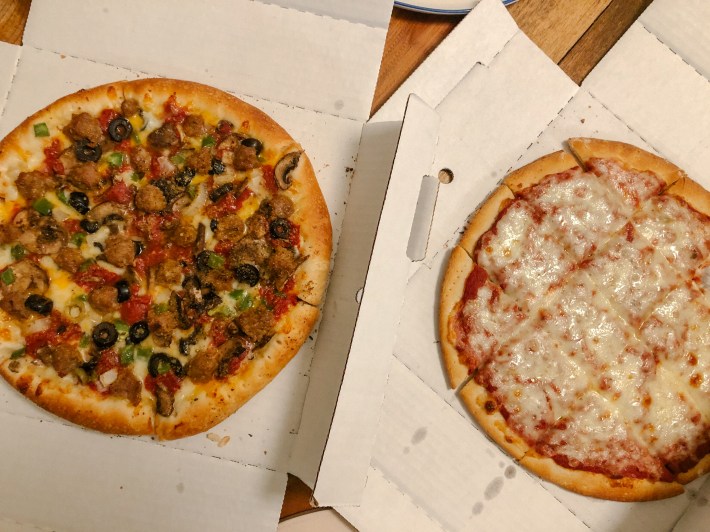 10. Gina Maria's Pizza
Gina's Special: "Italian sausage, fresh mushrooms, green peppers, onions, and black olives." (small 10") — $8.99
Cheese (small 10")—$7.29
Gina Maria's Pizza has been slinging pie since 1975—and you can tell. It's got a ton of cheese, a ton of sauce, and a ton of grease. This is the kind of pizza Gen X'ers ate in grade school. That's not necessarily a bad thing, as there's some stuff that works here: While the crust is pretty bland, it has a nice butteriness to it, and the specialty pizza was almost deep dish. (Aside from Wrecktangle Pizza, it had the thickest crust of our orders.) The sauce was pure tomato paste under cheese, though it was a little "zingier" on Gina's Special, and the cheese was a dense cafeteria-grade melt, but it wasn't plasticky like some of the other pies we sampled. 
"This is medium-crust Pizza Hut pizza."
"You know what? This tastes exactly like school lunch pizza."
"Holy shit—I literally just wrote c-a-f for 'cafeteria pizza.'"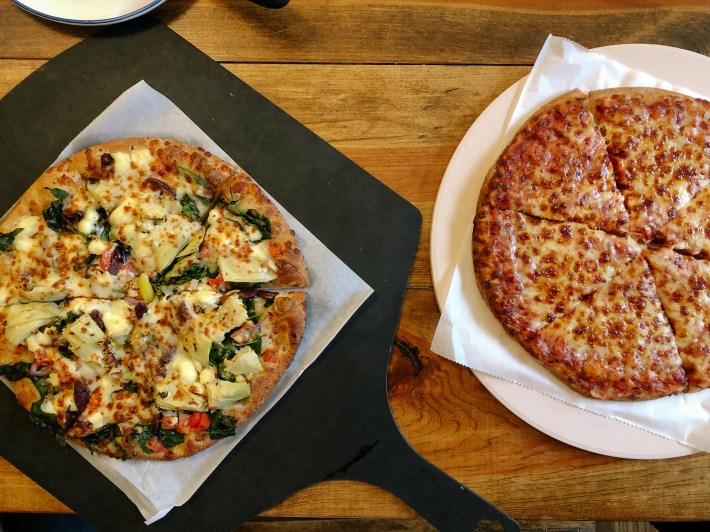 9. Pizza Luce
Pizza Athena: "Fresh spinach, tomato, feta cheese, Kalamata olives, artichoke hearts, red onion, Greek oregano, toasted garlic, and light mozzarella on Bianca sauce." (small 10")—$16.49
Cheese (small 10")—$10.19
If you live in a Pizza Luce neighborhood, you know that ordering a pie from here is pretty much a default, whether you're feeding kids, coworkers, or drunk people at 1 a.m. But let's be honest: Is it actually good? Yes and no. The cheese pizza has that deep cheese flavor, burned ever so slightly in a way that hits that umami part of your tongue and brain. The sauce was fine, though barely there. The Pizza Athena somehow managed to be both garlicky and bland, though we did appreciate that the toppings were a nice mix of fresh (spinach, tomato) and jarred (olives, artichokes). The crust was the true let down here; it has a spongy texture and lacks flavor, which means each slice rests on a bummer. This pizzeria probably blew minds when it opened in the early '90s, but it's coming across as a little dated by today's standards. Going to the actual restaurant where there's good people watching and a friendly staff is where it's at. Also, the salads are pretty great.
"I'm not gonna crave it."
"It's hard to make a pizza I won't eat… but that's not good enough."
"Pizza Luce does a lot of things well. I'm not sure making pizza is one of them"
"There was probably a time where this was cutting edge pizza locally."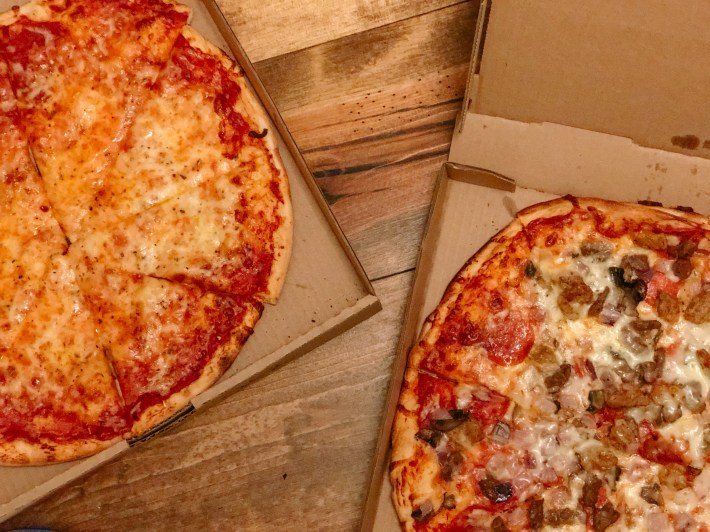 8. Davanni's Pizza & Hot Hoagies
The Works: "Our first and most popular combo! Pepperoni, Sausage, Hamburger, Mushrooms and Red Onions" (medium)—$17.70
Traditional Cheese Pizza (medium)—$12.15
If there was a Mendoza Line for pizza—the threshold a takeout option must meet to make it worth ordering over a frozen 'za—Davanni's would sit just above it. Our medium traditional cheese pizza was flecked with herbs and boasted a beautiful melty ombre of yellows, oranges, and browns, and crucially, it tasted like real dairy. Their yeasty crust gets a nice, toothsome texture from what appears to be a dusting of cornmeal, and while it's a little on the doughy side, it's not overly bready. On The Works, hunks of meaty sausage mingled with crispy peps and hamburger meat, along with mushrooms and red onions. The toppings all popped with distinctive bursts of flavor, all adding up to pizza that falls into the "pretty good" category.
"Now that looks like a pizza."
"This should be the real 'Sota style."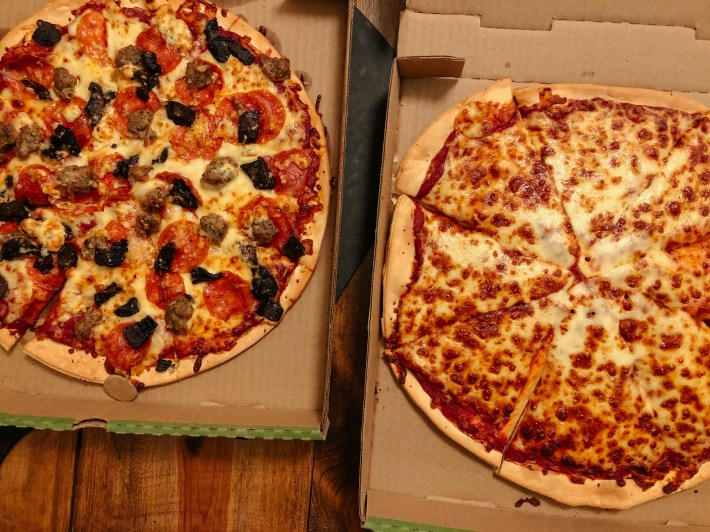 7. Green Mill
Il Primo: "Italian sausage, pepperoni, roasted portobello mushrooms, red sauce, and a quattro formaggi of mozzarella, provolone, parmesan, and gorgonzola." (medium 12")— $16.99
Cheese (medium 12")—$13.25 
This is how you make a respectably OK pizza. The crust is light and crisp on the edges, soft and bready in the middle. The sauce is lightly seasoned by genuinely tomatoey. There's lots of cheese and it tastes like cheese. (You'd be surprised what an achievement that can be in pizza world.) The fresh mushrooms had a nice char; the house-made sausage was mild but tasty. Birthed 86 years ago in St. Paul, Green Mill has as local a feel as a successful chain restaurant can. In lots of towns, in fact, the Green Mill is just where you go: to hang, to drink, to eat. And that's not such a bad option. Would we order it for takeout? Maybe not if there were other options. But we wouldn't pass up a slice if you offered.
"This does the job" 
"Yeah, I would order this at the bar."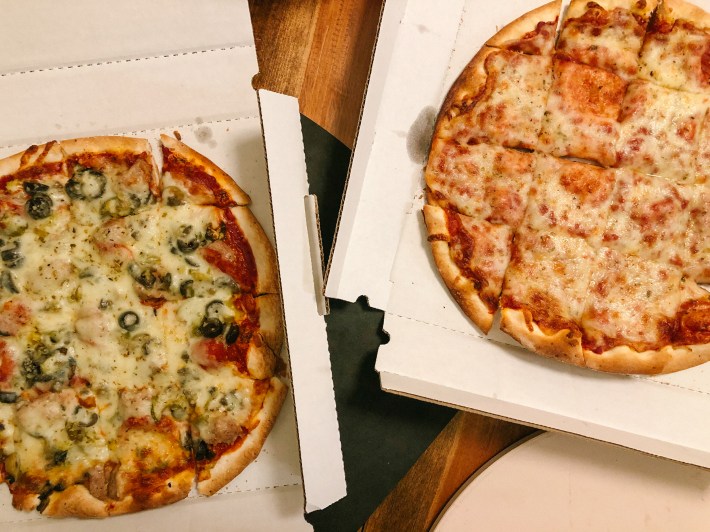 6. Chanticlear Pizza
Frickle Pickle Deluxe: "Our delicious Spicy Italian Sausage and Pepperoni complement our Frickle Pickle Topping, Chanticlear Original Pizza Sauce™, Mozzarella and a Splash™ of Mild Fire to produce a one of a kind taste sensation" (small 10")—$9 
Cheese (small 10") — $9
The Chanticlear story is long and, as told here by CEO Dale Heille, actually pretty damn interesting. Founded in 1964 by Dick Kempe, the northern metro chain is ruddered by its founder's mantra of "the Pizza is King." That regal concept boomed, nearly busted in the '80s, and now boasts 14 locations that cut their own veggies, "hand-pinch" the sausage, and mix dough daily in-store. The end product is affordable and delicious, with a sturdy cracker crust that holds up a thick, rich sauce (also sold by the jar) and flavorful, hand-shredded mozzarella. Suggested like wine pairings, the optional "Splash" coatings—Sweet Heat, BBQ Sass, Senior [sic?] Salsa, etc.—further amplify the experience. We opted for the specialty Frickle Pickle Deluxe—a "must-try festival of flavors." The menu wasn't lyin'. This indulgent, heat-packing salt-bomb came loaded with snappy dill pickles and elevated sausage. Chanticlear is worth the drive, which, as you've read in sometimes harrowing detail above, is not always the case for suburban chains. 
"I love that spice, though that might deter some people… specifically some people who live here."
"The sauce splash concept? Whole lotta fun."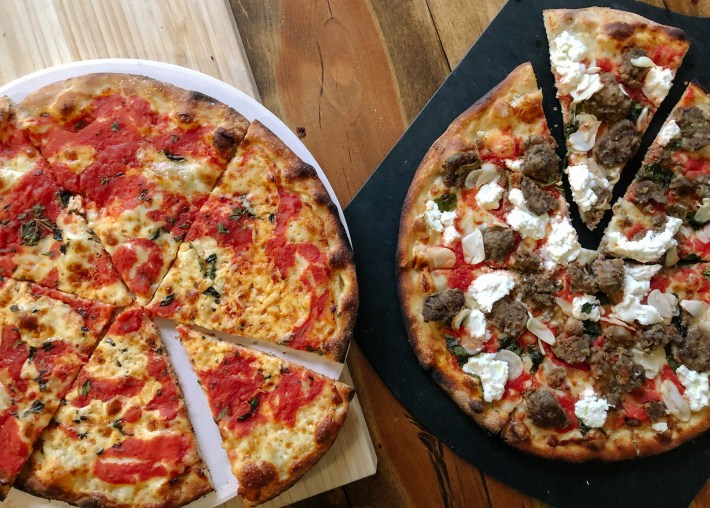 5. Black Sheep Coal Fired Pizza
The #4: Meatball, Ricotta, and Garlic (12")—$16
The #1: Cheese and Sauce (12")—$11 
Black Sheep's calling card is that coal-fired, charred, crispy crust—this was the first coal-fired pizza in Minnesota, and their success makes you wonder why more pizza places didn't turn to carbon combustibles in the kitchen. Their #1 pie keeps it simple, with cheese and sauce spiraling around each other in a fancy flourish, but we found ourselves wishing this basil-dotted number had a little more oomph. The sauce had a bright, acidic tang, but the overwhelming flavor, surprisingly, was salt. Luckily, the #4 more than made up for these shortcomings, with tons of garlic and big hunks of crumbling meatballs nestled on a soft bed of ricotta (and maybe more garlic?). This is the kind of flavor-packed pie that keeps 'em coming back.
"I *love* how much garlic is on here." 
"If there's one thing that I am, it's a garlic girl.'"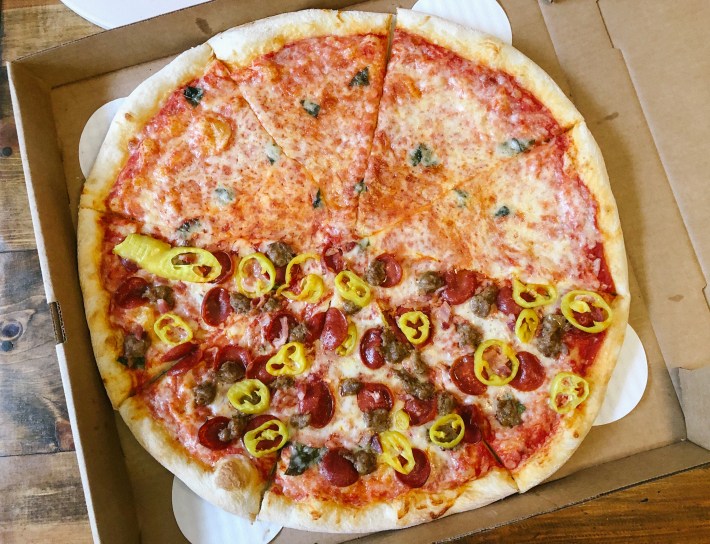 4. Andrea Pizza
House special: "Andrea's house sauce, pepperoni, sausage, bacon, banana pepper" (18")—$25.99
Cheese (18")—$18.19
Full disclosure: Some of your pals here at Racket hail from out east—and we don't mean St. Paul. While we're not snobs, we do have… preferences, and if you happen to share them, Andrea Pizza's floppy, foldable, and above all huge triangles of pizza are your escape from the world of square-cut, cracker-crust, midwestern pizza-if-you-say-so. (No surprise that the Gambino family, who started Andrea, originally as Figaro's, in 1972, are New Yorkers of Sicilian descent.) The sweet thin layer of sauce is rich, creamy, and heavy on the basil. The cheese—salty and piled on without overdoing it—clearly originated from a cow rather than an oil well. From the fennel-pop of sausage to the crispy zest of the pepperoni, each topping earns its real estate, of which there is plenty: The smallest (in fact, the only) thin-crust pie Andrea offers is 18 inches. They make big pizzas because big pizzas are what they make, and lots of other joints could benefit from knowing what they're good at and sticking with it like that.
"These people know how to make a pizza."
"This cheese fucks."
"If my brother came from Jersey to visit, I could feed him this without embarrassment."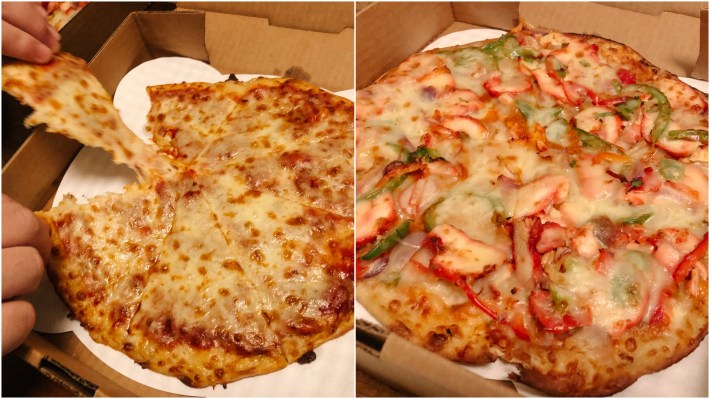 3. Pizza Karma
Chicken Tikka: "Boneless breast tikka chicken, tikka sauce, shredded mozzarella, onion-pepper mix with garlic cilantro crust" (small 10")—$11
Cheese: "Tomato fenugreek sauce with cayenne and clarified butter" (small 10")—$8
Chicken—the least essential pizza topping? Not when juicy, flavorful chunks pack this much of a cayenne kick, complementing a sweet yet explosively spicy sauce that refuses to take a back seat to other ingredients. Any reservations you have about Chef Raghavan Iyer's novel, global take on pizza vanish with one bite of the crisp, fluffy naan crust, and the cheese is a binding mixture keeping everything in place. As for the fenugreek, the internet says it will increase your testosterone levels or (and?) grow your boobs. A nice perk! Like (non-qualifying not-quite-chain) Boludo, Pizza Karma pushes the boundaries of what  "pizza" is—does this even belong in the same category as more conventional pies? But what seemed like it might be a nice change of pace turned out to be something we'd order from on the regular if they'd open up just a little closer to Minneapolis. 
"I would get this all the time."
"When I get Indian food, this is what I'm trying to make on top of my naan. But with cheese."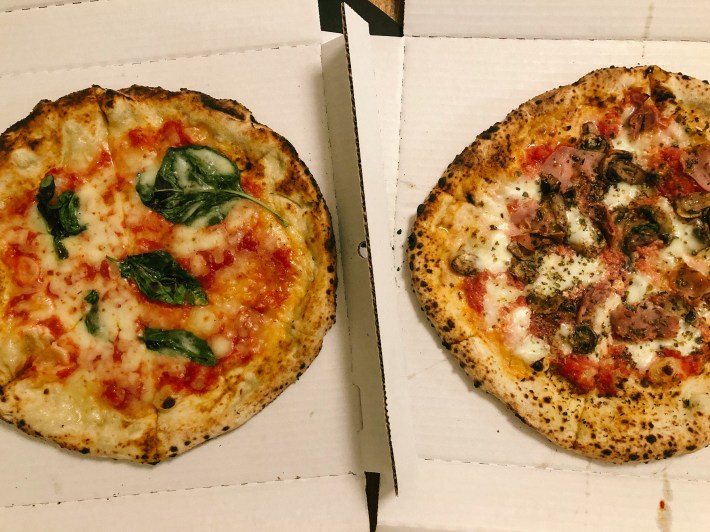 2. Punch Pizza
Margherita: "Basil, Fresh Mozz"—$8.25
Mattozzi: "Mozzarella di Bufala, Prosciutto, Mushroom, Oregano"—$14.75
If you ask us—and if you've gotten this far, you're asking us, aren't you?—Punch Pizza's primo Neapolitan pies have existed squarely at the intersection of great taste and affordability since '96. The crust has a beautiful char on the bottom and edges, with a delightful flop and a few rogue bubbles. It doesn't get much more stripped down than their Margherita pizza, where a light sauce with hunks of honest-to-god tomato, fresh mozzarella, and fresher basil are all it takes to make bite after satisfying bite. Mozzarella di bufala is an absolute star on pizzas like the Mattozzi, which also boasts prosciutto, mushroom, and a dash of oregano. The sauce and toppings are lightly applied but obviously high-end; it feels like this is food they're proud of, because it doesn't have to be overloaded with toppings to make it great. It's simple, classic pizza, done really, really well. 
"Fresh basil is such an easy and wonderful way to punch up the flavor." 
"You could say it's really punching above its weight."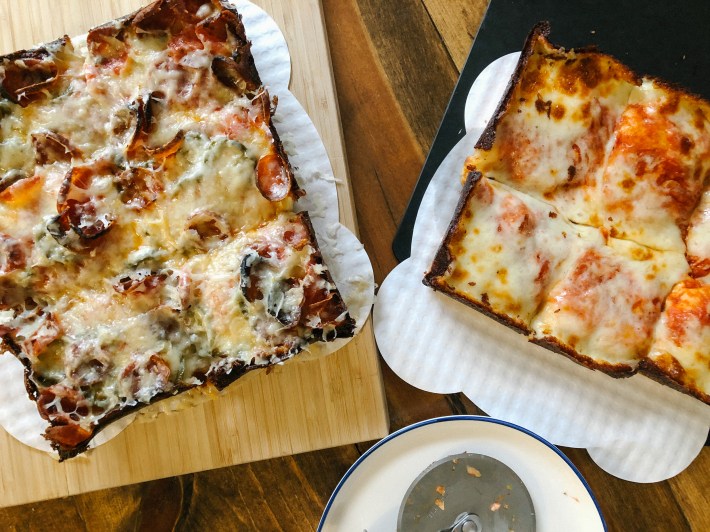 1. Wrecktangle Pizza
Shredder: "Pepperoni, Pickled Jalapeños, Whipped Cry Baby Craig's Honey, Pecorino Romano, Red Sauce"  (8'x10")—$20
Classic cheese pizza (8'x10")—$15 
Having launched just three years ago, Wrecktangle made its way onto this list on a technicality. We set three locations as the minimum to be considered a "chain," and since they'll have a third restaurant come early 2022, we figured, hey, what the heck. But Wrecktangle isn't winning this thing on a technicality—this was far and away our number-one takeout pie. It's a good sign when, in the middle of a multi-day pizza-eating extravaganza, you open yet another box and hear everyone at the table go, "Oh, holy shit." Their pizzas look unlike anything else we tried; the 8x10" rectangles (get it?) appear almost lasagna-like at first, with a crown of burnt cheese and a poofy, pillowy texture. Each bite of the classic cheese revealed long, gooey tendrils, while the Shredder is an all-time great Twin Cities pizza. The Cry Baby Craig's Honey! The pickled jalapeños! The shavings of pecorino romano! It's hot, sweet, and savory, depending on what bite you take (and where you're at in each bite). Sweet, spicy dreams are made of this pizza.
"That sauce is wild, it should not work at all and it so does." 
"Oh my God, these edges."
"Why don't we burn more cheese? If they sold that burnt cheese I would buy it."
"I would hate to clean these pans."
Stay in touch
Sign up for our free newsletter