Food & Drink
How to Eat Like It's the State Fair, Every Day of the Year
Who cares what your doctor says? You can do it.
9:46 AM CDT on September 12, 2023
The Minnesota State Fair is both impossibly long and way too damn short. Every year, it feels like Minnesotans spend a month in the grips of State Fair Fever™, and when it ends, there's a hole where our deep-fried hearts used to be. 
It's fair to ask why Minnesota loves its fair so much. Maybe it's because it's the best one in the country, even if it took Sen. Amy Klobuchar way too long to admit it. Maybe it's the camaraderie. Maybe it's the big slide. Whatever the reason, we know Minnesotans have a tough time letting things go. (See: "Norm Green sucks" chants, '91 Halloween blizzard nostalgia, endless debate about the pulse of Uptown.) So, let's not get wistful about the end of the State Fair. Instead, let's live every fortnight like it's the Minnesota State Fair.
You could do that by heading to restaurants that set up shop on the fairgrounds, or by diving into the menu at restaurants that embrace State Fair-like food every day by presenting unexpected mashups, food on a stick, or deep-frying, well, anything that can be submerged in oil. 
We'll help you get there. Here's what to order when you want to live like the State Fair never ends.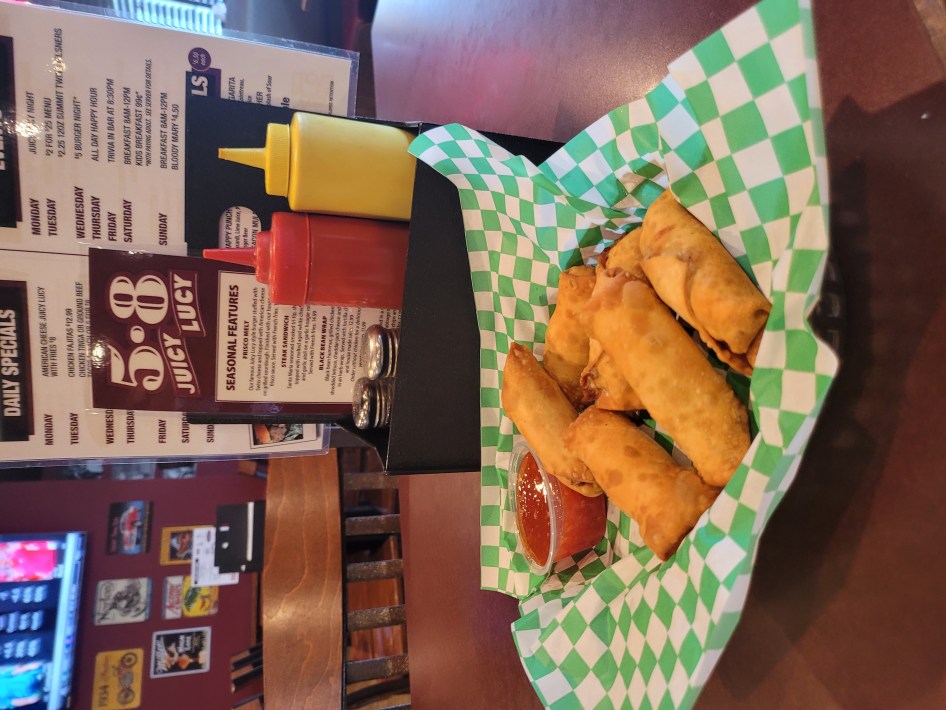 5-8 Club: Pig Pen Egg Roll ($9.99)
More than just Jucy Lucys, the 5-8 has a lot of familiar fair fare. You can order cheese curds, fried pickle chips, onion straws, and fried mushrooms. But the most State Fair-y order of all might be the Pig Pen Egg Roll, filled with ground beef, cream cheese, pickles, and bacon bits. And with a name like that, you could pop this thing on a stick and debut it at the fair next year.
Boludo: Churro Donuts ($10)
The pizzas are the main attraction at the Argentinian hub's four locations. However, after you've put down an entire Porteño pizza by yourself, a dessert of churro donuts with salty caramel dipping sauce is the perfect follow-up to evoke sunny afternoons on Dan Patch Avenue. 
Young Joni: Korean BBQ Pizza ($24)
"So you like [insert food]? We've put it on a [pizza/sandwich/bowl of noodles]!" That's a very State Fair approach to life. Young Joni makes its Korean BBQ Pizza with beef short rib, mozzarella, scallion, arugula, sesame, and soy-chili vinaigrette.
It might not be renowned for next-level food, but it's basically this article as a restaurant. Located in the Mall of America (Hey! You can push your way through the sweaty masses just like at the fair!), The Fair on 4 emulates a Great Minnesota Get-Together vibe with activities like axe-throwing and go-karts, as well as a menu featuring the corn doggo, cheese curds, I'll Be Pickled Chips, a burger loaded with cheese curds, mini donuts, and funnel cake fries.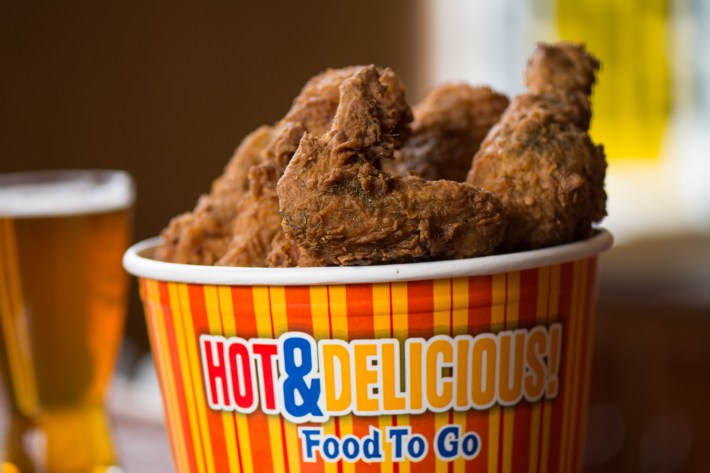 Bull's Horn: Dill Pickle Fried Chicken ($17-$29)
Pickles? Fried chicken? There's State Fair in them thar hills. Order it with a side of Kentucky-fried gizzards.
Part of Hamburguesas' hot dog menu, this beauty is wrapped in bacon before getting thrown on a toasted bun and topped with mayo, esquites, sour cream, and queso fresco. It's like a taco on a hot dog.
New Bohemia: Mini Doughnuts with Cinnamon Sugar ($7)
You can't get Lift Bridge's Mini Donut beer, but New Bohemia will bring you back to the good ol' days (by which we mean the State Fair, just last month). Plus, there are plenty of fair-adjacent savory options, such as the mini corndog basket, pickle fries, and beer-battered cheese curds.
Thr3 Jack: Bucket of Cookies ($8)
Yes, that North Loop golf bar has food. It channels Sweet Martha's during the 353 days a year when the State Fair is just a memory.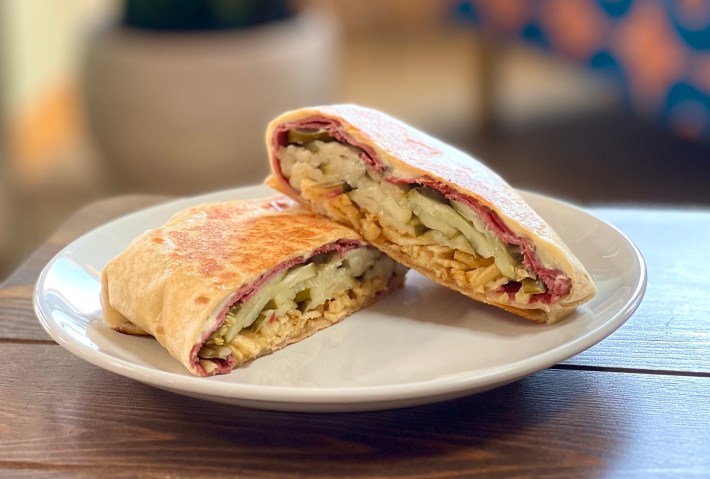 The delivery-only concept from Centro has a new pickle-y pocket. With the deluge of pickle-forward dishes at the 2023 fair, it only makes sense that the brine would overflow into restaurants. The Pickle Pocket is basically Minnesota Sushi wrapped in a fried tortilla. It's loaded with pastrami, dill cream cheese, pickled jalapeño, pickles, and pik-nik stick potatoes.
Soul Bowl: A.A. Sandwich ($15)
Soul Bowl was at the State Fair with its Miami Mango Pickles, among other items, but not this indulgent sandwich. It hits the mark because it's a great get-together of alluring foods, featuring fried chicken, mac 'n' cheese, collard greens, and MPLS Mambo sauce served on a cornbread bun. You might want a Yolo Cheesecake—cheesecake covered in crushed animal cookies—for dessert.
Uncle Franky's: Southside Maxwell Polish ($6.95)
Uncle Franky's slings a mean hot dog, and they're damn near unmatched. The Southside Maxwell Polish brings the State Fair vibe by tossing a deep-fried, all-beef sausage onto a bun with mustard, grilled onions, peppers, and its "top-secret seasoning."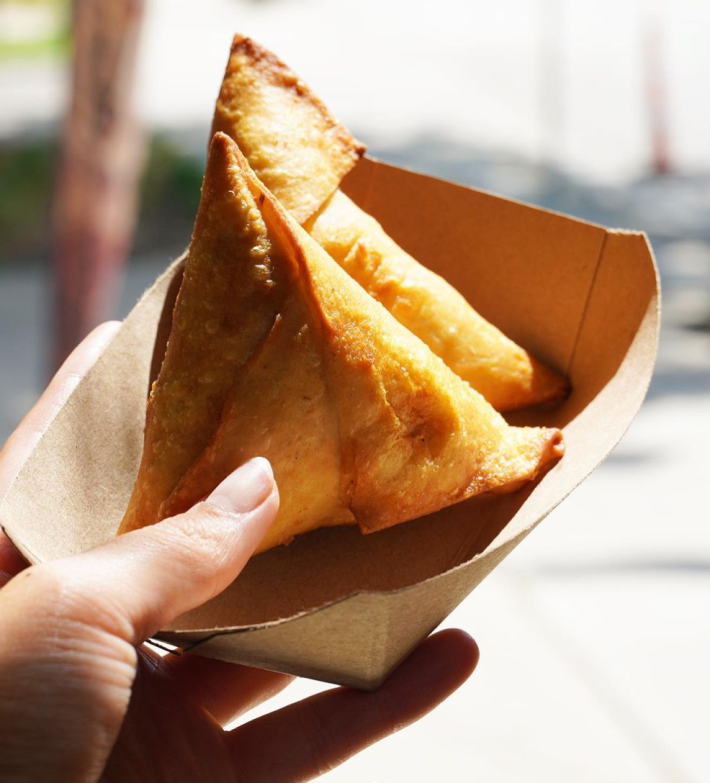 Re-Visit Restaurants From the Fair
Afro Deli made its State Fair debut in 2023. If that led you to discover the restaurant and its popular sambusas, [Prof. Farnsworth voice] good news, everyone. You can snag those sambusas and sweet plantains at any of its locations.
You'll find Arepa Bar at the Midtown Global Market when it's not hanging around the Midway, and that's an excellent situation when you're trying to recreate State Fair magic. There's a fair vibe at MGM because you can order a little something from a bunch of restaurants at once: Andy's Garage (which itself debuted at the fair a few years ago), Manny's Tortas, or the ​​Indigenous Food Lab Market. Afterward, head to Eastlake Craft Brewery to wash it down with a Kirby Pucker. 
There aren't many Twin Cities restaurants that have garnered more spilled ink over the last couple of years. Chef Yia Vang is a big personality, and his food deserves the superlatives. If you tried the Hmong sausage or Hilltribe chicken with chilled rice noodles at the fair, you can relive those fine memories any day at both Union Hmong Kitchen locations. The chicken is slightly different, and a representative tells Racket the khao sen rice noodles aren't exactly what was served at the fair, but you're still getting some delicious food. The coconut lychee colada that was a favorite at the 2022 fair is also on the menu.  
Stay in touch
Sign up for our free newsletter